This post may contain affiliate links to products I use and highly recommend. You can read my full disclosure here.
Click below to share this!
I'm always down to try weird pizza flavors. When my husband first brought a "Big Daddy" slice home and said that I had to try it, I was a bit skeptical. How can basil, bbq sauce, ranch dressing, bacon and breaded chicken work together to make an amazing pizza? Oddly, after taking a bite, I realized that these ingredients just work together. The bright earthy flavor of the basil + the tangy bbq and ranch sauces with the crunchy chicken and salty bacon create a mini flavor explosion in your mouth. Now that we're following a keto lifestyle, I decided to try this at home with some low carb and keto swaps!
Ingredients
1 chicken breast, cut into strips
1 tsp spicy dry rub
1 tbsp almond flour
4 slices of sugar-free bacon, cooked and chopped
5 basil leaves
5-10 thin slices of red onion
1/4 cup Tomato Basil sauce
1/4 cup Monterey Jack cheese
Sugar-free BBQ sauce drizzle (I use this one)
Ranch Dressing drizzle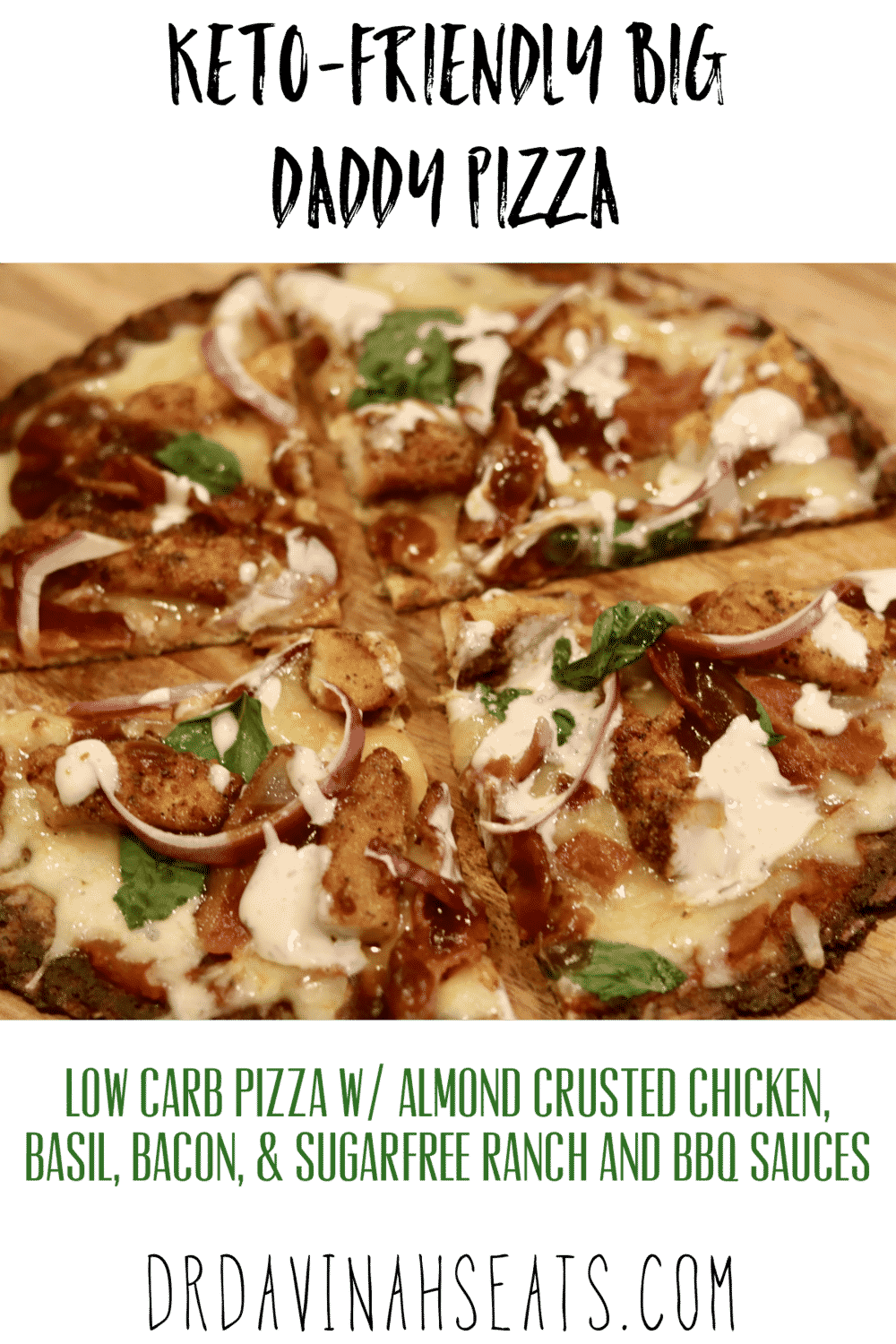 Directions
Preheat oven to 385 degrees
Place crust on parchment paper and cook for 5 minutes per side
Remove the crust from the oven and set aside (it will cool while you are making the toppings)
Toss chicken breast strips in spicy dry rub then almond flour
Heat a skillet with olive oil on medium high heat
Cook chicken breasts until they are no longer pink (~4 minutes)
Put toppings on the crust – tomato basil sauce, cheese, chicken, bbq sauce, basil, and red onions
Bake pizza until cheese is melted (~5 minutes)
Drizzle ranch dressing and bbq sauce on as desired
Click below to share this!