This post may contain affiliate links to products I use and highly recommend. You can read my full disclosure .
During my first round of Whole30, it seemed like removing sugars, legumes, and most sauces meant that I was doomed to having dry and tasteless things. Even though 30 days is not that long, my family is used to good food so I found ways to use spices to get the flavors we are used to. This dish is a good example of using spices to your benefit. Cauliflower is so adaptable that it becomes the perfect substitute for chickpeas!
Ingredients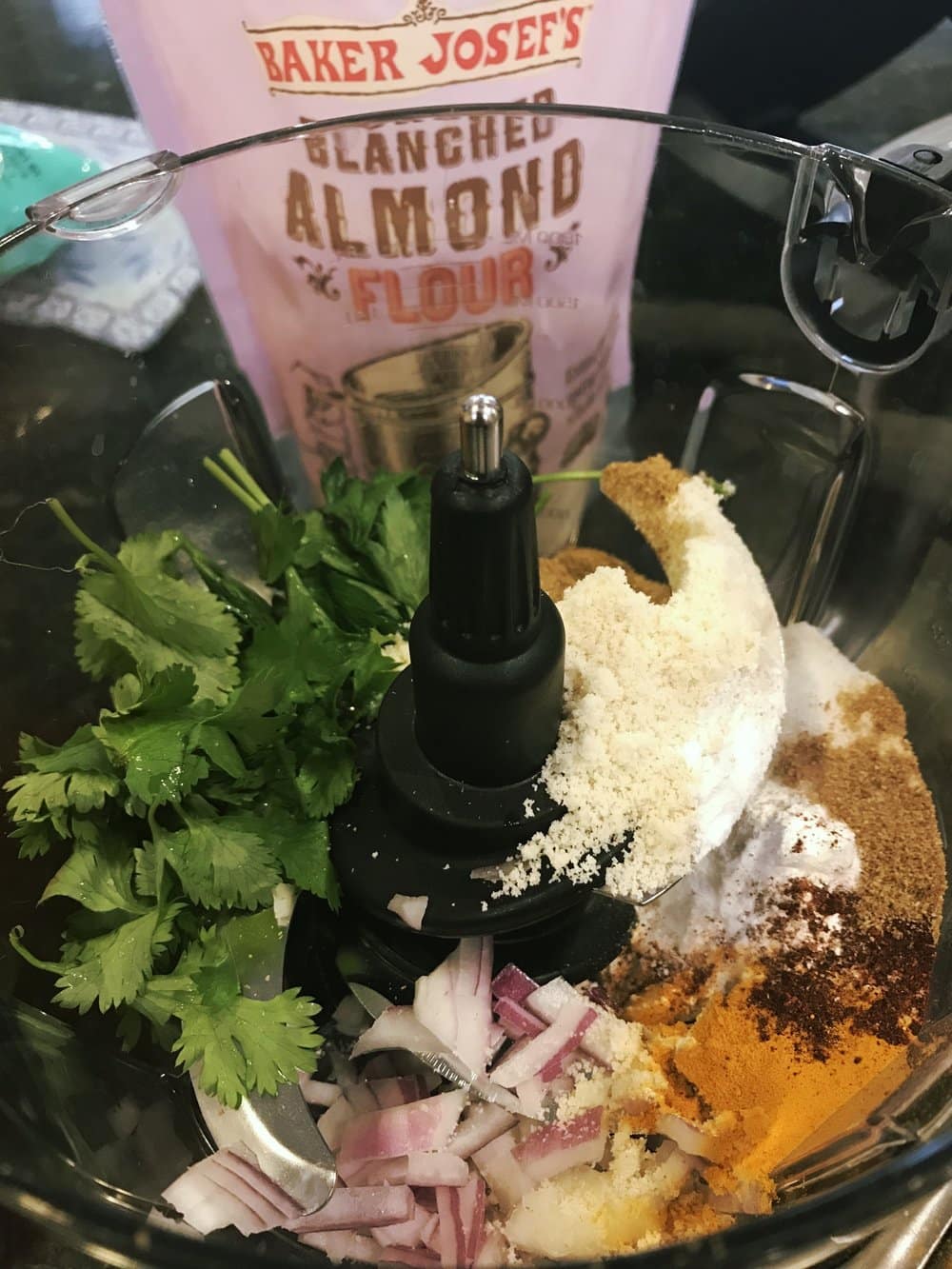 1 cup chopped red onion (yellow will also work fine)
1/2 cup fresh cilantro, remove leaves from stem
1/2 cup fresh parsley, remove leaves from stem
1/2 cup almond flour
1 medium egg
1 tablespoon tapioca starch
4 garlic cloves
4 tsp cumin
1/2 tsp cayenne
1 tsp sea salt
1/2 tsp ground turmeric
1/2 tsp chili powder
1/2 tsp ground coriander
2 tsp lemon juice
2 1/2 cups cauliflower rice
4 tbsp olive oil
Directions
Add all ingredients except cauliflower rice and olive oil to a food processor
Blend well until it becomes a paste – you may have to scrap down the sides
Add 2 cups of cauliflower rice to the processor and pulse 3 – 4 times
Add remaining 1/2 cup of cauliflower rice to mixture and mix it in with a spoon (I like having some whole pieces of "rice" included)
Allow the mixture to "marinate" for 30 minutes
Preheat oven to 400 degrees
Form 12 balls with the mixture and place on a parchment lined cookie sheet
Coat top of balls with some olive oil
Bake for 20 minutes, turn over and bake for an additional 20 minutes
I made a salad with these using most of the ingredients that I'd usually get on my falafel sandwich – tahini dressing (1/4 cup sesame, 2 tbsp tahini, 1 tbsp lemon juice, 1 tsp maple syrup, 1/4 tsp salt, 1/2 tsp garlic powder), red onions, cucumbers, tomatoes, and hummus. If you want to keep this dish Whole30, you should omit the hummus or create your own with cauliflower.