This post may contain affiliate links to products I use and highly recommend. You can read my full disclosure .
"Are grits keto?." Wait a minute, mentioning "grits" and "keto" in one sentence already sounds silly, right? Sometime back, if you asked me that question, my answer would be a non-negotiable, "no", but now I know better.
Starting my low-carb journey has taught me that you can still enjoy most of your favorite classic dishes with a few tweaks. If you're still wondering whether to keep or lose the grits, hold on to this: Classic grits aren't keto per se, but there's more to that response, so read on.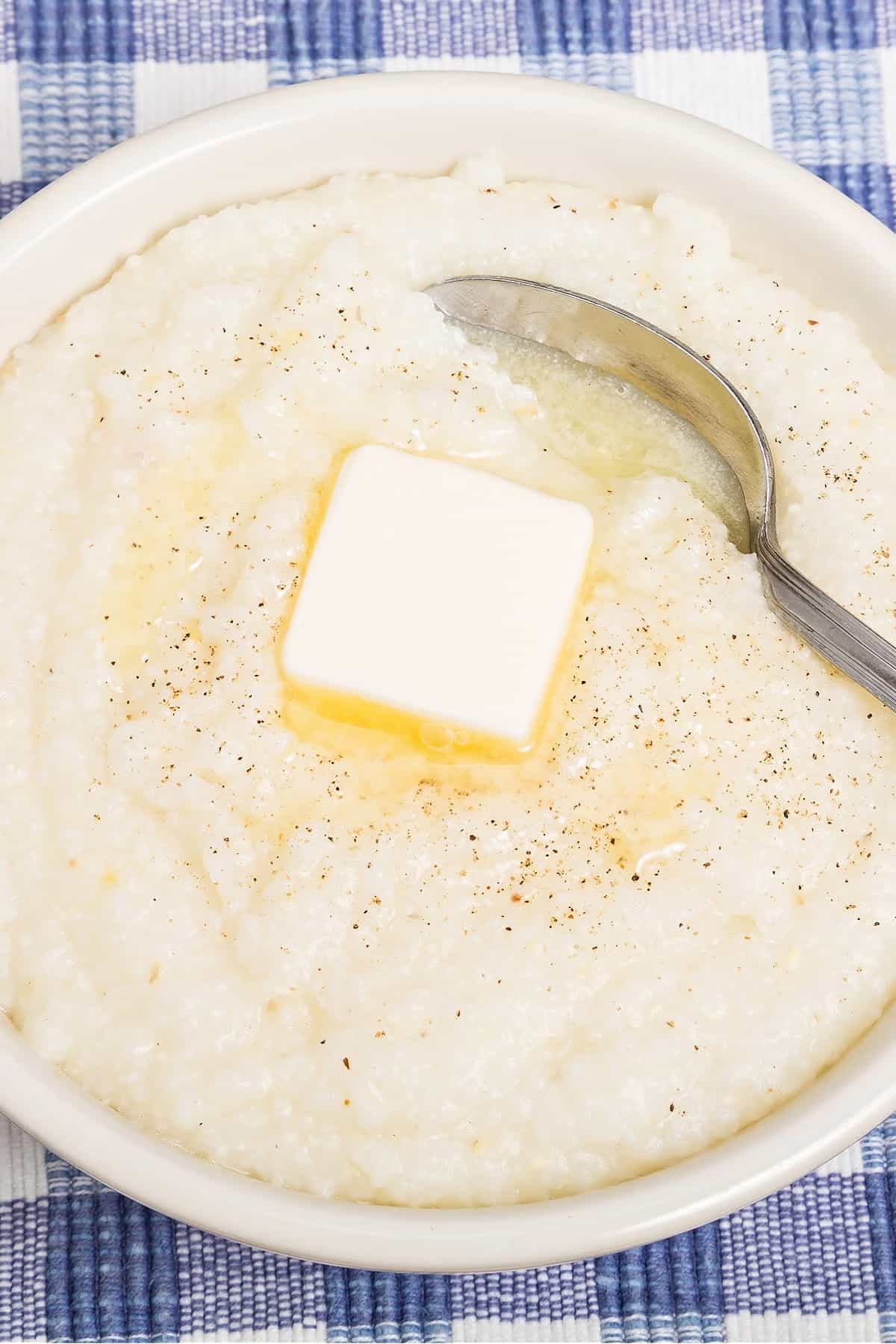 Keto Isn't A Food: Quick Summary of Ketosis
A keto diet limits carbohydrate intake so that the body generates energy from fats. It is a highly low-carb and high-fat way of eating aimed at putting the body in ketosis.
Maintaining ketosis requires eating minimal carbs, more fat, and moderate proteins. Most keto dieters strive to keep their daily carb intake between 20g and 50g carbs.
So, while keto isn't a food, our food choices impact whether we can get into our stay in ketosis.
What Are Grits and Grits Nutrition Facts
Grits is a traditional Southern dish made from ground corn boiled in milk, water, broth, or a mix of those three. Below are some grits nutritional facts.
You'll notice that grits are high-carb. A cup (257g) of grits has the following calories and carbs:
Carbohydrates-38g
Calories-182
Fiber-2g
Protein-4g
Fat-1g
With that in mind, grits is also rich in minerals and vitamins. Specifically, they have:
Iron-8% of the Daily Value (DV)
Zinc-4% of the DV
Thiamine-18% of the DV
Magnesium-5% of DV
Phosphorus-4% of the DV
Niacin-13% of the DV
Folate-25% of the DV
Riboflavin-12% of the DV
Vitamin B6-7% of the DV
How Many Carbs in a Cup of Grits?
The amount of carbs in a cup of grits depends on whether the grits are dry or cooked, the source of the corn, and how they are being measured.
But, a cup of dry uncooked white corn, quick grits has about 116g of carbs. A 257g cup of cooked regular grits has about 38g of carbs.
Net Carbs in Grits
A 257g-cup of grits has 38g carbs, of which 2g is dietary fiber. In this case, the net carbs in grits are calculated by subtracting the 2g of fiber from the total 38g carbs to get 36g net carbs.
Can I Eat Grits on Keto?
A keto diet keeps carbohydrates as low as 20g per day. So, are grits keto? The answer would be a straight "no" for classic grits because one cup of these has more than 30g net carbs.
That said, eating regular grits would make getting into and staying in ketosis close to impossible. The good news is you can have keto grits by replacing cornmeal with low-carb alternatives like cauliflower and almond flour.
Are Quaker Grits Keto-friendly?
Quaker grits are made from white corn, which is high in carbs, making them keto-unfriendly.
The amount of carbs depends on whether the grits are old fashioned or quick.
A quarter cup of dry quick grits contains 27g net carbs. A quarter cup of dry old fashioned grits has 30g net carbs.
Staying on ketosis requires you to limit your daily carb intake to an average of 25g. So, do your math.
Are Grits Low-carb?
Traditional grits are high-carb, thanks to the main ingredient, cornmeal.
Keto grits are made from alternative low-carb ingredients, making them suitable for a low-carb diet.
Keto Alternatives to Grits & Recipes
Do you need help keeping your body in ketosis without giving up your grits? I'm about to share my top recipe ideas for keto-friendly grits. Some modifications to make on your traditional grits recipes are:
Replacing cornmeal with cauliflower or almond flour
Using cream and chicken broth instead of whole milk
Omitting sugar-packed syrup or sweeteners (if you tend to add sugar to your grits)
Below are some keto grit recipes you can explore:
Try this recipe if cauliflower isn't your favorite thing, but you still want to keep your grits keto. Almond flour plus four other ingredients will do the magic.
Keto Grits Recipe
This Keto Grits recipe skips the carbs in grits, but not the flavor. The perfect way to eat grits on keto without cauliflower. Ready in 10 minutes.
Get this Recipe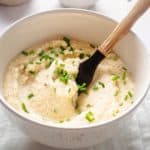 This grain-free dish is the perfect replacement for Southern grits. It's creamy, tasty, and filling without the extra carbs. Replace cornmeal with cauliflower to appease your taste buds without abandoning your keto goals.
Easy Cheesy Cauliflower Rice Grits Recipe
Creamy cheesy cauliflower grits are the perfect keto substitute for carb heavy grits. With their perfectly creamy texture and rich taste, my cheesy cauliflower grits satisfy a grits craving while helping you stay in ketosis.
Get this Recipe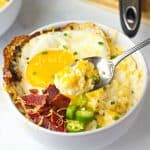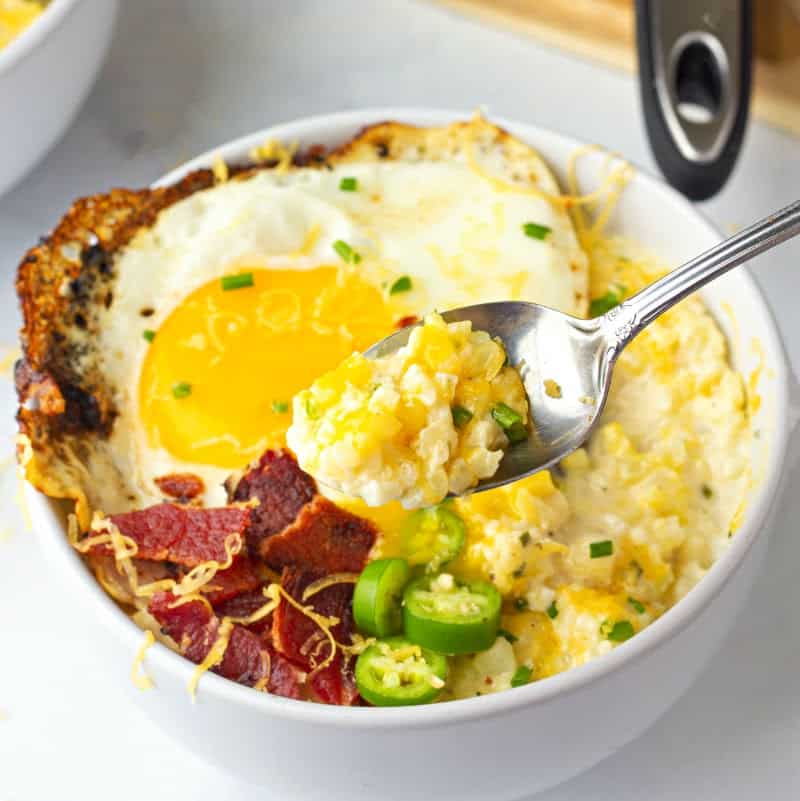 Is the old shrimp and grits your favorite Southern dish? You don't have to give it all up for a diet because this recipe allows you to have your cake and eat it too, if you know what I mean.
Keto Southern Shrimp and Cauliflower Cheese Grits
Keto Southern Shrimp & Grits is a recipe that will wow whether or not you're following a low-carb lifestyle! The flavors of the shrimp, chorizo & bacon gravy create a pan sauce that you'll want to pour on everything! The cheese cauliflower rice "grits" are super easy. Plus, the entire dish makes great leftovers.
Get this Recipe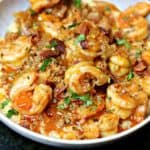 Key Takeaway
Now you know that grits can be part of your keto or low-carb diet menu, even though the original dish is nothing near keto. All you need to do is replace the high-carb ingredients with low-carb ones and enjoy your grits guiltlessly.