This may sound dramatic, but having the right keto cauliflower recipes in your tool kit is important. Cauliflower is delicious and low in net carbs. It is also one of the most flexible vegetables around. If you're craving pizza, you can have a keto pepperoni pizza on a cauliflower crust. Want a creamy risotto? My cauliflower rice risotto won't have you missing one grain.
And, if you're eating vegetarian food on keto, then cauliflower is also an amazing substitute for meat.
In this guide, you'll find more than forty unique & delicious low carb cauliflower recipes. All of these keto recipes use cauliflower as a substitute for pizza dough, bread, pasta, rice, oats, potatoes, meat & grains.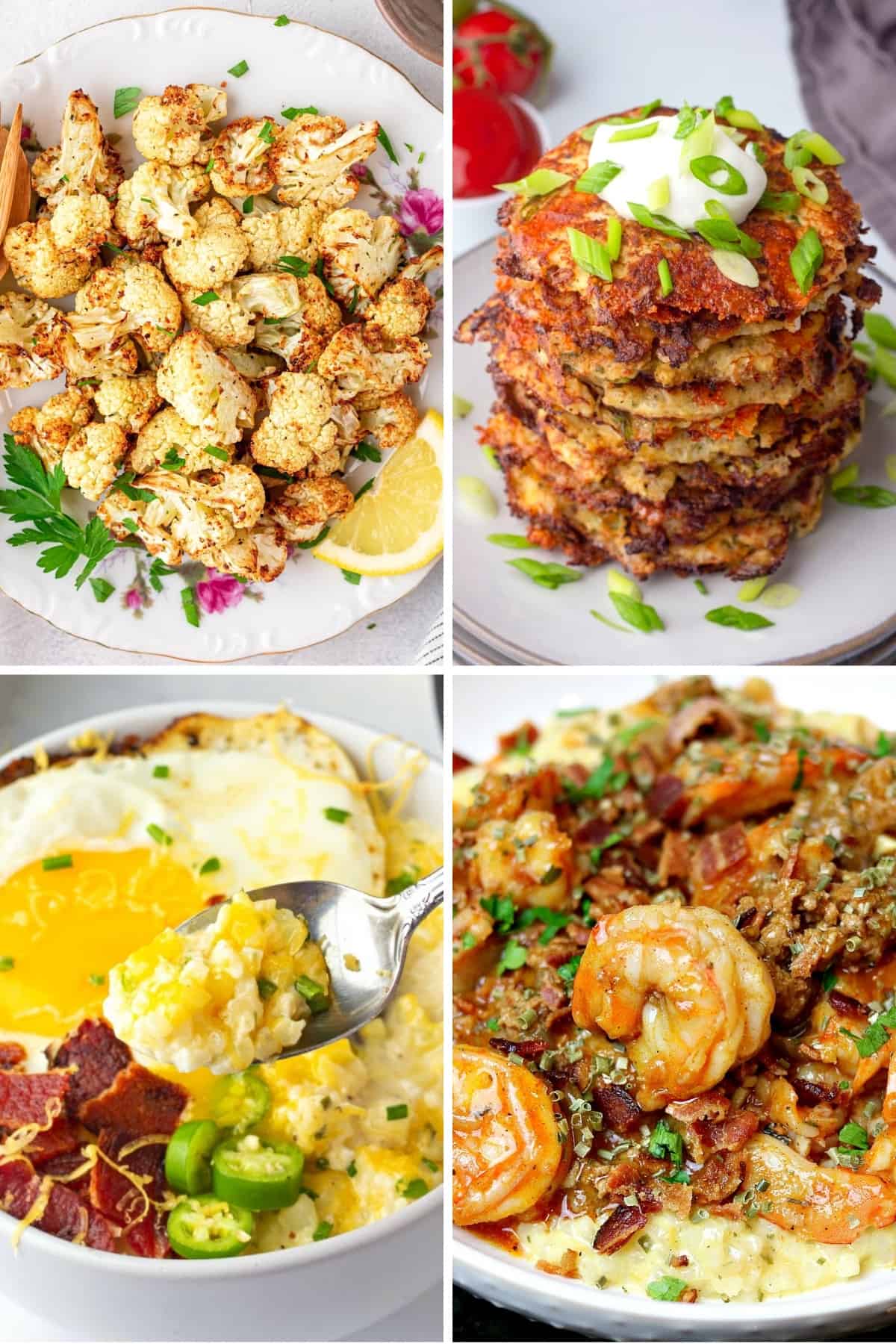 Why Share Ketogenic Cauliflower Recipes?
If you're a foodie, then you know what it feels like to crave all of the things. And, if you want to stick to eating low carb foods or if you're cutting back on sugar, then you know it's important to have recipes that provide some substitutes.
Since starting to eat low carb and keto, cauliflower has become my go-to vegetable. Cauliflower replaces so many foods that are filled with sugar and carbs. So, I'm sharing some of my favorite recipes.
How to Use Cauliflower as a Substitute for Meat
Even though keto folks eat a lot of meat, cauliflower can become a handy substitute for meat. This is a great option for low carb and keto vegetarians. Even if you eat meat, dishes like Indian Roasted Cauliflower Curry are simply worth trying!
Cauliflower as a Low Carb Pasta Alternative
When people talk about keto pasta replacements, they almost always mention things like spaghetti squash and zoodles. And, those things are delicious. However, cauliflower is an excellent replacement for elbow macaroni and ziti.
Cauliflower Pizza Dough & Other Breads
It may be hard to imagine cauliflower as bread, but just wait until you try it. Not only does it make great pizza crust, it is surprising delicious as breadsticks, tortillas, waffles, and even sandwich buns.
Swap Cauliflower for Rice, Oats, Grains and Beans
Cauliflower rice has become one of the most popular keto replacements. Dishes like my Keto Shrimp & Cauliflower Grits help you understand why. This list is just a small portion of cauliflower rice recipes across the site.
Keto Cauliflower Recipes that Replace Potatoes
Potatoes are a great comfort food. And, people following keto tend to miss them. But, cauliflower makes a great substitute. Loaded Cauliflower is comfort food all the way. From hash browns to "potato" salad, cauliflower does it all!
FAQs