This post may contain affiliate links to products I use and highly recommend. You can read my full disclosure .
This Ninja Foodi Pot Roast with gravy is tender and easy to make with 5 ingredients for dinner or a meal prep. It uses all the benefits of the Ninja Foodi like the pressure cooker, air fryer, and sear and sauté functions. Enjoy this with vegetables or side dishes like cauliflower mashed potatoes.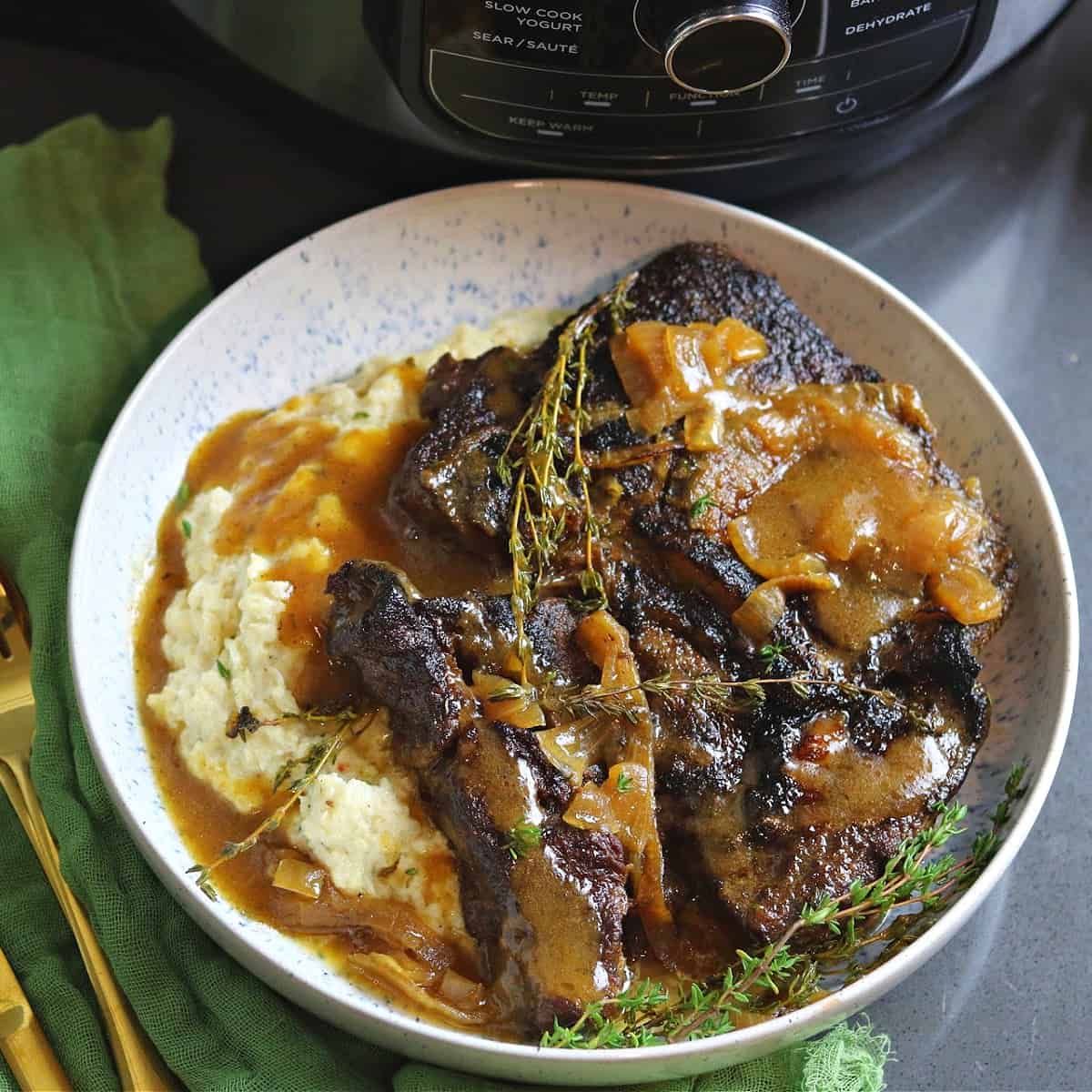 Why Make Ninja Foodi Pot Roast
Easy Recipe: This Ninja Foodi Pot Roast recipe includes just 5 ingredients. You simply dump your meat in the Ninja Foodi and it does all the work to tenderize it. Plus, you make the gravy in the same cooking pot.
Great for meal prep: This Mississippi pot roast is perfect for a keto meal prep, when making meals to store in the freezer, or feeding your whole family.
Quicker comfort food: Pot roasts are one of my favorite comfort food dishes. They are easy to make and juicy, but they take all day. Thanks to the Ninja Foodi (or your favorite pressure cooker), this doesn't have to be the case. Get juicy, tender pot roast meat with brown bits in a fraction of the time (compared to slow cooking).
Ingredients Needed
If you love large chunks of delicious pot roast, this Ninja Foodi pot roast recipe is for you. Here's what you'll need to gather:
Beef Roast: I'm using a Beef Bottom Round Roast. But you can see the section below on the best cuts of meat for pot roasts if you need an alternative.
Ranch Seasoning: I'm using my Homemade Ranch Seasoning Mix. A recent update of it includes buttermilk powder, but this is not necessary for this recipe to taste great!
Warm Water: to easily mix the bouillon with the water, I microwaved mine in a mug for 1 minute
Beef Bouillon Paste: you can use regular beef bouillon cube, but I prefer the Better Than Bouillon paste.
Butter: I use salted butter, but you can use unsalted butter if you prefer to be able to salt the final pot roast to taste.
Greek Pepperoncini Peppers: This adds a bit of spice to the final dish. When I have a taste for pot roast with vegetables, I simply swap these out for yellow onions.
Cuts of Meat for Pot Roast
One great thing about my easy pot roast recipe is it doesn't require a specific cut of beef. In fact, I almost always buy the meat for my recipe based on what's on sale. But, there are some cuts that are a great option for pot roasts:
Beef Chuck

Bottom Round

Blade Roast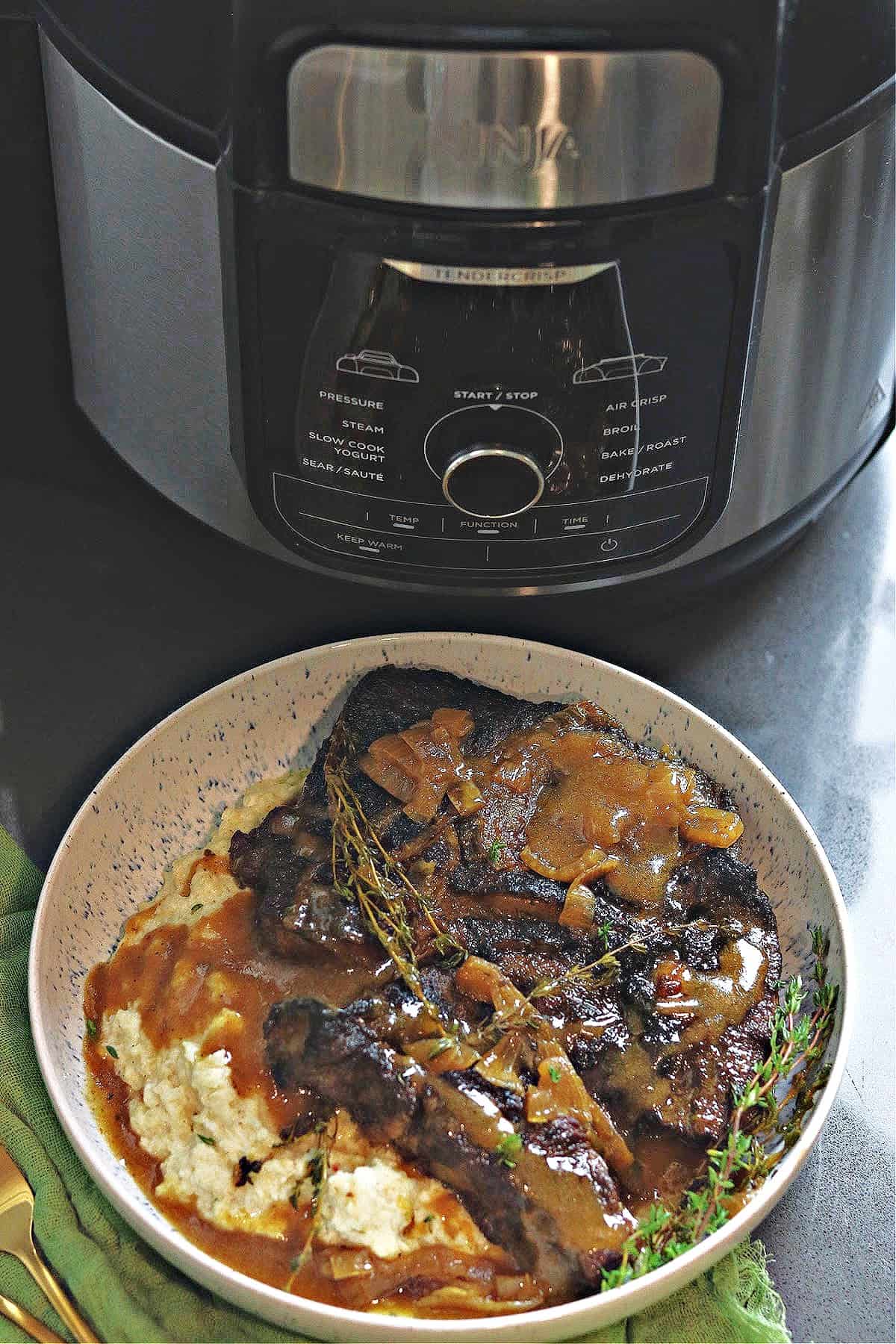 How to Make a Pot Roast in the Ninja Foodi:
One of the reasons why I love pot roast is because of its easy cooking process.
For this recipe, you can use the slow cooker or pressure cooker functions.
Here are the simple steps:
Add all ingredients to the pot: You can simply place the roast and all the ingredients in the inner pot and go, which creates extra flavor. As someone who is generally very busy, this gives me the chance to prepare a healthy meal, but also complete my other daily goals. For more details, review the recipe card.
Add the pressure cooker lid and set it to the seal position.
For all day cooking, use the slow cooker function:

if your timing is going to be off due to your busy schedule, or you love the way a cooking roast makes your house smell, or you don't have a Ninja Foodi (or Instant Pot), you can use the slow cooker feature or a traditional slow cooker. On low, this roast takes 6-8 hours to finish.

For speed, use the pressure cooker function: To achieve melt-in-your-mouth pot roast with a pressure cook time of under 2 hours, you can cook it on high pressure.
Use the sauté function to make the gravy: After your roast is complete, you might want to make an easy gravy. Simply remove your roast, and add 1/2 tsp Xanthan Gum (or one of Xanthan Gum's substitutes) to the pan drippings. Cook on the "sauté/sear" function on the "high" temperature until the gravy thickens (about 3-4 minutes).
Top Cooking Tips & FAQs
Benefits of Ninja Foodi for Roasts
The Ninja Foodi is an amazing hybrid of a pressure cooker, slow cooker, steamer and air fryer. Because of that, it offers easy ways to pressure cook, slow cook, and air fry chuck roast, beef roast, and more.
The Ninja Foodi is one of my favorite tools because it:
Tenderizes any cut of meat you cook in it
Dramatically shortens the cooking time
Makes one-pot cooking easier as you can switch between settings to make side dishes or even gravy
In this Ninja Foodi recipe, I'm using both the pressure cooker and air fryer functions to tenderize and crisp the roast. Then, I select the sear and sauté function to make a gravy from the roast drippings.
How to season a pot roast? Substitutions for Seasoning
When cooking a pot roast, the seasonings are simple. I use a beef bouillon paste, butter, and my Ranch Seasoning.
But, if I don't have the Ranch seasoning ready to go, I choose other options that I have around my pantry like Italian seasoning, garlic powder, black pepper, and onion powder.
Some spice packets I often have on hand are:
You will need two tablespoons of the spice mix.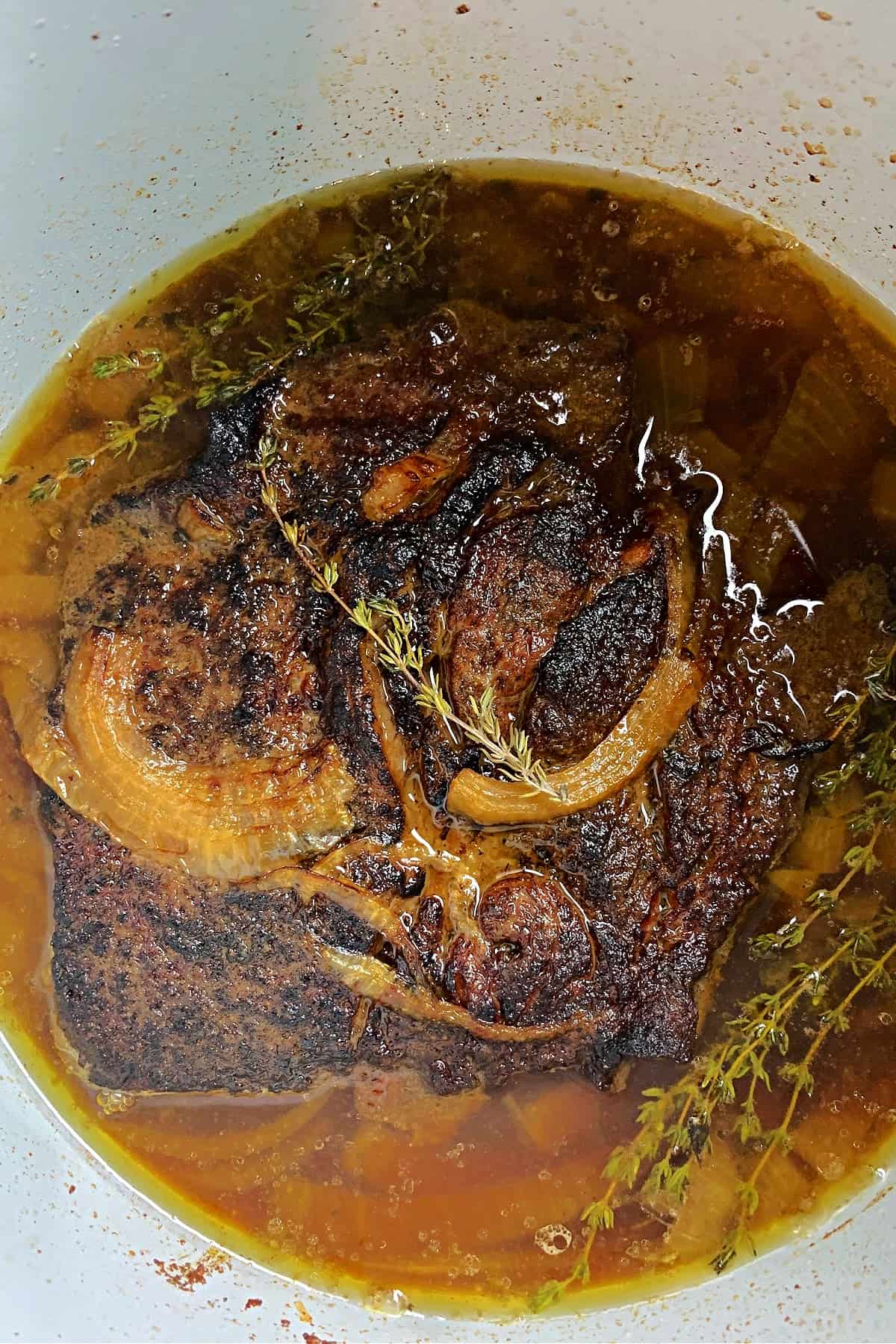 How Long to Cook a Pot Roast in Your Ninja Foodi
After making this dish several times, I realize that, for the best results, you need about 20-30 minutes of pressure cooking time per pound of roast.
Most cuts of meat for pot roasts get more tender the longer they cook, so you generally don't need to worry that you'll overdo it.
Difference between regular and quick release on a pressure cooker
You'll often see pressure cooker recipes talk about the pressure release valve. Some are very specific, telling you to wait ten minutes before using the quick release, and turning the seal to the vent position. Others might tell you to vent right away.
So what does this all mean?
Using a Pressure Cooker creates lots of steam in the pot
Since the food is cooked under high pressure, a lot of steam builds up in the pot. With some foods and recipes, you can release the remaining pressure immediately using the quick venting knob, which is on the pressure lid.
If you do this, just be careful! It will shoot up a jet of pressurized steam so you want to make sure your hand is not directly over the vent.
Sometimes, quick venting prevents overcooking
For some recipes, quick venting is needed to stop the cook time. For example, if you pressure cooked cauliflower or other vegetables, you want to quick release the steam to avoid additional cooking.
But, if it's not listed in your recipe, feel free to do the natural release, it just extends the cook time.
For my pressure cooker pot roast, you can either let it sit and release slowly or you can quick release the steam. Either method will produce amazingly tender meat. It really just depends on how big of a hurry you are in to eat the delicious meal.
Keto-Friendly Pot Roast Sides
Traditionally, pot roast is served with carrots, onions, and potatoes. This mix of vegetables isn't keto-friendly. But, you'll never miss those old standards when you serve this melt in your mouth pot roast with keto risotto or cauliflower mash. I also love to use the sauce as part of keto gravy or with a slice of keto cornbread.
I love having this roast as part of a meal prep. To add variety to the dish and the week, you can add any of these keto side dishes. Feeling a bit more inspired? Use the pot roast as barbacoa style beef and pair it with my Keto Spanish Cauliflower Rice or cilantro lime cauliflower rice to make a burrito bowl!
Other Ninja Foodi Pressure Cooker Recipes
If you love this recipe, you should check out some of my other easy Ninja Foodi recipes. They include reader favorites like my pressure cooker pulled pork and instant pot keto BBQ ribs.
If you try this recipe, please stop back and leave it a star rating and/or a review in the comments. Stay connected & share photos of your creations with me & others on Instagram, Facebook, and Pinterest!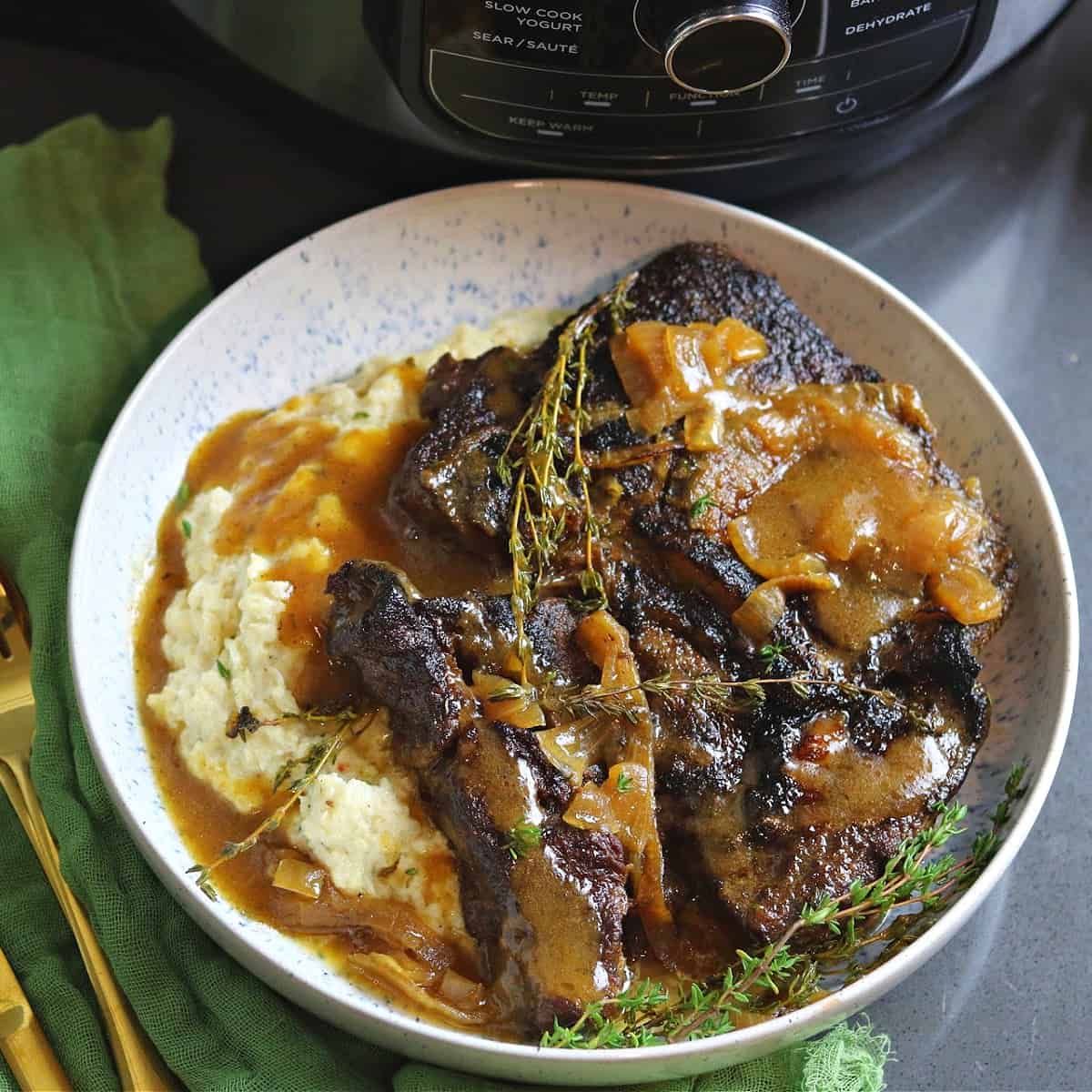 Ninja Foodi Pot Roast Recipe
Learn how to make a tender pot roast with this Ninja Foodi Pot Roast recipe. Uses all the benefits of the Ninja Foodi like the pressure cooker, air fryer, and sear and sauté functions. Includes just 5 ingredients.
Pin
Rate
Print
Use DRDAVINAHS at checkout to save on some equipment & ingredients!
Recommended Equipment
Instructions
Add the roast to the Ninja Foodi pot

Warm your water in the microwave for 1 minute. Then, stir in the beef bouillon

Sprinkle the roast with the spice mixture and pour on the bouillon broth. Top with a stick of butter and the peppers.

Sit the cooking pot in the Foodi base and twist & lock the pressure cooker lid. Double check that your vent on the lid is turned to "seal"

Select "Pressure Cooker", and cook on "High" for 1.5 hours.

Once the clock reaches zero, you can allow the pressure to release normally (~15 minutes). If you're in a rush, you can release the pressure quickly by turning your vent on the lid from "seal" to "vent".

Optional: For a crispier finish, add the air fryer lid and crisp the outside of the roast for 10 minutes on 400 degrees.
Recipe Notes
Pre-sear the Meat:
It's completely optional to brown the meat before adding the broth. To do this in the Foodi, just turn the "sauté/sear" to "high" and add 1 tbsp of the butter. Season both sides of the roast and brown it for 2 minutes per side.
Make Pan Gravy:
After your roast is complete, you might want to make an easy gravy. Simply remove your roast, and add 1/2 tsp Xanthan Gum to the pan drippings. Cook on the "sauté/sear" function on "high" until the gravy is as thick as you'd like.
Add vegetables like carrots:
I haven't tried this in my own kitchen, but a reader used the quick release and added carrots as well as potatoes during the last 15 minutes of pressure cooking.
Nutrition Details
Calories:
382
kcal
|
Carbohydrates:
1
g
|
Protein:
44
g
|
Fat:
21
g
|
Saturated Fat:
11
g
|
Cholesterol:
154
mg
|
Sodium:
228
mg
|
Potassium:
699
mg
|
Fiber:
1
g
|
Sugar:
1
g
|
Vitamin A:
385
IU
|
Vitamin C:
7
mg
|
Calcium:
41
mg
|
Iron:
4
mg
The nutrition facts come from entering the recipe ingredients into Spoonacular API, a database of food ingredients. They may vary for any recipe based on the exact product used. The keto sweeteners I use have 0g net carbs & are not included because sugar alcohols do not impact most people. This is provided as a courtesy, but you can do your own calculations if you wish!
Share this Recipe
If you enjoy this recipe, share a link to it via email or Facebook, pin it, or leave a rating. Please don't copy/paste the instructions to other websites. Thanks for helping the website grow!