This post may contain affiliate links to products I use and highly recommend. You can read my full disclosure .
This Seared Scallops and Cauliflower Rice Risotto recipe is my quick, keto-friendly take on one of my favorite restaurant meals! It features pan seared sea scallops and creamy parmesan broccoli "risotto". It's the perfect easy keto comfort food dish that you might enjoy on a date night or special occasion. Plus, it takes just 30 minutes. I include tips for searing your scallops perfectly and a few recipe variations.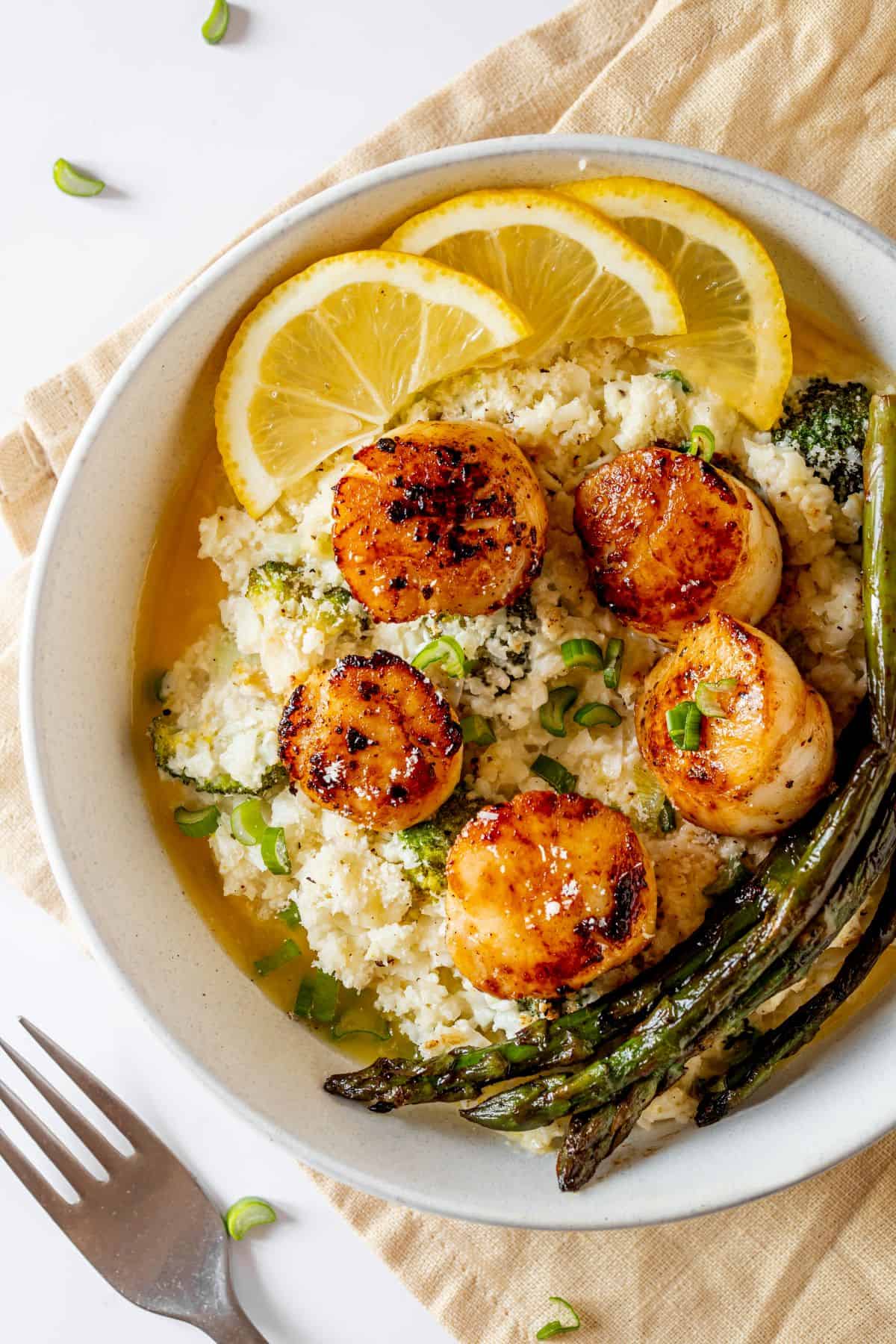 Why Make This
Budget-friendly Date Night: one of the best ways to stay keto on a budget is to make food at home. While scallops are definitely fancy, it is far cheaper to make this dish at home than get it from a restaurant.
Quick & easy: even though this dish is quite impressive, it requires just a little effort and 30 minutes to make.
Perfect way to sneak in veggies: The cauliflower rice risotto will turn any cauliflower or vegetable hater into a veggie lover! The creamy sauce makes this one of my most popular cauliflower rice recipes.
Ingredients Needed
Scallops: this recipe works best with "dry scallops", which are scallops that do not have added salt solutions. You can spot "dry scallops" at the market by looking for products where the ingredients are just scallops.
Butter: I use salted butter for this dish, but you could use unsalted butter
Olive Oil
Sea Salt
Black Pepper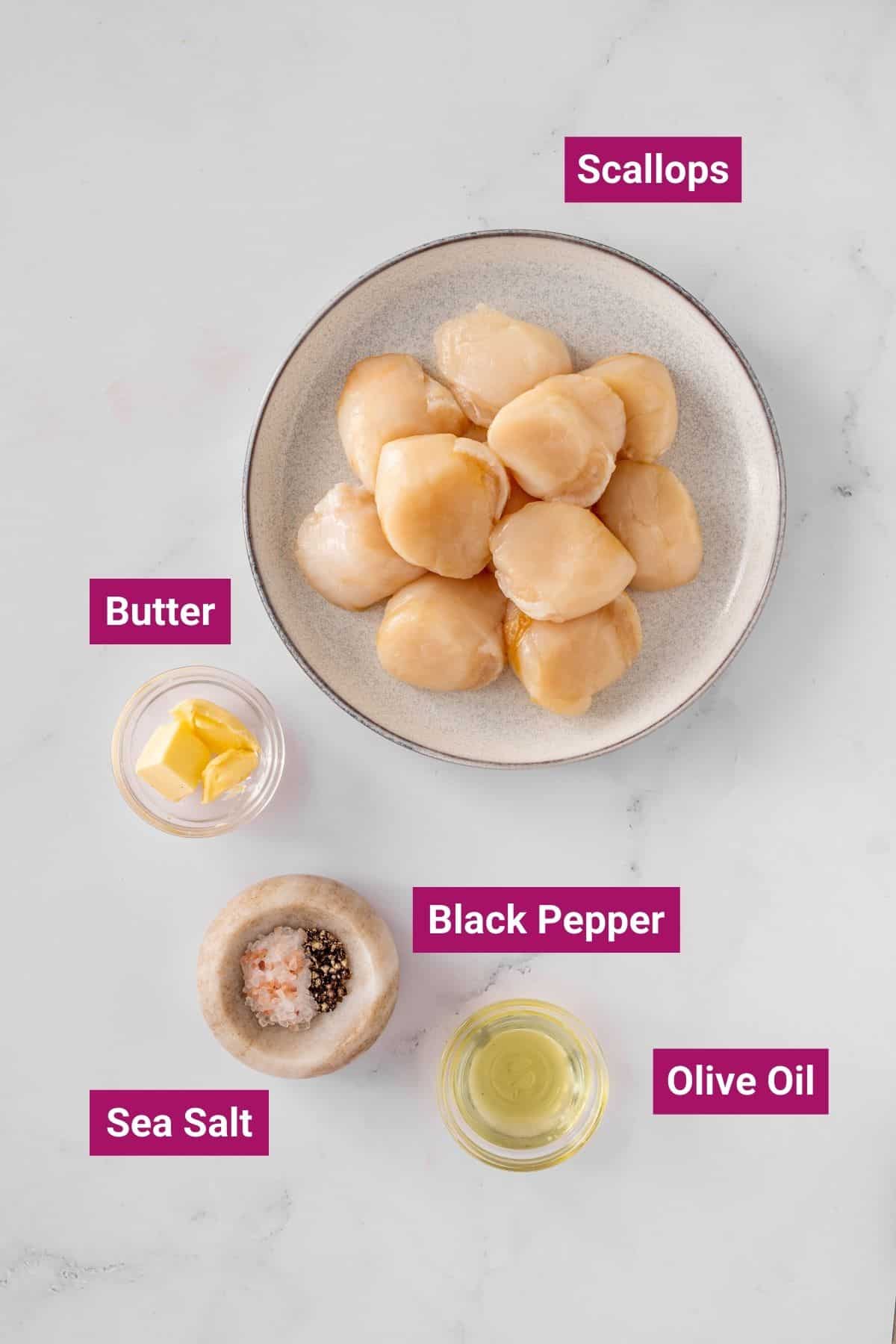 Parmesan Broccoli Cauliflower Rice Risotto
Riced Cauliflower: I have made this recipe with fresh or frozen cauliflower rice
Butter: You can use salted or unsalted butter based on your preferences
Garlic Cloves: I'm using fresh minced cloves. You can add more to taste if you wish.
Broccoli Florets: I'm using fresh broccoli. I cut into very small chunks, sometimes about the size of a pea.
Green Onions: I'm using thinly sliced green onions. I keep the green tips to use as a garnish
Organic Heavy Whipping Cream
Parmesan Cheese: I'm using the fresh grated kind from the refrigerated section of the market.
Natural Ancient Sea Salt
Black Pepper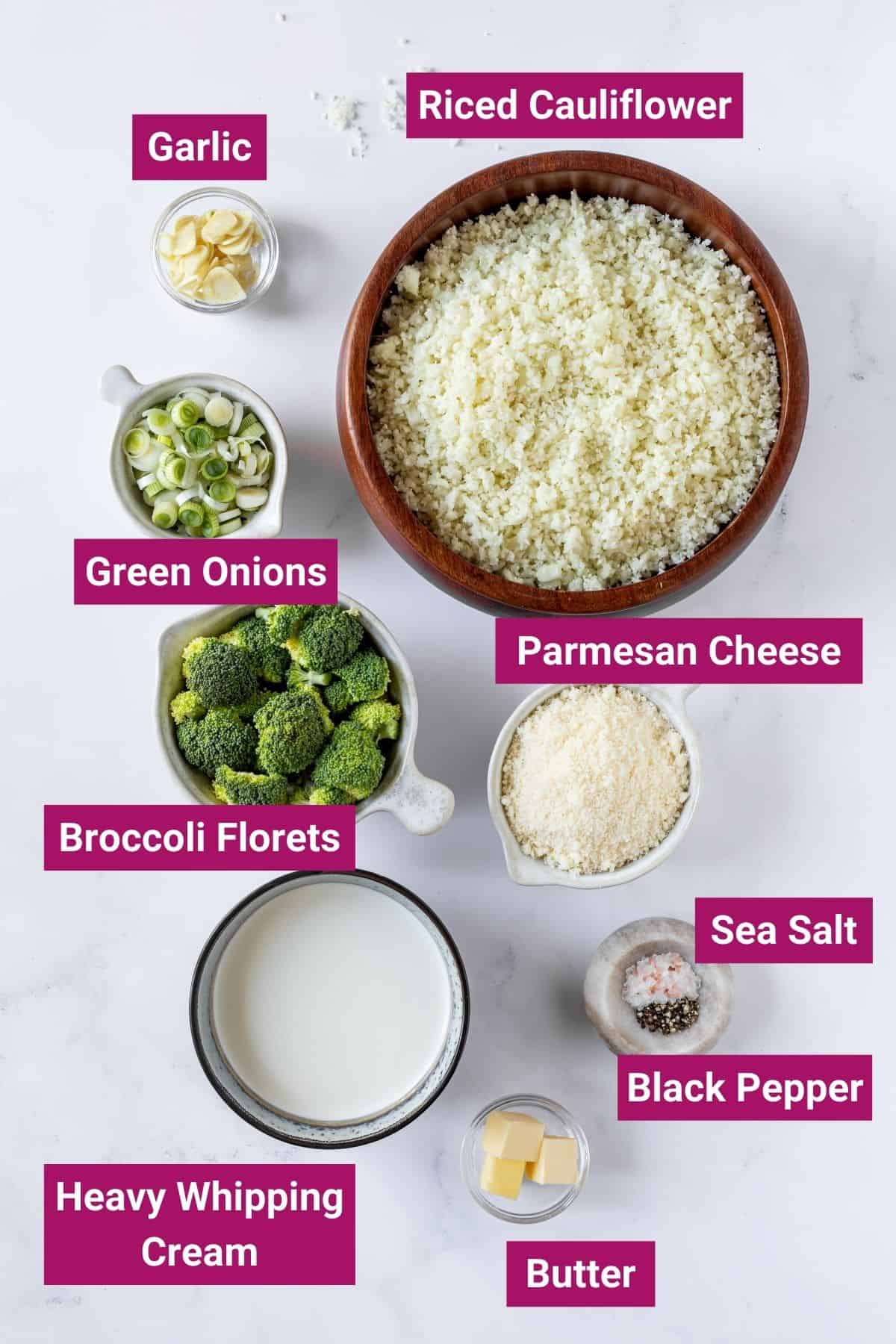 How to Make Seared Scallops & Cauliflower Risotto
For the cauliflower rice risotto:
Bring a medium skillet to medium heat.
Add salted butter, garlic, broccoli florets, and green onions to the skillet and cook until the broccoli pieces start to turn bright green. Sauté the cauliflower rice and then combine the remaining ingredients until the cheese is melted and the rice is tender and creamy.
For the sea scallops:
Preheat a cast iron skillet over medium heat for 2-3 minutes. Add sea scallops to the pan.
Sear both sides of the scallops using a timer and the tips below.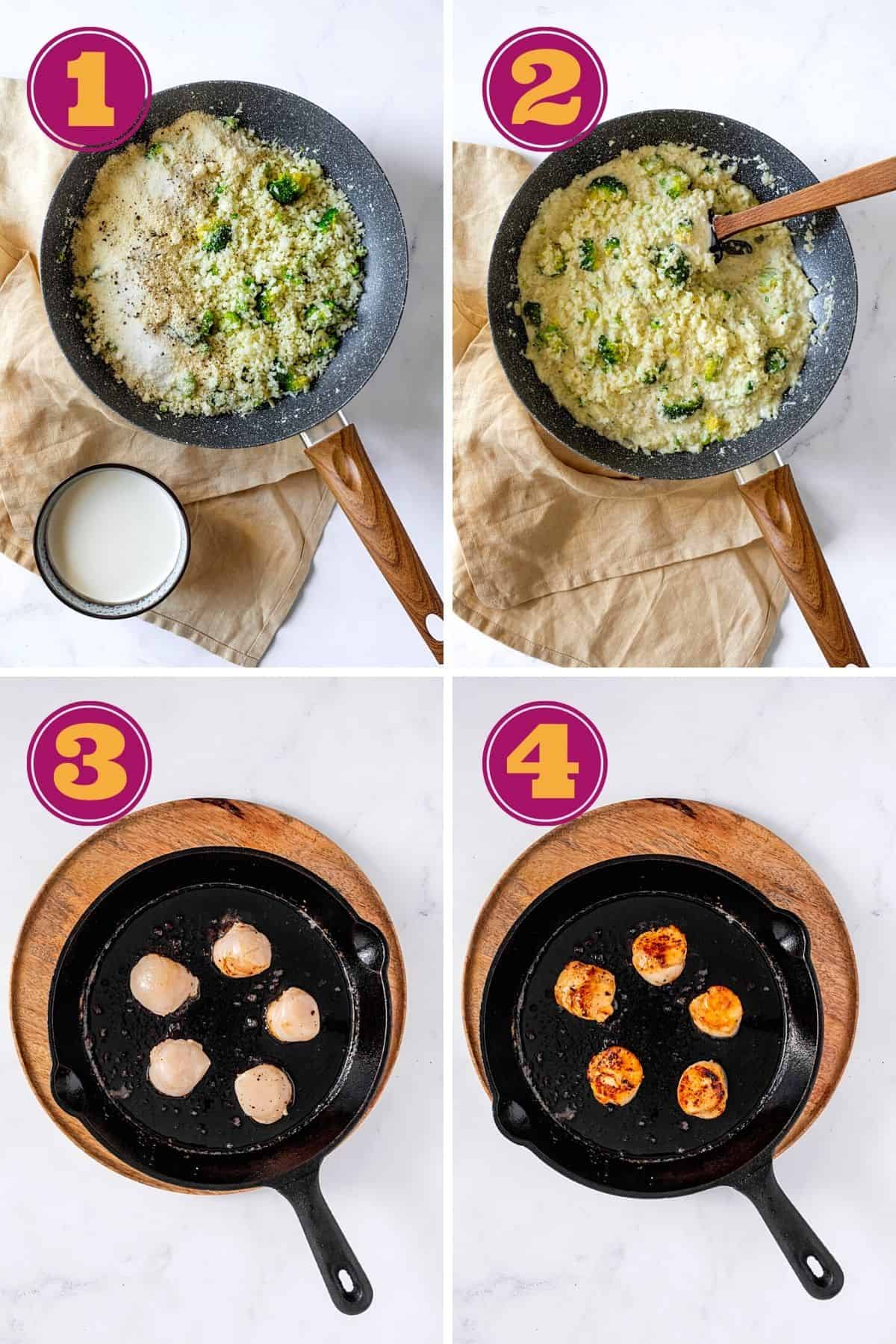 Top Tips & FAQs
You can substitute the green vegetable: This recipe includes broccoli because that is what I had in my refrigerator. However, I've had keto risotto with mushrooms, asparagus, and peas. Feel free to substitute the vegetable for one that you have on hand. You can also skip it altogether, since parmesan risotto tastes great too!
Make the Ultimate Surf & Turf: Use the cauliflower risotto in my popular steak and shrimp surf and turf recipe. It includes juicy filet mignon along with keto shrimp scampi.
Swap the scallops for another seafood or a roast: I often pair cauliflower rice risotto with any protein that I have on hand. Some that go great include: pan-seared shrimp, Ninja Foodi pot roast, and pan-seared halibut. You might also find inspiration from some of these other keto fish and seafood recipes.
Making Risotto Without Rice and Grains
In this recipe, I'm substituting Arborio rice for cauliflower rice. Not only is it quicker to make, but, since cauliflower is a vegetable, it's an easy way to cut grains and carbs from risotto recipes.
After making this dish so many times, I tend to use frozen cauliflower rice from the freezer section in the market, but you can also use fresh, if it is available.
Fresh or Frozen Scallops
I've made this recipe with individually flash frozen scallops as well as the fresh ones from the market's seafood counter. Both have the same great result.
Sometimes, you also save money by getting the frozen kind. With frozen, I simply thaw the scallops using the package directions then pat them dry with a paper towel.
Just be sure to pick up scallops that are "dry". This means skip over any scallops that also include chemicals in their ingredients. As I mentioned in my pan seared scallops recipe, wet scallops (those with added chemicals) are nearly impossible to sear.
Recipe Servings
This Seared Scallops and Cauliflower Rice Risotto makes four meals: I used one pound of scallops and one pound of cauliflower rice so each serving has about a quarter pound of scallops (that was 5 jumbo scallops for us) and about a quarter pound of cauliflower risotto (which is about 3/4 cup).
Should scallops be soaked before cooking?
As I mentioned in my pan seared scallops post, you do not need to soak "dry scallops" before cooking them. In this recipe, I do not soak the scallops since they do not need to be tenderized.
How do you make a good sear for scallops?
The key to seared scallops is using a sizzling hot pan (I prefer a cast iron skillet), salted butter, and a timer. You can get a hot pan by preheating it for 2-3 minutes. After your pan is hot, do not move the scallops or flip them until the timer is done.
Recipes to Enjoy This With
If you try this recipe, please stop back and leave it a star rating and/or a review in the comments. Stay connected & share photos of your creations with me & others on Instagram, Facebook, and Pinterest!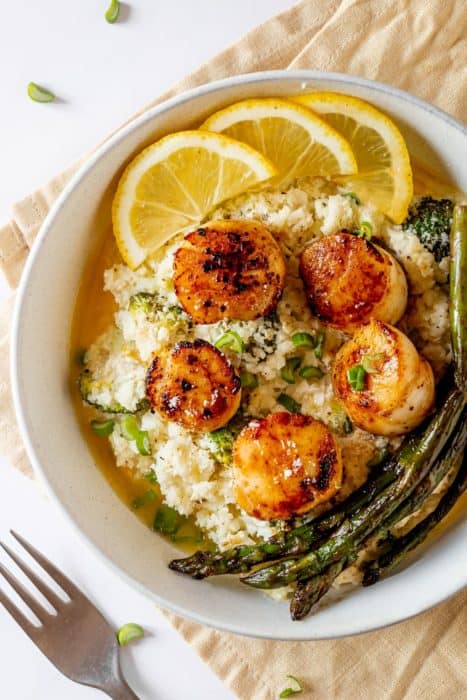 Seared Scallops & Cauliflower Rice Risotto
A quick, keto-friendly and grain-free recipe for seared scallops and parmesan cauliflower rice risotto.
Cuisine:
American, Italian
Pin
Rate
Print
Use DRDAVINAHS at checkout to save on some equipment & ingredients!
Ingredients
Seared Scallops
Instructions
Bring a medium skillet to medium heat

Add salted butter, garlic, broccoli florets, and green onions to the skillet and cook until the broccoli pieces start to turn bright green (~3 minutes)

Add the riced cauliflower to the skillet and continue to cook until the riced cauliflower is almost tender (~3 minutes)

Add remaining ingredients and stir until the parmesan cheese is well incorporated. Lower the heat so that the rice does not stick and cook until the cauliflower rice reaches your desired level of tenderness. Turn off the heat.

Pat the scallops with a paper towel. Sprinkle salt and pepper on top (about 1/4 tsp of each if you're not sure about sprinkling)

Bring a frying pan to medium heat

Add butter and olive oil and wait for it to start to bubble.

Add scallops to the pan and cook for 2 minutes per side. Remove from the heat and pan so that they do not continue to cook.

Add a large spoon of risotto to a plate. Top with scallops, green onions, and melted butter if you are being extra fancy.
Recipe Notes
This recipe has more grams of net carbs per serving than some of my other recipes, but it also has a lot of vegetables and is a complete meal (as to just a part of dinner)!
Nutrition Details
Calories:
551
kcal
|
Carbohydrates:
12
g
|
Protein:
23
g
|
Fat:
47
g
|
Saturated Fat:
26
g
|
Polyunsaturated Fat:
0
g
|
Monounsaturated Fat:
0
g
|
Trans Fat:
0
g
|
Cholesterol:
158
mg
|
Sodium:
1079
mg
|
Potassium:
686
mg
|
Fiber:
3
g
|
Sugar:
2
g
|
Vitamin A:
795
IU
|
Vitamin C:
76.8
mg
|
Calcium:
276
mg
|
Iron:
1.3
mg
The nutrition facts come from entering the recipe ingredients into Spoonacular API, a database of food ingredients. They may vary for any recipe based on the exact product used. The keto sweeteners I use have 0g net carbs & are not included because sugar alcohols do not impact most people. This is provided as a courtesy, but you can do your own calculations if you wish!
Share this Recipe
If you enjoy this recipe, share a link to it via email or Facebook, pin it, or leave a rating. Please don't copy/paste the instructions to other websites. Thanks for helping the website grow!