Welcome to Dr. Davinah's Eats!
Hi! I'm Davinah.
I am a teacher educator and former math teacher, but also a hardcore foodie. I've always enjoyed eating restaurant-quality dishes and exploring trendy food spots. However, eating out often forces me to make choices between taste and my waistline! So, I decided to find ways to eat better without sacrificing flavor.
I created Dr. Davinah's Eats by accident.
After graduating in May 2017 from Temple University with my Ph.D. in Education and a lot more time on my hands, I started sharing pictures of my dinner on my Instagram! Dr. Davinah's Eats started as a notebook of sorts where I stored my recipes and made them available for my IG friends.
I had no idea what I was doing (and some of my old posts show lol). However, creating and sharing food was something I realized made me happy! So, like most other things, I learned as much as I could about launching and running and food blog & now we're here (thanks a lot for visiting by the way)!
I specialize in keto & low-carb comfort food.
To me, comfort food is a type of food that is linked to nostalgia
As in the name, comfort food is a type of cuisine that brings you comfort. It has a nostalgic kind of feel and is attached to memories, such as a childhood memory of waiting for Thanksgiving to enjoy a special cake or the memory of waiting all day just to take a bite of a savory slow cooker roast. Comfort food is savory, rich, and makes your tummy smile!
But comfort food as-is is problematic long-term.
Comfort food in all its deliciousness isn't really sustainable over the long term because no matter how much we love Grandmom's chocolate cake, it's probably best to only have it on major holidays! Comfort food is typically filled with sugar, grains, and carbs!
The keto and low-carb ways of eating allow me to have comfort food with less guilt.
I specialize in creating swaps to comfort food recipes so that they can be enjoyed with less guilt. Some of my favorites are:
Healthy Keto Pumpkin Pie Cheesecake Bars
Get your low carb pumpkin fix with these delicious keto pumpkin bars. Creamy layers of cheesecake and perfectly spiced pumpkin pie sit on top of a buttery crust!
Get this Recipe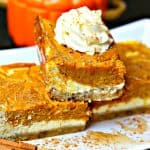 Seared Scallops & Cauliflower Rice Risotto
A quick, keto-friendly and grain-free recipe for seared scallops and parmesan cauliflower rice risotto.
Get this Recipe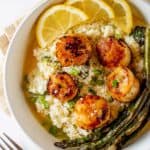 Ninja Air Fryer Chicken Wings
These air fried chicken wings are as crispy as deep fried wings, but easier, healthier, and less mess. They super juicy, and take only 30 minutes to make.
Get this Recipe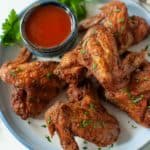 I aspire to grow this website into a better-for-you food hub.
I believe that you should be able to eat tasty food no matter what lifestyle you follow. Personally, I'm not a "salad" kind of woman (I eat them but I rarely say, "oh boy! I neeeeeeed that salad!") so it's important for me to have food that's comparable to the deliciousness that I can find in my favorite restaurants. It's my hope that this blog will become a source for better-for-you food.
What to expect from this site:
A recipe for every meal
You can find a recipe for every meal. As I grow this website, I'll add more categories. Some of my favorites recipes by type are below:
Breakfast
Dessert
Game Day Appetizers & Chicken Wings
Quick Restaurant Quality Meals
Whole30 and Paleo Favorites
I started this blog before I started keto. My commitment, then and now, is to eat more whole and real food. My journey to keto began during a round of Whole30.
Those 30 days were super eye-opening about the impact that certain foods had on my body and mood. After Whole30, I transitioned into paleo. The only problem with paleo (for me) was that I was gaining quite a bit of weight, which made me a bit frustrated.
Keto eventually became my way of balancing eating real food and managing my weight.
Besides recipes, I share resources and tips related to the ketogenic lifestyle.
In addition to the recipe section, I also have a keto blog. The blog is filled with themed recipe collections, product reviews, and other helpful guides. Some of my favorites are:
I'm happy to answer your questions.
If you have a question about a recipe or my blog, then feel free to send me an email. If you have a brand or company that's interested in collaborating with me, then you can learn more about how to work with me here.