A quick keto-friendly, low carb and grain-free recipe for pizza bagels that includes fathead dough bagels and tips for popular pizza ingredients.
This post may contain affiliate links to products I use and highly recommend. You can read my full disclosure .
This keto-friendly pizza bagels recipe has all the flavor and is sure to be a whole family pleaser. I made these using my almond flour fathead dough bagels recipe and popular pizza ingredients. In this post, I share a recipe that shows you how to make low carb bagels with 15 minutes of cook time that can be used in these keto pizza bagels & other quick meals like a keto Nova Lox sandwich! Plus, for those who want to skip making bagels or those who need a list of keto-friendly pizza toppings, I share an option for having low carb bagels shipped to your door and topping tips.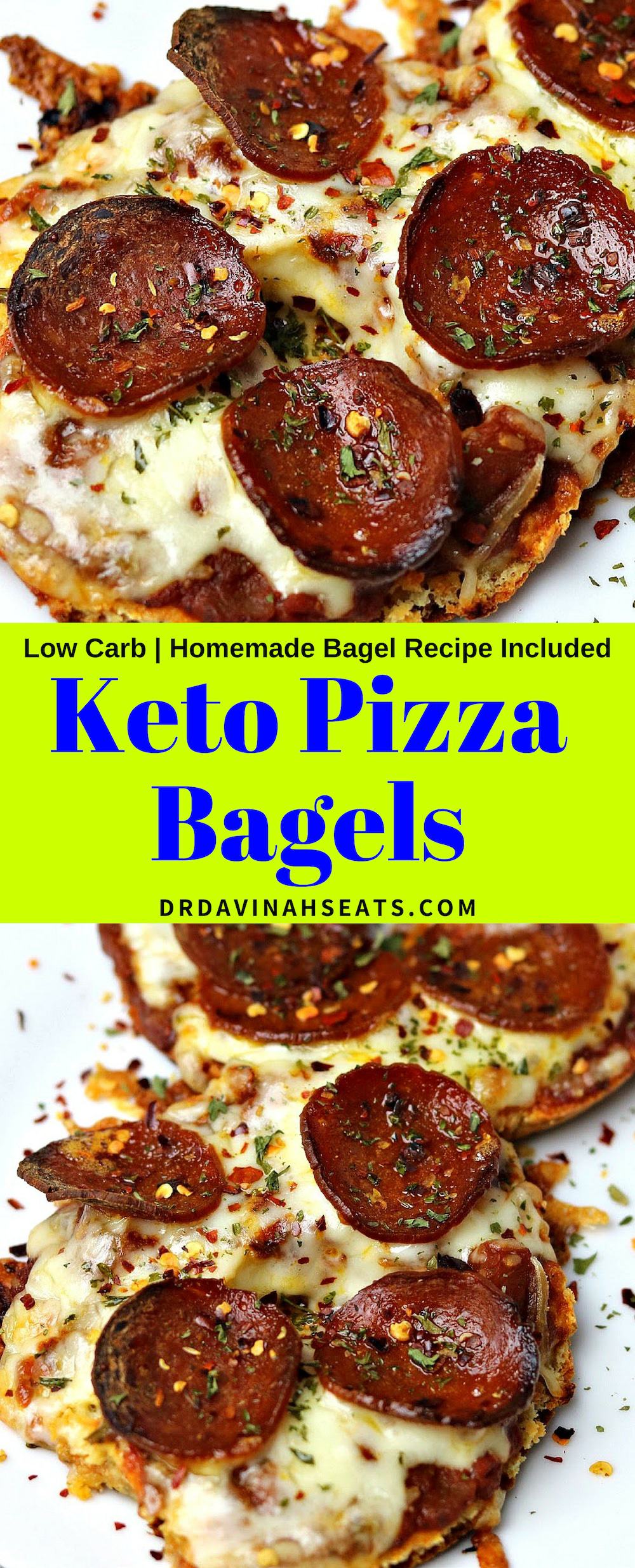 How do you make these pizza bagels low-carb, keto and grain-free?
Pizza bagel toppings are generally keto-friendly. So, making this low carb has everything to do with the bagel. In this recipe, I'm using my recipe for fathead dough bagels.
What's fathead dough?
If you're not familiar with fathead dough, it's a dough made of almond flour, cheeses, and spices. Once cooked, it loses its cheese flavor so lots of keto people use it in sweet and savory dishes. In fact, I've used it to make everything from Keto Philly Cheesesteak Pockets to Keto Maple Pecan Cinnamon Rolls!
Can you make fathead dough bagels with coconut flour?
I personally use almond flour in my fathead dough. However, if you're allergic to almonds, then you can make fathead dough with coconut flour. One recipe that is well rated is this one from All Day I Dream About Food. Each bagel has about 3g net carbs.
Can you buy keto bagels instead of making them?
Yes! If you're just wanting to purchase low carb bagels, one option to buy low carb bagels online is the Great Low Carb Bread Company. They have flavors like Cinnamon and Everything Bagel. Each bagel is about 2g net carb.
I haven't found a coconut flour low carb bagel that you can purchase so I'm not including one here. But, if you've found one, then let me know! I'd be happy to include it as a suggestion.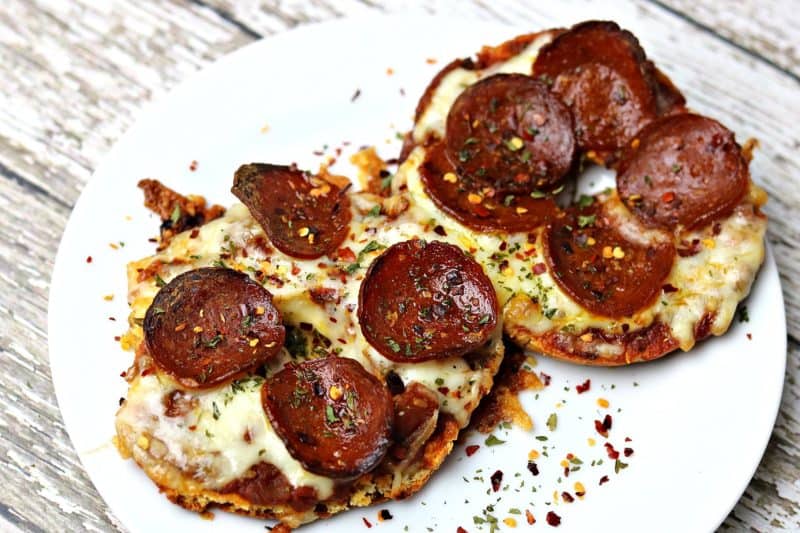 What are good low carb pizza bagel toppings?
I enjoy pizza bagels (and pizza generally) because they are super versatile. You can mix and match flavors and ingredients to make something custom and unique each time, which means that it doesn't really get boring.
When it comes to toppings and keeping these pizza bagels keto-friendly, then it's important to choose things with low to no added sugar. Some toppings that you might include are:
No Sugar Added Sauces: Tomato Sauce, Alfredo Sauce or Pesto Sauce
No Sugar (or Low Sugar Added) Meats: Chicken Bites, Pepperoni, Sausage Bits, Bacon Bits
Sliced Vegetables: Red Onions, Peppers, Spinach
Cheeses: Shredded Mild Cheddar, Shredded Mozzarella, Grated Parmesan Cheese
Fresh Herbs: Basil, Parsley
Spices: Red Pepper Flakes, Garlic Powder, Dried Parsley
Quick Note about choosing a Tomato Sauce:
Tomato sauce has carbs and sugar naturally, so when selecting a tomato sauce, it's important to look at the ingredients. If you see sugar in the ingredients, then just pass on that sauce.
At my local market, there's always at least one store brand of tomato sauce without added sugar. Another option is a brand called Rao's Homemade, which I've seen in Whole Foods.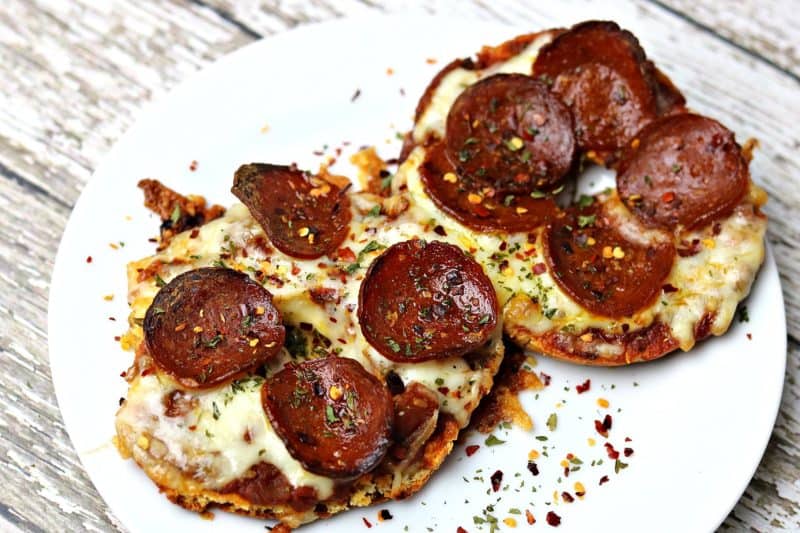 A quick keto-friendly, low carb and grain-free recipe for pizza bagels that includes fathead dough bagels and tips for popular pizza ingredients.
Want to share this recipe?
To spread the word about this recipe, please save it to Pinterest, share a link to it, or rate it if you loved it. Please do not copy & paste (or screenshot) my recipes to social media or other websites.
Instructions
Preheat the oven to 425 degrees and prepare a parchment lined baking sheet

Add the bagel halves to the baking sheet. Spread 1 tbsp of tomato sauce on each bagel half

Top each bagel half with cheese and pepperoni.

Bake for 8-10 minutes or until the pepperoni edges become crispy and the cheese is fully melted.
Recipe Nutrition Facts
Nutrition Facts
Pizza Bagels
Amount Per Serving
Calories 247
Calories from Fat 162
% Daily Value*
Fat 18g28%
Cholesterol 61mg20%
Sodium 1257mg52%
Potassium 266mg8%
Carbohydrates 5g2%
Protein 12g24%
Vitamin A 160IU3%
Vitamin C 1.1mg1%
Calcium 71mg7%
Iron 0.3mg2%
* Percent Daily Values are based on a 2000 calorie diet.
Did you make this recipe?
Share your photos & mention @DrDavinahS! I love seeing them!
Nutritional Disclaimer
The nutritional information comes from Spoonacular API, a database of food ingredients. The nutritional information for any recipe will vary based on the exact product you use and the brand. I do not include erythritol or sugar alcohols in the final carb or net carb count as it does not have any impact on my blood glucose levels. Before starting keto or a low-carb eating plan, you should consult your doctor. I am sharing my personal experiences and none of the information included in my recipes or throughout the site should be taken as medical advice.