Beef seems to be the most common meat people reach for when a dish calls for ground meat. I'd say most blogs I read use beef a lot, and often people follow a recipe to the letter. But, did you know you can make amazing keto ground turkey recipes too? I've included many Mexican and Asian takeout inspired recipes below so get your appetite ready.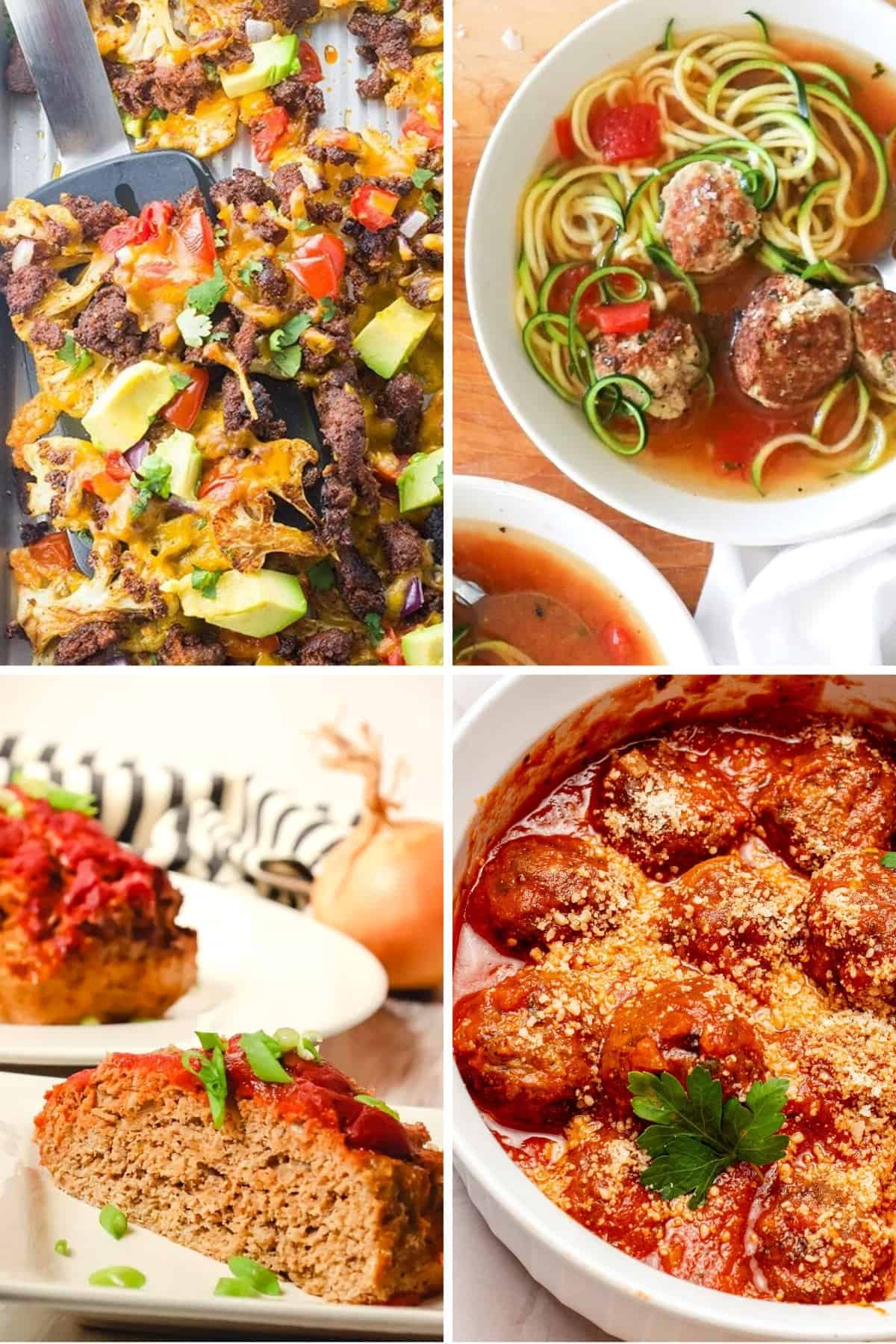 Ground Beef vs. Ground Turkey in Cooking
Whether a recipe calls for turkey, ground chicken or ground beef, you can use them interchangeably. Just keep in mind that turkey is a lot milder in flavor so you really want to amp things up. This means that you should be sure to season your dish to taste when using ground turkey.
You should also know that ground turkey is naturally lower in fat than beef. So, I personally prefer to enjoy ground turkey in recipes that have broth, gravy, or other sauce.
Not interested in experimenting? No worries, all of the keto ground turkey recipes below taste great!
24 Awesome Keto Ground Turkey Recipes
This is one of the easiest recipes in the list because it includes store-brought meatballs and your air fryer. Any ground turkey meatball will work.
Italian Sausage meat (you can get it in bulk in most markets) is perfect for making an easy dinner. This recipe uses pork, beef or turkey Italian sausage to make an awesome semi-homemade meal.
All your favorite taco toppings served up on a crisp bed of lettuce. It's really the best of both worlds as you get your taco craving met and add in extra veggies. Want to enjoy this meat as a taco, add the ground turkey meat and toppings to one of my cheese taco shells.
Egg roll in a bowl is SUCH a great meal. It's gotten popular recently with various lifestyles, and I cannot recommend it enough. It's really easy to customize your spice level. I use it as part of meal prep. It also makes a great recipe to make ahead then freeze.
Nothing beats a homemade sloppy joe sauce. You won't know it's turkey hiding under the delicious sauce. You can eat this on low carb hamburger buns or another keto or gluten-free roll.
You'll love these ground turkey lettuce wraps with cilantro lime dressing! They're healthy and full of amazing flavor. The slaw adds a delicious crunch!
This low carb turkey taco skillet is a super easy meal full of wonderful Mexican flavors! I love a one-pot meal for ease of cooking and then everyone can customize their toppings when served.
Zucchini can often seem watery when chopped and cooked. Keeping them as "boats" and filling with delicious keto ground turkey taco meat makes for a new family favorite.
If you've ever made a burger with chicken or poultry, one common problem is that they can get or be dry. Surprise! Avocado adds moisture to these!
Ground turkey, cheese, and cauliflower – that's all you need to make a delicious, warming meal.
For the best healthy nachos recipe, make cheesy cauliflower nachos with ground turkey taco meat! They are so easy to make, with just 15 minutes prep and simple, common ingredients.
This Healthy Turkey Stir-Fry has the perfect mix of protein, good carbs, and fats for a healthy meal. It tastes amazing and can be ready in less than 10 minutes.
These creamy meatballs are absolutely delicious and very versatile. They are dairy-free and fit a lot of special diets. You won't miss the heavy cream in this dish.
Meatloaf is a classic comfort food dish. Using turkey will reduce the fat, and you'll find a surprise breadcrumb substitution!
Crisp romaine leaves mean you won't miss the crunch of a taco shell. All your favorite Keto toppings can be added to make this turkey taco meat anything BUT boring.
These turkey enchilada stuffed poblanos are a fantastic Mexican-inspired meal. Poblanos are perfect to give you just a bit of heat that the whole family will enjoy.
Only 10 minutes to prep these Keto Asian meatballs. The sticky sauce makes you think of takeout but it is obviously so much better for you!
A healthy, Crock-pot recipe for white turkey chili without beans that's low carb and full of flavor. It's dairy-free, but cheese or sour cream could be added on top if desired. This is a big switch from traditional chili recipes.
Thai seasoning really amps up ground turkey. They only take 20 minutes to prepare and are the perfect complement to crisp lettuce leaves.
Make sure and trim your zoodles a bit so it's easier to eat up this delicious soup. Zoodles are an awesome substitute for pasta and other noodles.
An easy to make turkey pumpkin chili made in the slow cooker. It's super filling and perfect for warming up on the cooler days of fall. Add your favorite Keto toppings!
Enjoy these tasty Greek Meatballs with Tzatziki Sauce as a stand-alone meal, over a bed of zoodles sprinkled with some crumbled feta cheese or share them as an appetizer at parties.