This post may contain affiliate links to products I use and highly recommend. You can read my full disclosure here.
Click below to share this!
Keto and gluten free coconut flour brownies are delightfully rich and tasty alternative to traditional brownie recipes. If you love chocolate, then give these keto-friendly brownies a try.
This easy, gluten-free, Keto Coconut Flour Brownies recipe is a delightfully rich and tasty alternative to traditional brownie recipes. These include just a few ingredients that you probably have in your pantry and a few steps. Perfect for those who are looking for easy grain-free dessert recipes that do not include almond flour.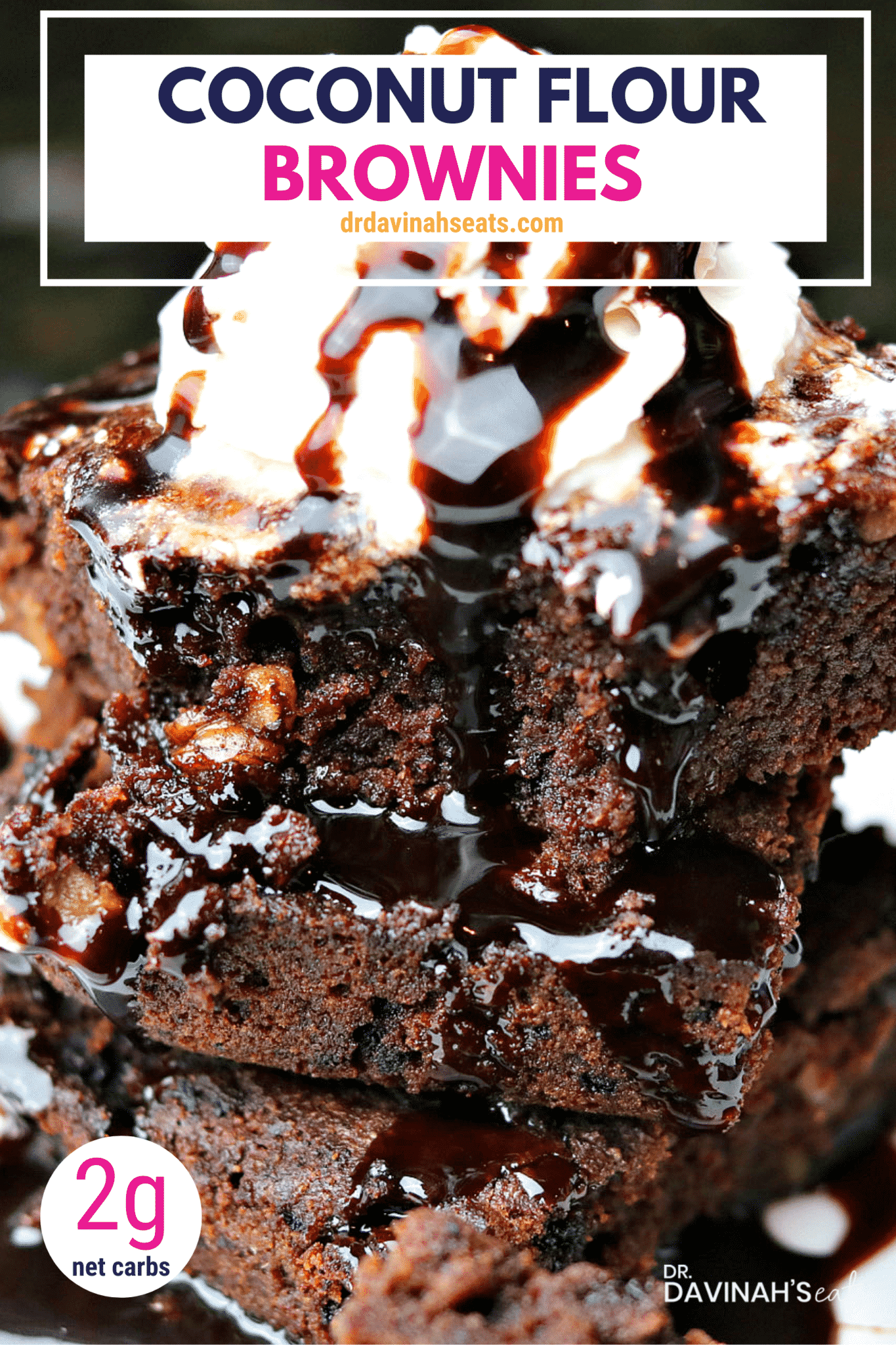 Why Did I Make Keto Coconut Flour Brownies?
Several readers asked for it!
Keto coconut flour brownies are here by popular demand!
Many of you tried Easy Keto Cheesecake Brownies and wanted a keto brownie recipe that did not include a store-brought brownie mix.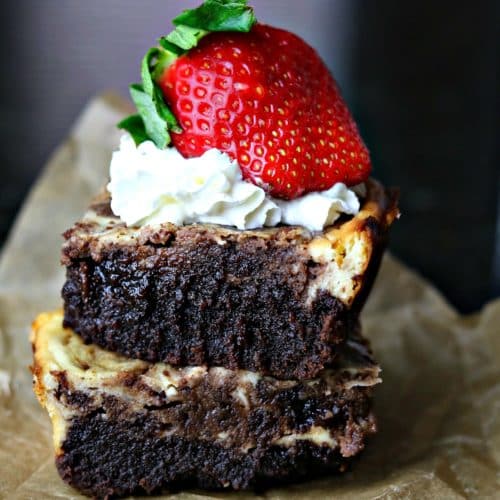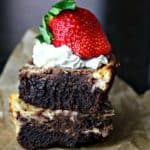 Almond Flour doesn't work for everyone
Besides that, many of my desserts use almond flour. For a lot of people, almond flour works without any issues. But for some, almond flour is an allergen. So, I made these keto, gluten-free brownies with coconut flour, which lets more people enjoy them.
Most coconut flour brownie recipes are paleo & not low-carb
You may have heard that coconut flour is used a lot in Paleo cooking and baking. Paleo recipes, though, tend to use high carb sweeteners.
But my keto coconut flour brownies use a low carb sweetener, Powdered Monk Fruit Erythritol. This keto-friendly blend is a bit cheaper than Swerve. It also substitutes for regular sugar 1:1.
How to Substitute Coconut Flour for Regular Flour in Brownies
When you use coconut flour in place of regular wheat flour, there are a few things you need to keep in mind.
For one thing, you need less flour overall.
Coconut flour, and other gluten free flours, tend to be very dry. So, you also need to add more moisture through wet ingredients like eggs, butter, oil, and so on.
Coconut flour brownies also need a binding agent. To do this, my brownie recipe calls for Xanthan Gum.
Xanthan gum gives gluten-free baked products a similar consistency to baked goods that use regular flour.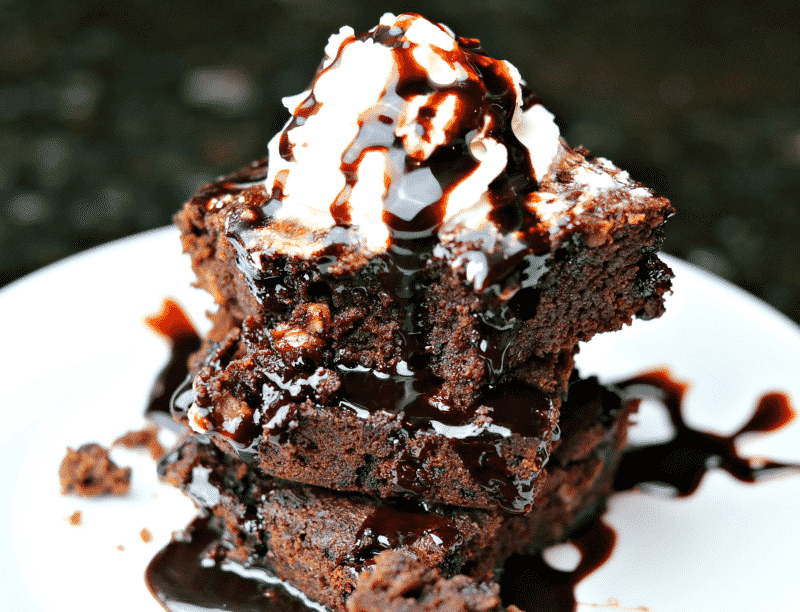 Ingredients in Keto Coconut Flour Brownies
Keto coconut flour brownies need about as many ingredients as other made from scratch brownies need.
And like other brownies, you need to seperate your wet and dry ingredients before combining them all together as a batter.
For the wet ingredients, you will need:
eggs

melted butter

vanilla extract
For the dry ingredients, you will need:
coconut flour

cocoa powder

baking powder

Powdered Monk Fruit Erythritol (or another keto-friendly sweetener)

Xanthan Gum
If you'd like a bit of an extra crunch, you can also add some chopped walnuts or pecans to the mix.
Each set of ingredients should go into their own glass mixing bowl (these are my favorite mixing bowls) or any that you have on hand.
How to Make Brownies with Cocoa Powder & Coconut Flour
Keto brownies are easy to make and do not take much prep work.
The first thing to do is to preheat the oven and gather all your dry and wet ingredients. They all need to measured and placed in two bowls – one for dry ingredients and one for wet ingredients.
When the dry and wet ingredients are together in their respective bowls, give them a quick mix. For the dry ingredients, a wire whisk works well in combining the ingredients. You can also use a whisk for the wet ingredients, a handheld mixer, or a spoon.
Once both sets of ingredients are combined, make a well or hole in the middle of the dry ingredients. Pour the wet ingredients into this hole. Use a spatula to combine the ingredients until the batter is mostly smooth. If you are using walnuts, fold the walnuts into the batter once it is combined.
When the batter is mixed, pour it into a parchment lined baking pan. I use an 8 x 8 pan. If you use a smaller or larger pan, you will need to adjust your cooking time. In general, the bigger the pan, the shorter time it needs to cook.
Once you place it in the oven, bake for about 30 minutes. When you remove the brownies from the oven, let them rest for a while before cutting into them.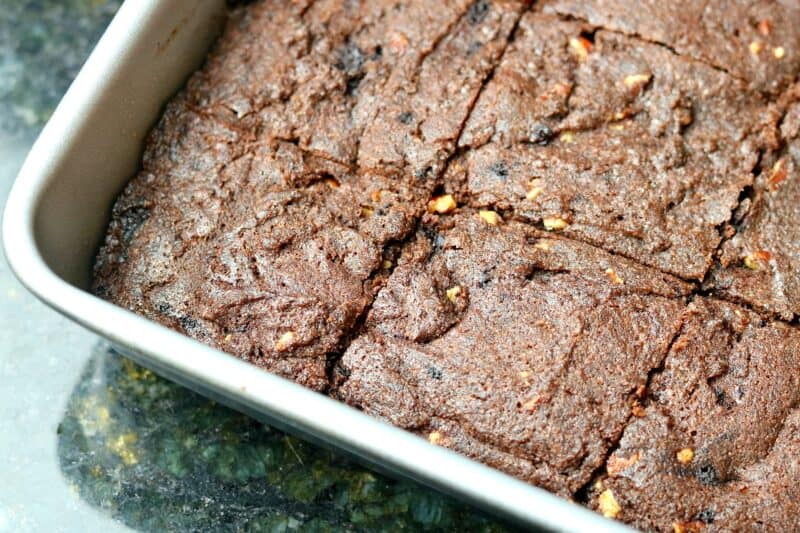 How Many Carbs are in Coconut Flour Brownies
Coconut flour brownies are low in carbs. When planning your daily carbs, you can count on 2 grams of net carbs per serving.
So, if you plan to make them and eat them as a dessert, just make sure you plan for the added carbs that day. Trust me, it is well worth it.
How to make coconut flour brownies moist
Moisture and reduced flour are the keys to making moist brownies. Most brownie recipes that use coconut flour use about 1.5 cups of coconut flour. The result is a drier tasting brownie.
By comparison, I use only a ½ cup of coconut flour, which gives them just enough body to stick together without drying them out.
The other trick I use is adding more wet ingredients. I use a lot of eggs, which adds both moisture and additional binding to help the brownies stick together.
Finally, more butter gives the brownies extra moisture, which is what I use. Other fats can also add additional moisture to the brownies, but butter tends to taste better in brownies.
Other Keto Chocolate Recipes
If you're a chocolate fan, here are several other keto-friendly chocolate lover's recipes you should try: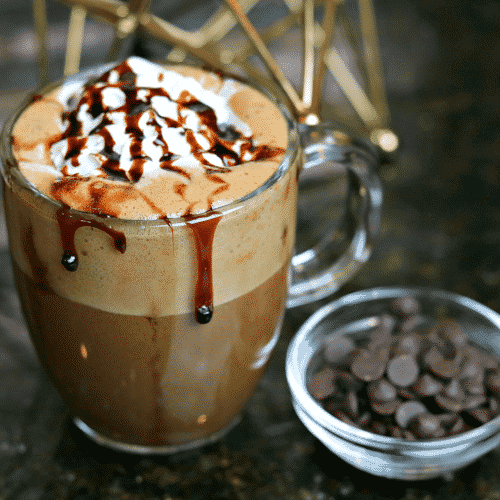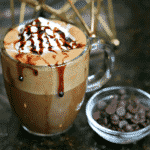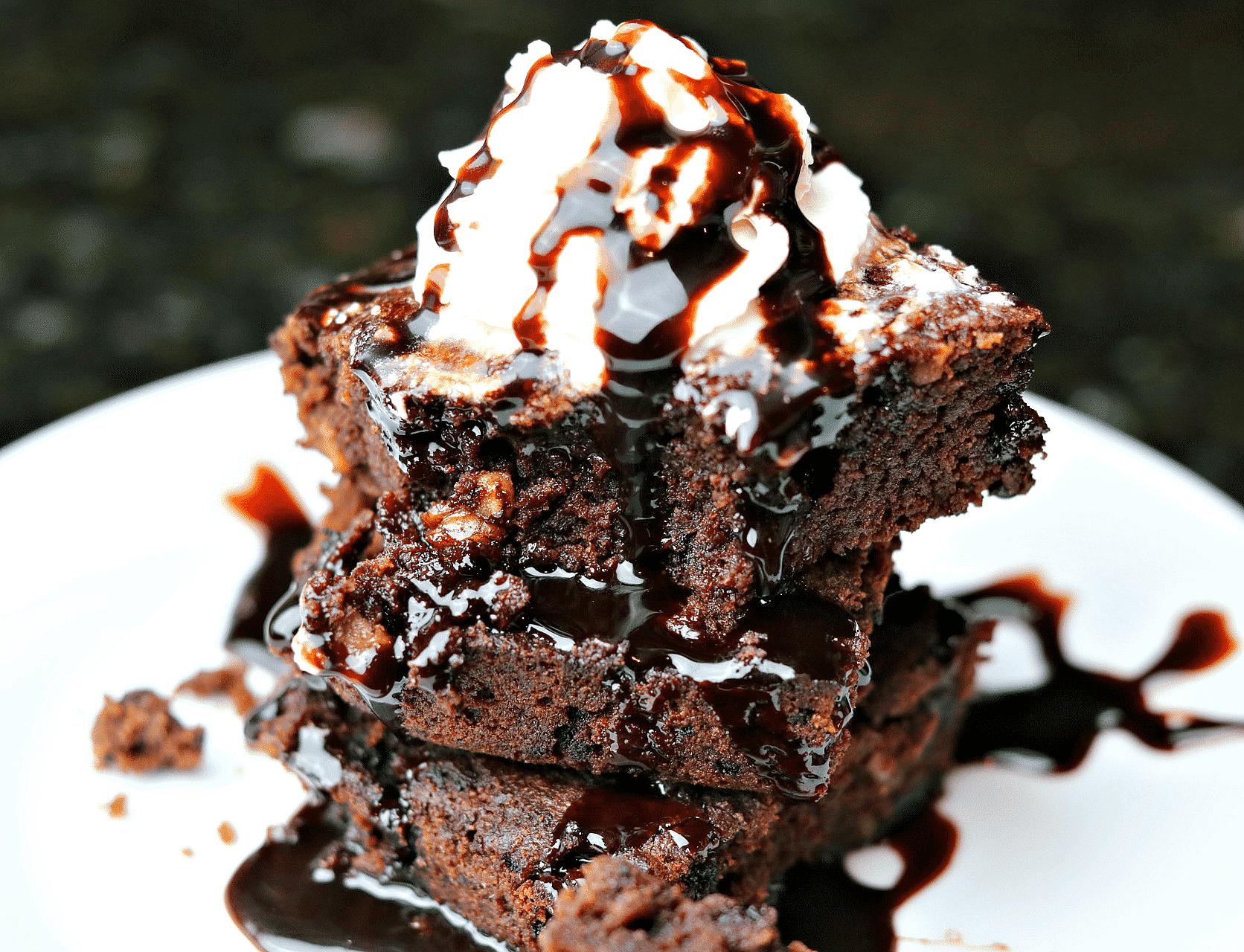 Keto and gluten free coconut flour brownies are delightfully rich and tasty alternative to traditional brownie recipes. If you love chocolate, then give these keto-friendly brownies a try.
Want to share this recipe?
To spread the word about this recipe, please save it to Pinterest, share a link to it, or rate it if you loved it. Please do not copy & paste (or screenshot) my recipes to social media or other websites.
Ingredients
Coconut Flour Brownies - Dry Ingredients
Coconut Flour Brownies - Wet Ingredients
4

large

eggs

1

cup

butter

melted

1/2

tsp

vanilla extract

1/3

cup

walnuts

optional
Optional Topping
Instructions
Preheat the oven to 350 degrees

Add all of the wet ingredients to a bowl and mix them.

Add all of the dry ingredients to a bowl and mix them.

Combine the wet ingredients and the dry ingredients with a spatula. Optional: fold in walnuts if you choose to incorporate them.

Add the combined brownie mix to a parchment lined 8x8 square pan.

Bake 30 minutes. Allow to cool.
Recipe Nutrition Facts
Nutrition Facts
Keto Coconut Flour Brownies
Amount Per Serving
Calories 212
Calories from Fat 180
% Daily Value*
Fat 20g31%
Cholesterol 111mg37%
Sodium 175mg7%
Potassium 115mg3%
Carbohydrates 5g2%
Protein 4g8%
Vitamin A 575IU12%
Vitamin C 1mg1%
Calcium 36mg4%
Iron 1mg6%
* Percent Daily Values are based on a 2000 calorie diet.
Did you make this recipe?
Share your photos & mention @DrDavinahS! I love seeing them!
Nutritional Disclaimer
The nutritional information comes from Spoonacular API, a database of food ingredients. The nutritional information for any recipe will vary based on the exact product you use and the brand. I do not include erythritol or sugar alcohols in the final carb or net carb count as it does not have any impact on my blood glucose levels. Before starting keto or a low-carb eating plan, you should consult your doctor. I am sharing my personal experiences and none of the information included in my recipes or throughout the site should be taken as medical advice.