This post may contain affiliate links to products I use and highly recommend. You can read my full disclosure .
Ice cream is a perfect cool treat on a warm any day! Luckily, it's super easy to make keto ice cream at home. This recipe for Keto Peanut Butter Chocolate ice cream uses Frappaketo Peanut Butter Chocolate Cream keto mix and just a few ingredients. With an ice cream maker, you can churn this low carb dessert in under 30 minutes. If you're dairy-free, one simple swap makes this a delicious low-carb, dairy-free ice cream option.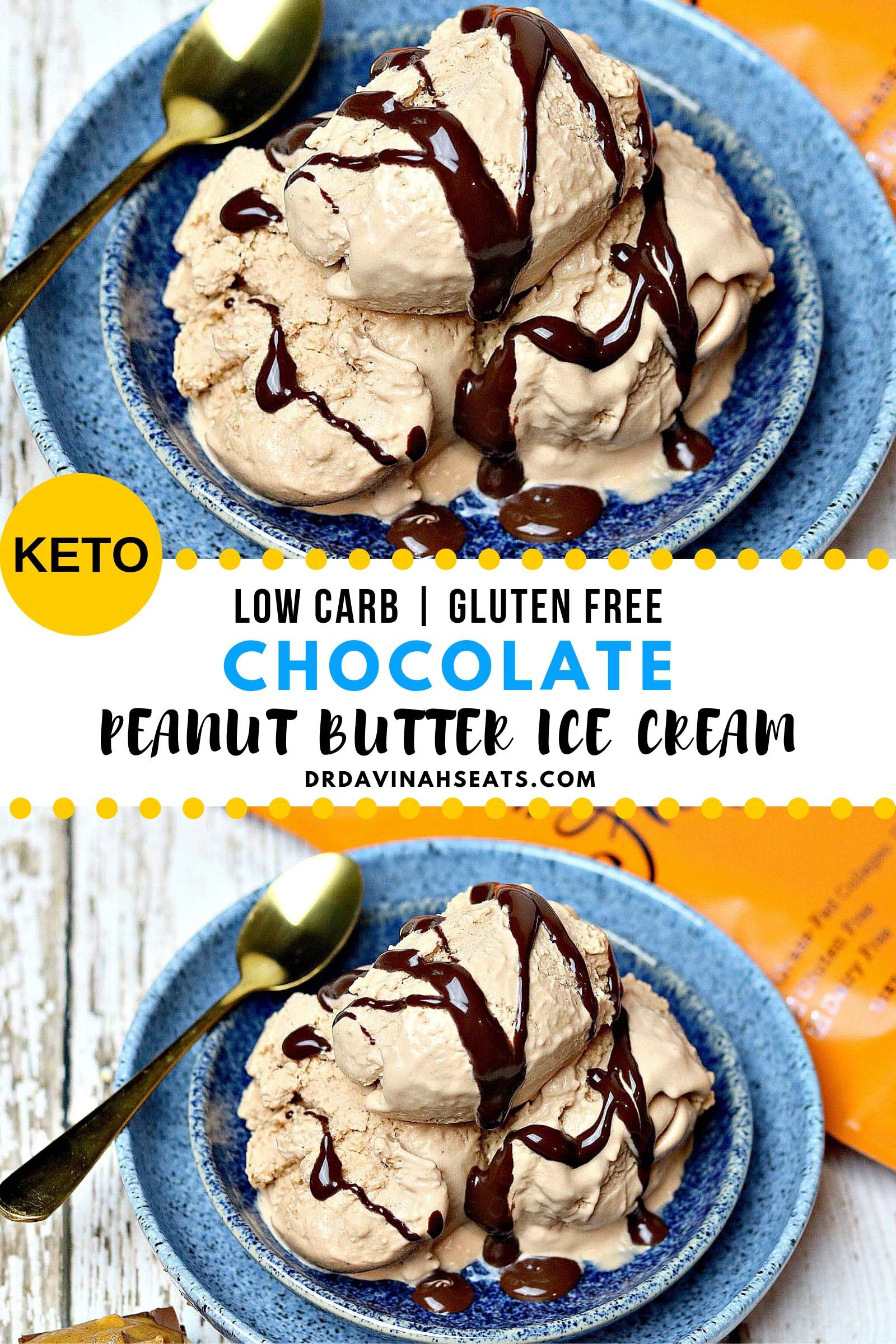 This recipe uses Frappaketo Chocolate Peanut Butter Cream.
What's Frappaketo?
Frappaketo is a ketogenic blend that aims to help keep us in ketosis and out of "cheatosis". It comes in 4 flavors – Blackberry Cream, Blueberry Cream, Cacao & Peanut Butter, and Cacao.
The mixes include organic fruits/ingredients like organic Blueberry, Blackberry, Cacao, and Peanut Butter. It also has essential minerals, stevia, an MCT Blend, and grass-fed collagen. You can have Frappaketo as an on-the-go meal replacement. But, you can also use it to bake, cook, and make keto ice cream!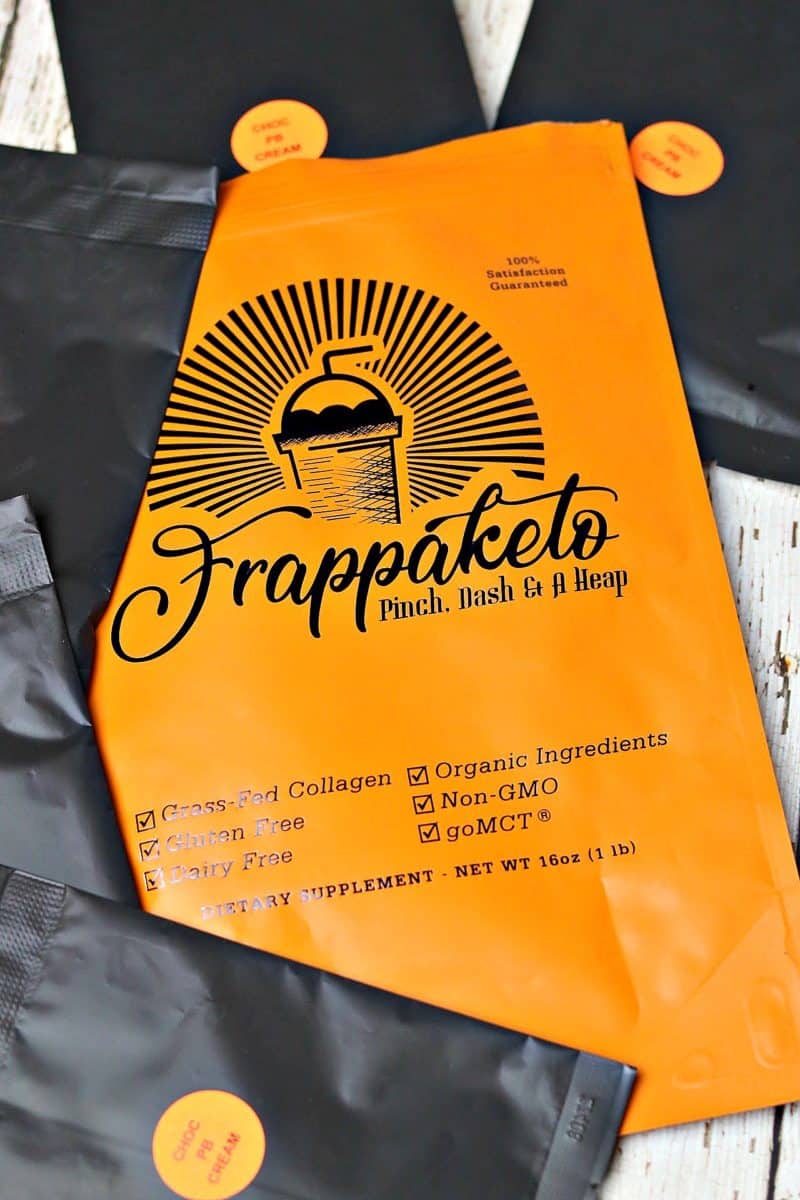 Why use it to make keto peanut butter chocolate ice cream?
Create an ice cream that's actually satisfying
As I mentioned, Frappaketo is a ketogenic blend so it comes with grass-fed collagen and healthy fats. By using it to make keto ice cream, I ended up with a frozen treat that is actually satisfying.
For me, this was important because when I have traditional carb-filled ice cream, I end up not only kicked out of ketosis but wanting more and more carbs. This ice cream cures the craving with a rich chocolate & peanut butter flavor, but also allows me to move on.
All the flavor without all the ingredients
Frappaketo comes sweetened with stevia and is full of flavor. This means Peanut Butter & Cacao reminds me of Peanut Butter Cups. Since the mix already tastes delicious, it was easy to just dump in the mix in the "ice cream milk" without trying to create the peanut butter cup flavor on my own.
Where do you get Frappaketo?
You can get Frappaketo from their website. They offer free shipping in the United States for orders over $25. They also ship worldwide.
Can you substitute Frappaketo's other flavors?
Yes! I have a variety pack of Frappaketo, which means that I have allllll the flavors! One of the things that I'm looking forward to is using the other packets to make different ice cream flavors.
If Keto Peanut Butter Chocolate Ice Cream is not your thing, then you can swap the PB Cacao Cream to make the following keto-friendly flavors:
Blackberry Cream Ice Cream
Blueberry Cream Ice Cream
Chocolate Ice Cream
What other ingredients are included in this no sugar added ice cream?
Powdered Erythritol
I included powdered erythritol in this recipe to add some sweetness to the cream. You can substitute with granulated erythritol if you wish, but powdered tends to blend better.
Xanthan Gum
As I mentioned in this keto frappuccino recipe, Xanthan Gum is like the glue that holds frozen drinks and treats together. It ensures a smooth finish. I'm using 1/4 tsp of it in this recipe. I also highly recommend it as part of your keto pantry.
Heavy Cream or Coconut Cream
Heavy Cream is high in fat and will help this low carb ice cream stay scoopable. If you'd like a dairy-free option, then you can substitute all of the heavy cream for coconut cream. Coconut Cream has more fat than coconut milk so it helps produce a creamy ice cream that is also dairy-free.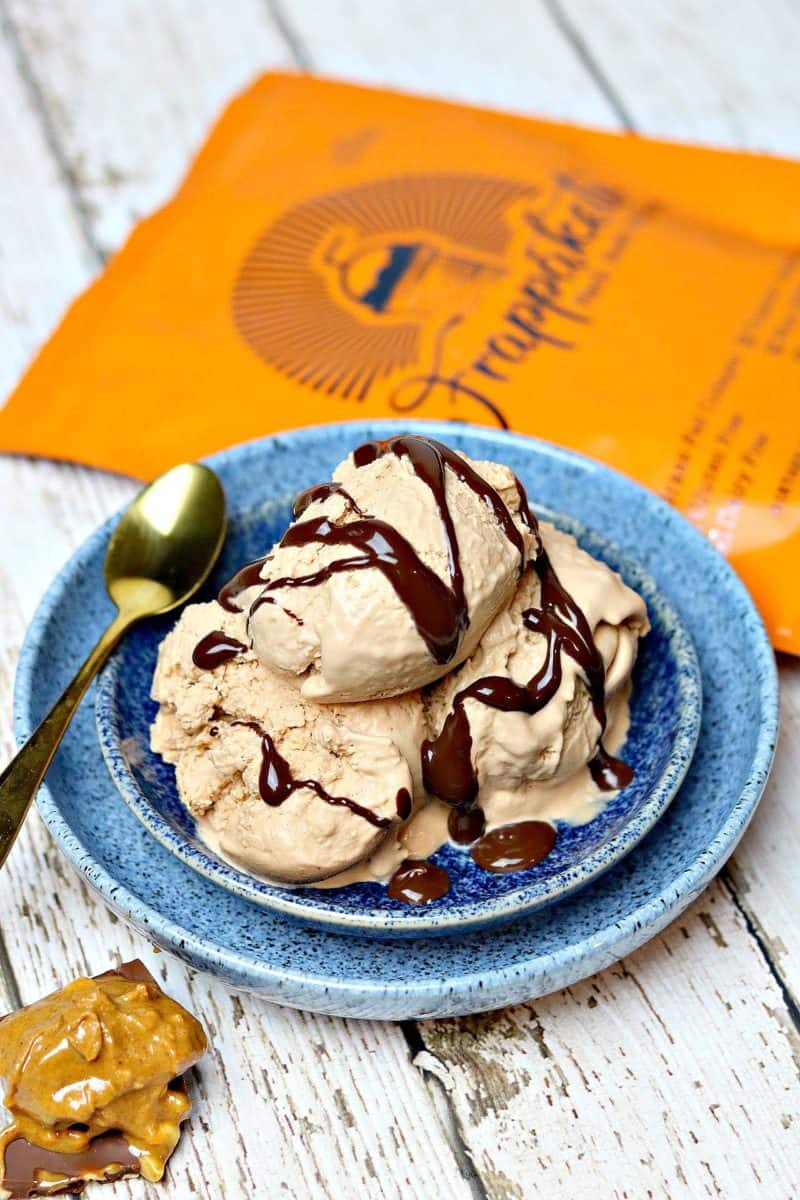 How do you make Keto Ice Cream with Frappaketo?
Simmer heavy cream, powdered erythritol, and honest syrup over medium heat
Whisk Frappaketo, almond milk, and the sweet cream
Pour the mixture into your ice cream maker
Churn the mixture in an ice cream maker
Add mix-ins
Put the ice cream in a storage tub or individual serving containers
What other things can I mix in or top this ice cream with?
This ice cream tastes delicious without any sort of additional mix-in ingredients or toppings. However, there are some things that you can add if you prefer:
Peanuts, chopped & salted
Almonds, chopped & salted
Hazelnuts, chopped & salted
Honest Syrup Chocolate
Keto Peanut Chocolate Bar
You can add about 1/3 cup total of any of the ingredient above. When churning, simply add the mix-ins to the machine during the last 5 minutes.
My ice cream is too soft, can I make it firmer?
I ate this ice cream like soft-serve or gelato. If you want firmer ice cream, then there are two things that you can do.
Cool the sweet cream mixture before churning by putting it in the freezer for 15-20 minutes
Add the ice cream to the freezer for an hour after you churn it
My ice cream is hard the next day, what do I do?
Sit it on the counter for 10 minutes
You may already know this, but keto-friendly and low carb ice creams freeze much harder than traditional ice cream (sugar keeps it soft). So, the next day, it'll be important to let your ice cream sit for 10 minutes or so before eating it.
Want more keto & low carb peanut butter & chocolate recipes?
Peanut Butter & Chocolate seem to go together. Some other recipes that you might check out are these Keto Snickers Cheesecake Bars (includes a chocolate cookie crust, peanut butter cheesecake & a keto salted caramel topping). You might also want to make these keto chocolate peanut butter fat bombs that are basically a keto Reese's cup!
Want to try other low carb & keto-friendly ice cream recipes?
If you enjoy low-carb ice cream or keto frozen desserts, you might also be interested in this homemade copycat blizzard or this butter pecan ice cream.
For those that might be dairy-free, you can check out this Chocolate Coconut Milk Ice Cream from Wicked Spatula. The recipe is paleo, but you can easily make it Keto-friendly, by swapping the maple syrup and honey for sugar-free sweeteners like Honest Syrup.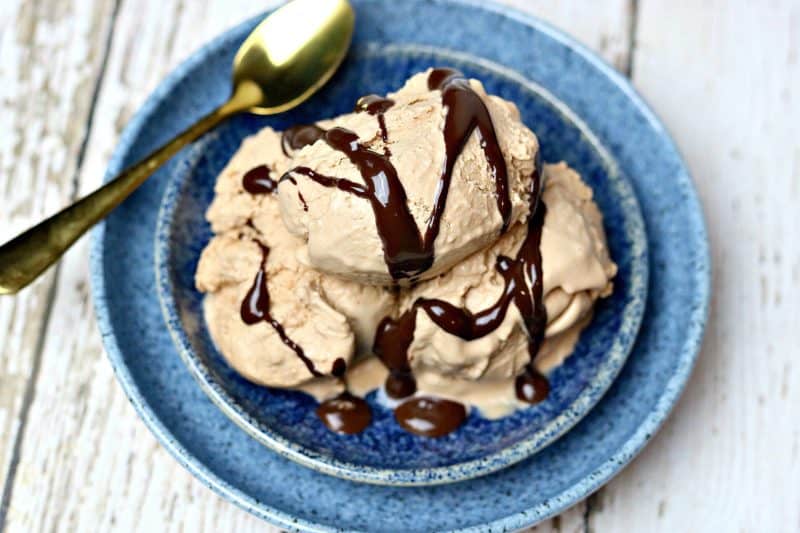 Keto Peanut Butter Chocolate Ice Cream
This recipe for keto peanut butter chocolate ice cream lets you easily make keto ice cream at home. I use Frappaketo Peanut Butter & Cacao Cream ketogenic blend and just a few ingredients. I include tips to make this dairy-free. Churned in under 30 minutes.
Pin
Rate
Print
Use DRDAVINAHS at checkout to save on some equipment & ingredients!
Instructions
Whisk Frappaketo with the almond milk in a large bowl. Set aside.

Whisk the heavy cream, powdered erythritol, and honest syrup. Add the mixture to a saucepan and heat to medium-low heat - small bubbles will start to form.

Turn the pan to simmer/low heat. Simmer for 30 minutes.

Remove the pan from the heat and sprinkle Xanthan Gum into the pan. Whisk the mixture to incorporate the Xanthan Gum. Allow this to cool for 10-15 minutes.

Add the heavy cream mixture to the Frappaketo mixture. Add it to your ice cream maker and churn on the "Ice Cream" or "Gelato" setting.
Nutrition Details
Calories:
257
kcal
|
Carbohydrates:
5
g
|
Protein:
4
g
|
Fat:
27
g
|
Saturated Fat:
18
g
|
Polyunsaturated Fat:
1
g
|
Monounsaturated Fat:
1
g
|
Trans Fat:
1
g
|
Cholesterol:
68
mg
|
Sodium:
192
mg
|
Fiber:
3
g
|
Sugar:
1
g
|
Vitamin A:
90
IU
|
Calcium:
38
mg
The nutrition facts come from entering the recipe ingredients into Spoonacular API, a database of food ingredients. They may vary for any recipe based on the exact product used. The keto sweeteners I use have 0g net carbs & are not included because sugar alcohols do not impact most people. This is provided as a courtesy, but you can do your own calculations if you wish!
Share this Recipe
If you enjoy this recipe, share a link to it via email or Facebook, pin it, or leave a rating. Please don't copy/paste the instructions to other websites. Thanks for helping the website grow!