Want to know what the best is oil is for air frying? Read this guide to learn how to choose one based on the cooking temperature in any air fryer recipe.
This post may contain affiliate links to products I use and highly recommend. You can read my full disclosure .
If you're looking for the best oils for air frying or wondering why you even need oil when cooking food in an air fryer, then this guide is for you. I'll share tips for what oil to use and when. Plus, I'll give you some ideas of oils to avoid because of their low smoke point. You can use the how-to instructions at the end to choose the best oil for any air fryer recipe.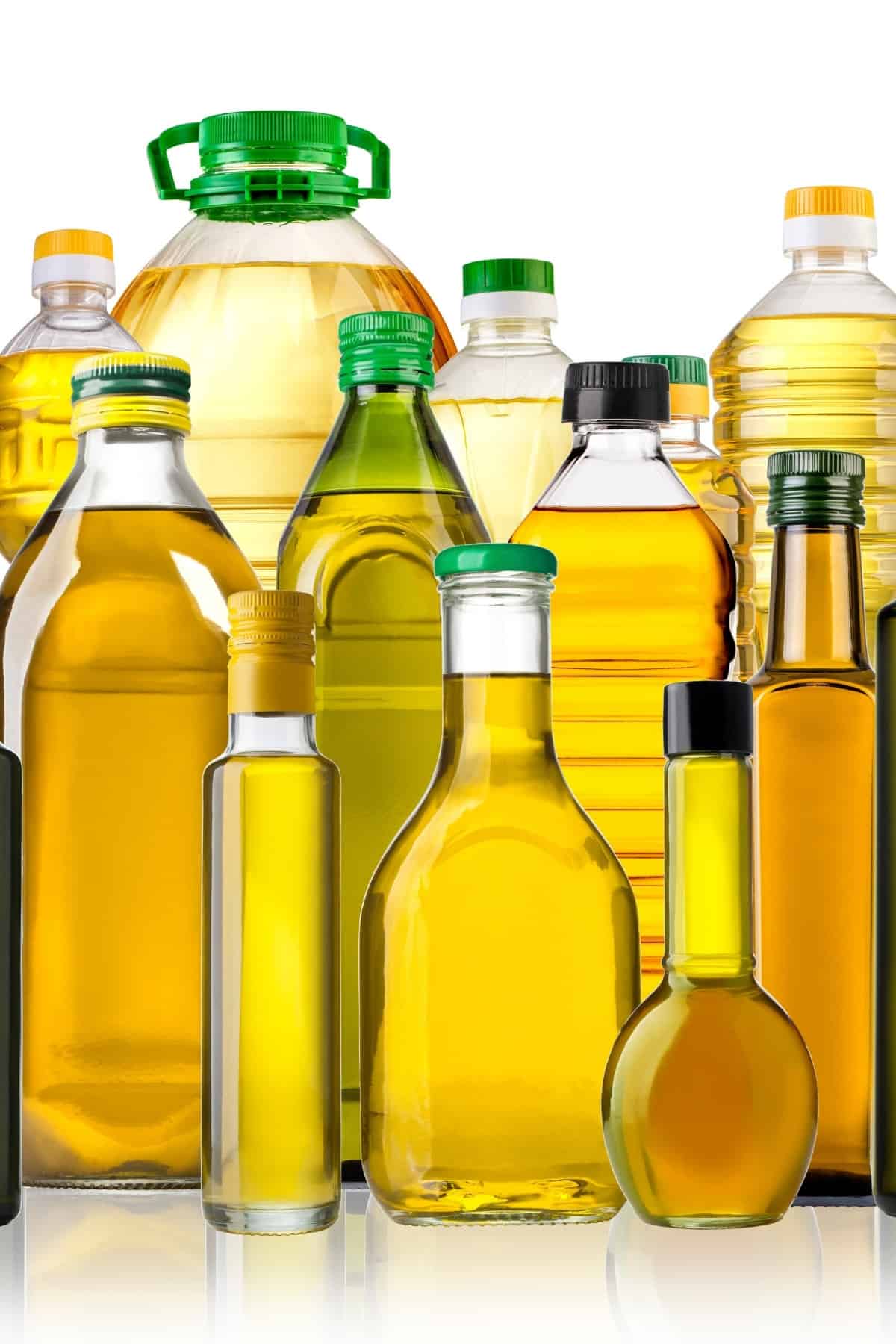 Do Air Fryers Even Need Oil?
When cooking in an air fryer, the reality is that you don't need a lot of oil.
In fact, that's one of the reasons air fryers are unique and ideal for "frying" foods.

But what type of oil is most suitable for use in air fryers? I'm going to highlight the best oils you can use when air frying and state why you may need to use oils for your air frying routine. Have you heard of oil smoke points?
I'll explain what this means and state its importance to air frying. Aside from knowing what type of oil to use when air frying, it is also critical to know the type of oils you shouldn't use in your air fryer. What are the best tools you can use to add oil to your air fryer? These and more you'll find out as you read this article.
Why Use Oil in an Air Fryer
Since it's called an air fryer, you may be wondering why you should use oil when air frying.
The truth is that oil is needed when using your air fryer at least 70% of the time. However, the quantity of oil you may use is small compared to deep frying.
While you have to immerse your food completely into a scorching oil for deep frying, a teaspoon of oil may be all you need to have the same desired effect when using your air fryer.
In addition, using oil in your air fryer gives a crunchy texture to your meal. Therefore, it is essential to add some oil to your food when cooking with your air fryer because oil provides a rich flavor to any food recipe.

Oil also serves as a lubricant and helps prevent your food from sticking to the bottom of your air fryer.
Why Oil Smoke Point Matters in Cooking
You must have seen smoke coming out from your oil when frying food, especially if the oil is left in the fryer for some time.
The temperature when your oil starts smoking and stops shimmering is the oil's burning or smoke point. The smoke point of oils may be very low (325°F) or high (520°F), depending on the type of oil.
Knowing an oil's smoke point when cooking is generally important because oils with a low smoke point will not only make your house smokey, but also add burnt and rancid flavor to your food.
Overall, oil smoke points matter because when an oil reaches it, some or all of the following happen:
The nutrients in the oil and your food start breaking down and/or are destroyed
Oil at its smoke point may create highly flammable conditions and release harmful free radicals when consumed.
The oil source may influence its smoke point. For example, vegetable oils such as grape seed oil, soybean oil, coconut oil, peanut oil, avocado oil, etc. can withstand high heat and are suitable for air frying.

However, many organic oils with high nutrients such as seed, olive, and nut oils are better suited for low heat applications due to their lower smoke points.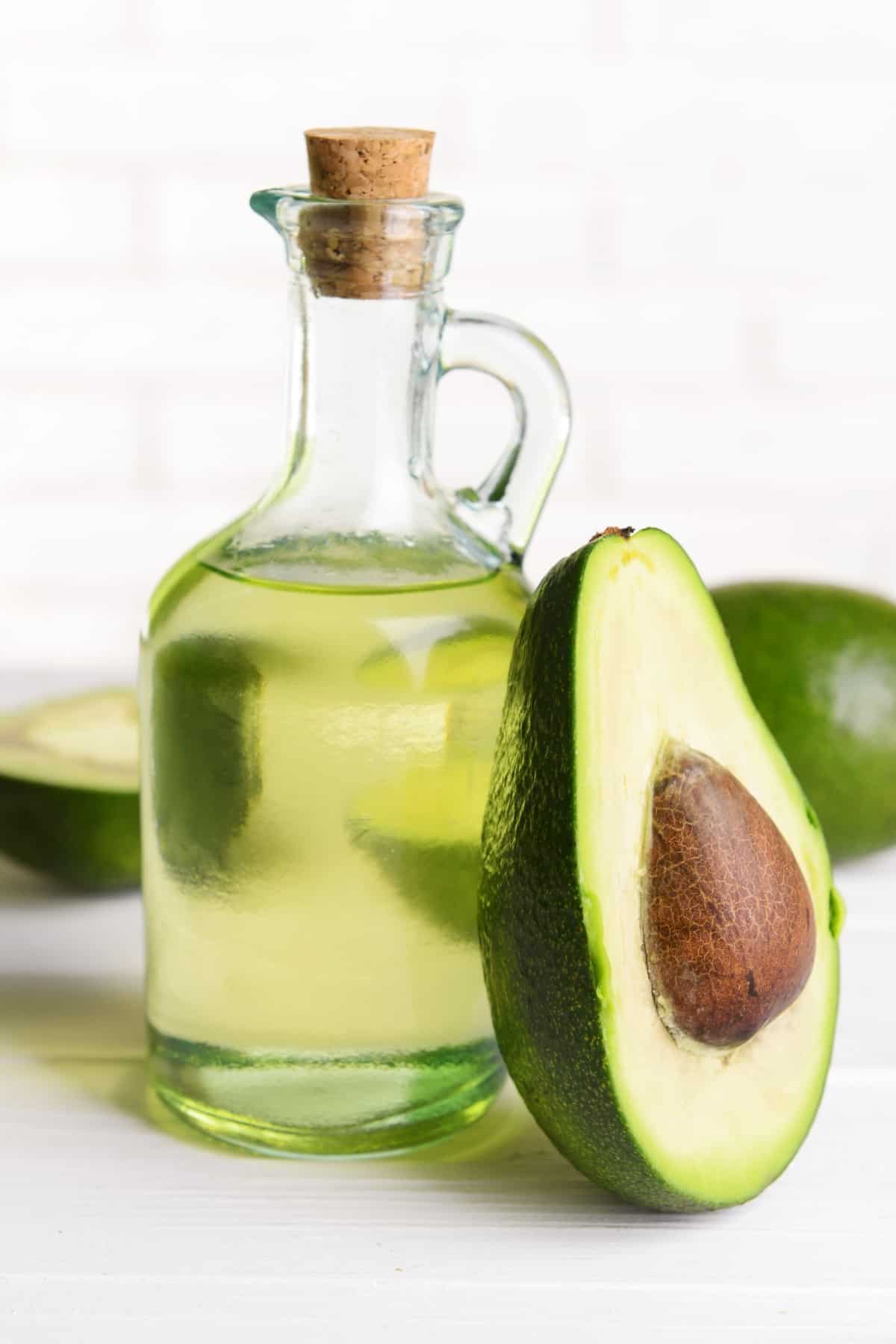 What are the best oils used for air fryers?
Since air fryers can cook up to very high temperatures, the following oils may be the most suitable for their application based on their smoke points.
Avocado Oil
Avocado oils can withstand very high cooking temperatures to about 500°F, making them suitable for your air fryer.
It's become my go-to oil for everything from air fryer chicken thighs, Ninja Foodi roasted chicken legs, air fryer squash, frozen broccoli in the air fryer and more.

While avocado oil may have its unique flavor, I find that it does not affect the final dish since it is mostly neutral.
Extra Light Olive Oil
Extra light Olive oil's flavor is more neutral than avocado oil. It's my next best option for oil when I'm cooking in my air fryer.
I used it in my air fryer fried chicken wings and air fryer breaded shrimp.
It can be heated to a temperature as high as 470°F.
Soybean Oil
While some people believe that soybean oil is tasteless, it may interest you to know that it has been improved over the years.
At 460°F, this oil reaches its smoke point, making it ideal for air fryers.
I don't use this one personally, but it's definitely a good option.
Canola Oil
Canola oil has a fairly high smoke point of 400°F. This is why people use it a lot when frying foods generally.
Like soybean oil, I don't use this one. But, based on its smoke point, it can be used in most air fryer recipes.
Peanut Oil
You can heat peanut oil to 450°F, so it'll work great in most air fryer recipes.
However, it does not have a neutral flavor. Plus, if you're like me, and have folks in your home with food allergies, you might skip this one.
Minus those two downsides, its nutty taste is great, and high smoke point makes it one of the best oils for air frying.
Oils to Avoid When Air Frying
While some oils are suitable for air frying, there are some oils you shouldn't use in an air fryer.
Since air frying involves high heat application, it is critical to use only oils that have high smoke points.
Here is some oil you should not use in an air fryer.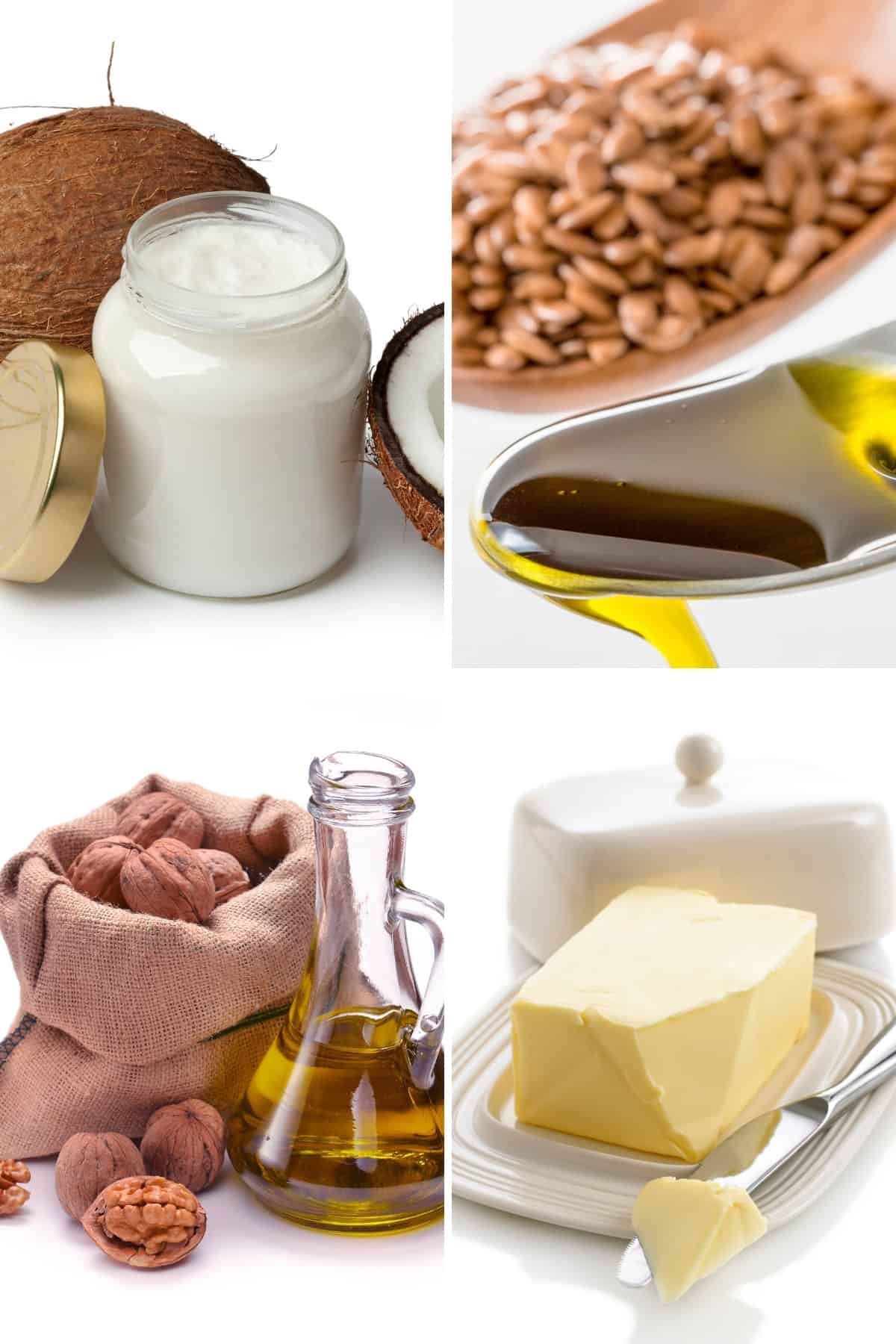 Coconut oil
Although some people prefer using coconut oil because of its coconut taste, coconut oil may not heat up above 350oF because of its low smoke point and may not be ideal for use in your air fryer.
Flaxseed Oil
Flaxseed oil has a nutty taste and is gotten from flaxseeds. However, it is not advisable to use flaxseeds oil in your air fryer because of its very low smoke point, which stands at 225oF.
Walnut Oil
Walnut oils' low smoke point of 320oF makes it unsuitable for your air fryer. However, it may be used for drizzling foods or salad dressing, but it can not withstand high temperatures without smoking.
Butter
While butter may be suitable for baking or sauteeing, it should not be used for air frying because of its low smoke point of 350oF.
Tools to Use to Add Oil to Your Food When Air Frying
Since air fryers do not require high amounts of oil, it is critical to use a suitable device that can allow you to put the right amount of oil to enhance your food texture and taste. An oil spray bottle or a spray pump is utilized to achieve this. You can also opt for a refillable spray oil because it is eco-friendly and cheaper.
With an oil sprayer, you can deliver the right quantity of oil into your air fryer. However, a spray pump is suitable for thinner oils like canola oils and may not be suitable for more viscous or thicker oils like olive oil. Ensure you select the right oil sprayer when adding oil to your air fryer.
Conclusion
When selecting the right oil for air frying, it is critical to choose a high smoke point to prevent the destruction of essential nutrients in the oil or food. You should also select the right air sprayer for effective delivery of oil in your air fryer.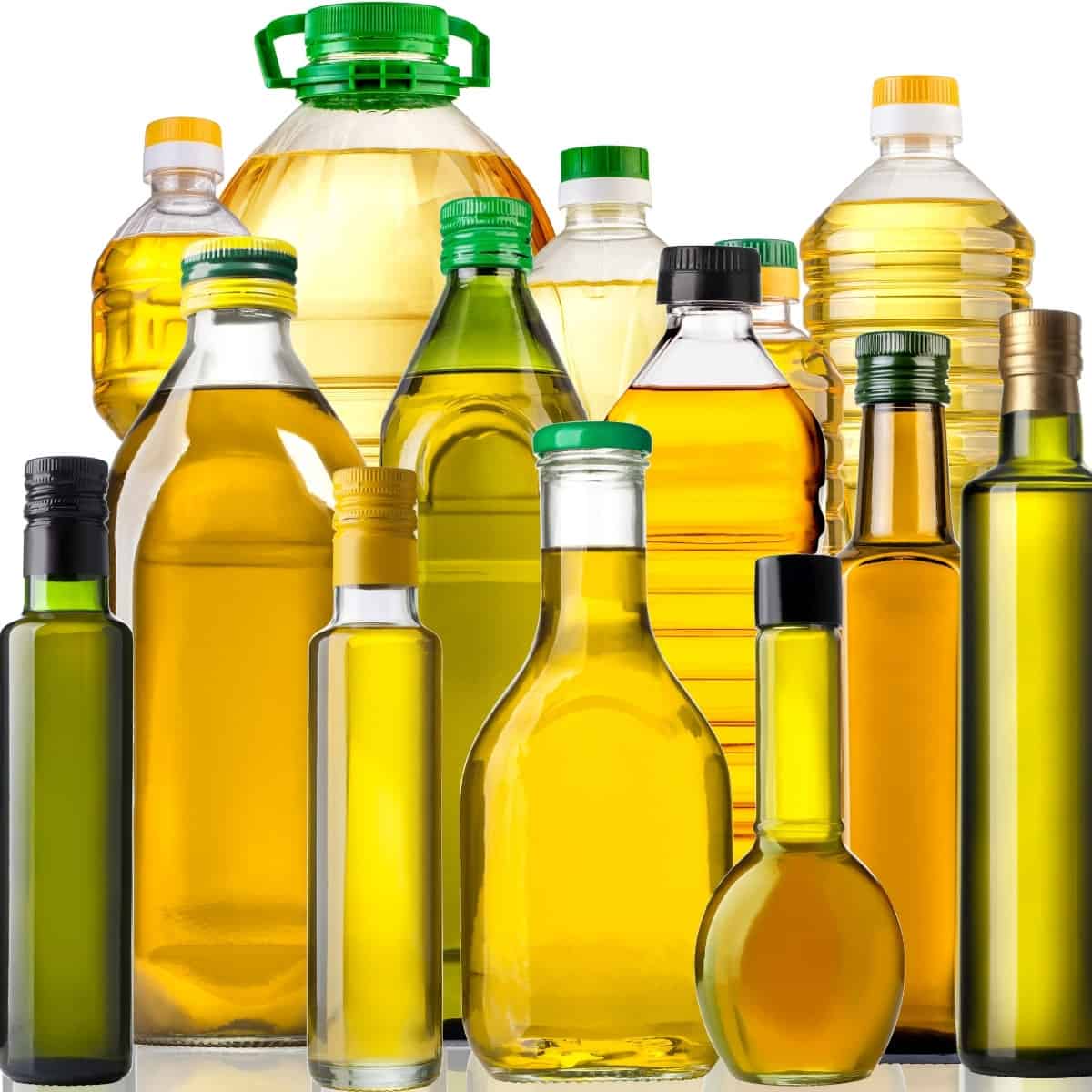 How to Choose the Best Oils for Air Frying
Want to know what the best is oil is for air frying? Read this guide to learn how to choose one based on the cooking temperature in any air fryer recipe.
Pin
Rate
Print
Use DRDAVINAHS at checkout to save on some equipment & ingredients!
Instructions
Find the cooking temperature in the air fryer recipe

Choose an oil from above that has a smoke point that is more than the recipe's cooking temperature

Use an oil sprayer or toss your food in the selected oil based on the recipe's instructions
The nutrition facts come from entering the recipe ingredients into Spoonacular API, a database of food ingredients. They may vary for any recipe based on the exact product used. The keto sweeteners I use have 0g net carbs & are not included because sugar alcohols do not impact most people. This is provided as a courtesy, but you can do your own calculations if you wish!
Share this Cooking Tip
If you enjoyed this cooking tip, share a link to it via email or Facebook, pin it, or leave a rating. Please don't copy/paste the instructions to other websites. Thanks for helping the website grow!