This post may contain affiliate links to products I use and highly recommend. You can read my full disclosure .
Before air fryers, crispy chicken wings could only happen with deep frying. But, this 30-minute Ninja Foodi Air Fryer Fried Chicken Wings recipe uses a drizzle of oil and an easy seasoning mix to make fried chicken wings without covering them in breading, flour or oil. Includes tips to make frozen wings in an air fryer. This recipe can also be used to make crispy chicken wings in the oven.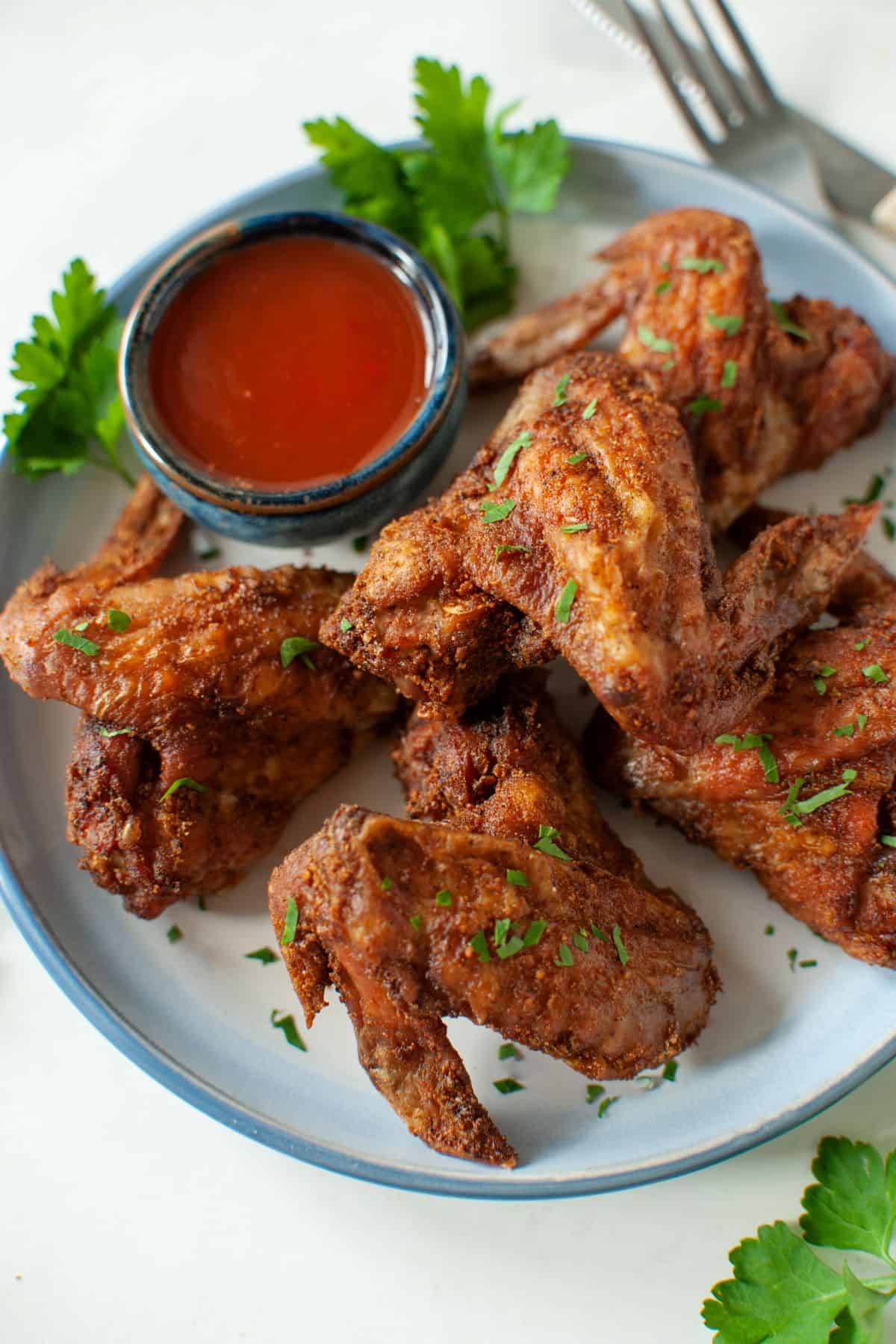 Why Make Air Fryer Fried Wings
Cooks Quickly
I love being able to cook chicken wings in 30 minutes or less! Compared to making baked wings, this takes literally half the time. During the week, when I'm tired, an air fryer becomes the perfect tool for getting a quick meal.
Fry without oil
The keto diet is all about getting in a good amount of fat. However, chicken wings already have enough fat naturally. So, there really isn't a need to cook them in more oil. Since this recipe requires just a drizzle of oil, it has less fat than when deep frying.
Create Less Mess
One of the things that I hate about frying foods is popping grease & having to figure out what to do with the leftover oil. With air fried chicken wings, you eliminate both of those issues.
Ingredients Needed
Chicken Wings: you can use whole wings or wings that are cut into flats and drums.
Baking Powder: this is an essential ingredient for getting a fried chicken crunch on these wings. If you opt to omit it, the wings have more of a oven roasted or broiled taste and may take longer to cook.
Spices: air fryer wings require six spices like garlic powder, onion powder, and sea salt. Most people have all except smoked paprika at home. Smoked paprika has a smoky taste when compared to regular paprika.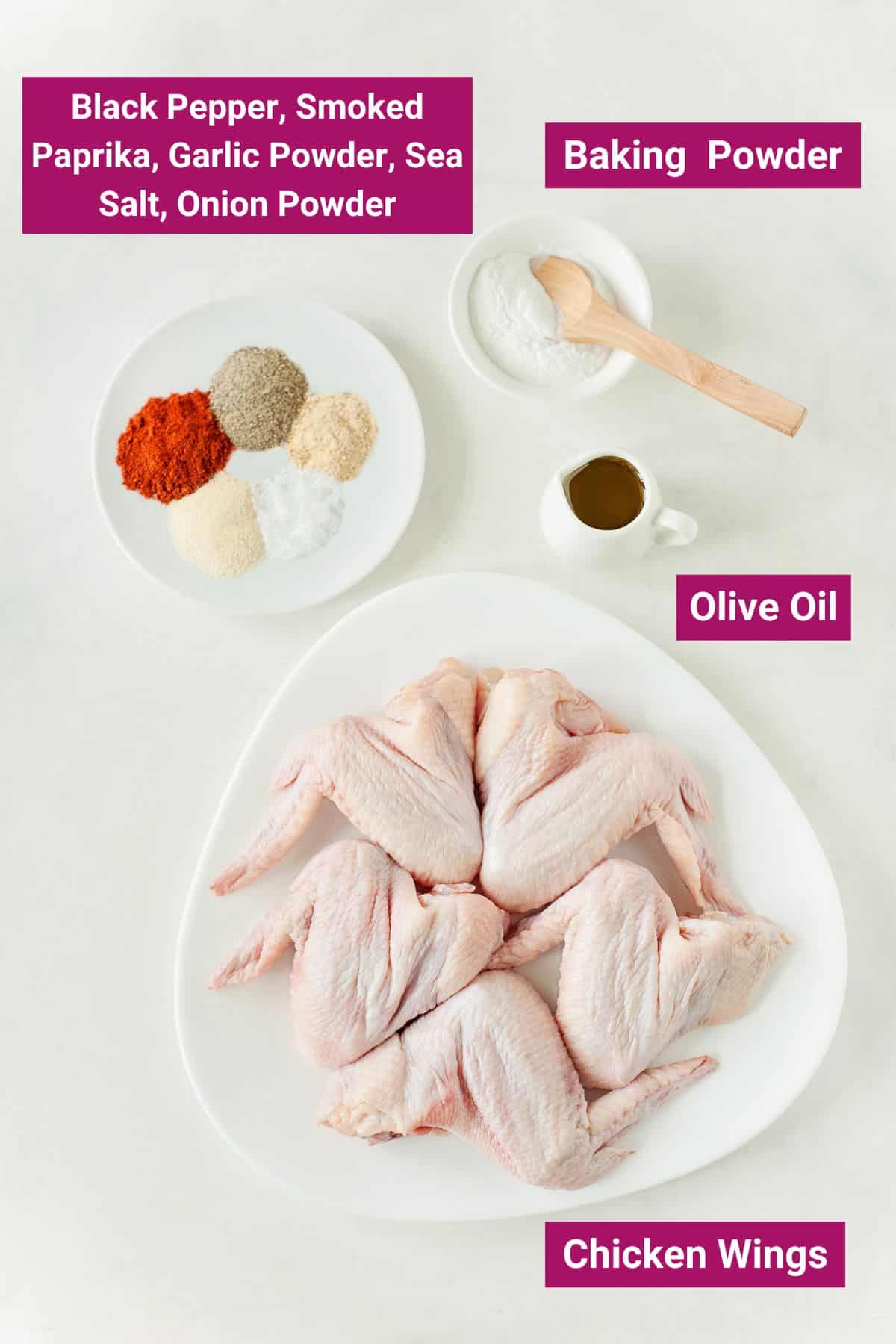 How to Make Air Fryer Fried Wings
Prepare the wings for the air fryer
Gather and measure out your spices and mix them in a small bowl. I mix the spices before adding them to the meat to make sure they are incorporated evenly.
Sprinkle the spice mix over the wings.
Toss the wings in the spice mix so that the wings are completely coated. The spice mix adds flavor, so it's ideal to coat the wings as much as possible and in all crevices.
Place the chicken in the cooking basket
After the wings are seasoned, the next step is to place them in the Ninja Foodi air fryer cooking basket and drizzle oil over them.
I flip the wings halfway through the cooking process to get an even crisp.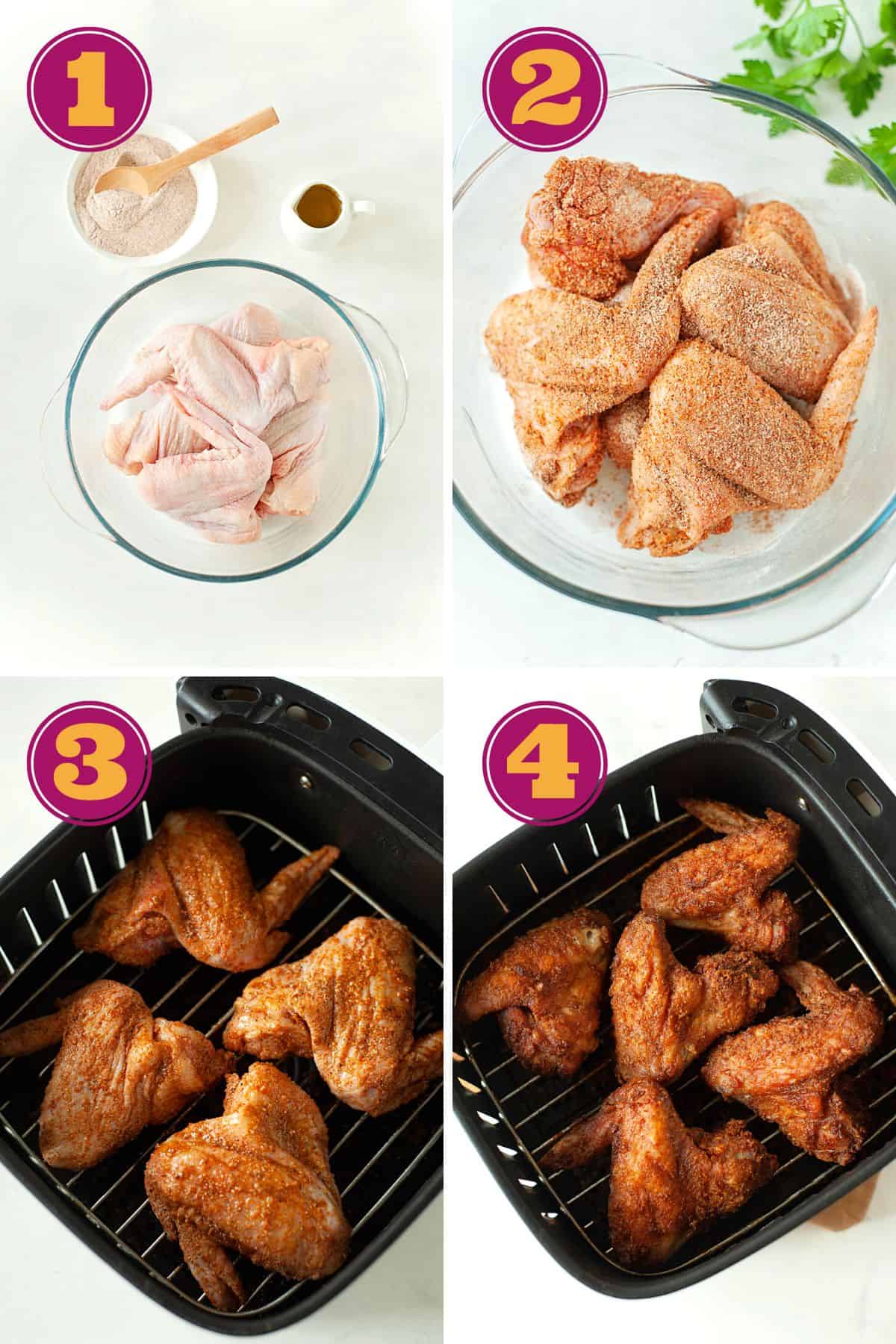 Top Cooking Tips & FAQs
Best Air Fryer Options
If you enjoy wings, have them for meal prep, or are cooking for more than 1 person, I recommend that you choose an air fryer with at least 5 qt of cooking space.
My preferred air fryer is actually a multi-cooker and I've used it on the site to make so many Ninja Foodi recipes.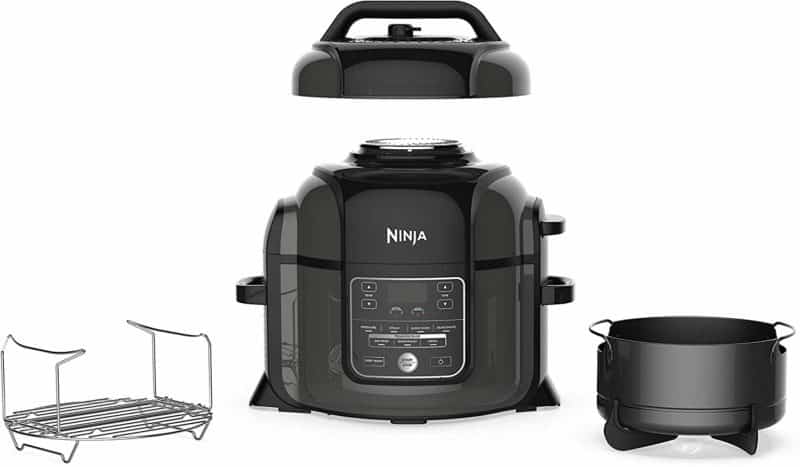 I'll admit this air fryer is a bit more expensive than some others. But, as I mentioned in my Ninja Foodi review, this machine replaces so many appliances (pressure cooker, broiler, air fryer, slow cooker, etc.) and crisps like no other that it is worth the extra cost.
Can You Make Chicken Wings From Frozen?
If you tend to decide on wings last minute and store your wings in the freezer, then a Ninja Foodi is perfect for making frozen chicken wings in an air fryer.
There are three options:
Cook from Frozen: these don't get as crisp, but taste great, especially when topped with a sauce like my keto bbq sauce. You can toss the frozen wings with oil and my chicken dry rub or bbq seasoning before air frying.
Pressure Cook: According to the Foodi manual, you can use the Pressure Cooker function on the Ninja Foodi and 1/2 cup of water to defrost the wings in 5 minutes. After the wings are thawed, you can follow the directions in the recipe.
Cold Water Quick Thaw: I personally thaw my wings using the cold water method. This means that I place my frozen wings in a large bowl and cover them in cold water. I change the water every 15 minutes until the wings are thawed. By using this method, I don't accidentally cook my wings.
How Long to Cook Them
This depends on your air fryer and the amount of space that you give your wings. In the Ninja Foodi, I cook the wings on 390 degrees for 30 minutes total. However, in more traditional air fryers, I've cooked the wings at 400 degrees for 40 minutes.
How Do I Make My Air Fryer Wings Crispy?
The best way to learn how to make air fryer chicken wings is to watch the post video. Some tips are below:
Give the wings space: The chicken wings need space to cook evenly. Place the wings in the cooking basket so that they all can lay flat in the basket.
Pat the wings dry: Before seasoning the meat, try to remove as much excess water from them as possible. You can do this by simply patting the wings dry with a paper towel.
Bring the wings to room temperature: I recommend taking the wings out of the refrigerator at least 30 minutes before you're about to cook them. The wings cook more evenly when they're not being air-fried from cold.
How long do I cook take out crispy wings in the air fryer?
I haven't tried this since I actually prefer my leftover chicken wings cold. But, you can reheat food in an air fryer. Either use the reheat setting or choose a lower temperature like 350 degrees for a few minutes.
Can you put battered wings in an air fryer?
Yes – there are batters made specifically for air fryers that you can buy from the store.
Can you put flour on air fried wings?
I don't do this.
Recipes to Enjoy This With
More Air Fryer Chicken Wing Recipes
Even though I have a collection of keto air fryer recipes with every protein you can imagine, like my Air Fryer Pork Chops and Keto Jalapeno Poppers, there is nothing like having crispy chicken wings.
Here are more chicken wing recipes for your air fryer:
If you try this recipe, please stop back and leave it a star rating and/or a review in the comments. Stay connected & share photos of your creations with me & others on Instagram, Facebook, and Pinterest!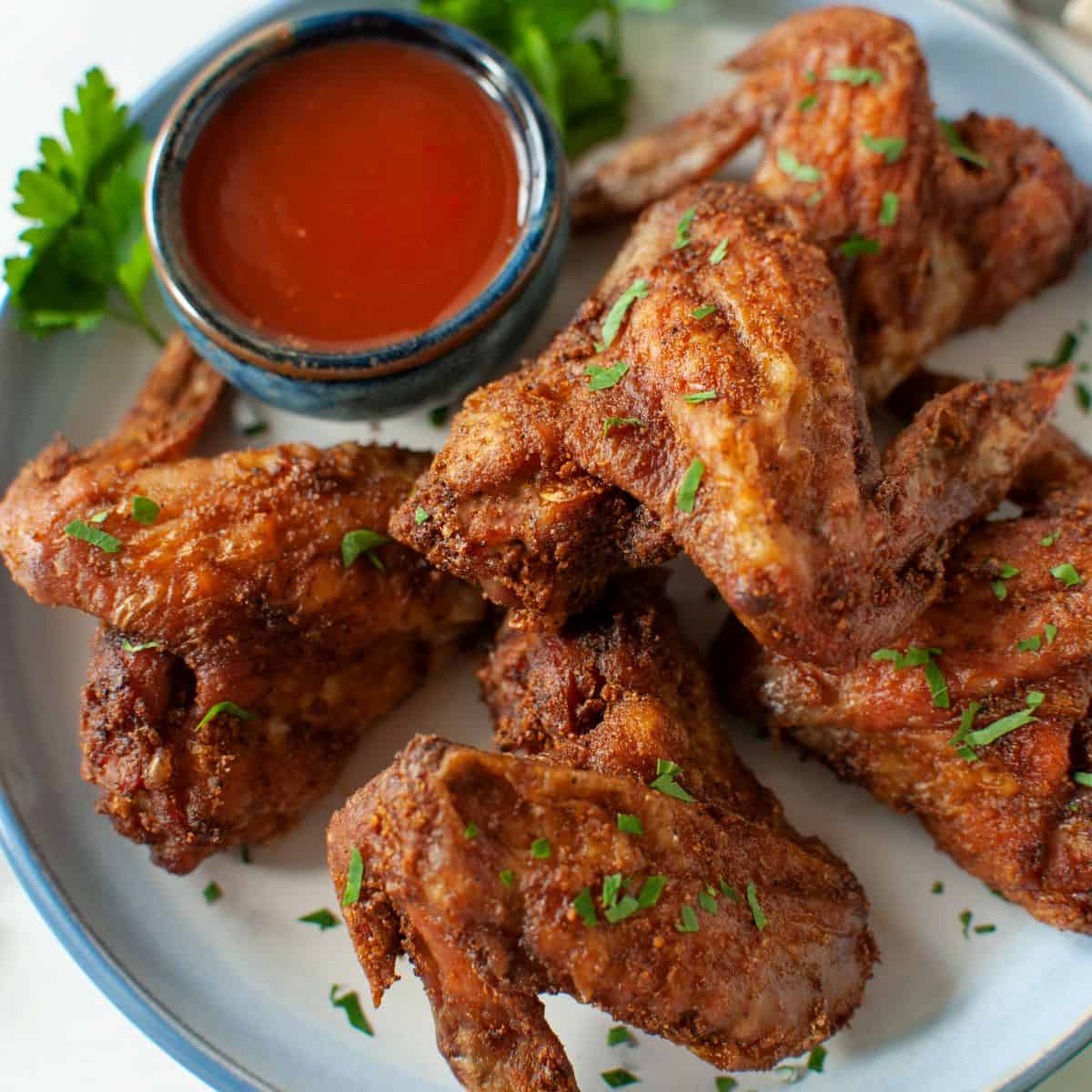 Air Fryer Chicken Wings Recipe
An easy air fryer chicken wing recipe that takes less than 30 minutes to complete with simple spices. Includes tips for getting the wings crispy, choosing an air fryer, and making them from frozen quickly.
Course:
Appetizer, Dinner
Pin
Rate
Print
Use DRDAVINAHS at checkout to save on some equipment & ingredients!
Recommended Equipment
Instructions
Remove the chicken wing parts from the refrigerator and pat dry (removing as much moisture as possible helps to have a crispy wing skin)

Mix the sea salt, black pepper, smoked paprika, garlic powder, onion powder and baking powder in a small dish or ramekin

Sprinkle the seasoning mixture on the wings and toss to coat

Place the wings on the cooking basket. In the Ninja Foodi, this is called the "Cook & Crisp" basket.

Drizzle olive oil on the chicken wings.

Use the Air Crisp setting on 390 degrees for the Ninja Foodi or 400 degrees on other fryers to cook the wings for 12-15 minutes per side.

Enjoy the wings alone or add your favorite keto or low-carb dips and sauces.
Nutrition Details
Calories:
280
kcal
|
Carbohydrates:
2
g
|
Protein:
22
g
|
Fat:
19
g
|
Saturated Fat:
5
g
|
Cholesterol:
94
mg
|
Sodium:
287
mg
|
Potassium:
595
mg
|
Fiber:
0
g
|
Sugar:
0
g
|
Vitamin A:
345
IU
|
Vitamin C:
0.8
mg
|
Calcium:
188
mg
|
Iron:
1.6
mg
The nutrition facts come from entering the recipe ingredients into Spoonacular API, a database of food ingredients. They may vary for any recipe based on the exact product used. The keto sweeteners I use have 0g net carbs & are not included because sugar alcohols do not impact most people. This is provided as a courtesy, but you can do your own calculations if you wish!
Share this Recipe
If you enjoy this recipe, share a link to it via email or Facebook, pin it, or leave a rating. Please don't copy/paste the instructions to other websites. Thanks for helping the website grow!