This post may contain affiliate links to products I use and highly recommend. You can read my full disclosure .
This Air Fryer Shrimp is one of my favorite keto air fryer recipes. It only takes a few minutes to make and can be modified for a lot of flavor combos like Bang Bang Shrimp and Coconut Air Fried Shrimp. In this post, I show you how to keep this dish low carb by using keto-friendly breadcrumb alternatives for the breading. I also give tips for using frozen and fresh raw shrimp. I love making shrimp in an air fryer because you end up with crispy breaded shrimp without the hassle or mess of deep frying.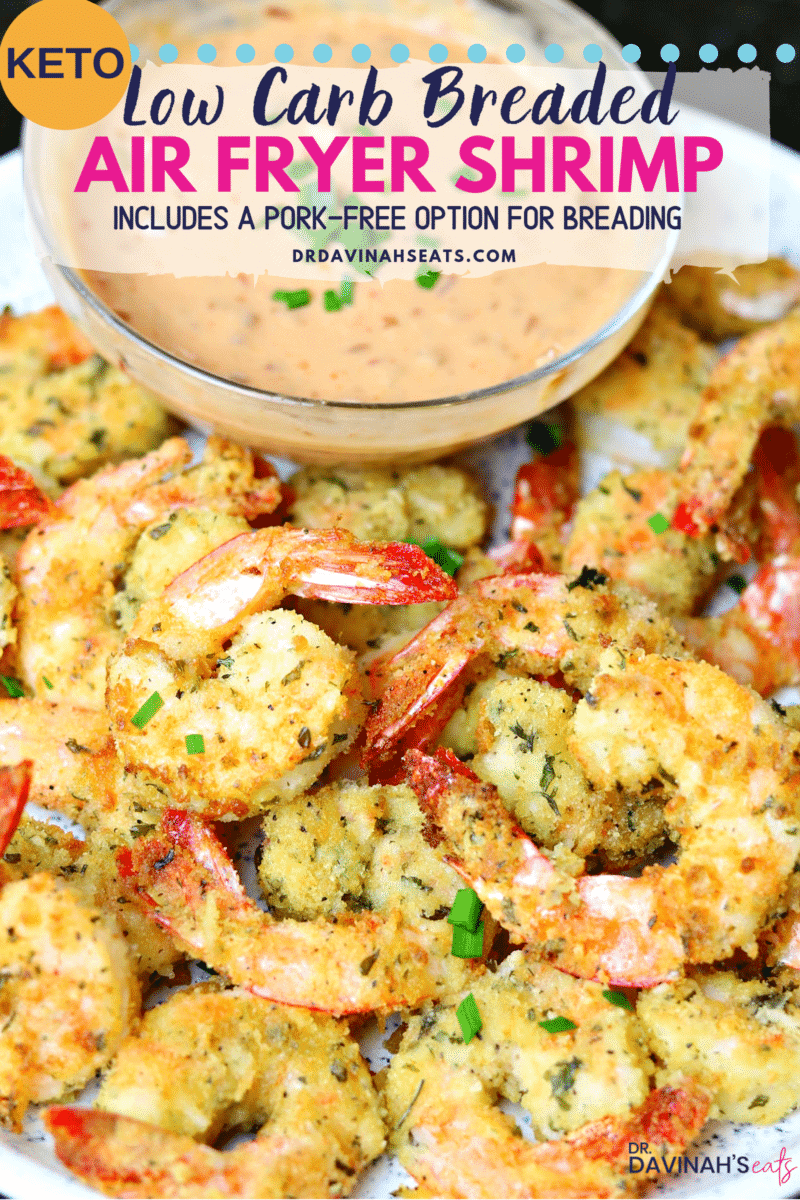 Can you put shrimp in an air fryer?
Absolutely! In fact, one of the benefits of air fried shrimp is having crispy, breaded shrimp without the hassle and mess of cooking them in a deep fryer.
How do you cook frozen raw shrimp in an air fryer?
If you have frozen shrimp and would like to bread it, then I recommend that you thaw it out before cooking. I thaw frozen shrimp out quickly by placing the shrimp in a bowl and running cold water over them for a few minutes.
You can also thaw your shrimp overnight by placing the bagged shrimp in a bowl and placing them into the refrigerator.
You should not thaw your shrimp using hot water since it's likely that the hot water will start to cook the shrimp.
What can I use in keto instead of breadcrumbs?
Since breadcrumbs are made out of bread, an important step in creating keto-friendly air fried shrimp is to find breadcrumb alternatives. Luckily, this isn't hard to do and I'm listing some of the most popular low carb breadcrumb options below.
How the Shrimp looks after applying the Keto Breading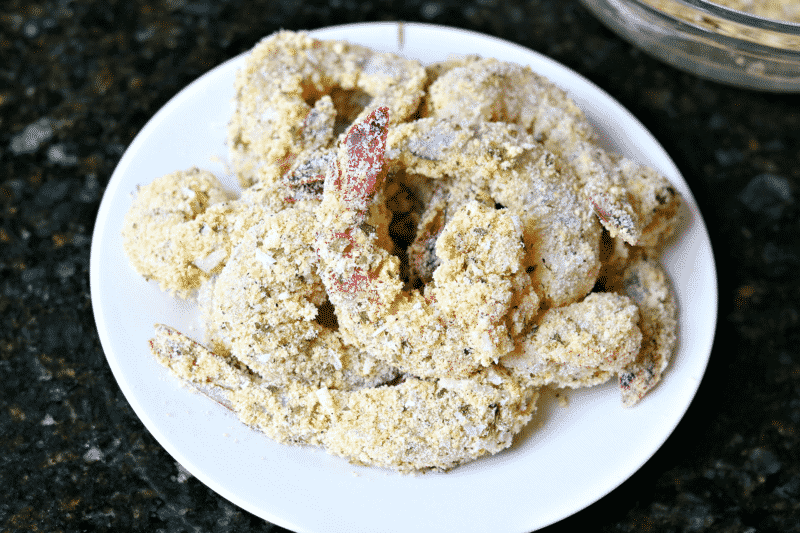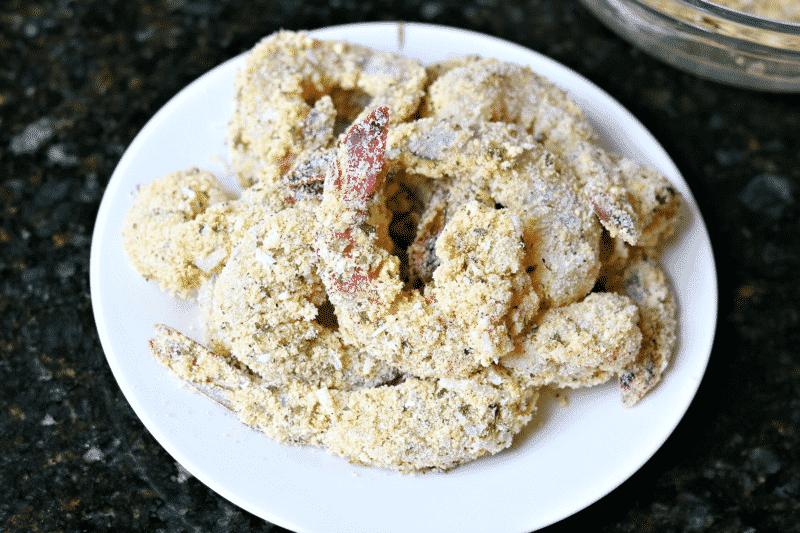 5 Ideas for Keto Breading
If you do not have any of the flours, you can use a food processor on pulse to convert your almonds, pecans, pork rinds, or crunchy cheese into a "flour."
You can use these breadcrumbs in the same way that you do regular flour.
How do you apply the Keto breading to the shrimp?
Breading the shrimp is fairly easy. I use a 2-step process. First, I dip the shrimp in beaten eggs. Then, I toss the shrimp in the breading mixture.
You can double dip the shrimp if you want, but I enjoy these best when I only have one coating.
Set-up to Apply the Breading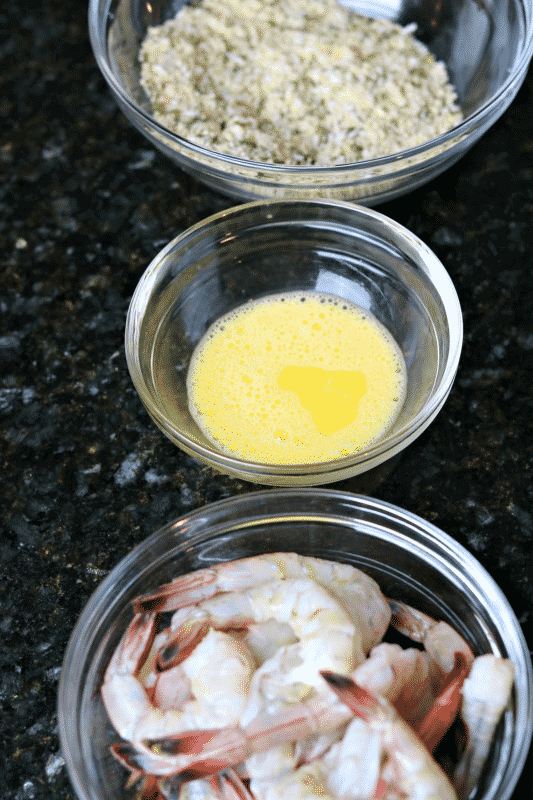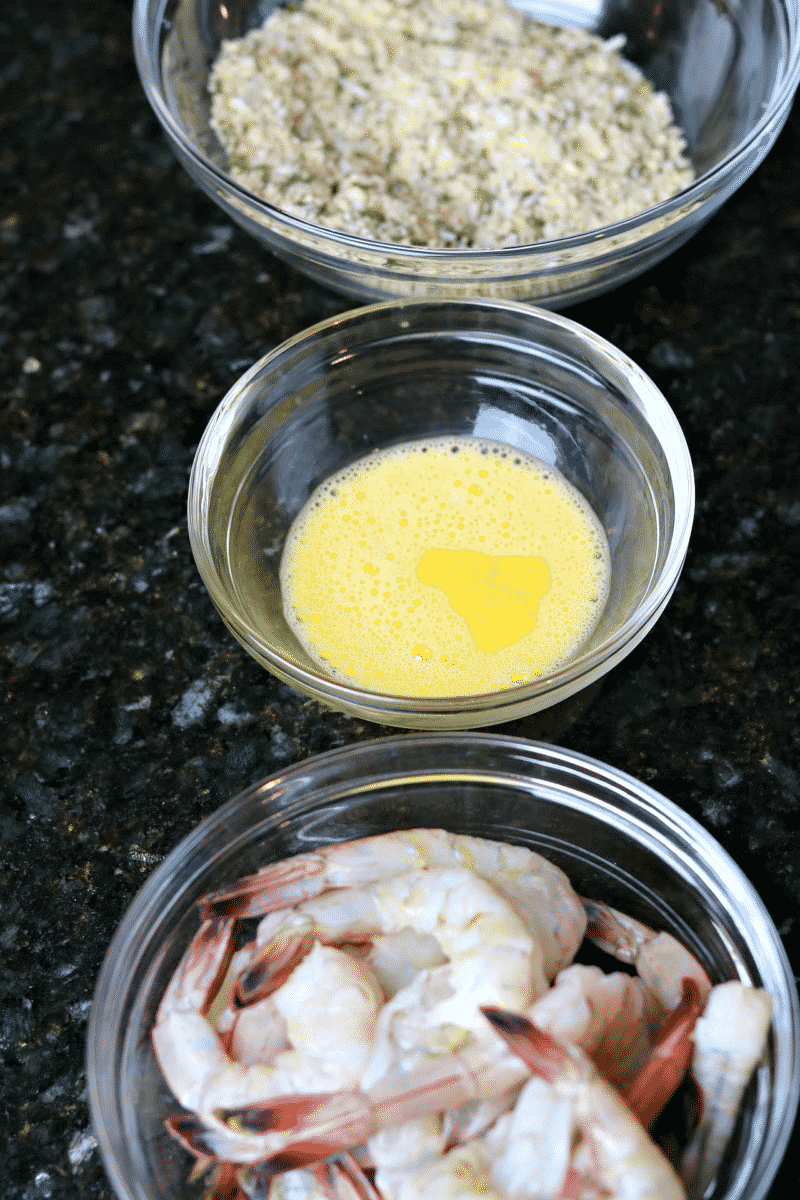 What's the difference between air fried shrimp and pan-fried shrimp?
Less Hassle when Air Frying
I don't eat fried foods that often. So, when cooking this shrimp in the air fryer, it produces less mess. I don't have to worry about popping grease or what to do with the leftover grease.
But, air frying has a less golden color
One thing that is noticeable about air fried and pan-fried shrimp is the color. When pan frying foods, you're able to get a dark golden color. Some Pan-fried Shrimp are shown below.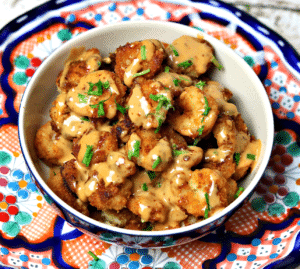 You should notice that the breading is much darker than the air fryer shrimp that I'm sharing in this post.

Tip: Give the shrimp a generous drizzle of oil for a more golden brown color
After making this a few times, I realized that the shrimp gets browner depending on how much oil you apply to them. I gave my shrimp a generous drizzle of olive oil and cooked them for 4 minutes in the air fryer. Then, I flipped the shrimp and gave them another generous coating of olive oil before cooking them again.
Tip: When Pan-frying, Cook Low Carb Breadcrumbs on a Lower Temperature
Even though you can use these alternatives to add breading to foods, low carb breadcrumbs burn much easier than regular flour. So, if you happen to make these in a pan (and not an air fryer) make sure that you cook them on a lower temperature.
I turn my stovetop to medium low heat and use just enough oil to shallow fry the foods. A shallow fry typically has enough oil to cover just one side of the food at a time.
Flavor Suggestions: Taking Air Fryer Shrimp up a Notch
When I first made these shrimp for our family, I used coconut flour and a few seasonings. Even though those came out delicious, you can play with the flavor combos to add some variety to this dish.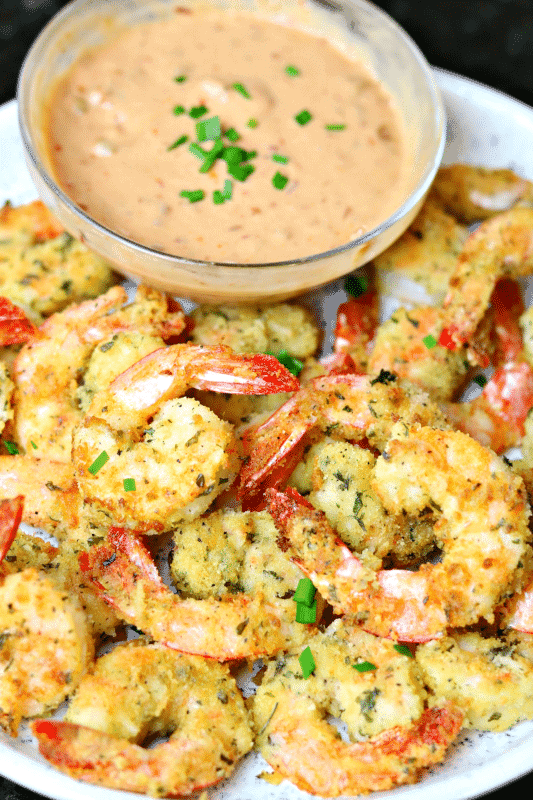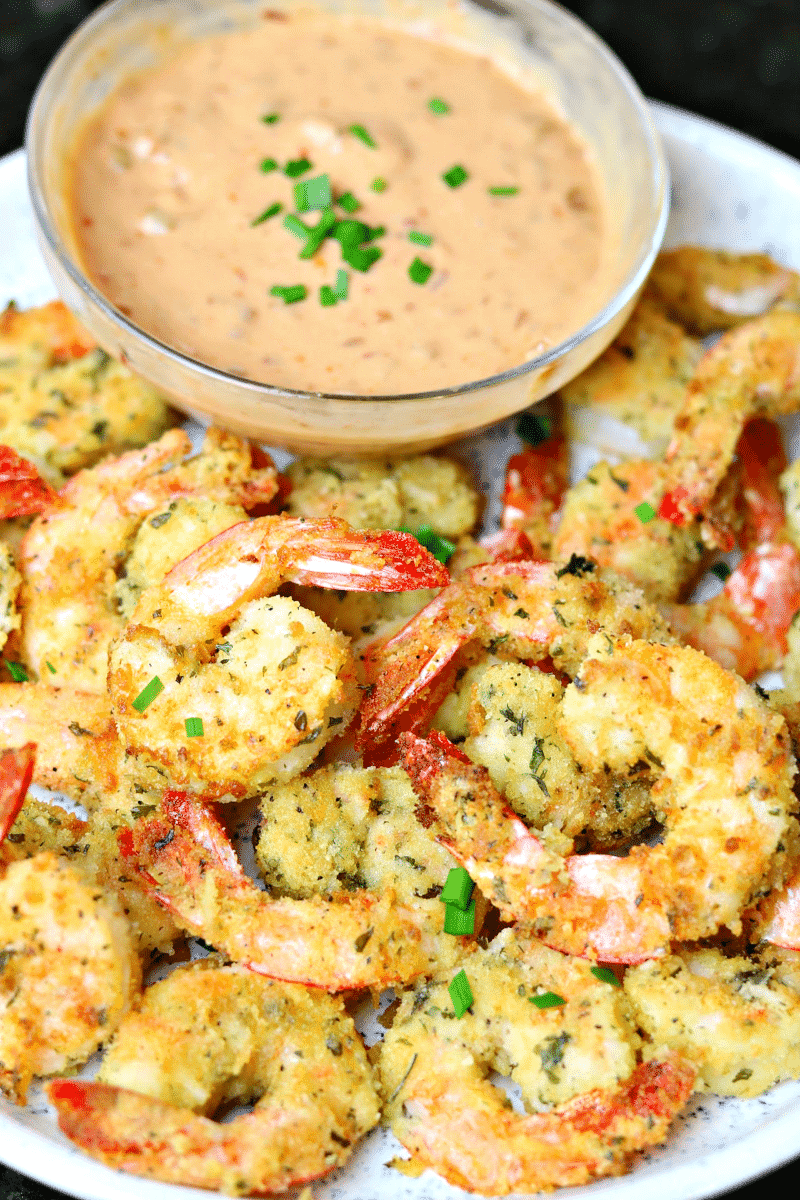 Bang Bang Shrimp
Bang Bang Shrimp is absolutely my favorite way to eat these! The sauce on top of the shrimp is delicious. You'd make the shrimp as listed in the recipe, then top it with my Low Carb Bang Bang Sauce.
Air Fryer Coconut Shrimp
Another way to change this recipe is to make air fryer coconut shrimp. You can do this by adding 1-2 tablespoons of unsweetened shredded coconut to the breading mix. The coconut adds a bit of a tropical flavor.
When I make air fryer coconut shrimp, I use my Keto Sweet Chili Sauce or Bang Bang Sauce for dipping.
Garlic Parmesan Shrimp
You might also add 2 tbsp of grated parmesan and 1/4 tsp of garlic powder to the breading mixture for a Garlic Parmesan flavor. If you're cooking for a crowd, the Parmesan Shrimp would be an awesome partner to my Garlic Parmesan Wings that I also make in an air fryer!
How many shrimp per serving?
This recipe includes 4 servings of shrimp. One serving is a quarter of one pound. To determine how many shrimp there are in one serving, divide the number of shrimp by 4.
For example, if you have 16/20 shrimp, then you have 16-20 shrimp per pound. So, a serving for that size shrimp is 4-5 shrimp.
You might also be interested in these keto air fryer shrimp recipes: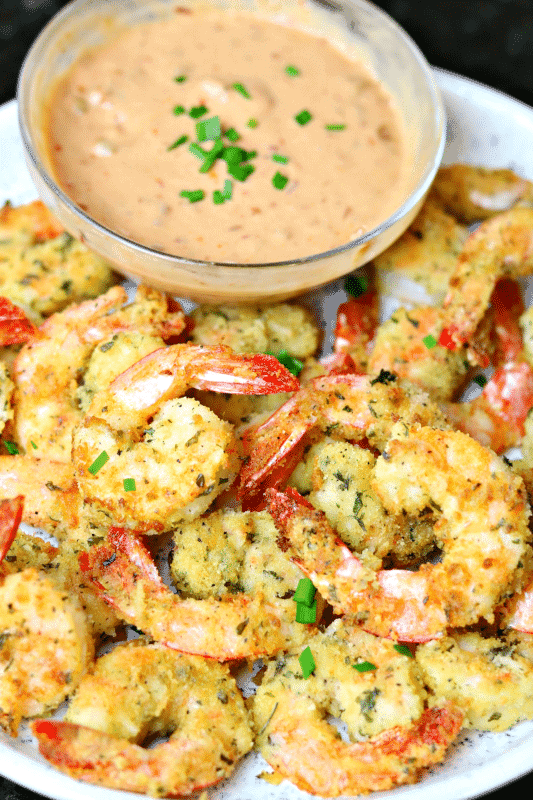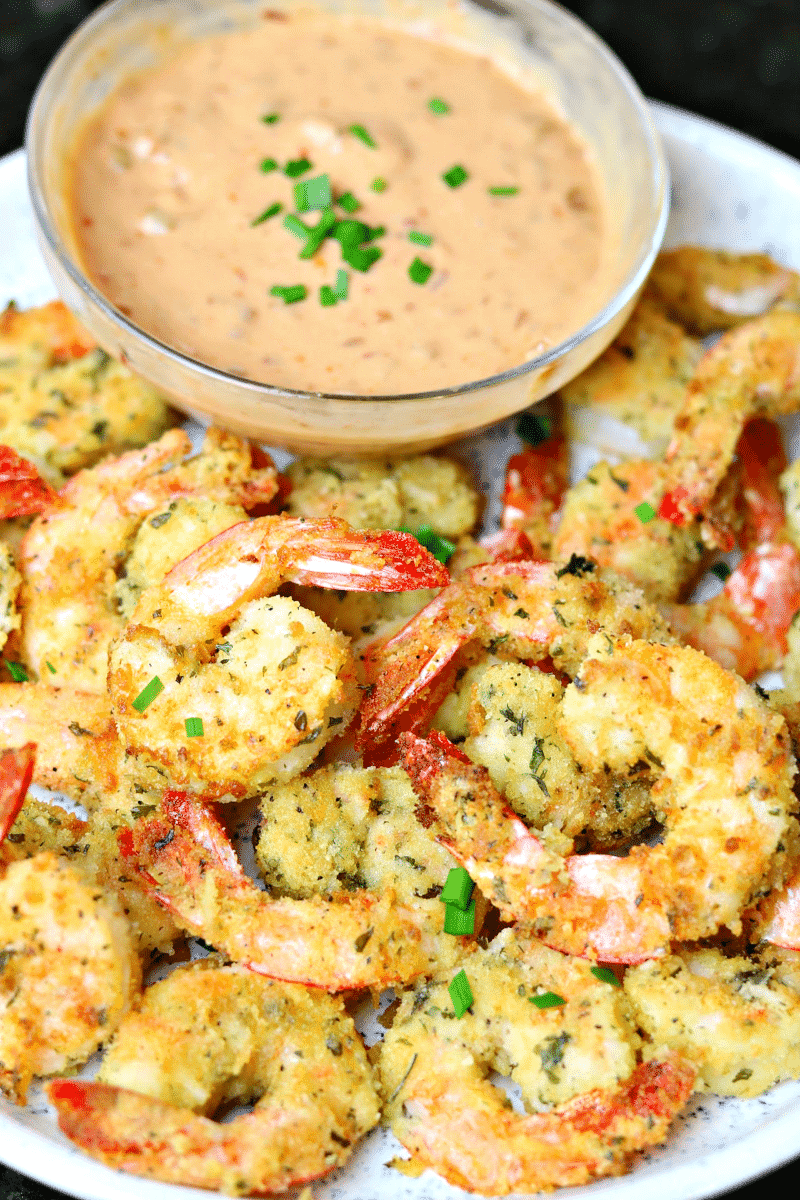 Air Fryer Shrimp
This Air Fryer Shrimp only takes a few minutes to make and can be modified for flavor combos like Bang Bang Shrimp and Coconut Air Fried Shrimp. In this post, I give options for keto-friendly breadcrumbs and tips for using frozen and fresh raw shrimp.
Course:
Appetizer, Dinner
Pin
Rate
Print
Use DRDAVINAHS at checkout to save on some equipment & ingredients!
Recommended Equipment
Ingredients
Grain-free Breaded Shrimp
Instructions
Mix baking powder, coconut flour, pork rinds, salt, and black pepper and parsley in a bowl

Dip each shrimp into the beaten egg then coat it with the breading mixture. Place the coated shrimp on a plate until all are coated

Add the shrimp to the air fryer basket. You might need to make these in two batches so that all of the shrimp have space.

Drizzle a generous amount of olive oil on the shrimp. Cook for 370 degrees for 4 minutes per side. When you flip the shrimp, you can drizzle on more oil or cooking spray because it helps them to brown.
Nutrition Details
Calories:
243
kcal
|
Carbohydrates:
10
g
|
Protein:
30
g
|
Fat:
9
g
|
Saturated Fat:
5
g
|
Cholesterol:
342
mg
|
Sodium:
1146
mg
|
Potassium:
257
mg
|
Fiber:
6
g
|
Sugar:
1
g
|
Vitamin A:
75
IU
|
Vitamin C:
4.9
mg
|
Calcium:
227
mg
|
Iron:
3.3
mg
The nutrition facts come from entering the recipe ingredients into Spoonacular API, a database of food ingredients. They may vary for any recipe based on the exact product used. The keto sweeteners I use have 0g net carbs & are not included because sugar alcohols do not impact most people. This is provided as a courtesy, but you can do your own calculations if you wish!
Share this Recipe
If you enjoy this recipe, share a link to it via email or Facebook, pin it, or leave a rating. Please don't copy/paste the instructions to other websites. Thanks for helping the website grow!