This post may contain affiliate links to products I use and highly recommend. You can read my full disclosure here.
Click below to share this!
This keto creamy Caesar dressing recipe is made of real food ingredients for a delicious, flavor packed salad dressing with none of the fillers or sugars you'd find in store bought dressing.
Caesar Dressing (kind of like Ranch Dressing) is hard to nail at home. Recipes often come out either more like a vinaigrette, not parmesan-y enough or just bland. This keto-friendly Caesar Dressing recipe is creamy, filled with parmesan, and tangy. The perfect homemade Caesar dressing recipe that won't leave you missing the bottled dressings.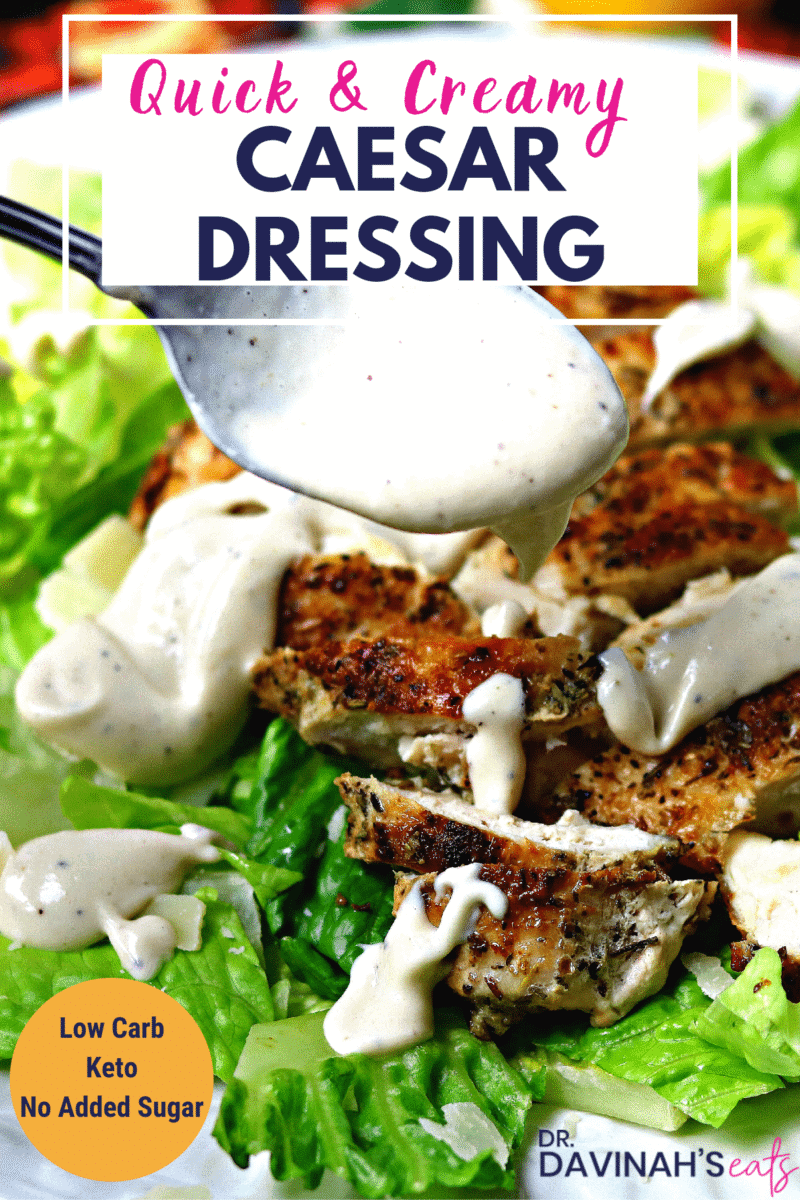 There's a reason Caesar salad is such a classic. The delicious dressing on crisp romaine with Parmesan cheese running through the whole thing. It's the perfect combination of flavors and textures.
Store Bought Creamy Caesar Dressing versus Homemade Caesar Dressing
Unfortunately many store bought salad dressings are not so healthy. After I changed my lifestyle to follow a low carb way of living, I started to read the labels of my favorite brands of salad dressings. To my surprise, my healthy dressings were not only filled with sugar but also packed with random ingredients.
The long list of added sugars and other weird ingredients in most store bought salad drove me to start making my own, and now that I do and have perfected this homemade Caesar dressing I could never go back to purchasing bottled dressing. The flavor hits all the right notes: creamy, salty, tangy, garlicky. Yum.
Not only doesn't my Caesar dressing have any weird ingredients or added sweeteners, but it is a simple to make recipe full of easy ingredients. And because you control the ingredients, you can make the dressing to suit your dietary needs.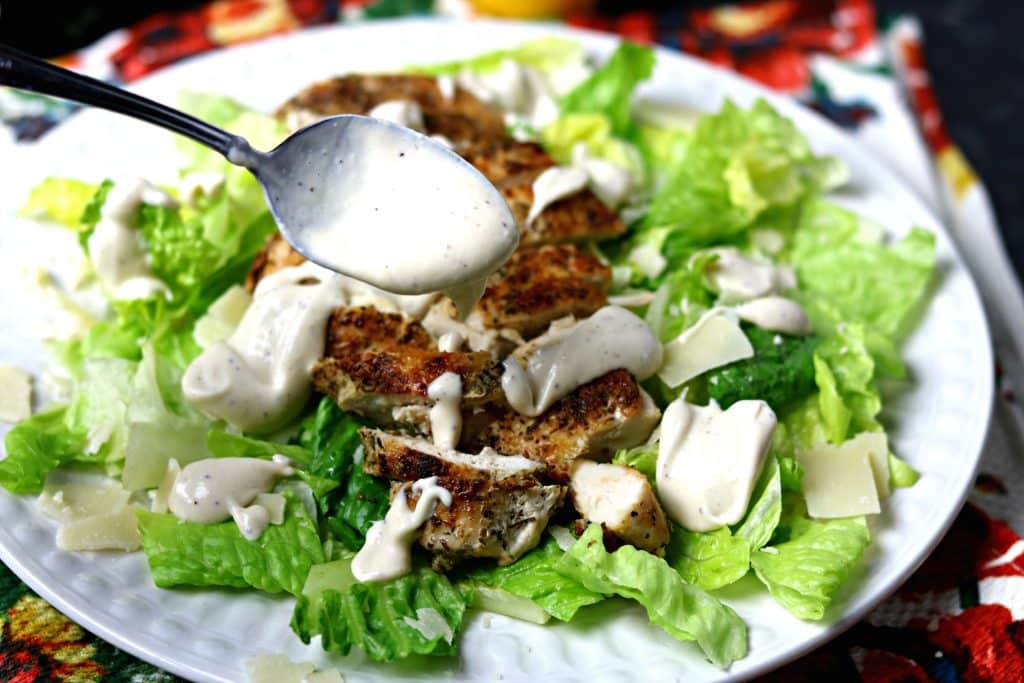 Is Caesar Dressing Keto Friendly?
This Caesar dressing is very keto friendly! It keeps carbs to a minimum with each serving containing around 2 grams of total net carbs. That's it!
Be wary of store bought or restaurant Caesar dressings. Many of them will contain more carbs because of the added sugars that they have and not be keto approved.
Turn this Caesar dressing into a quick, keto-friendly meal!
This Caesar dressing makes it easy to add flavor to so many quick keto meals.
To make a keto Caesar salad using this dressing, get rid of the croutons and try one of these substitutions for the carb laden croutons:
You could also add a protein to your Caesar salad to make it more filling. I like to add:
If you want something a little different, try adding grilled, cajun style, or air fryer salmon, or even a classic grilled steak to your Caesar salad. And of course, you can always add more veggies.
Try serving it with zucchini, grilled portabella mushrooms, or any low carb veggies you like!
You could even use this recipe as a basis for meal prep meals. Make your salad and dressing as you normally would but keep the dressing on the side. Then place the salads in meal prep contains like these and store the dressing in these reusable containers.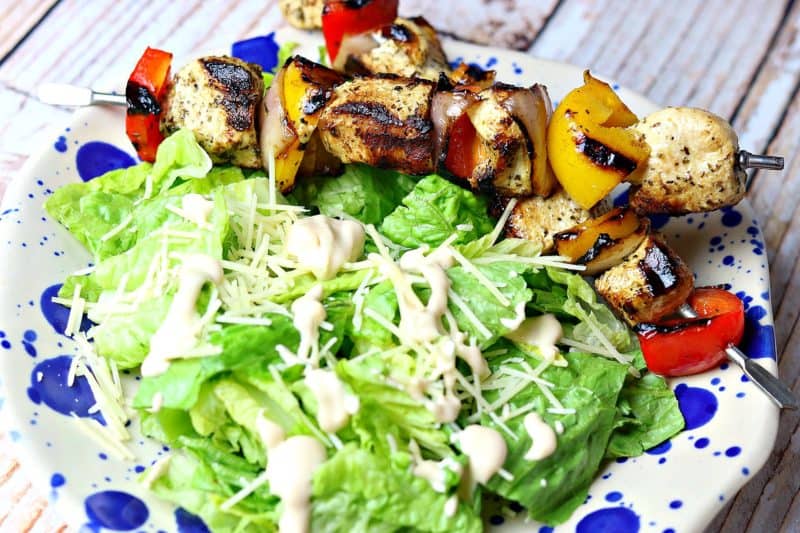 Keto Caesar Dressing Ingredients
Unlike many bottled Caesar salad dressings, this homemade Caesar salad dressing only has seven easy ingredients. You probably have most of them in your pantry already! To make my homemade Caesar dressing, you need:
I find my anchovies from the aisle that has tuna. If you find that they are too fishy for you, you could always adjust the amount of anchovies you use to suit your tastes.
How to Make Creamy Caesar Dressing
The dressing is so easy to make! Just add the ingredients in the order that they are listed into a blender cup. I use a Nutri Ninja from Ninja Professional Kitchen System. Then blend away!
I like to put the parmesan cheese in first because it prevents the mayo from getting stuck at the bottom of the blender cup. Plus, the layer of parmesan cheese also serves as a guide for how well things are blended. Once the parmesan layer is gone, I know that the rest of the dressing is well incorporated.
Then serve immediately or store it. The recipe makes a little more than a cup of Caesar dressing, which is enough for 4 entree sized salads. If storing it, make sure you store leftover dressing in the fridge in a sealed container. If this dressing gets thick during storage, just add a squeeze of fresh lemon (or 1/2 tsp of lemon juice) to the dressing to thin it out.
Other Low Carb Salad Dressing Recipes
If you're looking for another low carb salad dressing, try one of these: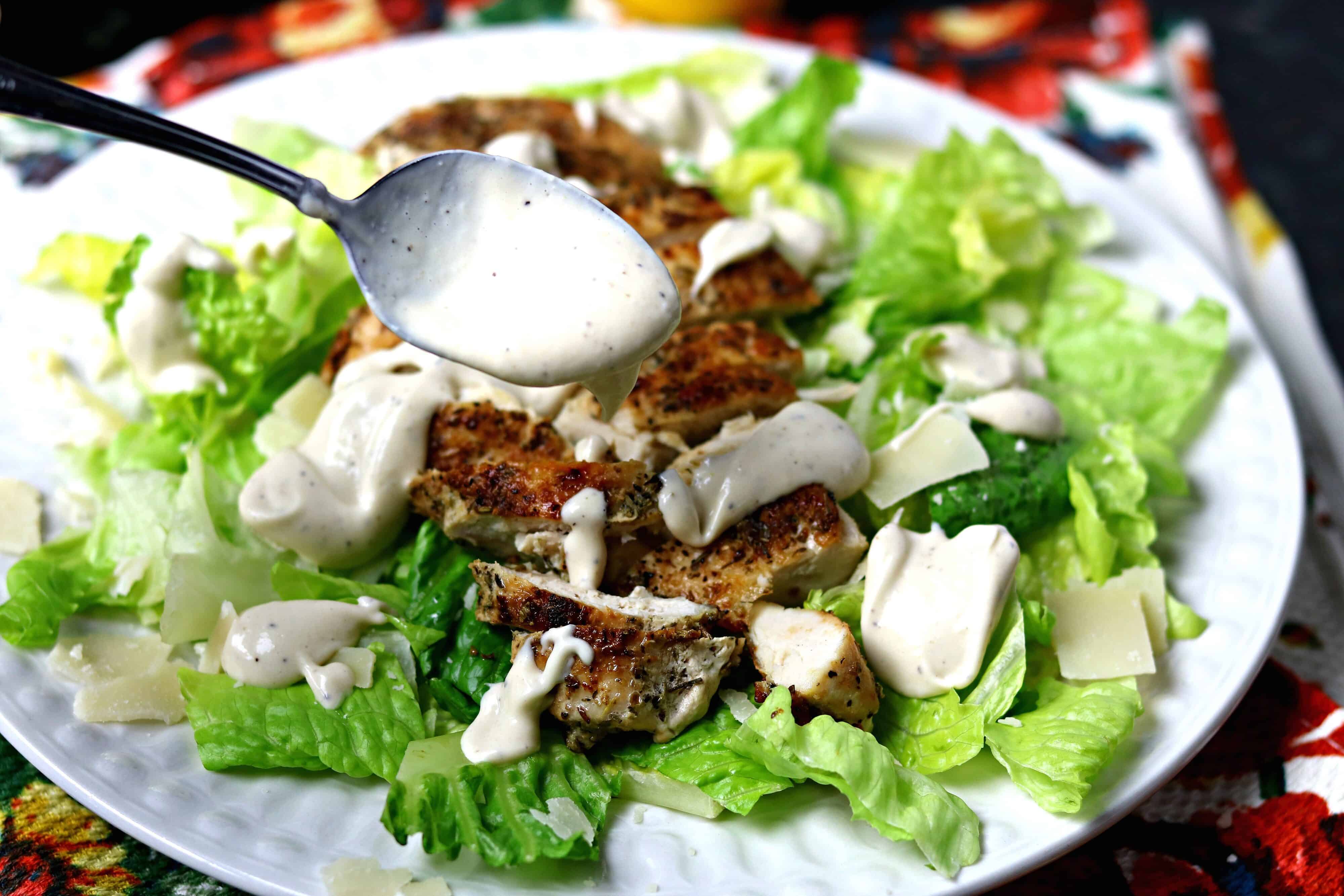 This keto creamy Caesar dressing recipe is made of real food ingredients for a delicious, flavor packed salad dressing with none of the fillers or sugars you'd find in store bought dressing.
Please do not copy & paste (or screenshot) the instructions & ingredients for my recipes to social media or other websites. If you want to spread the word about this recipe (I'm grateful if you do), please use the buttons above to share or share a photo of this dish with a link to this recipe instead. © 2019 Dr. Davinah's Eats
Ingredients
6

tbsp

grated parmesan cheese

I get mine from the refrigerated section of the market

1

tsp

Dijon mustard

2

tbsp

lemon juice

5

anchovy filets

I get mine whole from the aisle that has tuna

4

cloves

garlic

1/4

tsp

black pepper

1/8

tsp

Sea Salt

3/4

cup

Real Hellmann's Mayo

or your preferred brand
Instructions
Add the ingredients in the order that they listed to a high-speed blender. I use the Nutri Ninja cup that's part of this Ninja Professional Refurbished set that I purchased

Blend using the puree or medium setting until it's mixed (~6 presses on the Single-Serve button). I keep this in the refrigerator for up to 4 days.
Recipe Nutrition Facts
Nutrition Facts
Keto Creamy Caesar Dressing Recipe
Amount Per Serving
Calories 331
Calories from Fat 297
% Daily Value*
Fat 33g51%
Cholesterol 27mg9%
Sodium 472mg20%
Potassium 40mg1%
Carbohydrates 2g1%
Protein 4g8%
Vitamin A 90IU2%
Vitamin C 3.9mg5%
Calcium 98mg10%
Iron 0.4mg2%
* Percent Daily Values are based on a 2000 calorie diet.
Did you make this recipe?
Use #DrDavinahS when posting your photo of this dish, and follow @DrDavinahS on Instagram