This post may contain affiliate links to products I use and highly recommend. You can read my full disclosure .
Onions are a key ingredient in many recipes due to their distinctive aromatic flavor. They come in different colors, including yellow, green, red, and white. They contain antioxidants that offer several health benefits. But, can you eat onion on a keto diet?
I'll answer this question and provide you with some nutrition facts for different types of onions. Plus, help you see why onions are keto, even though many choose to eat them in moderation.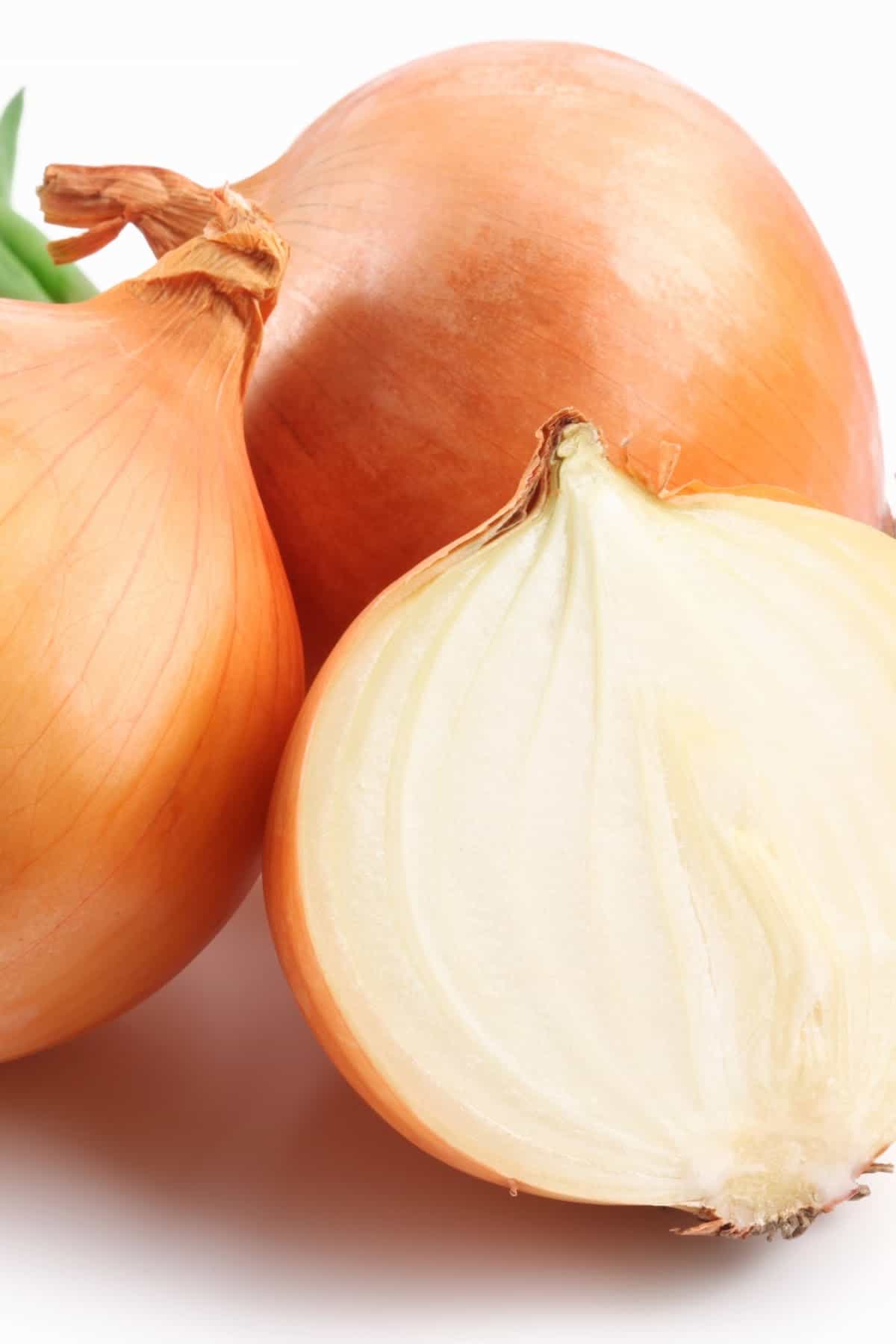 Are Onions Keto: Ketosis & Carbs
Most keto dieters aim to consume below 50 grams of carbs each day. By limiting carbs, the goal is to enter into ketosis.
While keto isn't a specific food, our food choices, can determine whether or not we can reach the ultimate goal of ketosis.
With that in mind, many people eat onions on keto, but eat them in moderation. That's because the number of onions you eat and the types of onions you choose can determine whether they are Ok for keto.
I will say though, most people aren't trying to lose weight or complaining that they gained weight because they ate way too many onions.
So, while it's important to consider if onions are keto, I'd add this to the very bottom of my list of worries.
Tips for Adding Onions to Keto Meals
Onions add a great flavor to meals and are very easy to make using a variety of recipes. Some things to consider when eating onions on keto are:
Choose Onions With the Lowest Carbs
There are several onions types, and each type has a different number of carbs. In the next section, I'll explain the different types and highlight how many carbs are in a cup of each type.
By choosing onions with the least amount of carbs, you can enjoy them on keto without going overboard adding carbs to a dish.
Use Onions as a Flavoring in Your Food Instead of Adding Sugar
Onions can be used to add flavor in place of sugary condiments like dressings, BBQ sauce, ketchup, etc. Although there is sugar and carbs in onions, the content is lower than other flavored condiments.
A Little Goes A Long Way
A cup of onions in a recipe with multiple servings allows you to keep the overall carbs in a dish low, but keep a bold onion flavor.
One of my biggest gripes with the "keto police" is that they often rule out a recipe because "a cup of [random food] has too many carbs".
My immediate thoughts are always, "do what makes you happy", but also, unless you're planning to eat the entire recipe with multiple servings in one sitting, then you're making a fuss about nothing.
Onion Nutrition Facts
Here are some nutritional facts about onions.
Onions are rich in folate, potassium, vitamin B6, manganese, and vitamin C.
A medium-sized onion bulb (110 grams) contains 10.3 grams of carbs, 1.2 grams of protein, 44 grams of calories, and 0.1 grams of fat.
Carbs in Different Types of Onions
As I mentioned earlier, there are many different types of onions and each has a different amount of carbs per cup.
So, depending on the net carb count, some onions are better than others for keto. Here is a breakdown of some popular onions and their carb counts.
Yellow Onions
Yellow onions are the best type to eat on a keto diet. A cup of sliced yellow onions contains about 7 grams of carbs and 1 gram of dietary fiber.
You can find yellow onions in my crustless pizza.
Red or Purple Onions
Red or purple Onions have a deep ruby color and a crispier texture. The red coloration is produced by anthocyanin.
Red onions are mostly used for pickling, salads, and other meals. For example, you might use them in my keto potato salad.
A cup of red chopped red onions has a total 15g of carbs.
White Onions
The flavor of white onions is spicier and sharper than yellow onions.
They contain around 15 grams of carbs for each cup. It also contains a dietary fiber content of 3 grams.
Green Onions
Green Onions are some of my favorite to include in keto Chinese food recipes. They also add so much flavor to my seared scallops and cauliflower risotto.
A cup of green onion has about 7 grams of total carbs.
Vidalia Onions
Vidalia onions have a sweeter taste and a more rounded bulb than regular green onions. A cup of Vidalia onions has about 16g of total carbs.
Grilled Onions
Grilled onions are usually yellow onions prepared at medium heat. A serving of grilled onions contains 5g of total carbs content.
Caramelized Onions
Caramelized onions are yellow onions prepared at low heat. A serving of caramelized onions contains 5g of total carbs.
Sautéed Onions
Sauteed Onions are prepared in a pan using oil, butter, or other fat to tender the onions. A cup of chopped sautéed yellow onions has around 7g of total carbs.
I enjoy sautéed onions in things like my keto philly cheesesteak pockets.
FAQs
Which onion is best for Keto?
Yellow onions are the best onion type to use on a keto diet because it has some of the lowest carbs. A cup of sliced yellow onions contains about 6 grams of net carbs.
Can I eat fried onions on keto?
As a Philly native, fried onions are really just sautéed onions. You can add this to your keto menu if you wish. You simply cook the onions in a little bit of an oil like avocado oil.
Do cooked onions have more carbs than raw?
Depending on how the onion is prepared, a cup of raw onions may have fewer onions than a cup of cooked onions. So, cooked onions can have more carbs. It's best to compare foods by weight though to get a better picture of how the carbs compare.
Key Takeaways
Onions offer several nutritional benefits. They contain vitamins and other essential minerals. However, when striving to reach or stay in ketosis, keto dieters limit their carbs. By selecting the right type of onion and using it in moderation, you can enjoy onions on a keto diet.