When you need to satisfy your craving for Chinese take-out, this collection of delicious Keto Chinese Food Recipes is here to help. You'll find many take-out favorites – including some that might surprise you.
Several of the recipes are my own creation, like the Keto Sweet and Sour Shrimp, Keto Egg Roll in a Bowl, and Keto Teriyaki Salmon. And many of the others are from some of my favorite blogs like the potstickers and Low Carb General Tso's Chicken.
In addition to recipes, I offer tips for ordering Chinese while out on keto and common ingredients for making low carb Asian food at home.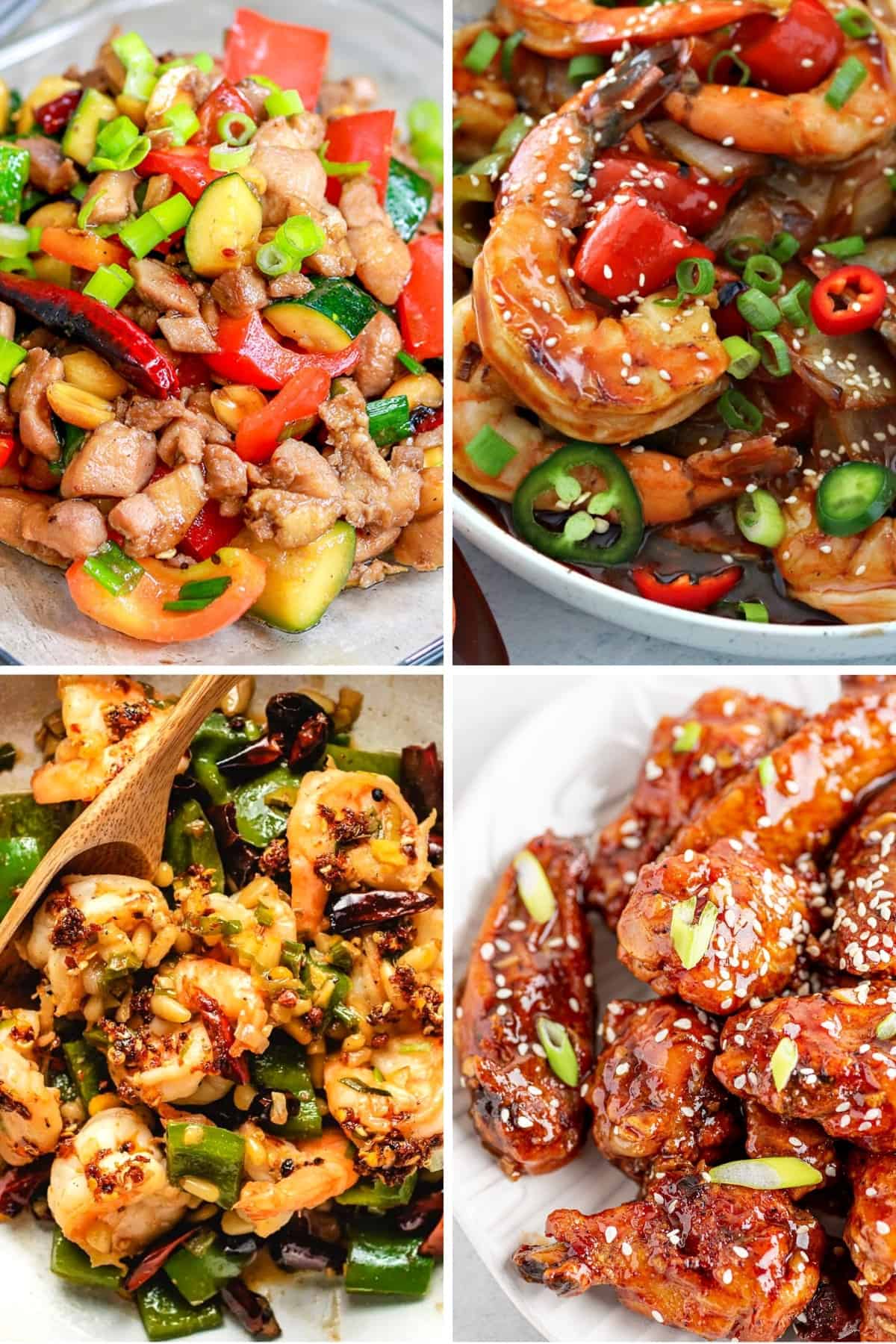 Why Share Keto Chinese Food Recipes
Chinese food is a big favorite for many people. Trust me, I get it and love it!
Unfortunately, most Chinese take-out is packed with carbs in the form of sugar, cornstarch, and flour – making it incompatible with a keto lifestyle.
But living without something you love really doesn't work well for most people. And when you miss something long enough, the temptation to blow your eating plan for one night of Chinese take-out is a very real.
I know how that feels, so I decided to help. These Keto Chinese Food recipes are a wonderful way to enjoy the foods you love without worry or guilt!
What Chinese Food is Usually Low Carb?
Unfortunately, there are very few low carb options when ordering Chinese take out. If you are lucky, you may find a place that offers steamed vegetables and meat without any sauces.
But this is definitely not something that you can count on. And even if you do find something on the menu that you can order, you still have to face the temptation of all the other things on the menu you would really like to have, if only they weren't so high in carbs.
Fortunately, with these Keto Chinese Takeout Recipes, you can enjoy many of your favorite dishes without undermining your health goals.
What Can You Eat from a Chinese Restaurant Menu on a Keto Diet?
As I mentioned, finding keto-friendly food is a bit of a challenge while out. But, if you are out for dinner at a Chinese restaurant, you don't have to sit with an empty plate.
Tips to Order Keto Meals at a Chinese Restaurant:
Find dishes offering a lot of vegetables.
If they include photos on the menu or on Yelp, get the dishes that have clear soups and broth, like Egg Drop Soup.
Avoid dishes involving rice, noodles, breading, wraps, wontons, and sweet sauces.
Don't be afraid to ask for what you need: Ask them to cook up some meat and vegetables with your sauce on the side. And if salads are available, it's a great option, as well, when you choose dressings with no added sugar.
Common Tools to Make Keto Chinese Recipes
Brown Sugar Substitute: Brown sugar is one tool that gives most Asian food a caramel-like flavor. I find that having a keto brown sugar replacement is essential for making Asian-inspired recipes.
Xanthan Gum: Sticky sauces are possible because of things like Xanthan Gum. You'll find that in most recipes a little goes such a long way. In fact, I needed just 1/4 tsp to make my Keto Sweet Chili Sauce and Low Carb Sweet and Sour Sauce the right consistency.
Coconut Aminos: Personally, I use soy sauce, but I know that some people need a soy-free option. Coconut Aminos substitutes 1:1 for Soy Sauce. So, if you find a recipe that includes soy sauce, feel free to substitute the same amount for Coconut Aminos.
Low Carb & Keto Chinese Food Recipes
Make Sweet and Sour Shrimp in minutes with this easy copycat recipe. Perfect with my cauliflower fried rice or air fryer greens.
Missing things like orange shrimp or chicken, but don't want to use orange juice. This recipe uses an ingredient from the baking aisle to have all the flavor minus the sugar.
Cauliflower is so versatile and that becomes really clear in this fried rice recipe. This is a great side dish to many of these easy keto recipes.
This delicious one-pot meal is so fast and easy to make, it's ready in less time than it would take to get an order of Chinese take-out. But this "egg roll" won't blow your keto way of life!
This Asian-inspired meatball recipe has the perfect amount of spicy and sweet. Love that it fits a range of ways of eating, including keto, Whole30 and paleo.
This yummy meal translates most closely to "lettuce wrap" and that's just what it is. Made with ground pork and a delicious assortment of other ingredients, San Choi Bao sounds to me like a wonderful meal to prepare ahead to take for lunch.
If you love teriyaki but don't like the sugar, you will love these Low Carb Crispy Baked Teriyaki Wings. Pair these with some steamed vegetables for a guilt-free keto feast.
Another version of an egg roll without the wrap. It's hard to imagine life beyond egg rolls, but these recipes provide comforting evidence that you can still enjoy all the flavor you love!
This General Tso Shrimp dish looks delicious and is perfect for a keto pescatarian. This one includes an easy Low Carb General Tso sauce with no-sugar-added ketchup, keto brown sugar, and some other common pantry ingredients. I love that this one is on the table in about 30 minutes.
If you love wings the way I do, you really need to give these Sweet Chili Sticky Asian Wings a try. These things check all the right boxes – sweet, spicy, crispy, tender, juicy, and completely delicious.
If you are looking for a great side dish to go along with one of the other recipes on this list, this salad is one great option. Fresh and flavorful, this salad is one of those Keto Chinese food recipes that also makes a great low carb vegetarian meal.
When you have a Panda Express craving to deal with, this copycat recipe may be just what you need. Delicious and healthy, you'll get all that satisfaction without having to go anywhere.
If you love noodles, you'll definitely want to give this keto lo mein a try. Who says you can't still bask in all that delicious noodle goodness while taking good care of your health? Yes, you CAN have both.
Sometimes you just need the savory comfort of a nice bowl of soup. Curl up in your favorite chair with a mug of this Spicy Asian Chicken Zoodle Soup and leave the world behind for just a little while.
Chicken and vegetables are always a great combination. And when you toss them in an easy, keto-friendly sauce, the flavor is off the charts!
Beef and Broccoli is a favorite for many Chinese food aficionados, but this version is better because it is keto-friendly. Serve this up with fresh cauliflower rice and you might just forget that you aren't eating take-out.
I'll admit, when I first started eating low carb I never dreamed that I'd find a version of General Tso's Chicken that was keto-friendly. But this recipe sounds like it has all the flavor the General had in mind!
Looking for a great keto appetizer for your low-carb Chinese feast or a fun event like a game day party? Whip up a batch of these Asian Chicken Meatballs and watch them quickly disappear!
Fish is one of the healthiest things you can eat. And when you cook it up using a recipe as flavorful as this one, you might decide you want to eat fish a lot more often!
Teriyaki is such a great flavor – one that you typically see on chicken. But when you add keto-friendly teriyaki sauce to salmon, the flavor combination is mind-blowing. I invite you to try this recipe and see what I mean!
Another wonderful noodle dish, made with spiralized zucchini (zoodles). If you love noodles as much as I do, you'll want to give this one a try for sure!
Sesame Chicken is one of those Chinese food dishes so sweet and rich with flavor, it seems certain that it would have no place in a keto lifestyle. Sometimes, it is wonderful to be wrong!
One of the most popular appetizers in American Chinese cuisine is the dumpling. These potstickers are made with almond flour, offering you all that dumpling comfort without blowing your daily carb limit!
Mongolian Beef is tender, flavorful, and so good for you. When you cook up this keto version in your slow cooker, you get all that delicious pleasure in the most convenient way possible. This recipe is great for busy families!
This 5-star recipe remakes a take-out favorite in a way that's not only keto, but also Whole30 compliant.