This post may contain affiliate links to products I use and highly recommend. You can read my full disclosure .
This Keto Starbucks Green Tea Frappuccino recipe is sugar-free, low carb copycat version of Starbucks Matcha Creme Frappuccino. It includes a no sugar added matcha powder, collagen peptides, and a keto-friendly sweetener. Plus, it is easy to make in a blender. In this post, I share how to make a Low Carb Matcha Frappuccino, but also answer popular questions, such as can you substitute green tea for matcha in matcha recipes.


Realizing Starbucks Green Tea Frappuccino Has a Problem
Switching to green tea instead of morning coffee sounds innocent enough, right? Well, maybe not, especially if you are ordering it at a coffee shop like Starbucks. After researching copycat Starbucks Matcha Creme Frappuccino recipes, I realized that green tea and matcha aren't as innocent as they seem.
Apparently, many chains, including Starbucks, sweeten their matcha powder with sugar. So, that means, if you are trying to stay keto by ordering your Matcha Creme Frappuccino with sugar-free vanilla syrup, you're wasting your time and money. The matcha powder alone has enough sugar to knock you out of ketosis.
For a seemingly virtuous green tea drink, this is a huge issue if you are trying to stay low carb.
What are the ingredients in Starbucks Green Tea Frappuccino?
To understand just how sugar and carb-laden a Starbucks Green Tea Frappuccino is, take a look at the ingredients direct from Starbucks' website.
According to their site the Matcha Creme Frappuccino contains:
Ice

Almondmilk [Filtered Water, Almonds,

Sugar

, Calcium Carbonate, Sunflower Lecithin, Sea Salt, Xanthan Gum, Guar Gum, Vitamin A Palmitate, Vitamin D2 (Ergocalciferol)]

Crème Frappuccino Syrup [Water,

Sugar

, Salt, Natural And Artificial Flavour, Xanthan Gum, Potassium Sorbate, Citric Acid]

Classic Syrup [

Sugar

, Water, Natural Flavors, Potassium Sorbate, Citric Acid]

Matcha Tea Blend [

Sugar

, Ground Japanese Green Tea].
How many carbs are in Starbucks Green Tea Frappuccino?
You can see all the different ingredients that have sugar listed in them. Each part of this frappuccino, minus the ice, is loaded with the sweet stuff. So, it's no wonder why a tall Green Tea Frappuccino with almond milk and whipped cream has 44 grams of carbs and 43 grams of sugar.
If you go with coconut milk instead of almond milk, the carb count in the Starbucks Green Tea Frappuccino increase! It goes up to a whopping 47 grams of net carbs.
Can you make a Green Tea Frappe without sugar?
Fortunately, if you love green tea frappuccinos as much as I do, you can make them without sugar! That way you can get your green tea fix, reap some of the health benefits of green tea, and maintain your ketosis.
This recipe uses Fat Snax's Fat Tea Matcha! Not only is it sugar-free, but it includes MCT Oil powder.
MCT powder is a super ingredient for people maintaining a keto diet. According to Healthline, MCT oil promotes weight loss in several ways. Not only does it help you feel fuller faster and stay fuller longer, but it also helps your body stay in ketosis because your body breaks it into ketones.
There are also a few other keto-friendly matcha powders like the one I'm using. Some are:
You can also get regular matcha powder and sweeten to taste if you prefer. Just be sure to use a keto-friendly sweetener.
How to make a Sugar-free Starbucks Green Tea Frappuccino
Once you have your matcha powder and some Collagen Peptides, you're pretty much ready to make your own sugar free Starbucks Green Tea Frappuccino. I added in the Collagen Peptides to keep this drink in line with butter coffee.
To make your own sugar free green tea frappuccino, just add the following to a blender and blend it until smooth:
And now you're ready to substitute your morning cup of coffee for this refreshing frappuccino.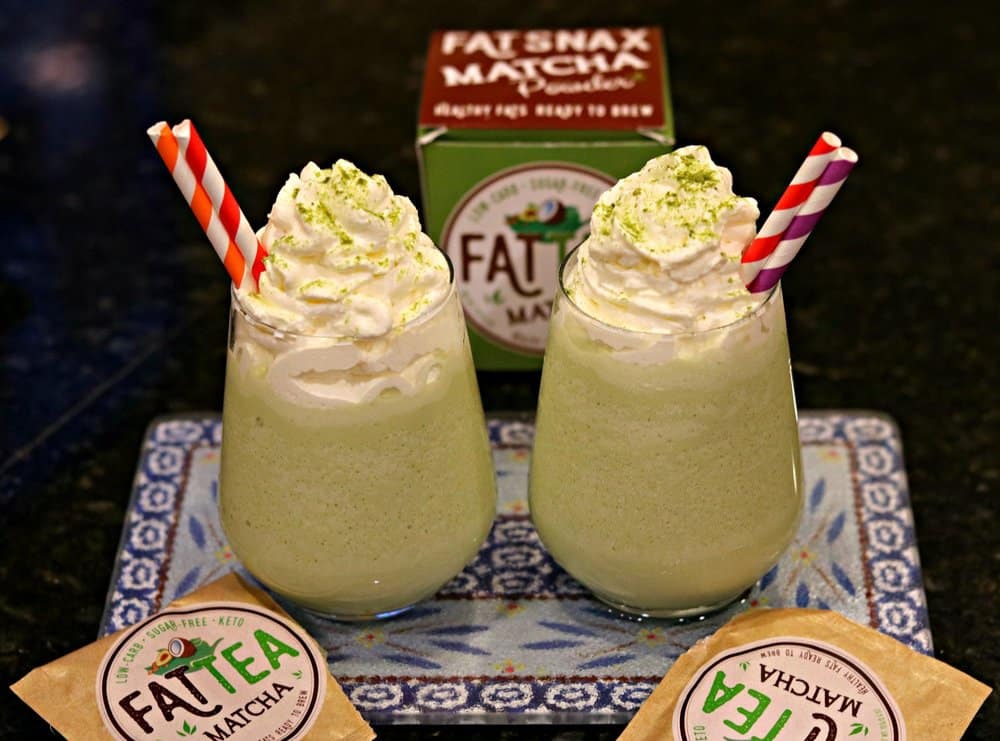 How much caffeine is in matcha powder?
Believe it or not, your Green Tea Frappuccino is a great caffeinated pick up. While some teas have significantly less caffeine than coffee, prepared matcha powder averages 70 milligrams of caffeine per serving according to Caffeine Informer. Coffee, by comparison, has around 90 milligrams of caffeine per serving.
Can you substitute brewed Green Tea for Matcha Powder?
You can, but I don't recommend substituting green tea for matcha powder. For one thing, matcha powder generally tastes better than brewed green tea.
Secondly, brewing green tea in boiling water may destroy some of the nutritional benefits of matcha powder. You'd have to drink an awful lot of green tea to match the nutrients in the matcha powder in this drink.
Of course, if you want to substitute green tea for matcha, you could but you'd have to likely add more ice or less almond milk and cream to account for the extra liquid.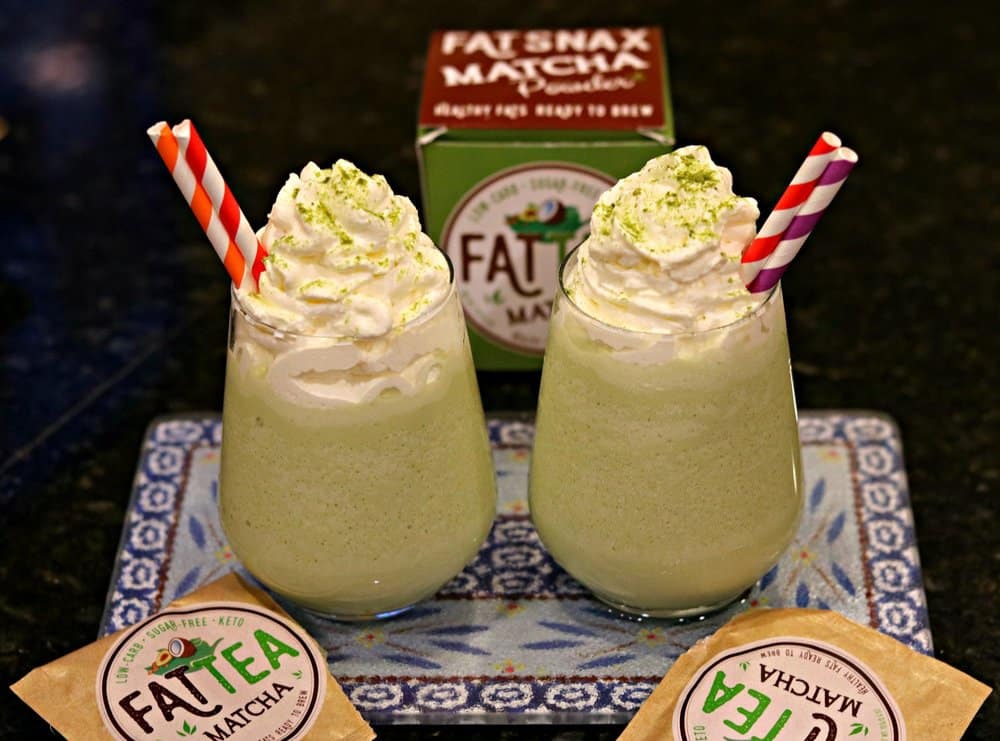 Keto Matcha (Green Tea) Creme Frappuccino
This Keto Starbucks Green Tea Frappuccino recipe is sugar free, low carb copycat version of Starbucks Matcha Creme Frappuccino.
Pin
Rate
Print
Use DRDAVINAHS at checkout to save on some equipment & ingredients!
Instructions
Add all ingredients to a high-speed blender. Blend until smooth (less than 1 minute).
Nutrition Details
Calories:
192
kcal
|
Carbohydrates:
1
g
|
Protein:
14
g
|
Fat:
16
g
|
Saturated Fat:
7
g
|
Polyunsaturated Fat:
0
g
|
Monounsaturated Fat:
0
g
|
Trans Fat:
0
g
|
Cholesterol:
40
mg
|
Sodium:
147
mg
|
Potassium:
0
mg
|
Fiber:
0
g
|
Sugar:
0
g
|
Vitamin A:
0
IU
|
Vitamin C:
0
mg
|
Calcium:
75
mg
|
Iron:
0
mg
The nutrition facts come from entering the recipe ingredients into Spoonacular API, a database of food ingredients. They may vary for any recipe based on the exact product used. The keto sweeteners I use have 0g net carbs & are not included because sugar alcohols do not impact most people. This is provided as a courtesy, but you can do your own calculations if you wish!
Share this Recipe
If you enjoy this recipe, share a link to it via email or Facebook, pin it, or leave a rating. Please don't copy/paste the instructions to other websites. Thanks for helping the website grow!