Did you know that you can make iced tea with your regular tea bags? In this post, I'm sharing a no sugar added summer drink: Keto Iced Tea Lemonade. I'm using steeped Bigelow Wild Blueberry with Acai tea bags as well as my recipe for keto lemonade. This iced tea lemonade is perfect for those who are cutting sugar or looking for no and low sugar drinks.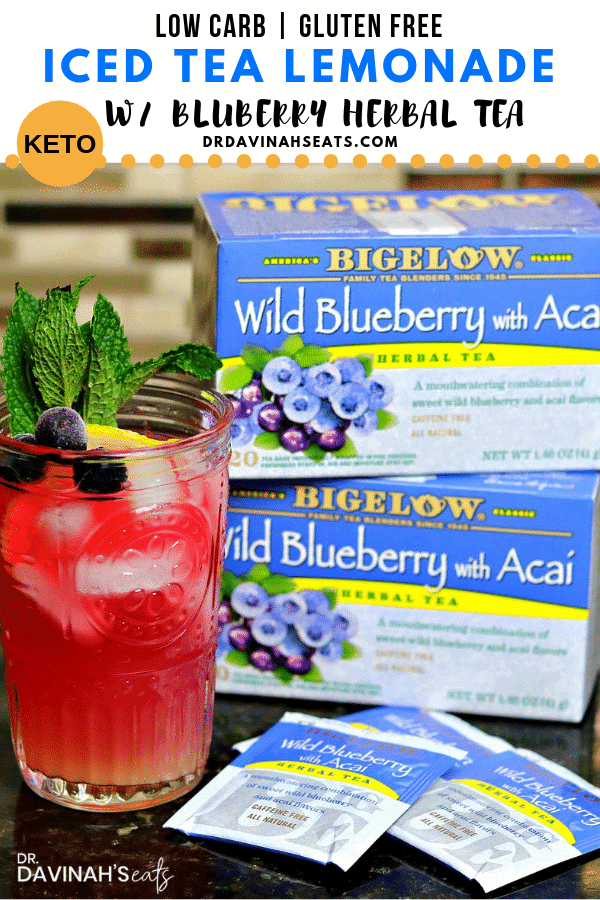 What inspired this drink?
As I mentioned in my Keto Orange Muffins post, I love herbal tea because it's a natural antioxidant. So, as my mom instilled in me, I try to drink Bigelow Tea most weeks.
But, as it gets hotter outside, I much prefer my Bigelow Tea with ice. And, instead of wintery and fall flavors, such as Bigelow's Constant Comment, I choose fruitier spring-time blends.
I found Bigelow's Wild Blueberry with Acai tea online at Walmart during one of my searches for new flavors.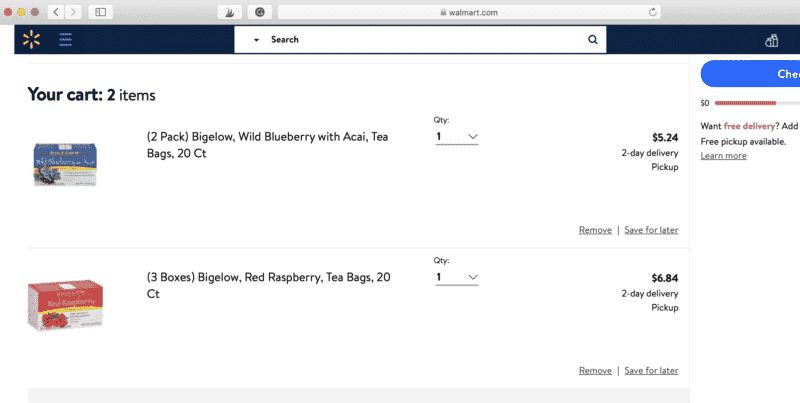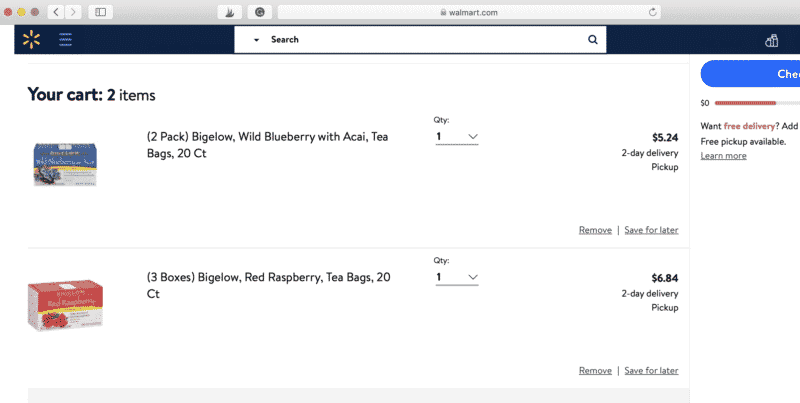 Since you know I love everything Lemon Blueberry (check out my Keto Lemon Blueberry Cheesecake Bites), then you know making Blueberry Lemonade was a no brainer!
What makes this a keto iced tea lemonade?
Iced Tea and Lemonade both have a lot of sugar. In this recipe, I'm removing added and refined sugar, by substituting refined sugar for an all-natural low-carb sweetener.
By making this substitute, I'm enjoying the flavors of iced tea lemonade without all of the sugar that typically comes with the drink.

What's so great about Bigelow Tea?
When I'm drinking tea, Bigelow is my go-to brand because of their freshness, foil packaging, and quality ingredients.
For me, their packaging and ingredients always result in a full-bodied drink that is true to flavor. In fact, when I was making this Keto Iced Tea Lemonade, my kitchen smelled like fresh blueberries! And, I've made this drink a few times more since just to have the aroma.
Can I substitute the Bigelow tea flavor?
Yes. I'm using Bigelow Wild Blueberry & Acai. But, you can use almost any of Bigelow's tea flavors in this recipe.
You can even combine the teas to create a combo that's uniquely yours. Some flavors that I recommend for this recipe are:
Red Raspberry
Pomegranate Pizzazz
Green Tea with Peach
You can click here to see all of the options online at Walmart.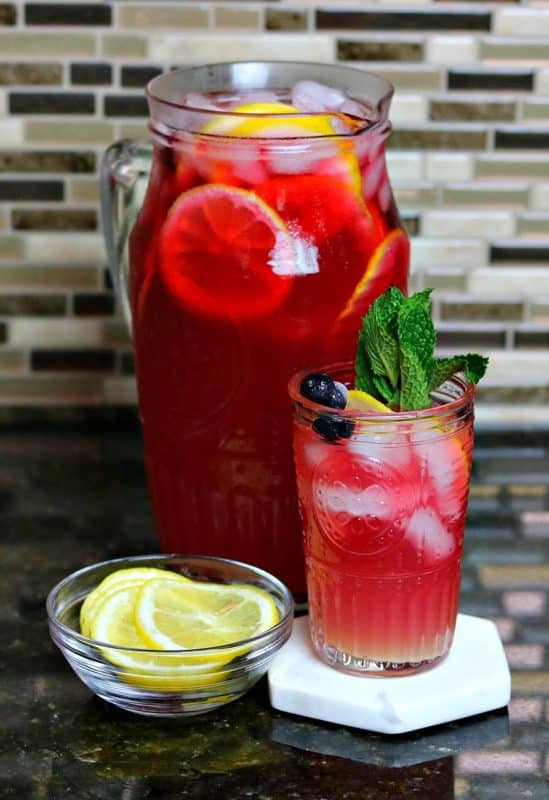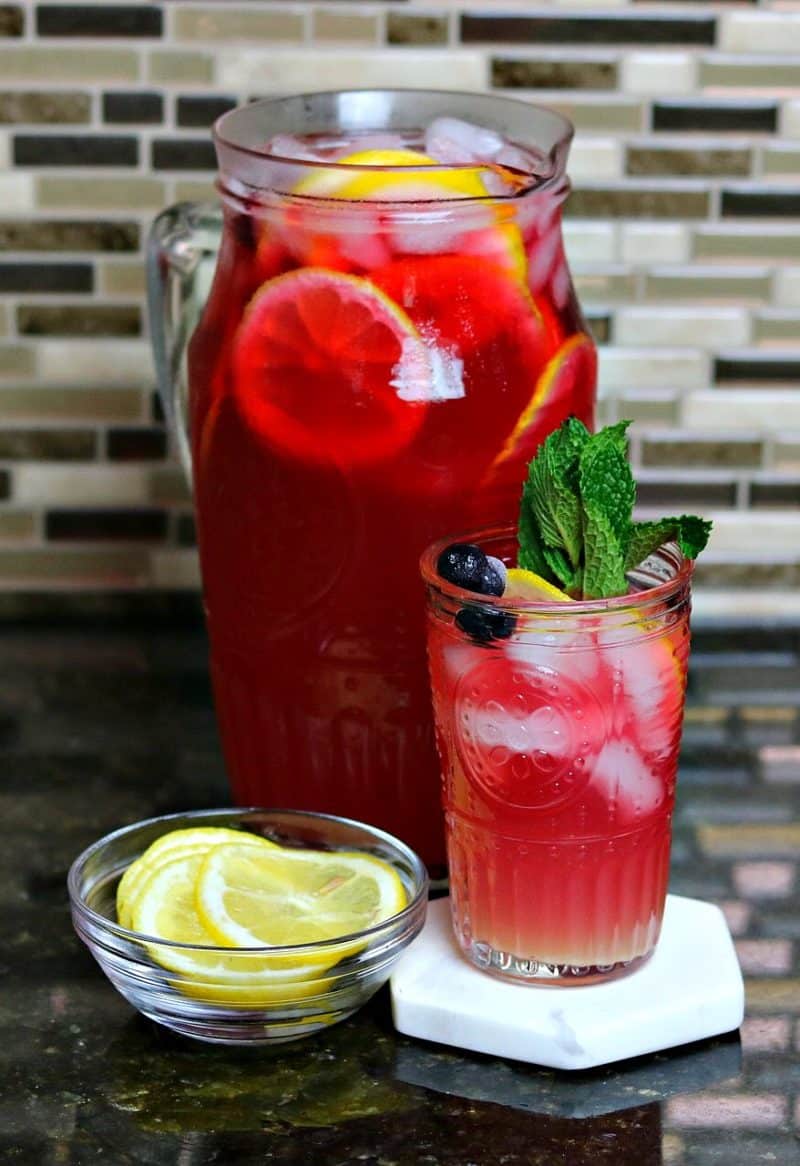 How do you make Keto Iced Tea Lemonade?
Steep the tea according to the package directions.
Add your preferred sweetener so that each layer of the drink is sweet enough to taste
Make Keto Lemonade
Mix the tea and the lemonade in a large pitcher
I added about 4 cups of ice to this as well as frozen blueberries. I love using frozen fruits in my drinks since they tend to add more flavor as they melt. They also serve initially to keep the drink cool.
What types of sweeteners can you use?
In this recipe, I kept it easy and simply sweetened this drink with a Monk Fruit Erythritol blend. You could also sweeten this drink with low carb simple syrup.
Try other keto-friendly summer recipes: