This post may contain affiliate links to products I use and highly recommend. You can read my full disclosure .
If you don't already have a slow cooker, these Keto Crockpot Recipes offer you 60 reasons why you need one in your life. Crockpots are an absolute dream when you're busy, making it easier to provide a variety of delicious, and budget-friendly keto meals for your family.
Traditionally, many people use crockpots for cooking grains and beans, neither of which is part of a keto diet. But this list of low-carb slow cooker recipes is proof that us keto people can enjoy all the benefits of those handy crockpots, too!
Hope these easy keto slow cooker recipes make cooking dinner much easier!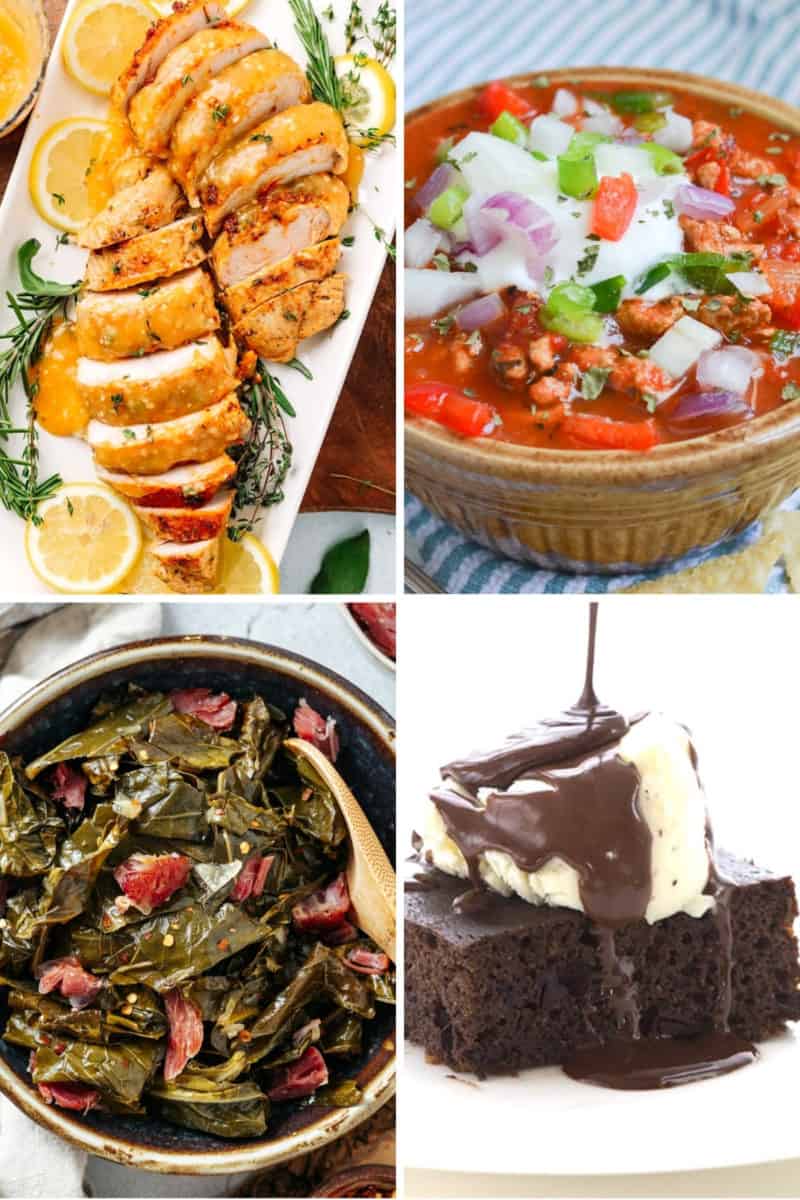 Why share Keto CrockPot Recipes
The process of slow cooking your food brings many advantages to your life.
For the most part, slow cooker recipes are "dump and go", meaning that you can fill your slow cooker with ingredients before heading off to work. Then, later, you can return home to a tasty meal.
They also make cooking so easy, you're likely to do more of it. This, in turn, makes it easier to stay on a budget and avoid take-out food. Not only that, but the slow cooking process also makes even the cheapest cuts of meat tender, moist, and delicious.
With this list of low carb slow cooker recipes, I hope to bring all those advantages to you!
Sample dozens of amazing crockpot recipes you can add to your menu.
Keto Crockpot Express Recipes
The Crock-pot Express (with the crisping lid) is a helpful tool that gives you many of the advantages of a Crock-pot, but in less time. It does all of the traditional things we're used to in a slow cooker.
Plus, it adds functions like pressure cooker and air fryer. It's perfect for dishes that would typically benefit from a final browning or crisping. These recipes are also suitable for the Ninja Foodi 10-in-one as well as the Instant Pot Duo
Dump and Go Crockpot Pork Recipes
One of the biggest advantages to a good slow cooker is the ability to "dump and go". Each of these yummy keto crock-pot recipes for pork involves only five to ten minutes of prep time.
Dump your ingredients in your crockpot, set it to low, and head out into your day. Imagine returning home to the smell of Keto Sticky Balsamic Pork Belly or Pork Carnitas, knowing that all you have to do is set the table, and dinner is served!
These crockpot recipes require minimal input and attention when cooking:
Tender Slow Cooker Beef Recipes
Beef is delicious and flavorful, but not always very friendly to the budget. A good slow cooker helps you to make the most of less expensive cuts of beef by cooking it up until it is moist, tender, and delicious.
From my scrumptious Beef Pot Roast to Pulled Beef with Harissa, here are some wonderful Keto crockpot recipes that use beef!
Easy Slow Cooker Chicken & Poultry Recipes
Chicken & poultry are some of the most versatile foods in a keto diet. They cook wonderfully in a variety of ways and taste delicious with everything.
One of my favorites in this group is Slow Cooker Chicken Cacciatore. And, if you love the way citrus brightens the flavor of poultry, you'll definitely want to check out the Creamy Lemon Chicken.
Simplify your life with these easy chicken and poultry crockpot recipes:
Easy Crockpot Seafood Recipes
It isn't easy finding good Keto crock-pot recipes that use seafood.
Seafood is one food that cooks up quickly - and overcooking it can actually be a problem. However, if you have a craving for seafood that you can prepare in your crockpot, I found some tasty options.
Whether you love some good Shrimp Scampi or would prefer to tuck into a nice warm bowl of Low Carb Clam Chowder with Bacon, here are some wonderful keto-friendly slow cooker recipes that incorporate seafood.
Hearty Slow Cooker Curry, Stews & Chilis
Many people naturally associate crockpots with soups, stews, and chili. From Cabbage Soup with Sausage to spaghetti sauce and chili, this list of keto crock-pot recipes offers a wide variety of delicious comfort foods.
There are some amazing curries here, too, like the Scrummy Coconut Lamb Curry. Curl up in a chair while enjoying a bowl full of something truly tasty!
Low Carb Slow Cooker Desserts
No list of mouthwatering keto crock-pot recipes would be complete without dessert.
And, if you've never made dessert in a crockpot before, you are in for a real treat.
If you love chocolate, there's an amazing low carb chocolate cake here to enjoy. Or whip up a batch of fudge that is both sugar-free and dairy-free!