Many people think that doing keto and low carb on a budget is unrealistic. The fact of the matter is that you can follow a keto way of eating without spending a ton of money. In this collection, I'll share recipes for some of my favorite cheap keto meals as well as some if my top tips for doing keto and low carb on a budget.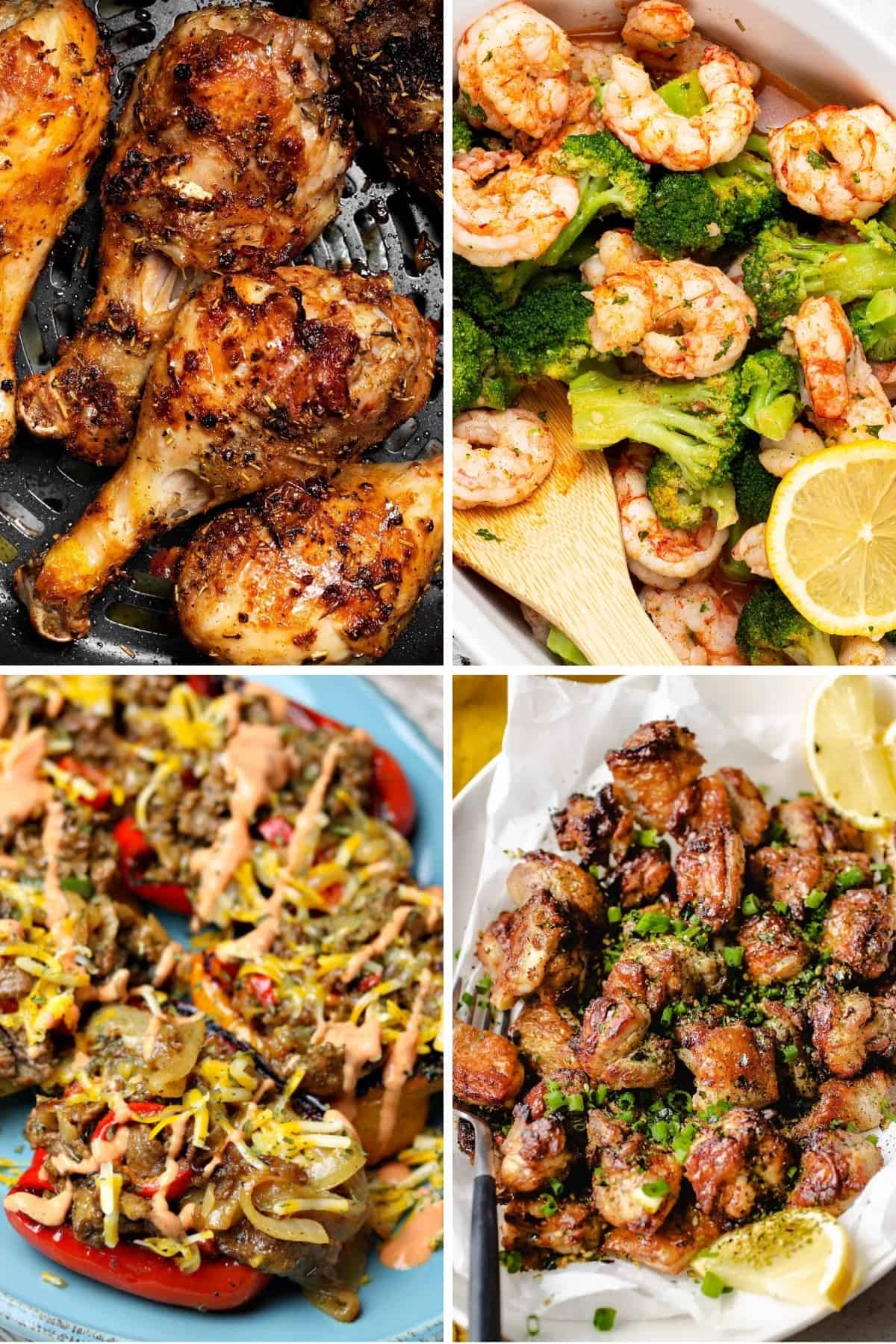 Cheap Keto Meal Ideas for Breakfast
Many folks on keto skip breakfast and opt to do intermittent fasting. If that's not you, here are some simple and budget-friendly keto recipe ideas. All of them are also perfect for people on the go.
Ground meat is always a good option when you want to save. You can make a batch of these with minimal ingredients, cook them up, and store them in the refrigerator or freezer for a keto meal prep.
These are super easy to make and cheap. Just toss them in your air fryer and you have a protein option in minutes.
It doesn't get more basic than eggs. Top them with pantry staples like salt and pepper or everything bagel seasoning.
Cheap Keto Meals for Dinner
Whole Chicken are one of my favorite ways to save and meal prep. This dish requires just four ingredients.
If you haven't tried chicken thighs in the air fryer then you are missing out. You can eat these with any of these keto side dishes for chicken. Or, you can chop them up to enjoy them in salads like my keto Cobb salad.
Forget buying several types of ground beef, pork and lamb to make meatballs. This easy cheap keto main dish uses ground sausage meat to keep the meatballs moist and full of flavor without a lot of ingredients.
Frozen seafood and vegetables are always cheaper than fresh. Plus, you don't have to worry about wasting them since they can last for months if stored properly.
Turn a few chicken breasts, veggies and broth into several meals with this easy one pot cheap keto recipe.
This is one of my favorite keto freezer meals. It skips out on the crust and allows you to use up any vegetables that you have on hand.
This super simple meal uses packaged Italian sausages, spices, and veggies. Add any of these keto side dishes to make it a filling meal.
Roasts are almost always on sale and work great for feeding larger families and for creating a multi-day meal prep. Depending on your budget, you can enjoy this with my simple cauliflower mash and keto gravy.
Drumsticks are another cheap meat. You can make homemade keto bbq sauce or pick up a bottle from a discount retailer. You might also save by buying chicken legs in bulk and using them for a wide range of recipes.
Canned tuna fish, mayo, diced vegetables and a few spices come together nicely in this cheap keto meal. Enjoy the tuna with lettuce as a salad or roll-up.
This easy keto salad recipe is perfect for a lunch meal prep. You can use the air fryer roasted whole chicken above or parts of a store-brought rotisserie chicken.
Throw store-brought marinated meat right in your slow cooker using this easy recipe. To keep this keto-friendly, I read the labels to skip out on things like added sugar. I also look for simple options like carnitas or garlic and herb since they are almost always sugar free.
This recipe can use shaved or ground meat. I love the combo of cheese, onions, and the roasted peppers. I top them with a simple sriracha mayo.
Not only is this recipe family-friendly, but it allows you to save on things like takeout. Make these up at home for a quick, flavorful option.
Just because you're saving money doesn't mean you want to cut out flavor. This crispy dish looks fancy, but uses one of the cheaper chicken cuts: chicken thighs.
If you forgot to take out something for dinner, then don't panic. This easy and cheap recipe uses two main ingredients and cooks from frozen.
Side Dishes for Easy Cheap Keto Meals
Use these side dish recipes to turn any budget-friendly main dish into a cheap keto meal.
Frozen vegetables cost a fraction of regular vegetables. So, save some money with this cheap keto side dish.
This four-ingredient side dish uses less than five simple ingredients.
One head of cabbage goes a long way with this recipe. I tend to have this as my vegetable of choice for several days in a row. Get cabbage when it's on sale, make a bunch and freeze it.
These green beans are super easy to make, but also cheap. I get packaged trimmed green beans, but you could buy them untrimmed by the pound depending on your budget.
This recipe uses bouillon, frozen cauliflower rice and other spices that you probably have on hand. It goes with almost anything.
Jarred Keto sauce can be really expensive. One way to save money is to make your own. This recipe uses canned goods and pantry staples. Plus, since its a sauce, you can make a big pot and use it for a range of cheap keto meals.
A package of shredded coleslaw mix and a few ingredients that you likely have in the fridge make this cheap keto side dish a reality.
Cheap Keto Recipes for Desserts
These desserts are the perfect additions to a cheap keto meal plan. By making simple desserts at home, you can save on things like (what can be) really expensive packaged keto products.
Mug cakes are my favorite! They use just a few ingredients and take less than two minutes to make.
If you have peanut butter and eggs, you are more than halfway to having all that's needed for this simple, cheap keto recipe.
When you're craving something sweet, fluff is always to the rescue. It has all the flavors of cheesecake without requiring baking or the extra ingredients for a keto-friendly crust.
Top Tips for Doing Keto on a Budget
Now that you have several cheap keto meals to make, use these extra tips to help you balance being successful on keto and low carb and staying within a tight budget.
1. Meal Plan According to the Sales Circular or Weekly Ad
Meal planning according to what's on sale will help reduce costs involved with keto and low carb. Make sure you're reviewing all sales circulars (also called weekly ads) before you meal plan for the week ahead.
2. Buy in Bulk
There are many stores that sell food and other items in bulk that can allow you to do keto and low carb on a budget. Review store circulars for wholesalers in your area such as BJ's that can sell products in bulk for lower overall costs. Many regular markets also have bulk pricing on their regular products if you buy a minimum of three pounds.
3. Don't Shop While Doing Intermittent Fasting
You've heard it before, do not go shopping on an empty stomach. This theory holds true for intermittent fasting as well. Shopping while hungry will only make you spend more money on unnecessary items.
4. Eat Simple – Protein, Vegetable, Fat
You don't need a ton of ingredients to make a good keto-friendly low carb meal. Just focusing on a protein, vegetable, and fat for each meal will help you stick to your keto and low carb diet on a budget with ease.
5. Buy Conventional Instead of Organic
While you may feel organic is your best option, it's not always cost effective when trying to do keto and low carb on a budget. This is why you'll have to be okay with buying conventional.
6. Get Cheaper Cuts of Meat
Buy meat with the bone in to save more money. You can also opt for large roasts or whole chickens to save more money on the cost of meat when doing keto and low carb on a budget.
You can buy the fattier cuts of meat to save the most money. Fatty ground beef or fatty pork chops will cost less and work just fine for your keto and low carb diet.
7. Shop at Discount Retailers – ALDI, Trader Joe's, 99 Cent Store
Take a peek around your local area for discount retailers that sell meats, vegetables and other options for your keto and low carb diet meal plan so that you can save the most money. If you truly want to start doing keto and low carb on a budget, then you're going to have to be creative with where you shop.
Discount retailers can offer you a significant amount of savings for the same food you'd be purchasing at your regular grocery store
8. Search for Discount Codes for Keto Supplements & Products
There are so many discount codes for everything these days, that includes keto supplements and products. Search the internet for discount codes to save money on your keto supplements.
At minimum, DRDAVINAHS will allow you to save on many popular keto brands.
But, you should know that you do not need anything special to do keto successfully. So, feel free to skip out on these.
9. Pay in Cash
Last, but not least, when it comes to living within any budget, it's always best to pay in cash. Bring your allotted amount of cash with you for grocery shopping so that you cannot spend more than what you've allowed yourself to have available for this trip. Paying in cash is an easier way to force yourself to stay on a budget while doing keto and a low carb diet.
FAQs