This post may contain affiliate links to products I use and highly recommend. You can read my full disclosure here.
Click below to share this!
A quick, keto-friendly, Whole30, and paleo recipe for whole chicken that was prepared in an hour using an air fryer.
Whole chickens are one of the easiest ways to meal prep because they provide a lot of meat. They are also super cheap when compared to buying the meat sections (wings, breasts, etc). For me, the only problem with making whole chickens is that they usually take forever to cook. You also often have to make the choice between having juicy meat and crispy skin. When cooking whole chickens in an air fryer, you no longer have to make that choice. This recipe for Air Fryer Whole Chicken has juicy, tender and flavorful meat with crispy skin. Another plus is that this recipe is perfect for those following Whole30.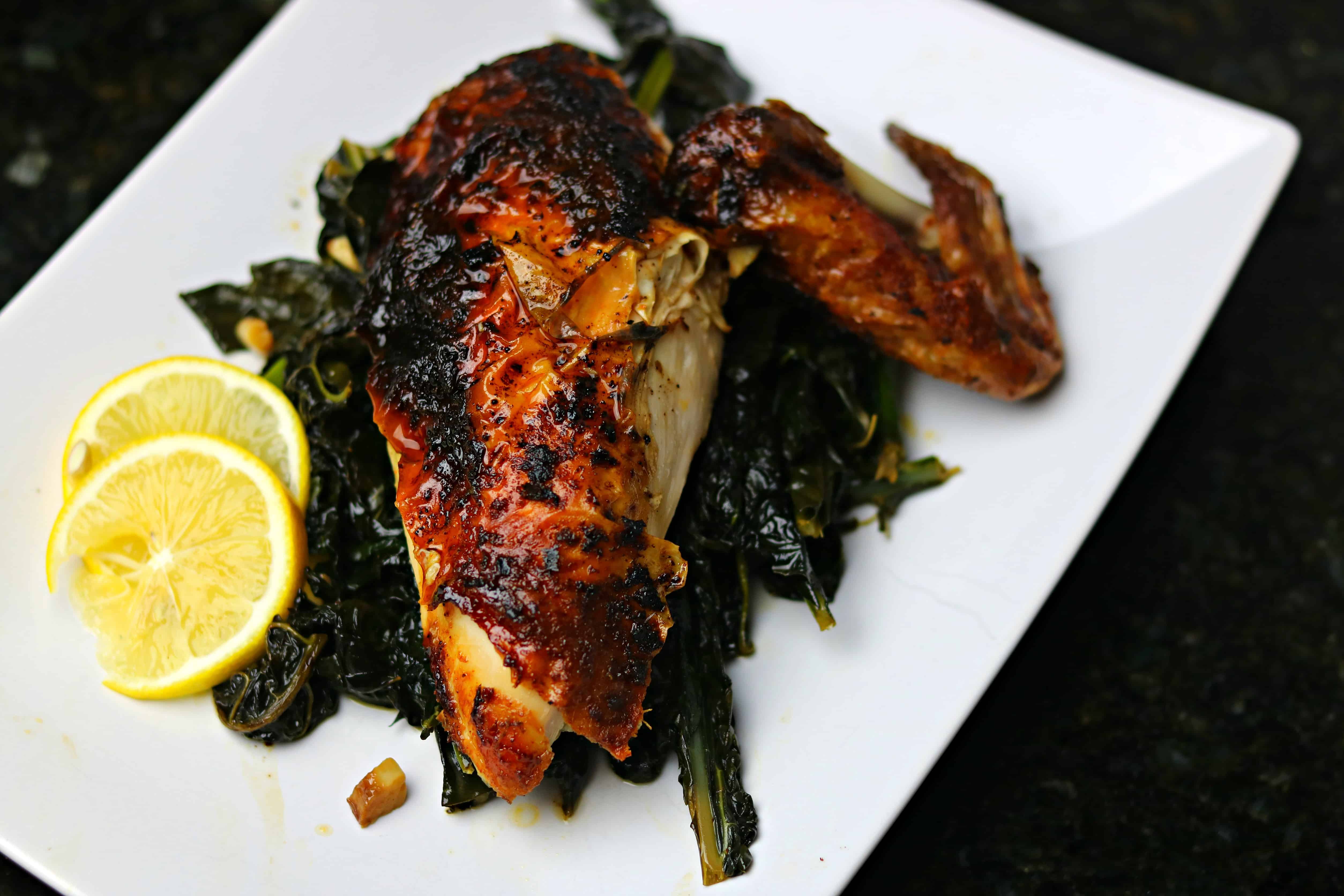 How do you make a whole chicken in an air fryer?
This Air Fryer Whole Chicken recipe will take less than one hour to cook. You cook the meat at 400 degrees and 25-30 minutes per side. It's important to flip the meat after 25-30 minutes so that the chicken can cook evenly. I have an XL Air Fryer and find that this is exactly enough space for a 4lb whole chicken.
How much salt do you use on a whole chicken?
One of the challenges when cooking whole chickens (and even turkeys) is knowing how much salt to use. By not salting properly, it's quite possible to make a pretty bland dish. I recommend using about 3/4 tsp of sea salt per pound of meat. In this recipe, I used 1 tbsp and it was more than enough to bring out the flavors of the other spices.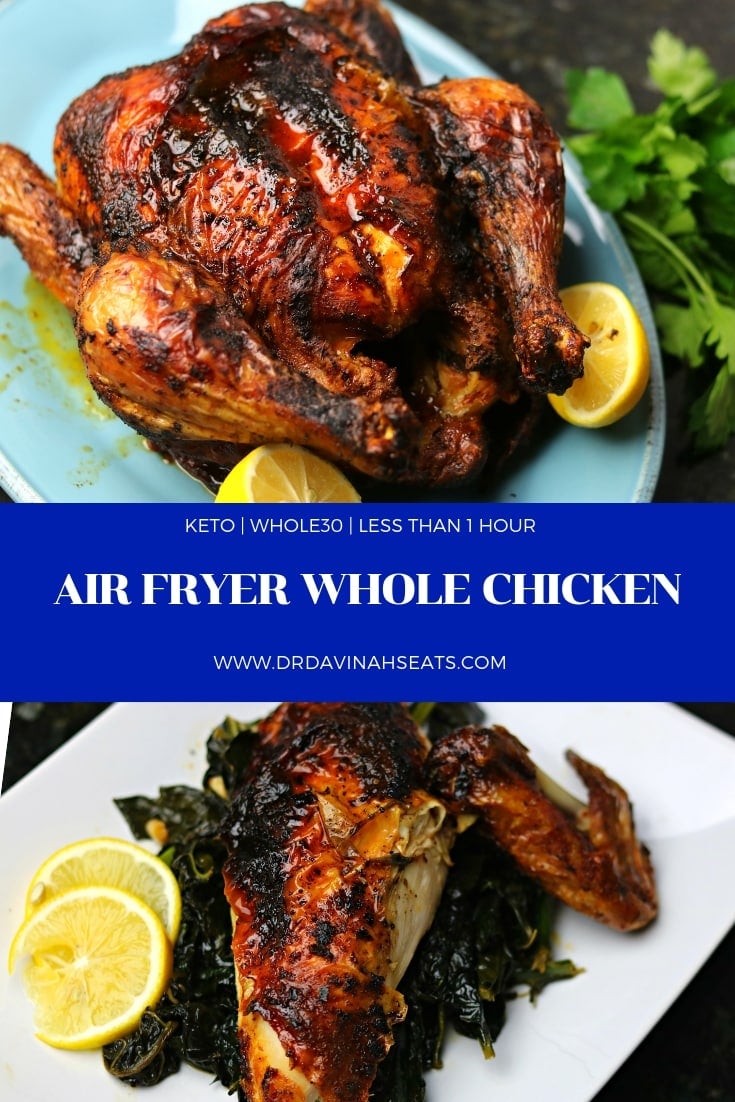 Can I make an Air Fryer Whole Chicken without letting it marinate?
I recommend planning ahead with this because cooking the meat without marinating it will result in noticeably less flavor. The skin will be tasty, but the actual meat will be quite bland. Add the spices to the whole chicken and store it in an airtight bowl overnight. I've let the meat marinate for 36 hours so no worries if you decide to make this on the 2nd day (as to the next day).
Want other keto family-friendly meals?
Try this Low Carb Turkey Meatloaf, any of these Kid-approved Keto Meals, or these Keto Ground Beef Recipes.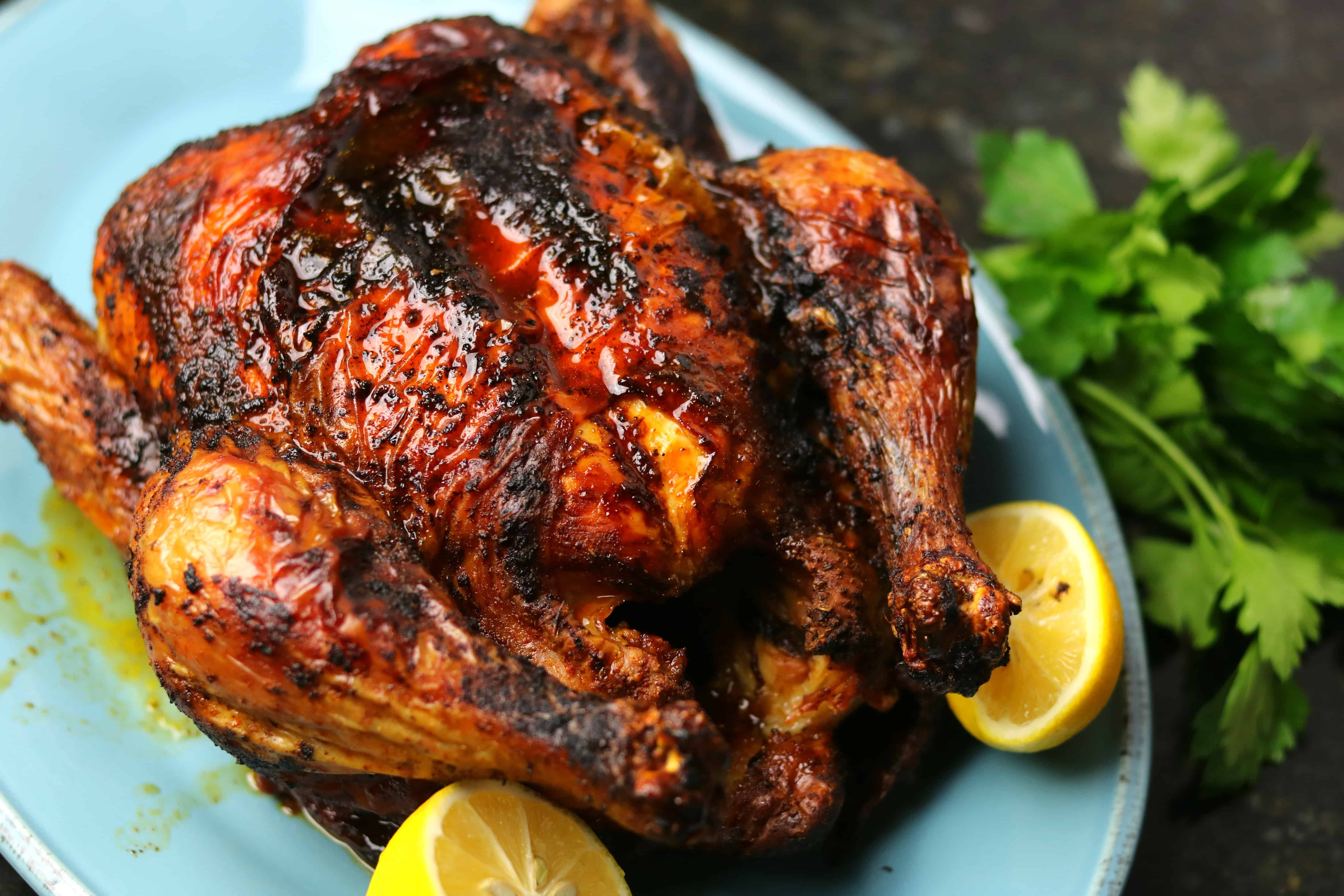 Total Time:
1
hour
20
minutes
A quick, keto-friendly, Whole30, and paleo recipe for whole chicken that was prepared in an hour using an air fryer.
Please do not copy & paste (or screenshot) the instructions & ingredients for my recipes to social media or other websites. If you want to spread the word about this recipe (I'm grateful if you do), please use the buttons above to share or share a photo of this dish with a link to this recipe instead. © 2019 Dr. Davinah's Eats
Instructions
Mix all of the seasonings in a small bowl.

Rub the seasonings on the outside and inside of the meat. Allow the meat to become infused with flavor by marinating it overnight.

Take the chicken out of the refrigerator ~20 minutes before you want to cook it. Meat tends to cook more evenly when it's not straight from the refrigerator.

Add parchment paper or foil to the air fryer pan

Cook the meat on 400 degrees (or the chicken setting on your air fryer) for 30 minutes.

Flip the chicken and cook it for an additional 25-30 minutes. I prefer my chicken skin to be dark and crispy so I tend to leave mine in for 30 minutes.

Allow the chicken to rest (I pull the cooking pan out of the air fryer and sit it on a trivet on the counter or on top of the stove) for ~10 minutes before cutting into it.
Recipe Nutrition Facts
Nutrition Facts
Air Fryer Whole Chicken
Amount Per Serving
Calories 318
Calories from Fat 189
% Daily Value*
Fat 21g32%
Cholesterol 108mg36%
Sodium 1265mg53%
Potassium 297mg8%
Carbohydrates 1g0%
Protein 27g54%
Vitamin A 490IU10%
Vitamin C 2.3mg3%
Calcium 21mg2%
Iron 1.7mg9%
* Percent Daily Values are based on a 2000 calorie diet.
Did you make this recipe?
Use #DrDavinahS when posting your photo of this dish, and follow @DrDavinahS on Instagram