This post may contain affiliate links to products I use and highly recommend. You can read my full disclosure .
These Ninja air fryer chicken legs are juicy and tender on the inside, and perfectly crunchy on the outside. They're so easy and quick to make, but jam-packed with spices and seasoning.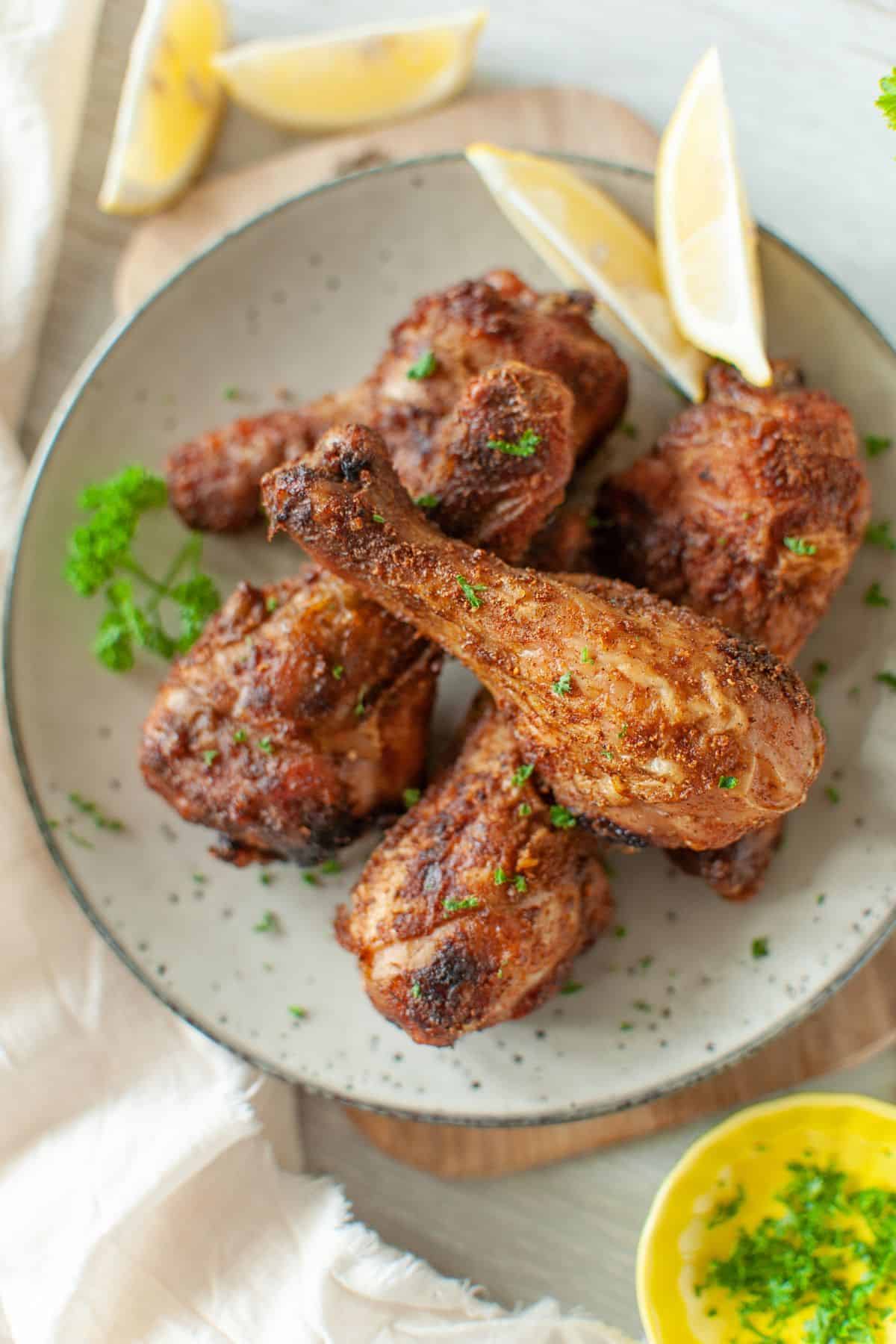 By now you probably know that I love using my air fryer, and I love a great chicken recipe. So it goes without saying that these air fryer chicken legs are one of my favorite things to make right now.
This recipe has everything you could want from a chicken dish. The meat is incredibly juicy, but the chicken has a nice crunch. It's bursting with flavor but barely takes any time or effort to make. What more could you possibly want?
The secret to this dish is that it uses a little bit of baking powder. That allows the chicken to get nice and crispy without being deep fried. If you love crunchy chicken but you also want to eat healthily, then you have got to try this recipe out.
Why You'll Love These Ninja Air Fryer Chicken Drumsticks
This is one of my go-to chicken recipes. Here are some of the reasons why I know you'll love it.
Easy and convenient. Despite being so flavorful, this is one of the easiest recipes I know. It only uses ingredients that you probably have in your kitchen already, and it only takes about 35 minutes to make. And most of that time is spent in the air fryer! This dish is tasty enough to serve to guests on a Saturday night but easy enough to make after work on a weekday.
Amazing texture. The best part about this chicken is that it has a perfectly crispy exterior. But it's not breaded, floured, or deep-fried. It's just covered in a spice blend and thrown in the air fryer. The secret is that the spice rub has baking powder in it. Baking powder changes the pH balance of chicken skin, which allows it to get crispier and crunchier. The results are fantastic!
Versatile. One of my favorite things about this recipe is that it goes with pretty much anything. This chicken could be served by itself as an entree, or you could use it to top a salad or pasta dish. You can take the meat off and put it in a sandwich, wrap, or taco, or dip it in one of your favorite sauces. The possibilities are endless with this chicken.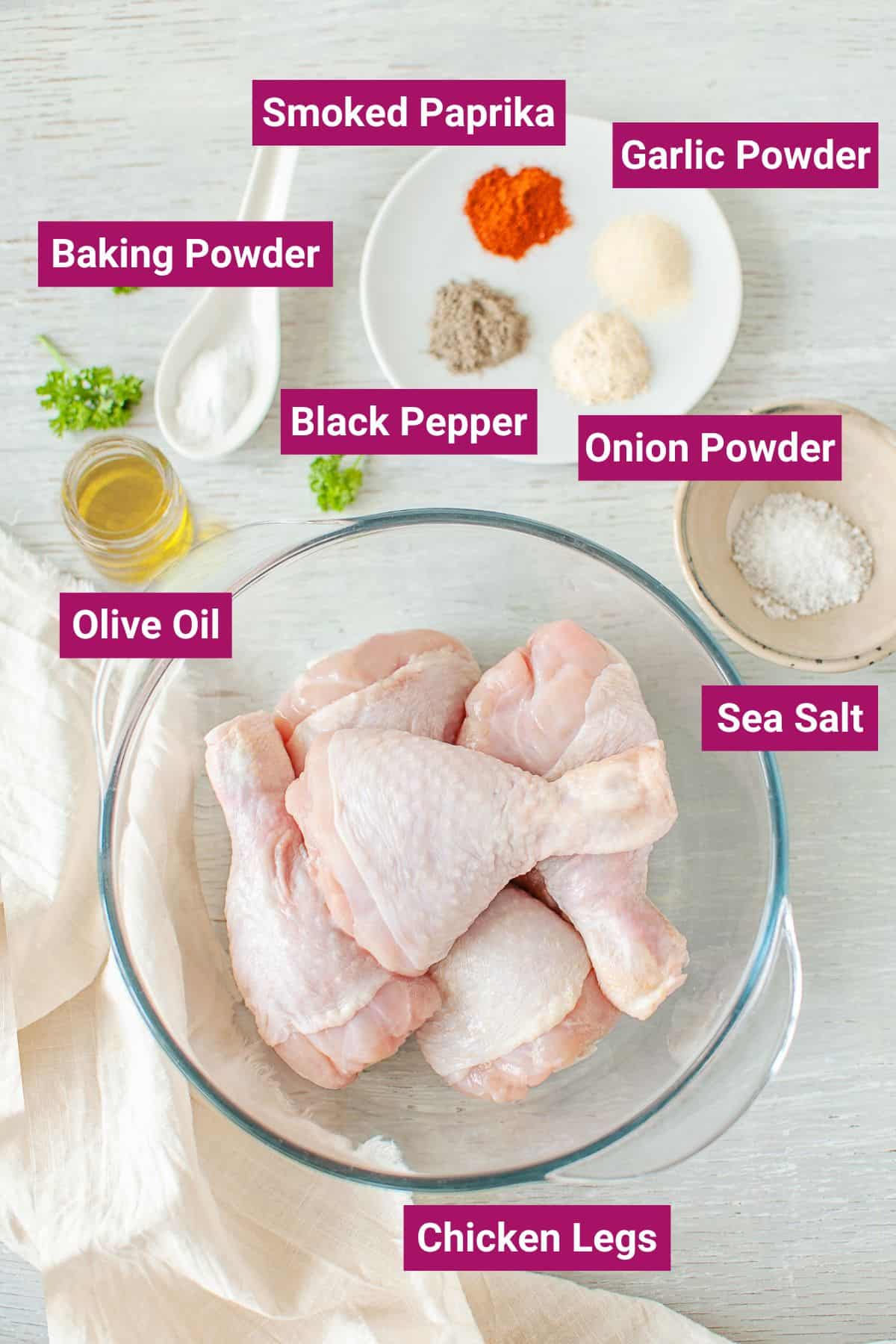 Ingredients Needed
Here are the 8 ingredients that you'll need to make this tender and crispy gluten-free chicken.
Check out the recipe card at the bottom of the article to see the exact amounts of each ingredient.
Chicken legs – Make sure to use chicken that still has the skin on.
Salt
Black pepper – For best results, use freshly ground black pepper.
Smoked paprika
Garlic powder
Onion Powder
Baking powder – Do not try to replace the baking powder with baking soda, as the results will not be the same.
Olive oil – You can use any type of oil that you like, but I prefer olive.
How to Make Air Fryer Chicken Legs
Here's how to make this easy keto dinner. It only takes about 35 minutes to get tender chicken on the table.
Dry the chicken. Use a paper towel to pat the chicken as dry as possible.
Make the spice rub. Mix the salt, pepper, smoked paprika, garlic powder, onion powder, and baking powder in a small bowl.
Season. Sprinkle the spice rub over the chicken, and toss to coat the meat.
Add them to the air fryer. Place the chicken legs in the air fryer basket.
Drizzle with oil. Pour the olive oil over the top of the chicken.
Cook. Air fry the chicken at 400F for 12-15 minutes, then flip. Air fry for another 12-15 minutes, until the chicken is cooked all the way through.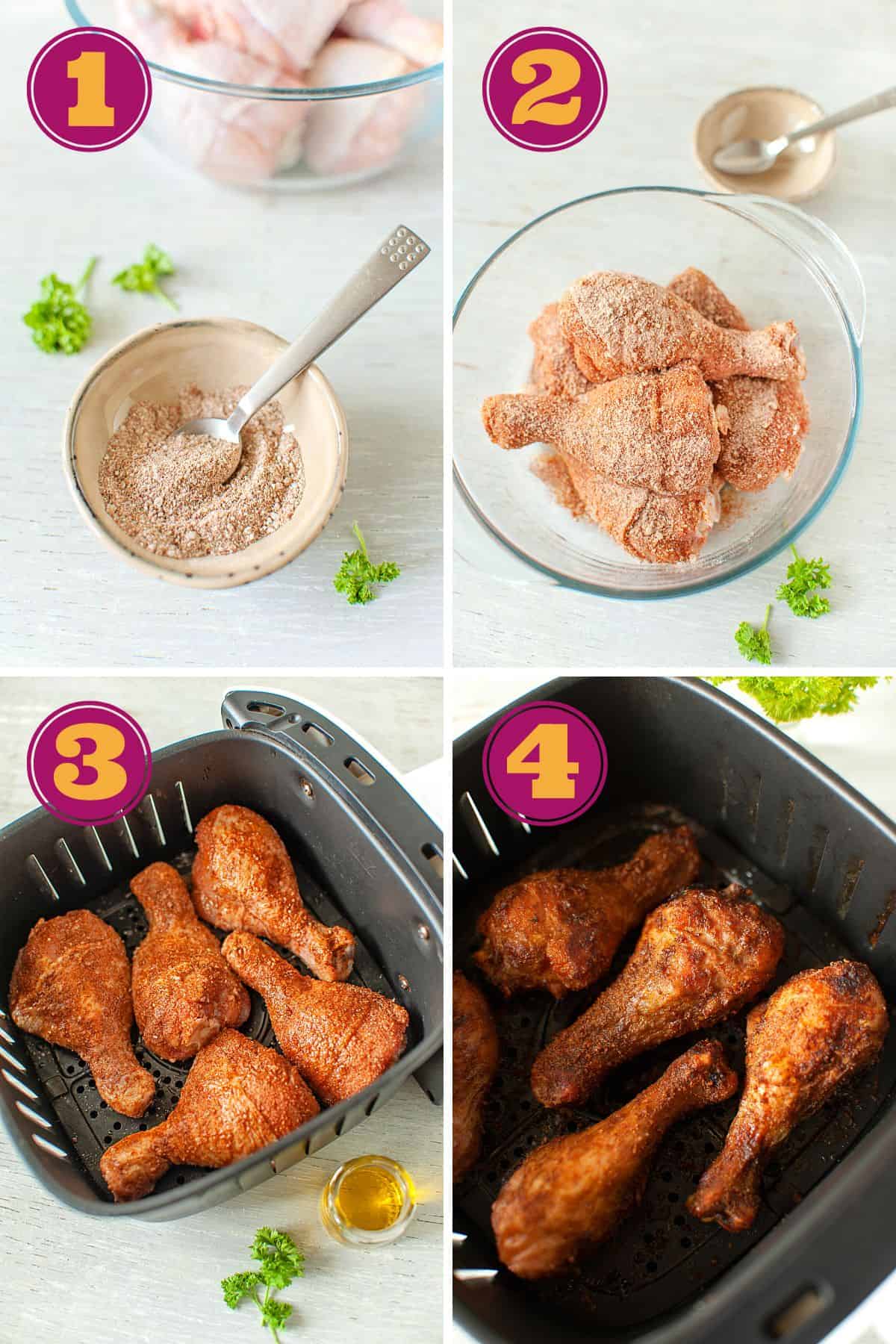 Tips and Tricks
If you want to make the best possible air fryer chicken legs, then follow these tricks.
Don't crowd the meat. When you cook the chicken, make sure that it's not crowded in the air fryer basket. You don't want any of the pieces of meat to be touching each other. By keeping the pieces distanced from each other, the heat from the air fryer can circulate better, which will make the keto chicken legs much crispier.
Check the temp. One of the hard things about cooking chicken is that you really have to nail the temperature. It's dangerous to eat undercooked chicken, but overcooked chicken is dry and chewy. I recommend getting a meat thermometer so you can test the doneness of the chicken. That way you can take it out of the air fryer as soon as the meat's internal temperature hits 165F.
Let it rest. Before serving your chicken, make sure you let it rest for 5-10 minutes. That will allow the meat to reabsorb all of its tasty juices, making it moister and more flavorful. If you cut into the chicken as soon as it's done cooking, a lot of the juice will spill out, and the chicken will be dry and bland.
What to Serve Ninja Foodi Chicken Drumsticks With
My favorite way to eat these crispy gluten-free chicken legs is to dip them in a mouth-watering sauce. Here are a few of my favorites:
I also love to serve this chicken with a good traditional side dish. Here are some sides that pair perfectly with this juicy chicken dinner.
How to Store and Reheat Leftover Chicken Legs
This air fryer chicken will last in the fridge for at least 3 days. Make sure to store it in an airtight container. Reheat in a 375F air fryer for 5 minutes, or a 375F oven for 10 minutes.
Can I Freeze This Recipe?
You can absolutely freeze this air fryer chicken, though some of the crispy texture will be lost. Store the meat in an airtight container in the freezer for up to 3 months, and thaw or defrost fully before reheating.
More Easy Air Fryer Chicken Recipes
If you loved this recipe as much as I did, then you've got to try some more of my favorite Ninja air fryer chicken dishes.
More Chicken Leg Recipes
You might also be interested in these easy chicken drumstick recipes.
If you try this recipe, please stop back and leave it a star rating and/or a review in the comments. Stay connected & share photos of your creations with me & others on Instagram, Facebook, and Pinterest!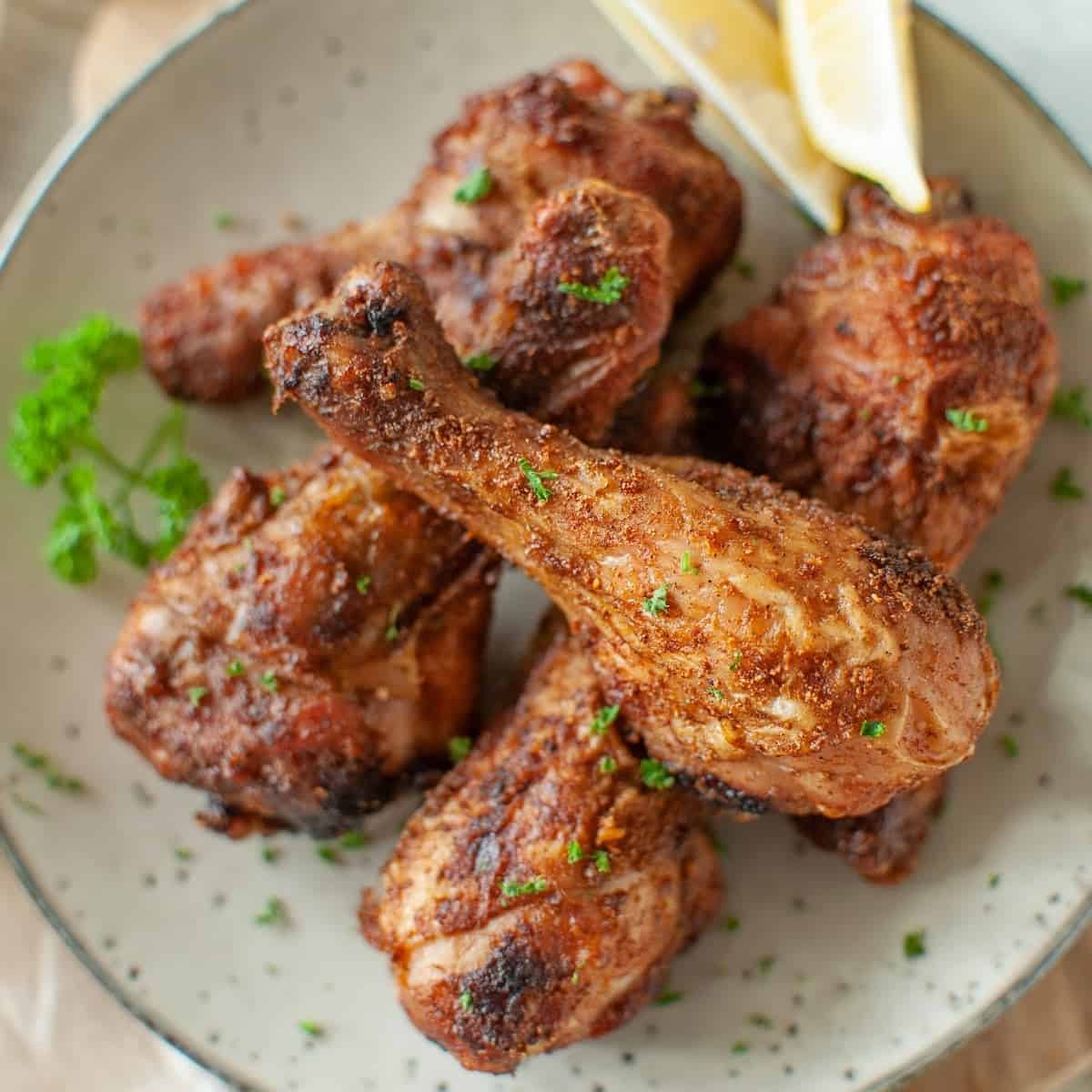 Air Fryer Chicken Legs
These air fryer chicken legs are juicy and tender on the inside, but perfectly crunchy on the outside. They're keto-friendly, gluten-free, and only take 35 minutes to make.
Pin
Rate
Print
Use DRDAVINAHS at checkout to save on some equipment & ingredients!
Recommended Equipment
Instructions
Remove the chicken legs from the refrigerator and pat dry (removing as much moisture as possible helps to have a crispy chicken skin).

Mix the sea salt, black pepper, smoked paprika, garlic powder, onion powder, and baking powder in a small dish or ramekin.

Sprinkle the seasoning mixture on the chicken and toss to coat.

Place the drumsticks on the air fryer basket.

Drizzle olive oil on top of the chicken.

Cook the chicken in the air fryer on 400F for 12-15 minutes. Flip the meat and cook for 12-15 more minutes, until cooked all the way through.

Enjoy the chicken legs alone or add your favorite keto or low-carb dips, sauces, and side dishes.
Recipe Notes
Use thawed chicken legs or chicken drumsticks for best results. You can make frozen chicken in the air fryer. But, this recipe works best with defrosted or thawed chicken.
Don't try to substitute baking soda for baking powder. Trust me. I know from experience that the drumsticks will have a terrible taste, and you'll waste perfectly good drumsticks for nothing.
Store in an airtight container in the fridge for 3 days, or in the freezer for 3 months.
Reheat in a 375F air fryer for 5 minutes, or in a 375F oven for 10 minutes.
Nutrition Details
Calories:
288
kcal
|
Carbohydrates:
4
g
|
Protein:
21
g
|
Fat:
21
g
|
Saturated Fat:
6
g
|
Cholesterol:
120
mg
|
Sodium:
501
mg
|
Potassium:
678
mg
|
Fiber:
1
g
|
Sugar:
1
g
|
Vitamin A:
283
IU
|
Calcium:
185
mg
|
Iron:
1
mg
The nutrition facts come from entering the recipe ingredients into Spoonacular API, a database of food ingredients. They may vary for any recipe based on the exact product used. The keto sweeteners I use have 0g net carbs & are not included because sugar alcohols do not impact most people. This is provided as a courtesy, but you can do your own calculations if you wish!
Share this Recipe
If you enjoy this recipe, share a link to it via email or Facebook, pin it, or leave a rating. Please don't copy/paste the instructions to other websites. Thanks for helping the website grow!