Here are 30 of the best keto ground beef recipes available on the internet. Includes recipe ideas for keto-friendly sandwiches, burgers, meatballs, casseroles, and appetizers. While some of these ground beef keto recipes will take a little longer to make, others are perfect for those busy work nights when you only have a little bit of time. These recipes are great for those looking for low carb meals that could also feed a family!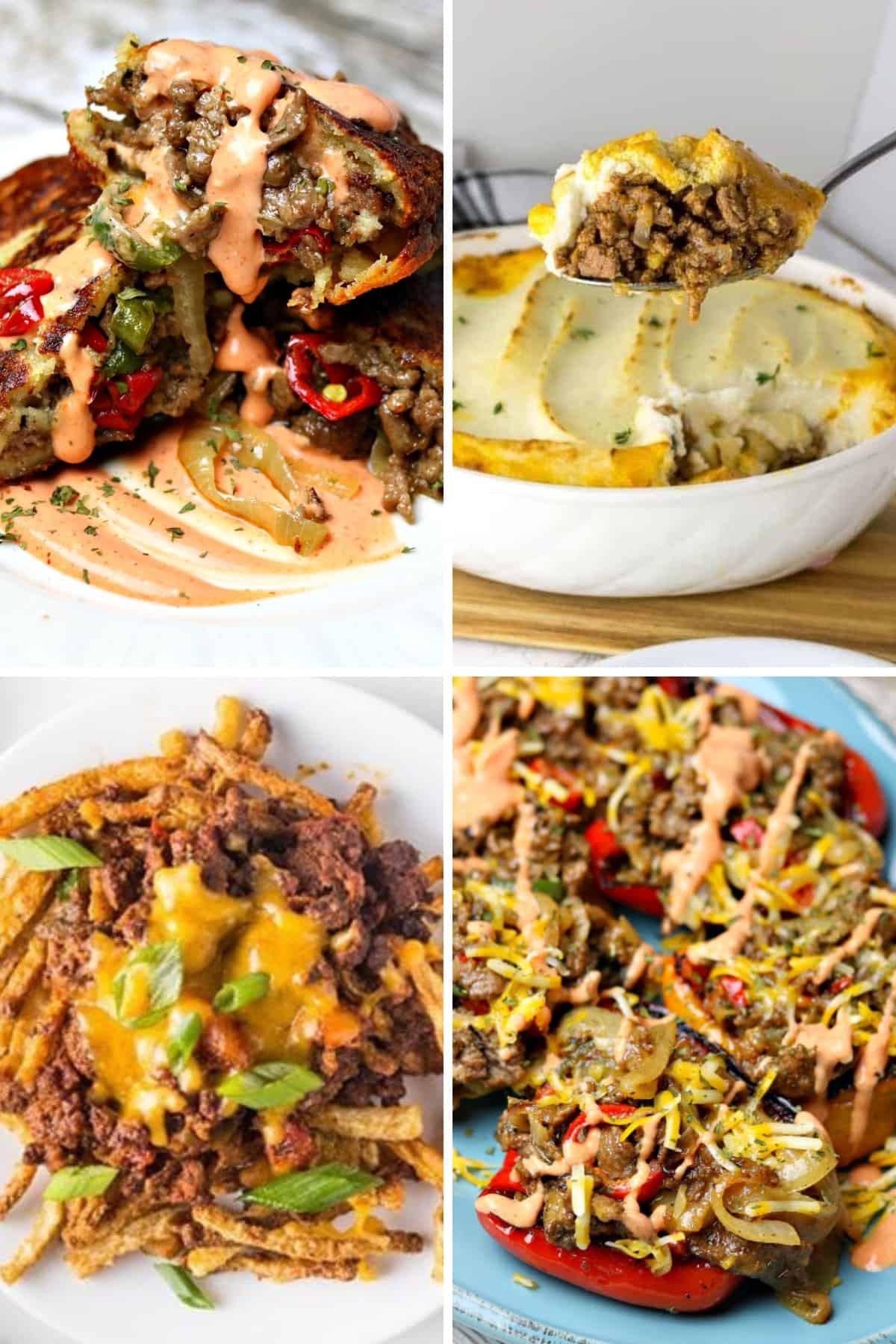 Low Carb Sandwich & Wrap Ideas
I don't know about you but I LOVE a good Philly cheesesteak recipe. That's why this recipe makes me happy.
This amazing keto ground beef recipe gives you a nutty blend of cashews with a garlic flavor mixed in to make your tastebuds pop. This is an easy to make lunch or dinner idea that takes just about 30 minutes from start to finish.
The delicious recipe allows you to make your own taco seasoned ground beef and place it inside a cheese taco shell topped with your favorite keto inspired toppings.
This is a twist on an old time favorite! Stuffed Peppers is a fun way to enjoy sloppy joes without the high-carb bun.
Keto Salad Recipes
This keto taco salad supreme is easy to make and perfect for family meal night. Features tasty salsa, sour cream, homemade taco seasoning, ground beef taco meat, and leafy green romaine lettuce.

This is a slight variation of a Big Mac without the added junk. It even includes a recipe for the special sauce!
Soups & Bowls
With a mix of cabbage, ground beef, and other veggies in an Asian-inspired sauce this egg in a bowl will surely satisfy that crack slaw craving you have during keto.
This easy keto Korean ground beef bowl recipe idea only takes 20 minutes to make. Perfect on busy weeknights.
This one-pan recipe will provide your family with a keto-friendly recipe that even the kids will enjoy. This main course meal will take about 20 minutes total to make.
This twist on cabbage soup adds in ground beef making this a keto-friendly low carb soup idea for any day that feels rather chilly.
Juicy Keto Burgers
All I can think of is huge flavor when I look at the picture of this keto ground beef recipe. I'm thinking it's the tomato cream sauce that makes this burger look super moist, tender, and tasty.
I love a healthy option for pizza any day of the week and any time of day. This low carb cheeseburger pizza is the best of both worlds – cheesy burger taste with a pizza style setup.
Are you entertaining guests sometime soon? Looking for kid-friendly keto recipes? These bacon cheeseburger bites are the perfect appetizer to bring as a side dish to any family gathering. They will also satisfy picky keto kids!
Keto-friendly Appetizers
Nachos are the perfect movie night snack idea for the whole family, but the traditional nachos have way too many carbs for keto. That's why you must try these keto nachos that switch out carb-filled tortilla chips for pork rinds.
Chili cheese fries are one of those extra splurge types of options that I try to only indulge in on occasion, but these keto air fryer Jicama fries make it possible to enjoy some delicious chili cheese fries more often. Jicama is a great replacement for potatoes!
Here's another unique keto-friendly nacho recipe! It uses cauliflower for the nachos. Unlike the recipe for Keto Nachos above, this one is dairy-free.
Keto Ground Beef Casseroles & Bakes
Replace the fathead dough in my Philly Cheesesteak Pockets or even the high-carb bread in your favorite Philly cheesesteak recipe with bell peppers. This delightful recipe provides a twist on your regularly stuffed bell peppers by filling it with shredded sirloin steak, sliced or shredded cheese, and other veggies such as the jalapenos to add an extra kick to each bite.
Enjoy cabbage but don't want to make the cabbage soup with ground beef? Then this option looks like the perfect match. This easy to make casserole is one of the best keto ground beef recipes to enjoy on a busy weeknight. With only half-hour total time, this casserole will be cheesy, tasty and quickly devoured by the whole family.
Lasagna is one of my favorite pasta meals to whip up, but it has too many carbs. That's why I wanted to include my gluten-free lasagna recipe in this roundup of the best keto ground beef recipes. It uses pre-made cauliflower pizza crust or hearts of palm noodles to replace the pasta!
This recipe takes your regular American Shepard pie to whole new levels. Using cauliflower as a topping and a blend of ground beef with tomatoes, garlic, zucchini, and seasonings, you'll love this new keto comfort food version.
If you're craving a Mexican spice, then you'll love digging into this low-carb Mexican casserole dish. It will take a bit of time to gather up the ingredients and then pop the casserole in the oven, so I'm thinking this is the perfect Sunday night meal option for your family.
Here's another easy to make low carb lasagna recipe idea. It uses zucchini layers!
With just 30 minutes to spare you can easily enjoy this low-carb Italian beef bake any day of the week. I know that the cheese combined with ground beef and red pepper flakes, as well as other seasonings, truly make this beef bake come together quite tastefully.
Low Carb Ground Beef Instant Pot Recipes
Meatloaf is a childhood favorite for many people. This instant pot low carb meatloaf recipe comes together quickly!

This main course meal will take about 23 minutes to make! But, the flavor created by the mix of ground beef, Shawarma spice, red peppers, and cabbage will make you think it took hours to come together!
This low carb keto instant pot no-bean chili is the perfect "stick to your bones" recipe for the colder winter months.
Keto Meatball Recipes
Homemade meatballs are delicious anyways but wrap them in bacon and you have a superb dinner option. I'm thinking these bacon wrapped meatballs would taste great over a nice pile of zoodles. Top these with your favorite sauce to complete the meal.
I love finding new homemade meatball options to enjoy with my favorite meals. These keto bacon bourbon meatballs are one of my favorite ground beef recipes on this list, although as you can tell I pretty much love them all. The combination of bacon, ground beef, and bourbon make my mouth drool as I envision eating these up for dinner tonight.
There's something about that alfredo taste that satisfies my tastebuds. I love that you can easily make these meatballs in just about 30 minutes! To save time, it uses a pre-made Alfredo sauce!
I love that you can make these ground beef meatballs in your instant pot with simple ingredients found in your pantry. These meatballs will come out tender and juicy with just 5 minutes of cook time in your instant pot.
FAQs