If you struggle with finding kid-friendly keto recipes and meal ideas or simply have some picky eaters on your hands, then you're going to love this collection of kid-approved, keto-friendly and low-carb recipes. They are perfect for those who want to cut carbs or follow a ketogenic way of eating without having to make separate meals for your family. Scroll for breakfast and brunch, lunch, snack, dinner, milkshake and drink options.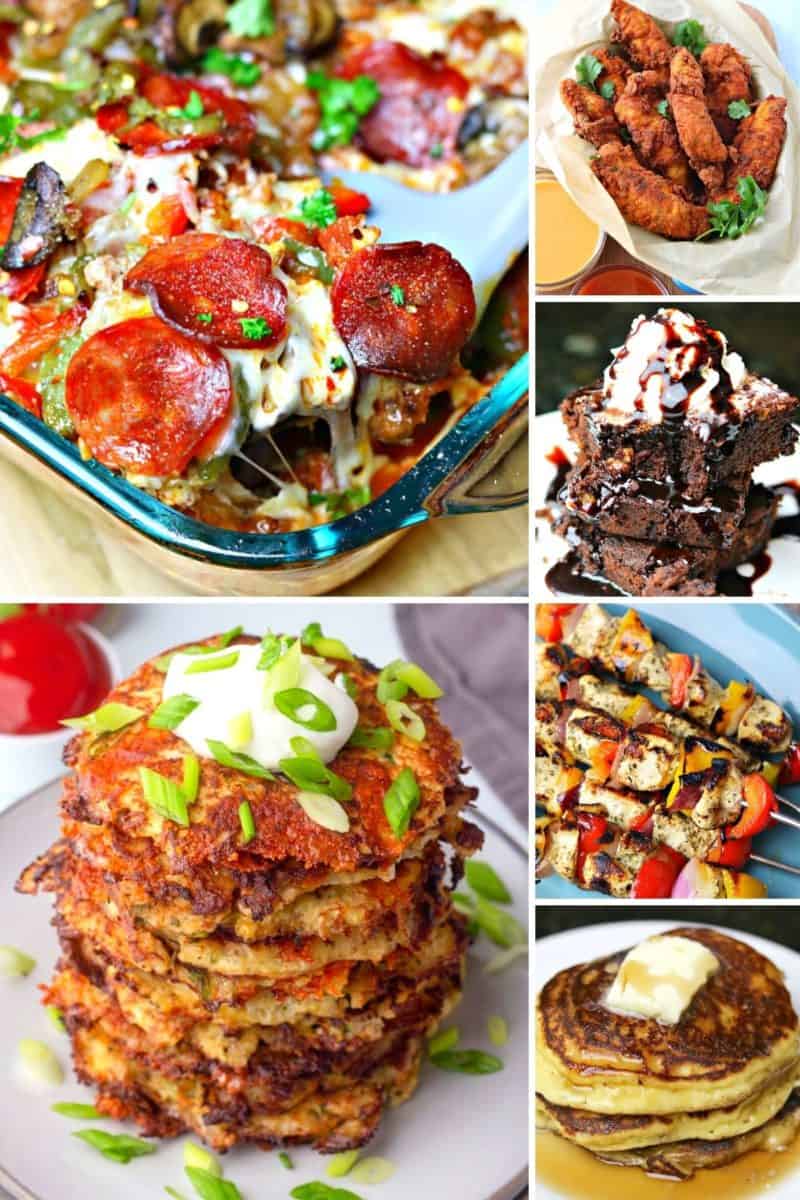 Two Reasons to Add Kid-friendly Keto Recipes to Your Meal Rotation
Eat Less Refined Sugar: One of the things that I love about keto is that you end up eating less sugar. There are lots of reasons to reduce our sugar intake. So, even if my entire family is not following this way of eating, adding in a keto meal, snack, and even candy option means that we're having less refined sugar.
Make Fewer Meals: If you're the main person responsible for cooking, then you know how tiring it can be to prepare multiple meals every day. Instead of always making an "adult" and a "kid" meal (or a keto and non-keto one), these are some choices for dishes that everyone can enjoy!
Breakfast & Brunch Options
Here are seven of my favorite keto-friendly and kid-approved breakfast and brunch options. It includes my almond flour pancakes as well as things like my cauliflower hash browns (which are the perfect way to have more veggies).
Kid Approved Keto Sweet Treats
When it comes to sweets, dessert ideas, and treats for the kids, it's hard to go wrong with these recipes! The list starts with two of my personal favorites keto cookie dough bars (an edible grain-free cookie dough crust with my peanut butter mousse on top) and my super popular, healthy pumpkin pie cheesecake bars recipe.
The best part about this is that it takes just a few minutes!
Low-carb Savory Options
If you struggle to come up with a tasty main dish or side for dinner, these kid-approved low-carb savory dishes are going make it easy for you to change up the menu and keep the kids happy!
Try these out with my keto bbq sauce as a dip!
If you don't have an air fryer, you can bake crispy wings using my other recipe.
Low-carb Snack Options
If snack time is where you struggle to find kid-friendly keto recipes, you're going to LOVE these options. Some of them can even be made ahead in batches to make snacks and treats even more convenient!
Kid-friendly Keto Milkshakes & Drinks
When the kiddos get thirsty, make them one of these no sugar added milkshakes or drinks.