Are you looking for some keto air fryer recipes to whip up for friends and family? Want to switch up your meal plan with quick beef, chicken, turkey, pork, seafood, or vegetable main and side dishes?
This is a collection of keto-friendly air fryer recipes that will help curb your fried food craving without the extra carbs or mess. Even though I use the Ninja Foodi Air Fryer, you can use your favorite brand for these quick low carb meals!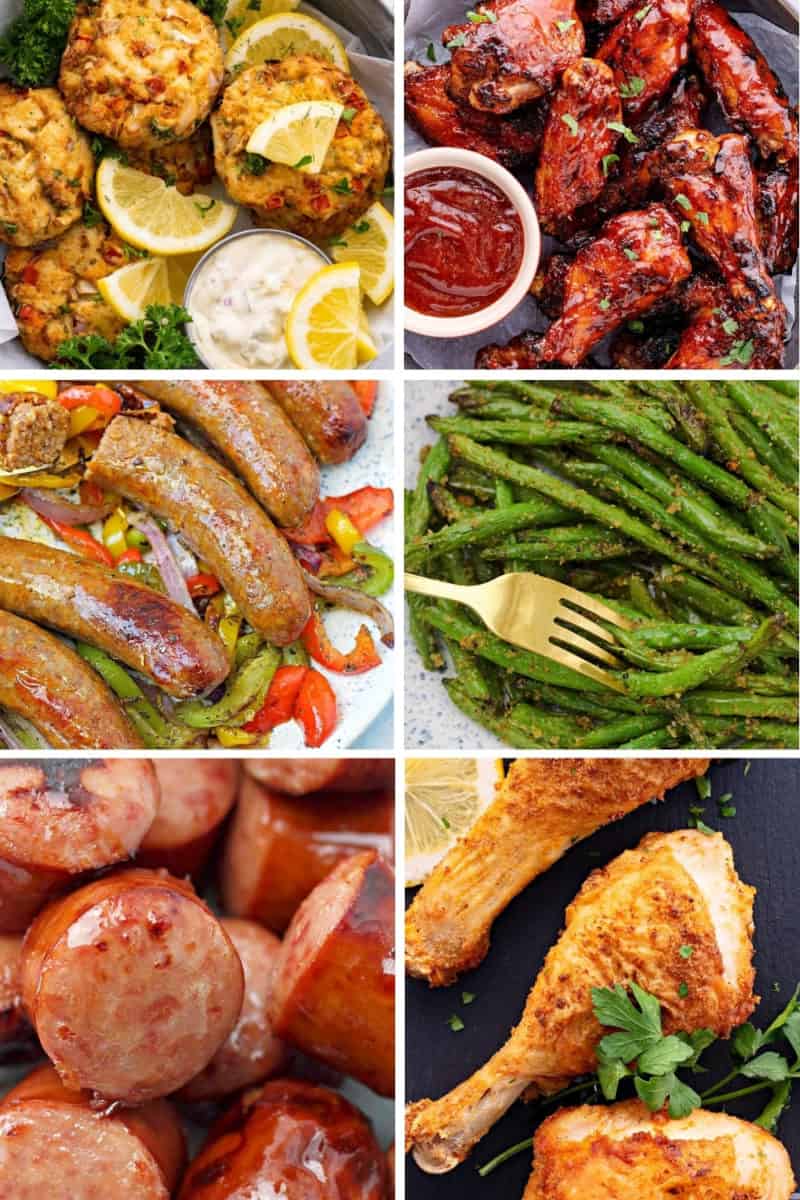 Why share keto-friendly air fryer recipes?
If you've checked out my keto chicken wings post or recipes like my Garlic Parmesan Wings and Air Fryer Shrimp, then you can probably tell that I love my air fryer.
It cuts my cooking time in half. It also allows me to have things like a crispy whole chicken without hours of cooking and mess.
When I first got my air fryer, I found myself only making wings. However, there are so many other ways that you can use this awesome kitchen appliance.
So, I have compiled a list of some of the best low carb air fryer recipes for you to make whenever you're craving a quick meal or crispy food without the added carbs. In this post, I hope to inspire you to enjoy your air fryer any time of the day or night.
What is the best air fryer?
If you're going to make air fried food, then you need an air fryer. However, I know that selecting the best one can be a bit of a challenge.
Personally, I recommend the Ninja Foodi. I loveeeeee my Ninja Foodi because besides being an air fryer, it is also a pressure cooker, slow cooker, steamer and more.
You should know that the Ninja Foodi is a bit more expensive than traditional air fryers. But, its multiple functions (check out my collection of Ninja Foodi recipes) that allow you to make so many different types of meals all while saving counter space. So, it is absolutely worth it!
Air Fryer Seafood Recipes
From cilantro, shrimp skewers to salmon and a delightful low carb air fryer recipe for shrimp scampi so that you never have to go without your favorite seafood recipes. These keto air fryer recipes will help cure that seafood craving quickly without sacrificing on flavor!
Air Fryer Chicken, Turkey & Poultry Recipes
Enjoy a bit of everything with these low carb air fryer chicken, turkey and poultry air fryer recipes! From a whole chicken that's cooked in just one hour to buffalo wings with homemade blue cheese dressing, you'll surely find a recipe that's drool-worthy and stays true to a low carb diet plan.
Beef & Pork Recipes
As I said, there's nothing tastier than some good beef and pork. Fortunately, these proteins can be made quickly in an air fryer too!
Enjoy a double cheeseburger or a marinated steak that's all low carb and keto-friendly. Personally, I can't wait to make the Salt & Pepper Pork Belly Crack!
Keto Air Fryer Vegetable Recipes
Whether you're craving vegetables or some deep-fried onion rings, you'll find amazing low carb side dishes and air fried vegetables on this list.