This post may contain affiliate links to products I use and highly recommend. You can read my full disclosure here.
Click below to share this!
This Keto Chinese Orange Peel Shrimp is my remake to the classic sweet and spicy orange peel shrimp or chicken recipe that you can pick up for Chinese takeout. It has all of the flavor, minus the carbs! Uses a 0-carb substitute for orange juice!
This Keto Chinese Orange Peel Shrimp is my remake to the classic sweet and spicy orange peel shrimp or chicken recipe that you can pick up at P.F. Chang's.
Using keto-friendly sweeteners and orange extract instead of orange juice, this is easily one of my favorite keto Chinese takeout recipes to make at home.
Perfect for those who want shrimp or chicken with orange sauce minus the carbs and sugar!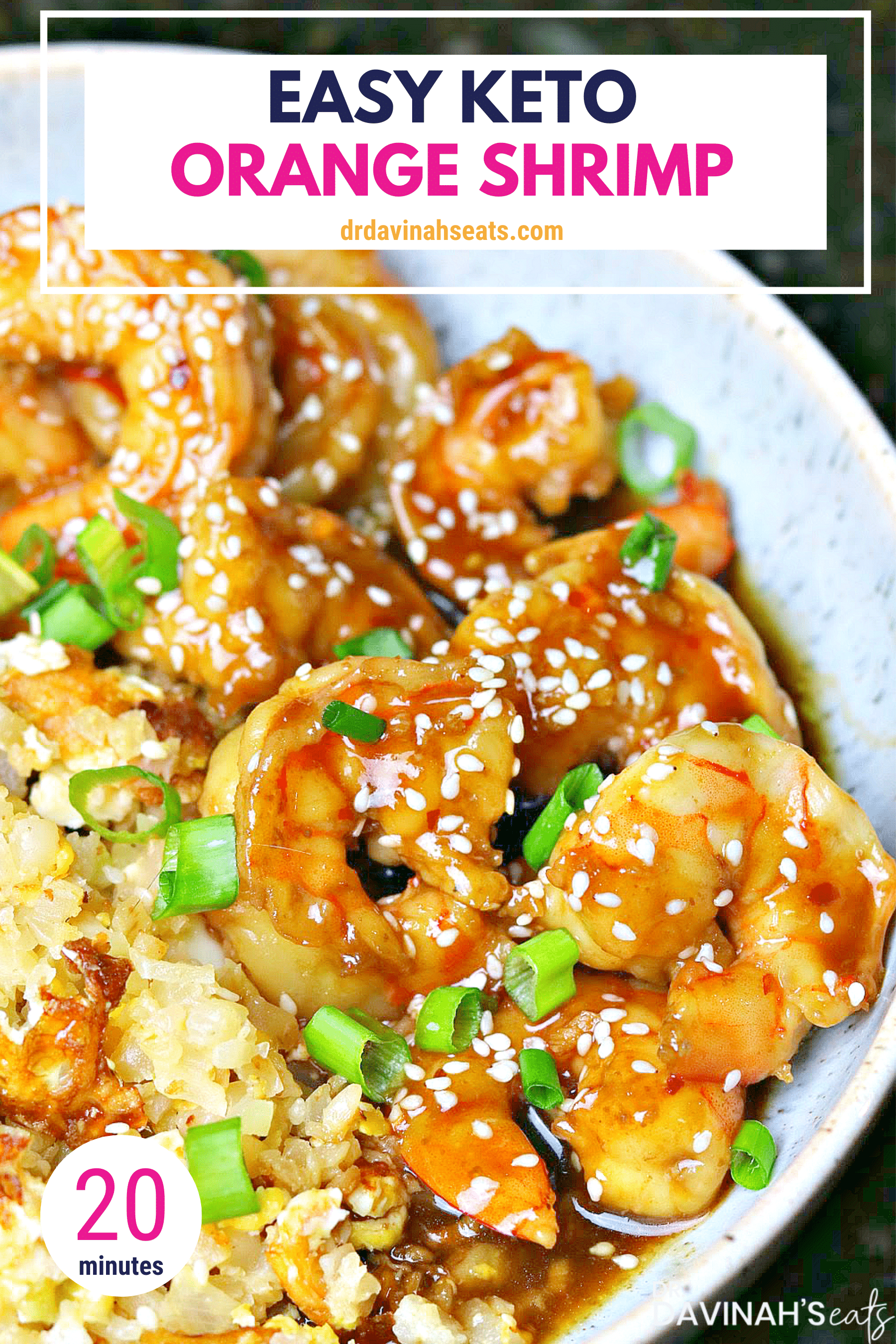 What is Orange Peel Shrimp?
P.F. Chang's orange peel chicken and shrimp entrees inspired me to create my own, keto-friendly orange peel shrimp. Orange peel shrimp and chicken are also popular Chinese takeout items, but like P. F. Chang's, they are also not keto-friendly.
Traditional orange chicken and shrimp recipes rely on sugars to create the sweet and spicy flavor of the orange sauce. Instead of sugar or other carb-heavy sweeteners, my orange peel shrimp recipe uses keto-friendly sweeteners to achieve the classic sweet and spicy flavor of the orange sauce.
Are oranges keto-friendly?
Oranges have high sugar content. For example, according to the USDA, one medium-size orange has over 12 grams of sugar.
And, orange juice is even worse. In fact, a 7-fluid ounce juice box contains over 17 grams of sugar.
When choosing fruit, I normally pick fruit with lower sugar content such as berries instead of sugary fruits like oranges.
So how can you make orange shrimp with the big orange flavor without using carb-heavy oranges? Don't worry about it! I have a great solution to making getting the orange flavor without adding all the extra sugar from orange juice.
Making Orange Peel Shrimp without Oranges – Ingredients
What's my secret? Well, my orange peel shrimp uses orange extract instead of orange juice. The orange extract contains a lot of orange flavor in two teaspoons of liquid.
And, to keep it even more low carb, instead of adding sugar, I use Keto Brown Sugar Replacement. This gives my orange peel shrimp a sweet flavor with no added carbs or sugar.
To get the savory or spicy component, I use a thinly sliced habanero pepper or red pepper flakes. But if you want all the sweetness and none of the spice, you can leave the pepper out of the recipe and it will still taste great.
The remaining ingredients help round out the flavor a bit and include chicken broth, ground ginger, garlic cloves, soy sauce or Coconut Aminos, Xanthan gum, butter, optional sesame seed oil, and unseasoned rice vinegar.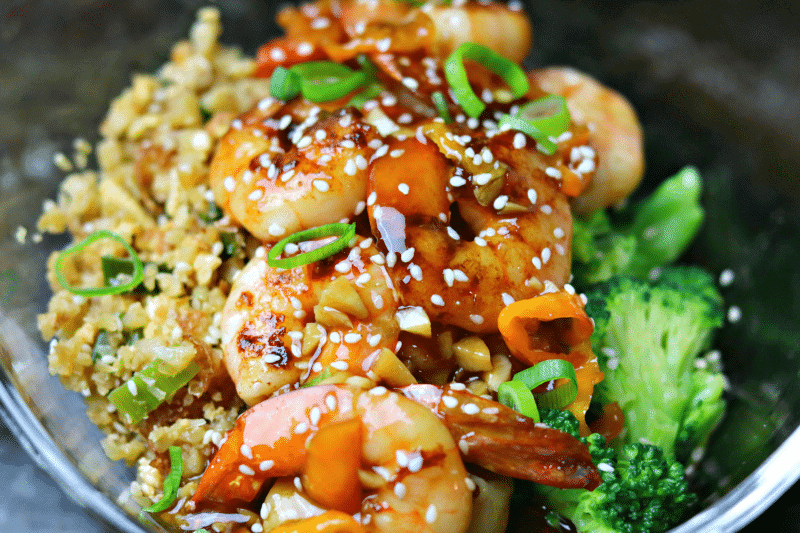 Orange Extract vs. Orange Juice
Orange extract provides a concentrated orange flavor. You really only need one or two teaspoons in most recipes to give the dish an orange flavoring. It also contains no extra carbs or sugars, so it is very keto-friendly.
Orange juice is full of extra sugar. Using orange juice in the orange peel shrimp would increase the carbs in this dish. So, if your goal is to stay in ketosis, I'd recommend avoiding orange juice and using the orange extract.
How to make Keto Chinese Orange Chicken or Shrimp sauce
Making Keto Chinese orange chicken or shrimp sauce is not difficult.
To make the orange sauce add the first eight ingredients listed in the recipe (chicken broth, orange extract, cloves of garlic, unseasoned rice vinegar, soy sauce or coconut aminos, keto brown sugar replacement, sesame oil, ground ginger, and thinly sliced habanero or red pepper flakes) to a medium saucepan.
Next, whisk the ingredients together and bring the mixture to a boil.
The sauce only needs to cook for 10 minutes. The cooking time allows the ingredients' flavors to mix together.
When 10 minutes are up, whisk in the Xanthan gum. It will take about 5 minutes for the sauce to thicken. Once thickened, it is ready to mix in with the shrimp.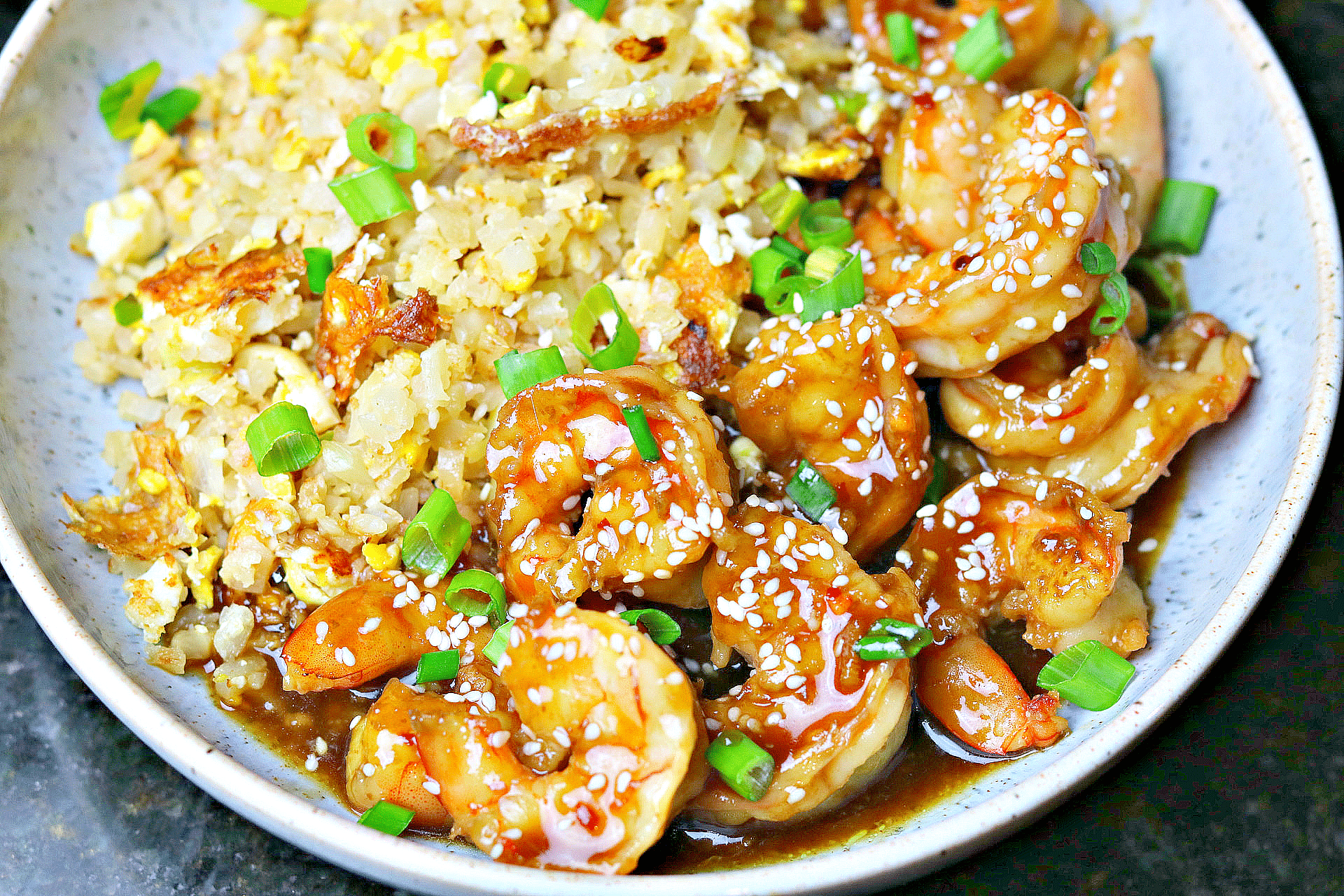 How to Make Orange Shrimp or Orange Chicken
Shrimp is super easy to make. Use a raw, thawed shrimp in this recipe. It doesn't matter if you use fresh or previously frozen shrimp.
To cook the shrimp:
You can just add them to the pot with the sauce and heat them for 1-2 minutes until they are cooked.
To make orange chicken instead:
If you swap the shrimp with chicken, then you should absolutely cook them before adding them to the sauce since they take much longer than shrimp to cook. All you need to do is:
Cut your chicken into cubes

Heat a pan over medium-high heat

Melt 1-2 tbsp of butter or another fat if you prefer in the pan

Add the chicken and cook on each side for ~2 minutes.
When the chicken is white and no longer pink, you can add it to the sauce.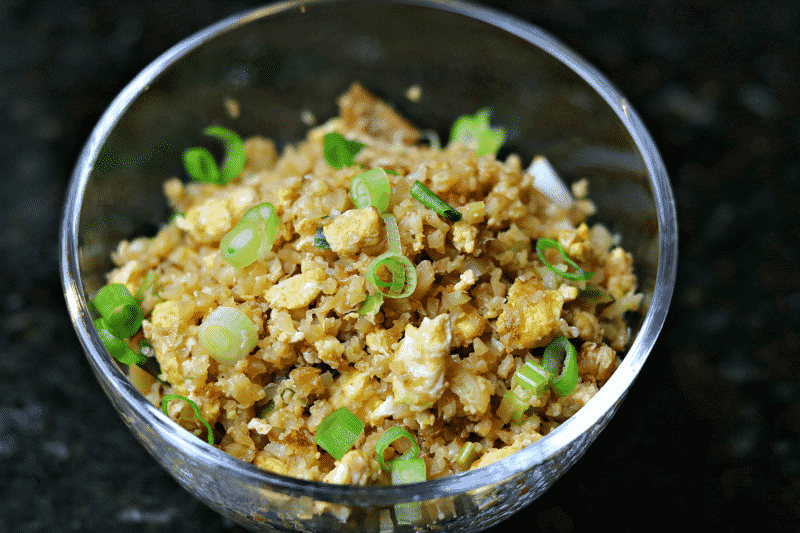 What to Eat this Chinese Orange Shrimp recipe with
Asian dishes like keto Chinese orange peel shrimp pair well with fried rice. But just like with using orange extract instead of orange juice, I have a keto-friendly alternative.
You can make keto-friendly cauliflower fried rice instead of using white or brown rice, both of which would add carbs to the meal.
Another alternative side for orange shrimp is steamed broccoli. Steamed broccoli mixes well with the orange sauce and provides some low carb veggies to your meal.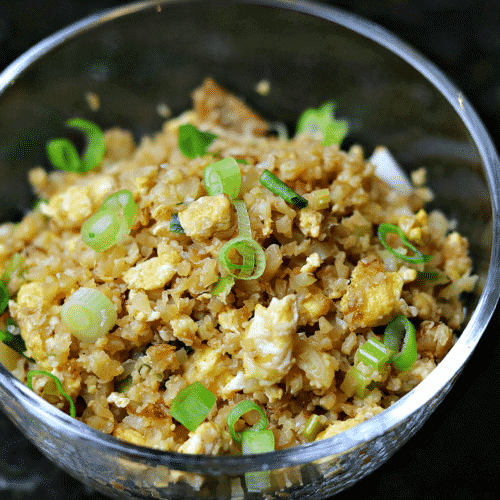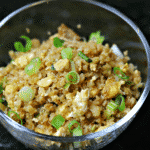 Other Keto Asian Inspired Dishes
I've got lots of Asian inspired keto dishes to choose from if you are looking for others. Here are some of my favorites that you could cook up for a keto-friendly Asian feast: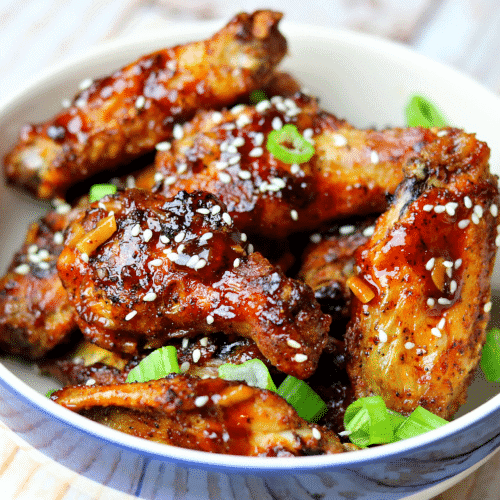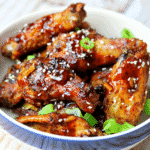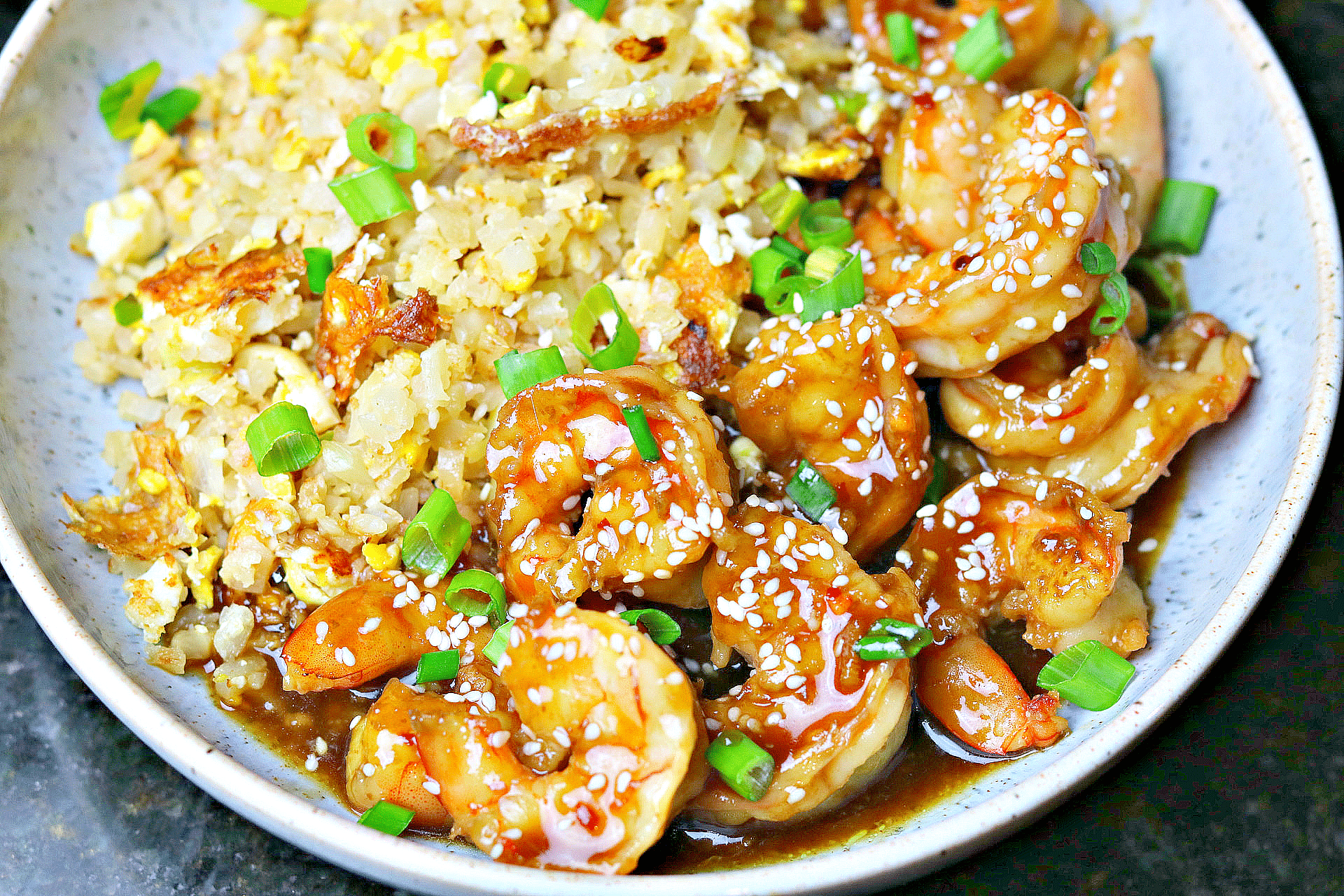 This Keto Chinese Orange Peel Shrimp is my remake to the classic sweet and spicy orange peel shrimp or chicken recipe that you can pick up for Chinese takeout. It has all of the flavor, minus the carbs! Uses a 0-carb substitute for orange juice!
Want to share this recipe?
To spread the word about this recipe, please save it to Pinterest, share a link to it, or rate it if you loved it. Please do not copy & paste (or screenshot) my recipes to social media or other websites.
Instructions
For the Keto Orange Sauce
Add the first 8 ingredients to a skillet on medium heat.

Whisk the ingredients with a silicone whisk (to not scratch your pot). Bring the sauce to a boil.

Turn the heat to medium-low. Cook the sauce for 10 minutes so that the flavors can come together.

Whisk in the Xanthan Gum slowly. Cook for an additional 5-10 minutes on medium-low to give the sauce time to thicken.
For the Shrimp
Add the shrimp to the pan with the sauce and cook for about 1-2 minutes per side.

Enjoy with cauliflower fried rice or a steamed vegetable.
Recipe Nutrition Facts
Nutrition Facts
Keto Chinese Orange Peel Shrimp Recipe
Amount Per Serving
Calories 173
Calories from Fat 54
% Daily Value*
Fat 6g9%
Cholesterol 286mg95%
Sodium 1174mg49%
Potassium 214mg6%
Carbohydrates 3g1%
Protein 26g52%
Vitamin C 6mg7%
Calcium 175mg18%
Iron 3mg17%
* Percent Daily Values are based on a 2000 calorie diet.
Recipe Notes
Quick Note about shrimp & cholesterol:
Shrimp is naturally high in cholesterol. You should read more about the cholesterol in shrimp if you're interested.
You can substitute chicken for the shrimp. Please see the post for how to swap chicken in this dish. 
Did you make this recipe?
Share your photos & mention @DrDavinahS! I love seeing them!
Nutritional Disclaimer
The nutritional information comes from Spoonacular API, a database of food ingredients. The nutritional information for any recipe will vary based on the exact product you use and the brand. I do not include erythritol or sugar alcohols in the final carb or net carb count as it does not have any impact on my blood glucose levels. Before starting keto or a low-carb eating plan, you should consult your doctor. I am sharing my personal experiences and none of the information included in my recipes or throughout the site should be taken as medical advice.