This post may contain affiliate links to products I use and highly recommend. You can read my full disclosure here.
Click below to share this!
A quick recipe for seared scallops that is done in minutes. This is the perfect protein for a quick keto and low carb meal.
If you're searching an easy, keto scallops recipe, then you've found the right place. This easy pan seared scallops dish takes a hot pan, some butter or ghee, and a few minutes. In this post, I give you a few tips to get perfectly seared scallops each time. I also give you some side dish recipes like cauliflower rice risotto to have with your scallops! Perfect if you're looking for a quick dinner that uses just one pot and simple ingredients.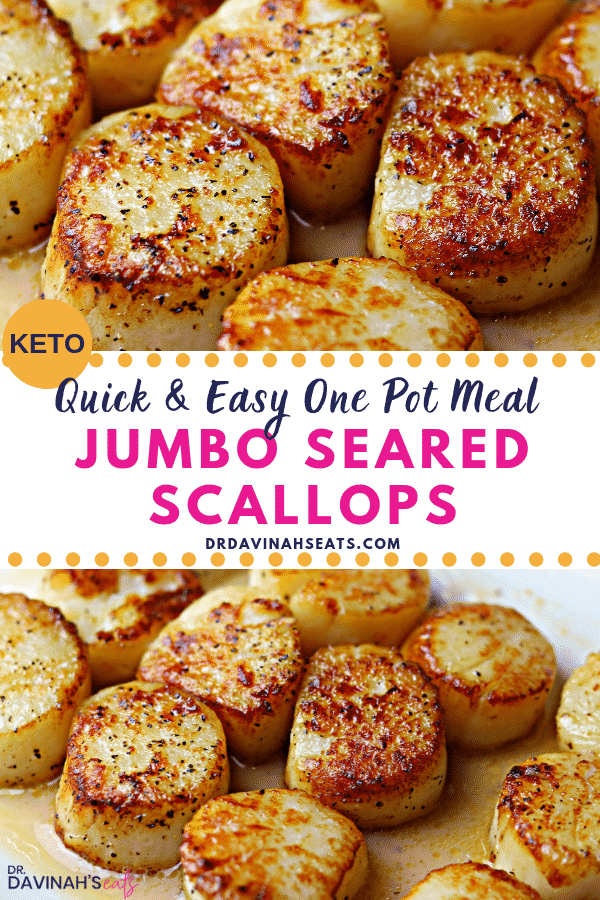 Why share a recipe for seared scallops?
I love seafood but I have often stayed away from making scallops. My time watching Hell's Kitchen convinced me that they were hard to execute and I didn't want to end up being one of those people having to throw them away. I mean, who wants to waste time, food, and money? After a few not so great attempts, I'm sharing this recipe so that you might avoid some of my mishaps.
Aren't all scallop recipes keto scallops recipes?
Not necessarily. So, I named this a keto scallops recipe to intentionally signal that this recipe is free of grains and some of the pan sauces that I've had with not so keto-friendly ingredients.
Besides keto, these seared scallops are also perfect for those following Whole30 and the paleo way of eating. Instead of the butter, you'd simply need to use plain or flavored ghee.
3 Keys to Making Quick Seared Scallops
A sizzling pan – ensure that your pan is hot before adding the scallops. Adding the scallops too soon will cause them to soak up the cooking fat instead of getting a crispy sear
A timer – scallops cook like clock-work. I recommend setting a timer and removing the scallops from the pan. For jumbo scallops, I set my stove timer for 2 minutes per side.
Butter – salted butter is your best friend. Besides helping to crisp the scallops, butter can tell you whether your pan is too hot. Put the butter in the pan and wait for it to sizzle. If your butter turns brown when you place it in the pan, then the pan is too hot.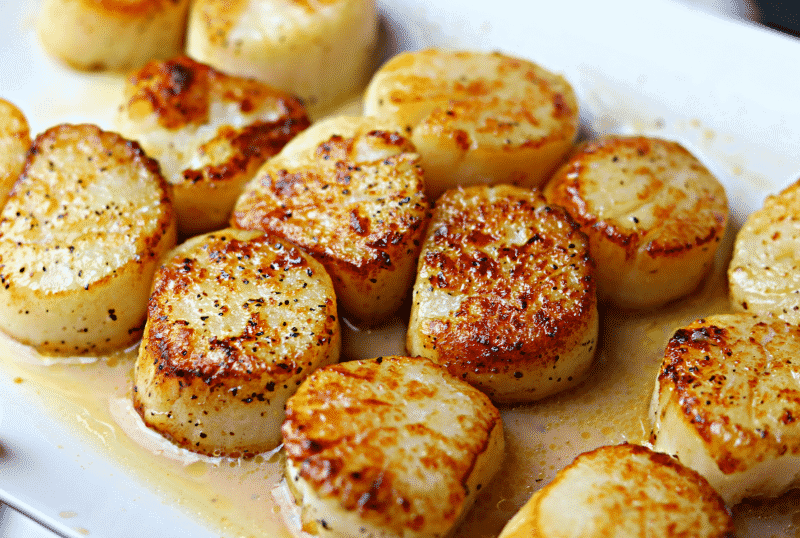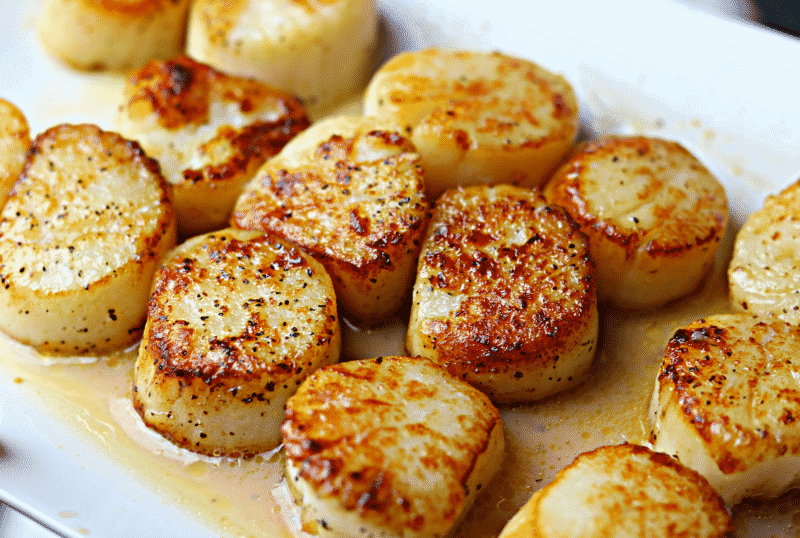 What are good side dishes for Quick Seared Scallops?
I love having these Quick Seared Scallops with cauliflower risotto.
Another great option would be these Keto One-Skillet Balsamic-Glazed Asparagus with Bacon.
This recipe makes one pound of jumbo scallops
For me, the amount is perfect for four, dinner-sized portions if you pair it with vegetables, cauliflower risotto, loaded cauliflower, or another side dish.
A serving is about 4 oz. I got my scallops flash frozen from Trader Joes. You can feel free to buy scallops fresh.
You might also be interested in these other Cast Iron Skillet Recipes: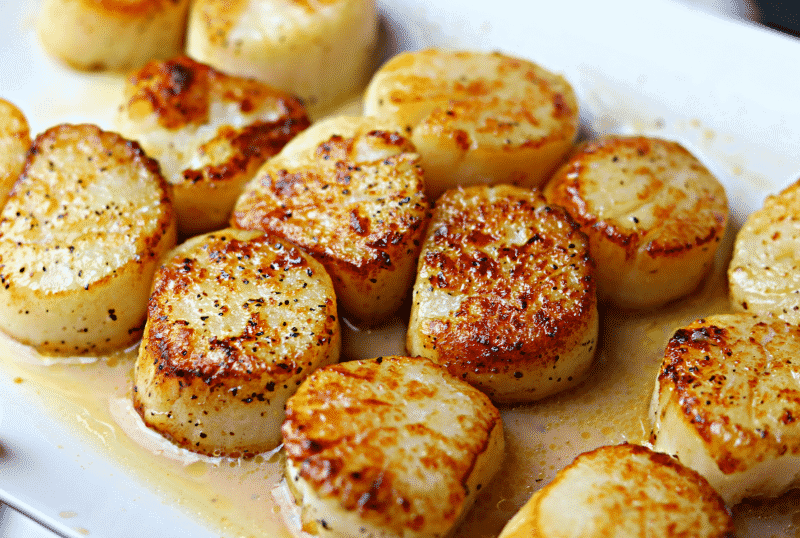 A quick recipe for seared scallops that is done in minutes. This is the perfect protein for a quick keto and low carb meal.
Please do not copy & paste (or screenshot) the instructions & ingredients for my recipes to social media or other websites. If you want to spread the word about this recipe (I'm grateful if you do), please use the buttons above to share or share a photo of this dish with a link to this recipe instead. © 2019 Dr. Davinah's Eats
Ingredients
1

lb

jumbo scallops

You can get these fresh or flash frozen

2

tbsp

salted butter

1

tbsp

olive oil

1/4

tsp

Sea Salt

1/8

tsp

black pepper
Instructions
Pat your scallops dry with a paper towel. Sprinkle them with sea salt and black pepper. I like to keep the spices to a minimum on this so that the flavor of the scallops is the star.

Bring a frying pan to medium heat

Add butter and olive oil and wait for the fat to start to bubble. This is important for getting the browned crust/sear on the outside of the scallops

Add scallops to the pan and cook for 2 minutes per side. You should only flip the scallops once. Remove the pan from the heat so that the scallops do not continue to cook. Serve immediately.
Recipe Nutrition Facts
Nutrition Facts
Quick Seared Scallops (Keto, Whole30, Paleo)
Amount Per Serving
Calories 160
Calories from Fat 81
% Daily Value*
Fat 9g14%
Cholesterol 42mg14%
Sodium 640mg27%
Potassium 232mg7%
Carbohydrates 3g1%
Protein 13g26%
Vitamin A 175IU4%
Calcium 7mg1%
Iron 0.4mg2%
* Percent Daily Values are based on a 2000 calorie diet.
Did you make this recipe?
Use #DrDavinahS when posting your photo of this dish, and follow @DrDavinahS on Instagram