This post may contain affiliate links to products I use and highly recommend. You can read my full disclosure .
It's so important for all of us to stay hydrated, considering that the human body is mostly water. The problem with staying hydrated is that it's not always easy to consume enough water each day. I mean, I've tried everything from apps to large gallon jugs for tracking. One thing that helps me remember to drink my water is adding a little flavor. Ultima Replenisher is a gluten-free, non-gmo, vegan, paleo and keto-friendly flavor option. But, it also includes 6 electrolytes and trace minerals, which help to keep our bodies balanced. In this post, I share my honest thoughts of the Ultima Electrolyte Powder. I also share when and how I use it as part of a keto and active lifestyle. If you've been wondering about what electrolytes are, why some people use them, or looking for no sugar electrolyte powders or drinks, then this post is for you!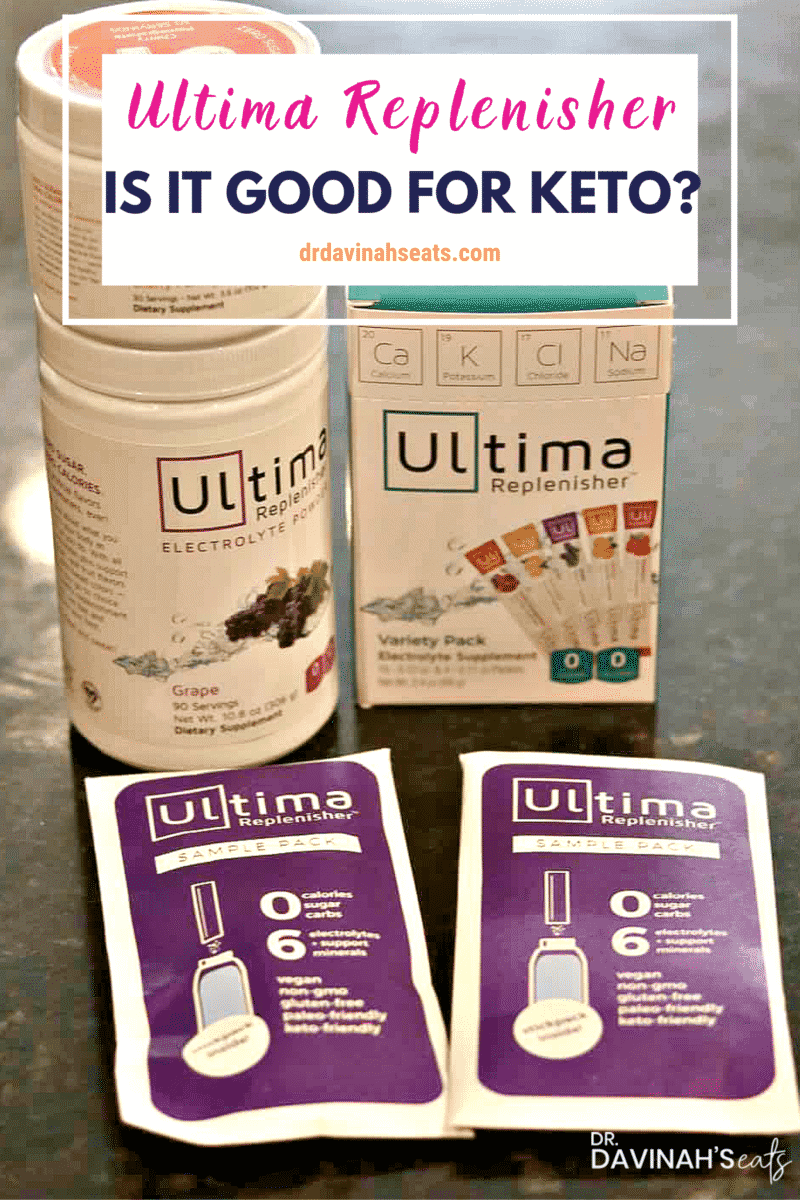 What Is Ultima Replenisher?
Ultima Replenisher is an electrolyte supplement. It is also a tasty drink flavoring too!
These have zero calories and no sugar. When I first shared this post, they had five flavors: Lemonade, Cherry Pomegranate, Orange, Grape, and Raspberry. Since then, they've added Blue Raspberry and Pink Lemonade.
Of all the flavors, Grape is my personal favorite!
Why share a Ultima Replenisher post?
Long before Keto, I tried Atkins. So, I was well aware of the flu-like symptoms (keto-ers refer to it as Keto Flu) that can accompany being new to low-carb diet. Keto Flu can be described as your body's withdrawal symptoms after reducing carbs.
For me, some of the symptoms included being irritable, tired, and having major headaches each day for nearly a week. Considering my past experiences, I knew that when I started Keto, that I was going to use every tool available to avoid it.
I'm sharing this post because Ultima Replenisher became one of my favorite tools for staying hydrated and balanced. And, you might want to learn more about it as a low-calorie, no sugar electrolyte powder option too.
How did I learn about Ultima Electrolyte Powder?
Ultima Replenisher was first introduced to me in monthly keto snack boxes. In the boxes, I got a few samples and was able to figure out that I actually enjoyed it.
Is Ultima Replenisher Keto-friendly?
Yes! Ultima Replenisher is keto-friendly. There is no added sugar, carbs or calories.
What are electrolytes and why do people take electrolyte powder?
According to a useful article from Healthline, electrolytes are necessary to keep our bodies running smoothly.
Electrolytes are often thought to be sodium, but there are actually six. The six electrolytes are: potassium, magnesium, chloride, calcium, phosphorus, and sodium.
What I love about Ultima Replenisher is that it includes all 6 electrolytes in one drink option.
How does Ultima Replenisher compare to drinks like Gatorade?
Ultimate Replenisher doesn't have added sugar and is low in carbs. Unlike Gatorade, Ultima Electrolyte Powder does not have high fructose corn syrup or any other artificial sweeteners or ingredients.
This means that it essentially provides us with electrolytes minus the junk.
Can you drink Ultima Replenisher while fasting?
You may know this, but I do something called intermittent fasting a few times each week.
While fasting, I choose to have water, mostly black coffee, and other low-calorie drinks. Since Ultimate Replenisher has less than 50 calories per serving, I certainly drink this electrolyte powder while fasting.
Why might you drink Ultima Replenisher on keto?
During Fasted Cardio or Other Workouts
Providing you with clean ingredients, Ultima Replenisher is a great option to hydrate while building your electrolytes back up after fasted cardio sessions.
It's also a great no sugar option if you're looking for a keto replacement for Gatorade.
To Minimize Keto Flu
As mentioned, when you first start the keto diet, you may experience keto flu. Electrolytes can help keep our bodies balanced during the change.
During an intermittent fast
Since this electrolyte powder has less then 50 calories per serving, it's a good drink option during intermittent fasting.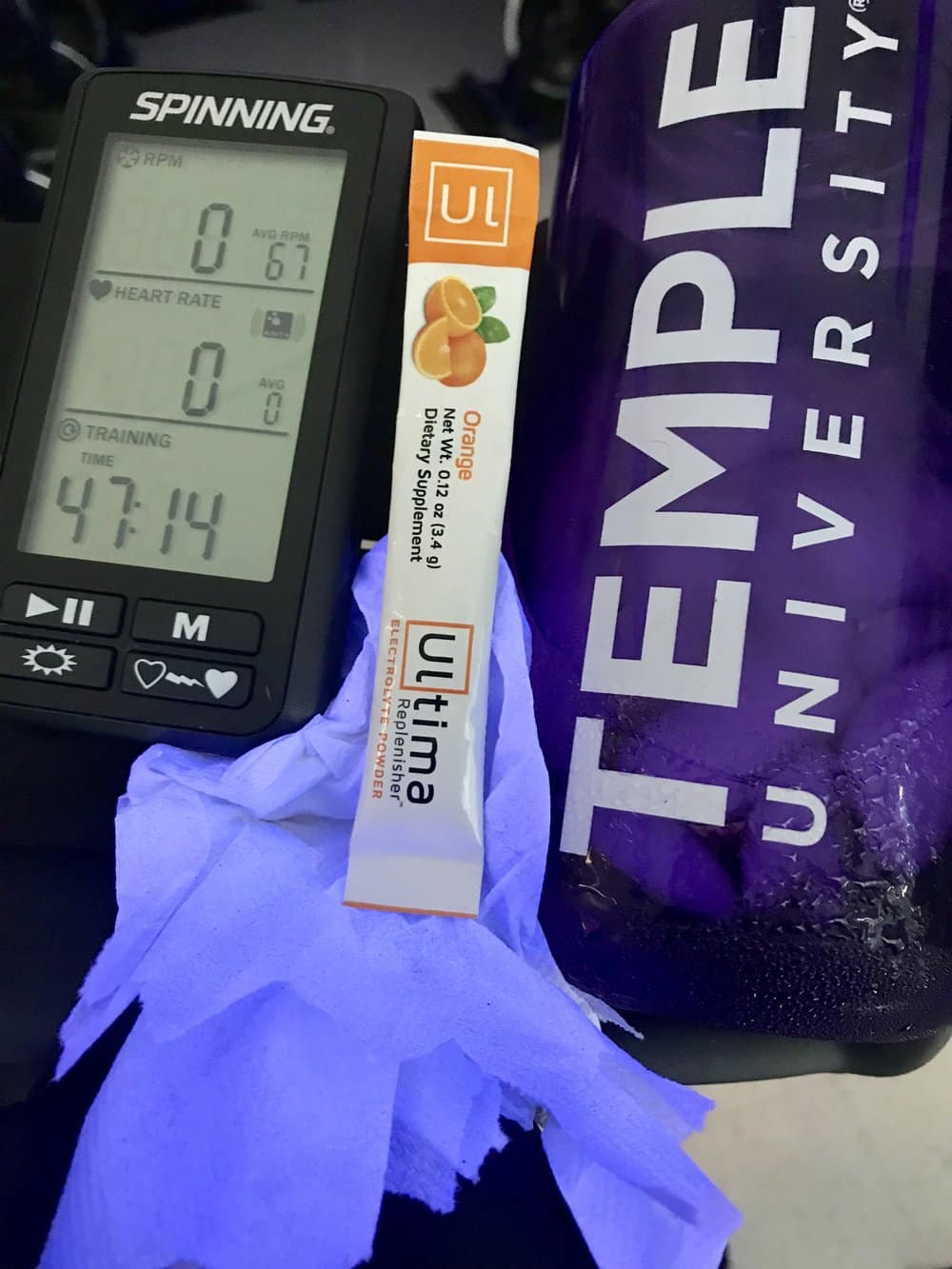 Where can you buy Ultima Replenisher?
You can buy Ultima Replenisher online at Amazon or other retail stores in your local area like CVS.
Personally, I get these in a canister or as to-go sticks from Amazon because they sometimes have coupons and they arrive within 2 days at my door.