This post may contain affiliate links to products I use and highly recommend. You can read my full disclosure .
If you're looking for Perfect Keto reviews then you've come to the right place. Today, I'm going to discuss Perfect Keto and share my experience with their supplements. I'll answer questions like, do their products help you get into ketosis? I'll also give an honest review of the taste and highlight some of their keto resources, which you might not know exist.
If you're interested in Perfect Keto but still on the fence, then I highly recommend that you read this review before buying. Once decided, you can use DRDAVINAHS as a discount code to save 15% off a purchase.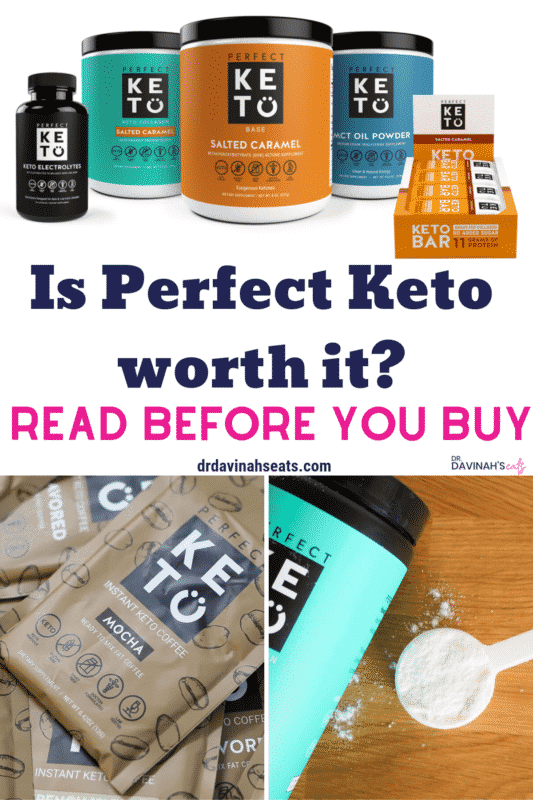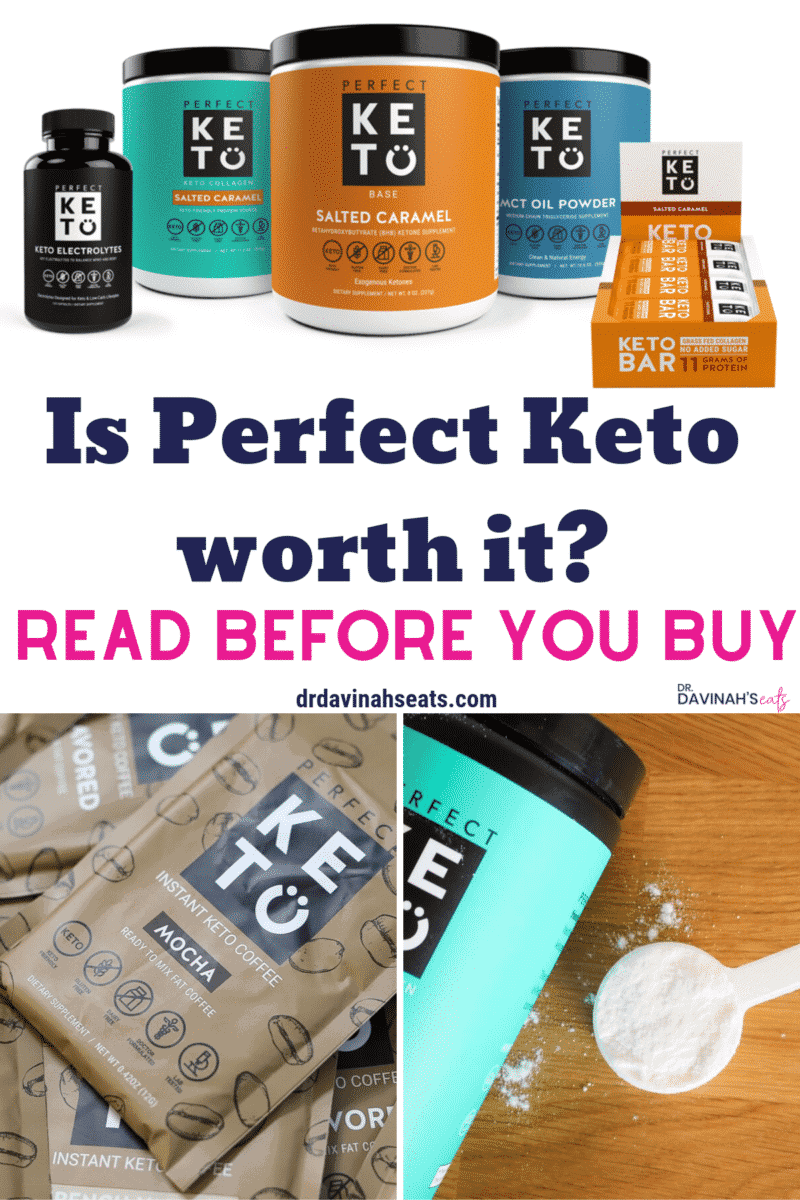 What is Perfect Keto?
A Line of Keto Supplements & Foods
When most people refer to Perfect Keto, they are actually only referring to one of their products: the popular Perfect Keto Exogenous Ketone Base.
However, Perfect Keto is much more than that. In fact, they have an entire line of keto supplements and even a few keto foods.
A Hub of Keto Resources & Tips
Besides having keto supplements, they also have a ton of resources for keto beginners. For example, I first learned about their brand after reviewing their:
The Keto Macro Calculator allows you to put your details like your height, weight and goals. From there, you'll be told what you need to eat for protein, carbs, and fat to achieve your goal.
For me, the calculator is a great tool because it gave me an idea about how to break down my nutrients when I was just trying to get started.
Beyond the calculator, they also have a collection of tips & guides on their website. The guides walk you through terms you might not be familiar with, such as ketosis, intermittent fasting, and macronutrients.
As a researcher (though in an unrelated field), having them break down key terms, but also explain some of the science behind keto was super helpful as I learned more about whether keto was right for me.

Where can you buy Perfect Keto?
You can purchase Perfect Keto on their website directly. They deliver internationally and in the US.
If you're like me and hate to pay for shipping, you can get free shipping with a purchase over $29.
You should know that if you make a purchase and want it shipped internationally, you are responsible for any customs and other shipment fees.
Can you buy their products in stores?
Perfect Keto cannot be purchased in a retail store.
Is there a Perfect Keto discount code?
Yes!
DRDAVINAHS will save you 15% off a Perfect Keto order
Remember that in order to get the free US domestic shipping, you'll have to place an order that is over $29 after using my discount code.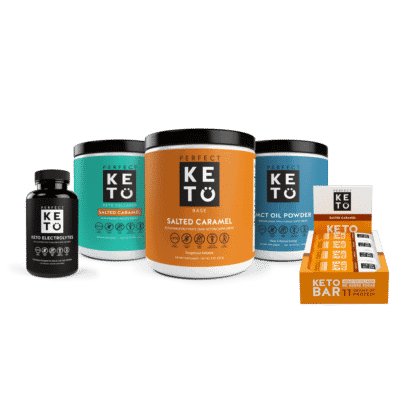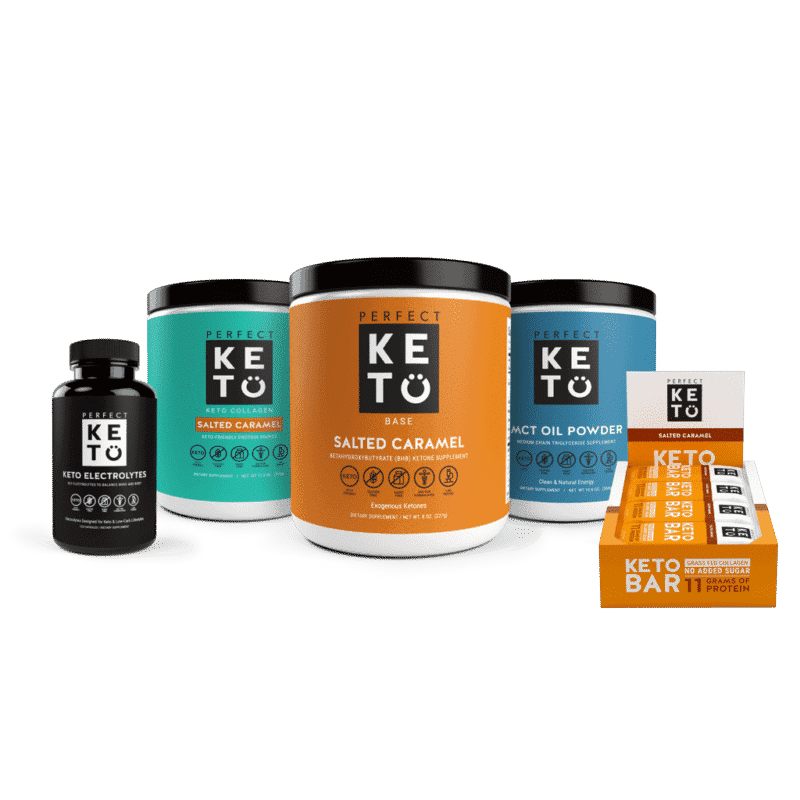 How to Use Perfect Keto for Keto & Low Carb Lifestyles
How and when to use Perfect Keto truly depends on the product.
Some of the ways that you can use them are:
As a pre-workout boost
A substitute for your morning sip of coffee
As a way to add in electrolytes or greens to your diet
Below, you'll find a list of some of the most popular Perfect Keto products & my review. For each of them, I'll share how I use them so that you have an idea.
Perfect Keto Products & Review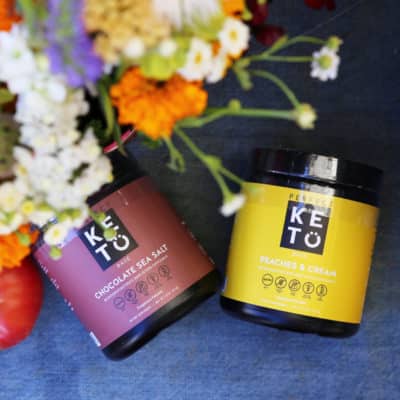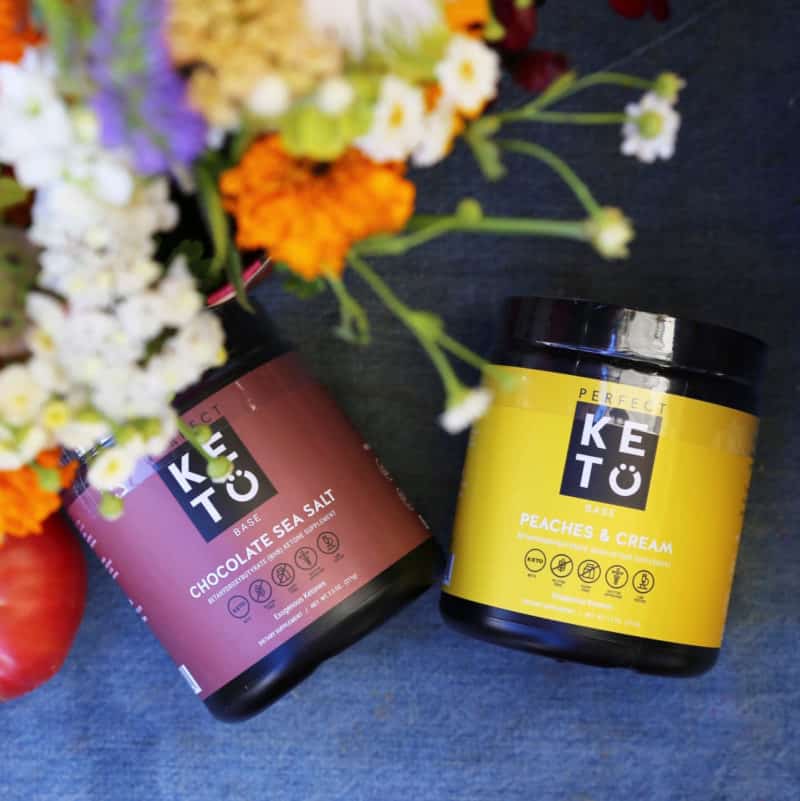 Keto Base is meant to give you a shortcut and fast track to ketosis. It's sweetened with monk fruit and formulated to be less bitter than other options.
Base comes in Chocolate, Unflavored, Peach, Coffee, Vanilla, and Salted caramel.
Taste
In terms of taste, I tried Chocolate and I'll admit this was not my favorite. The Chocolate took a real labor of love for me to finish it.
However, I did mix it with water and realized generally that I don't like cream-based supplements mixed with water.
Uses & Ketosis
Overall though, it did help me get into ketosis. I chose to use it when I was just starting out and wanted to avoid Keto Flu.
I also have used it as a way to minimize my hunger cravings while doing an Intermittent Fast.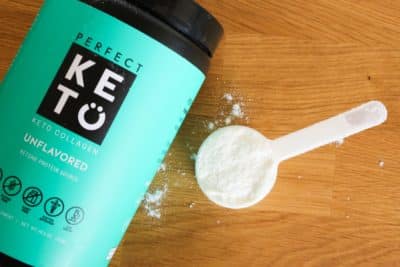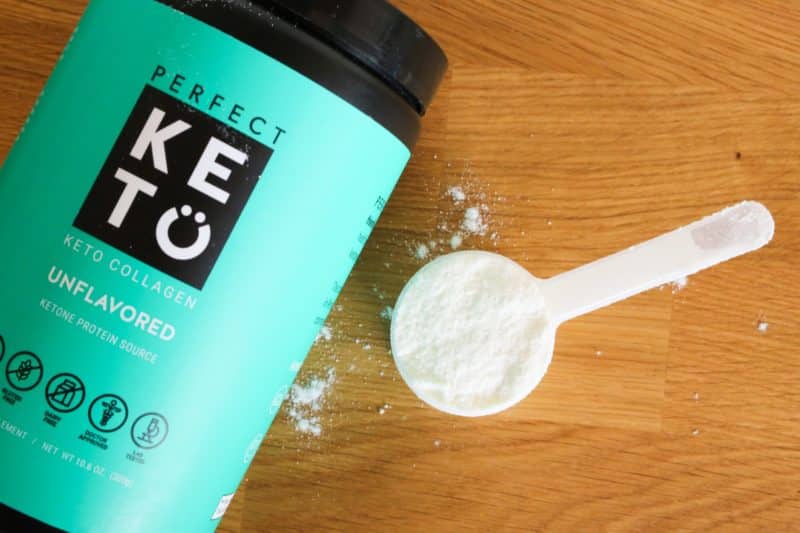 I'm the kind of person who drinks Collagen daily. I'm a firm believer that it helps me have strong nails and hair growth.
As I mentioned in my Keto Collagen Review, what I love about this collagen is that it includes MCT Oil.
Since I typically use MCT and Collagen together in things like Butter Coffee, this is a great all-in-one kind of supplement for me.
This comes in three flavors as well as an unflavored option.
Taste
Considering my experience with the Chocolate Base, I opted to buy this one in Unflavored. For me, this was perfect and it didn't have an odd smell or aftertaste.
Uses
I've used this Keto Collagen in everything from coffee to dessert. Specifically, I like adding it to: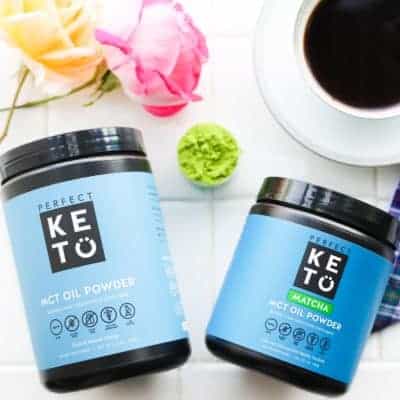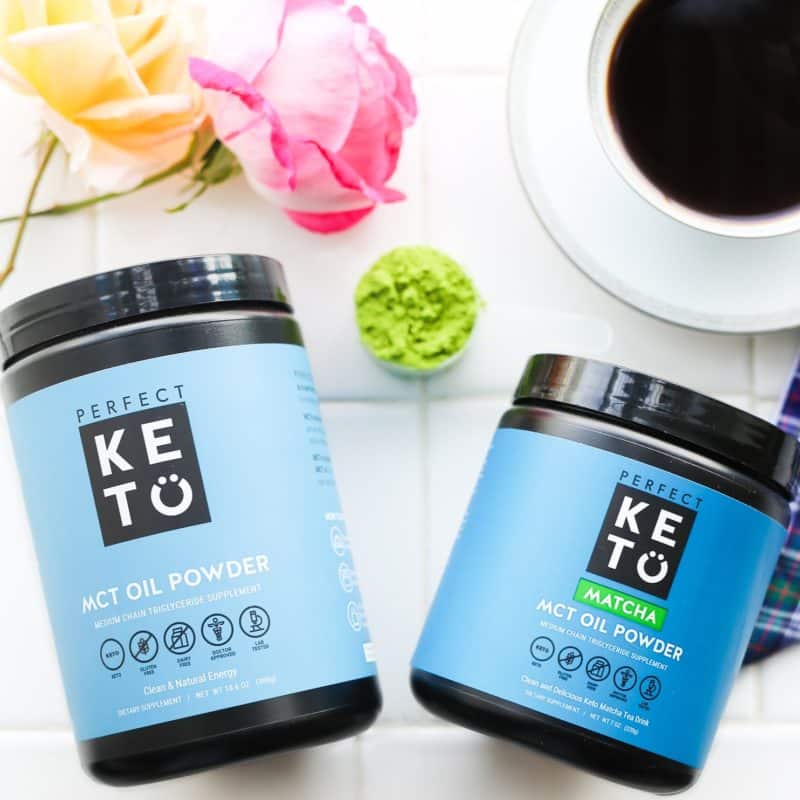 Made from real coconut oil, this MCT oil powder is a great way to incorporate some fat into your keto day without the mess.
This product comes in a few flavors like Salted Caramel, Vanilla, Chocolate, and Unflavored.
I love taking these on the go with me because traveling with a bottle of regular oil never ends well.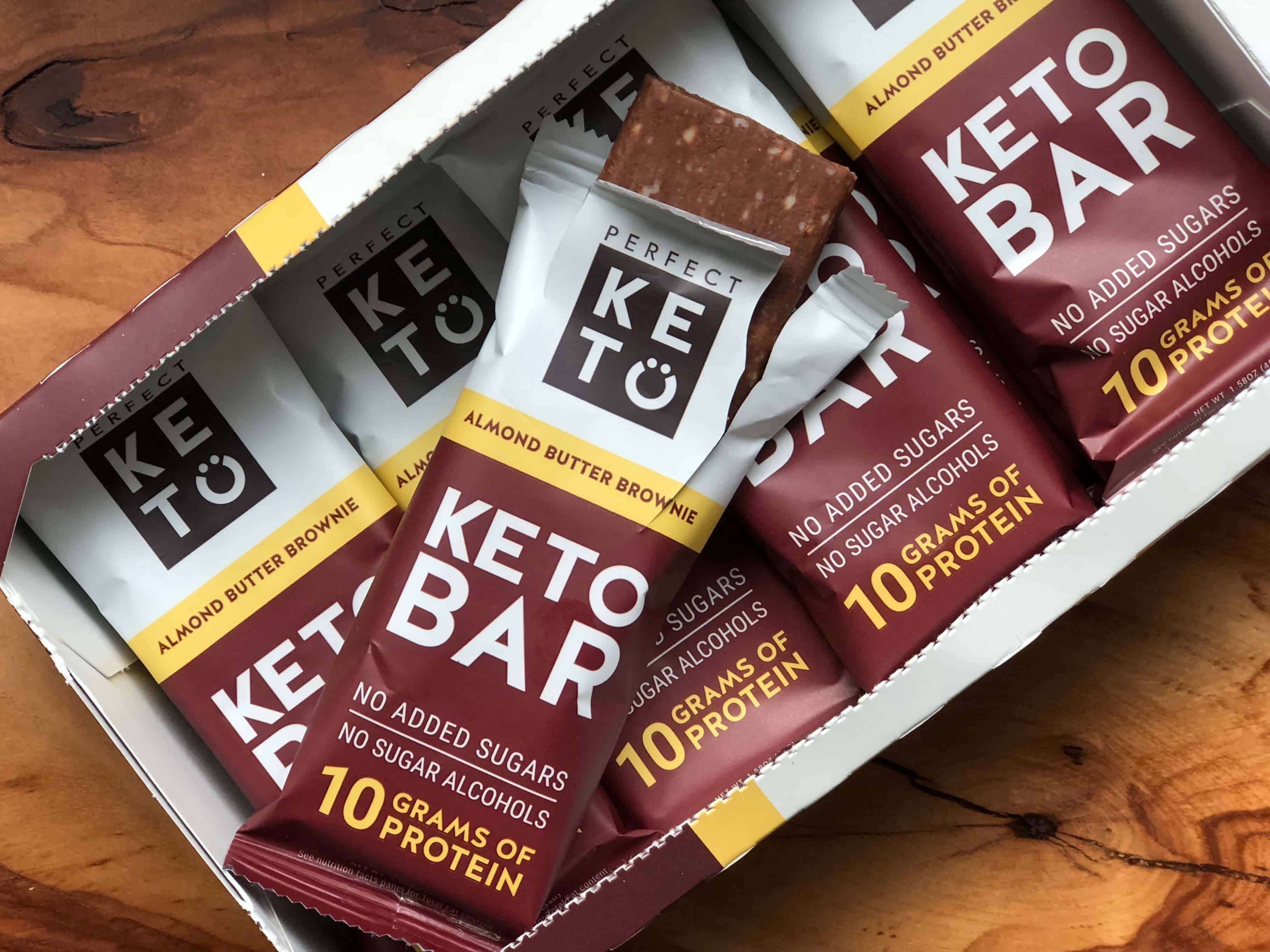 Are you hungry for a snack, but have a hard time finding something keto-friendly?
These keto bars from Perfect Keto help hit the spot with just 2-3 grams of carbs per bar.
Currently, there are four flavors to choose from: Chocolate chip cookie dough, salted caramel, almond butter brownie, cinnamon roll, and lemon poppyseed.
Taste
My personal favorites are Almond Butter Brownie and Salted Caramel.
Chocolate Chip Cookie dough and Cinnamon Roll are a bit newer so I haven't had the chance to try them.
Uses
I simply throw these in my bag or keep them in my office desk drawer when I'm feeling super hungry. I also keep these around when I simply want something sweet without sugar and carbs.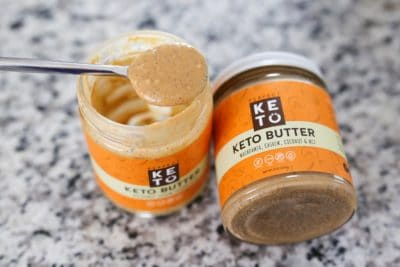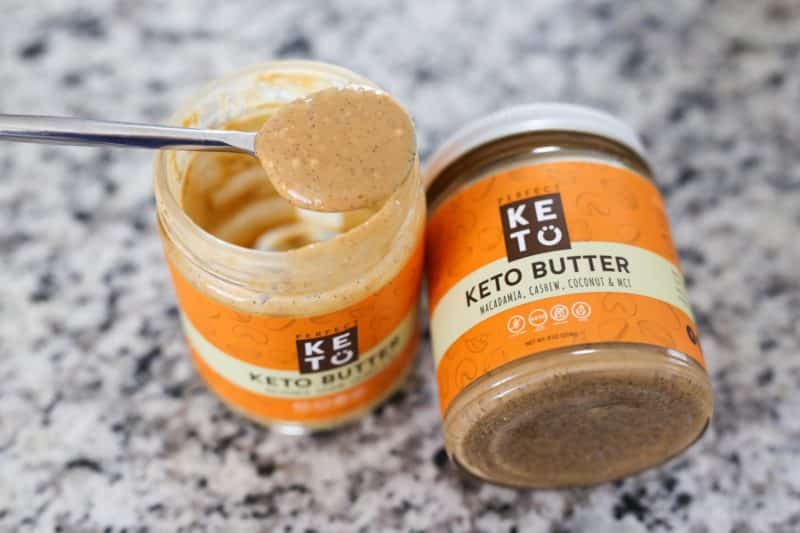 This blend of nuts and fats provide me with fuel for the day. They have a smooth taste of cashews, coconut, and macadamias.
I love that these are a completely clean option because they don't have additives.
Another perk for Keto is that they're made with MCT oil.
Taste
I really love nut butter and having this is a great option that doesn't include peanuts.
I also enjoy the flavors of macadamias and cashews!
Use
Personally, I think that having a spoonful of nut butter can go a long way when you are starving or need to cure hanger! So, I use these to buy time for me to be able to make good food choices.
Keep yourself hydrated with these electrolytes from Perfect Keto. The capsules are easy to use in anything and easily dosed for your electrolyte needs. They include 4 essential electrolytes.
You should know that they do not taste like anything since they are in capsule form.
I tend to use them when I want to stay balanced, am running around doing errands, or exercising for more than 45 minutes at a time.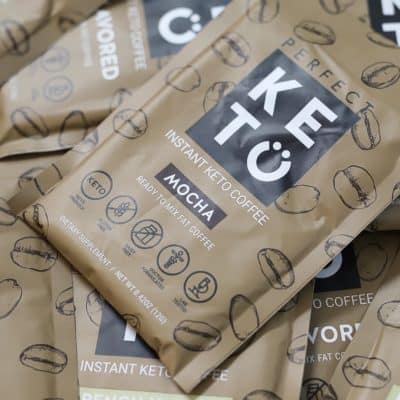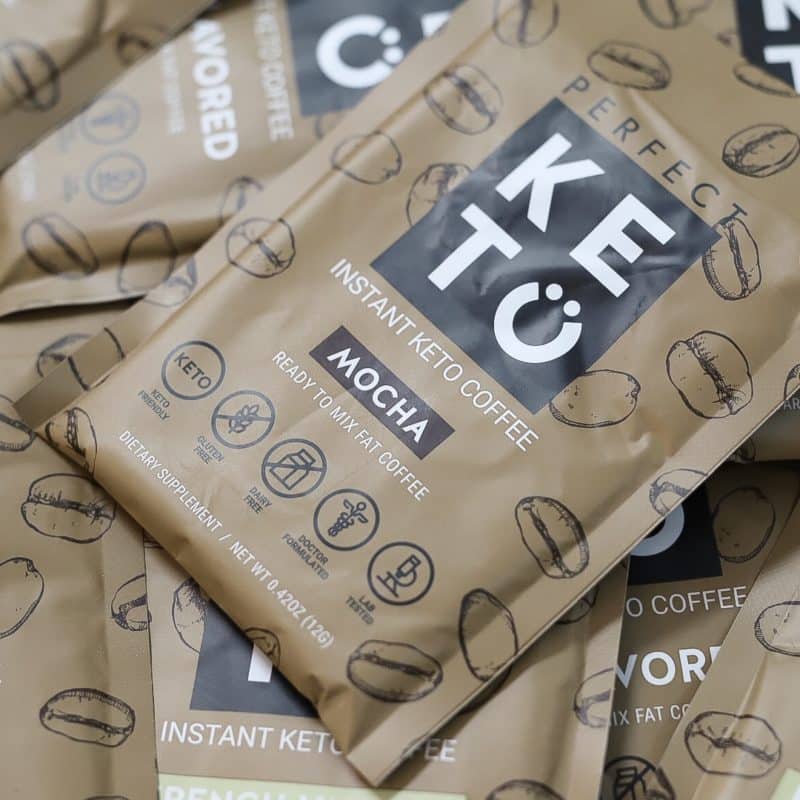 Get your keto coffee any time with these packets of keto instant coffee from Perfect Keto!
Enjoy unflavored, mocha, or french vanilla any time whenever it's convenient.
These are sweetened with stevia, and easy to mix in hot or cold water.
Taste & Uses
I enjoy having the French Vanilla when I'm in a rush in the morning and need an option for coffee.
I've also taken these with me while traveling.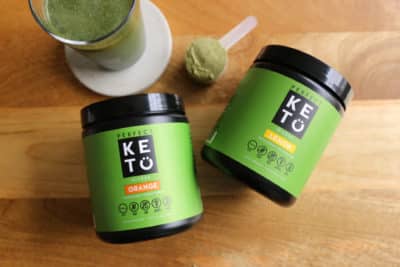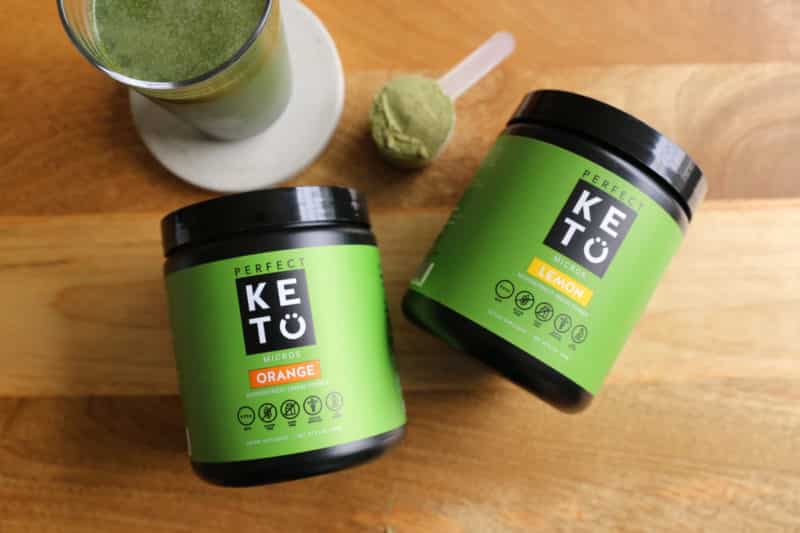 One of the biggest challenges when you're first cutting carbs is making sure that you get in enough fruits & vegetables.
And, if you track how many you eat, you realize that it takes quite a bit of green vegetables to reach anywhere close to 20g net carbs.
One way that I personally eat all my veggies is by using Keto Greens Powder. It includes nutritions from 26 different organic fruits and vegetables and only 1 gram of net carbs per serving.
For me, this is a great option when I'm doing things like OMAD (when you eat one meal a day) or if I'm just not hungry.