This post may contain affiliate links to products I use and highly recommend. You can read my full disclosure .
My Easy Low-Carb & Keto Peanut Butter Cookies recipe satisfies any sweet tooth without killing your diet goals. Besides being keto-friendly, these are gluten-free, grain-free, and low carb. I love these keto cookies because they brim with a peanut butter taste and have a great cookie texture. Perfect for families and kid-approved.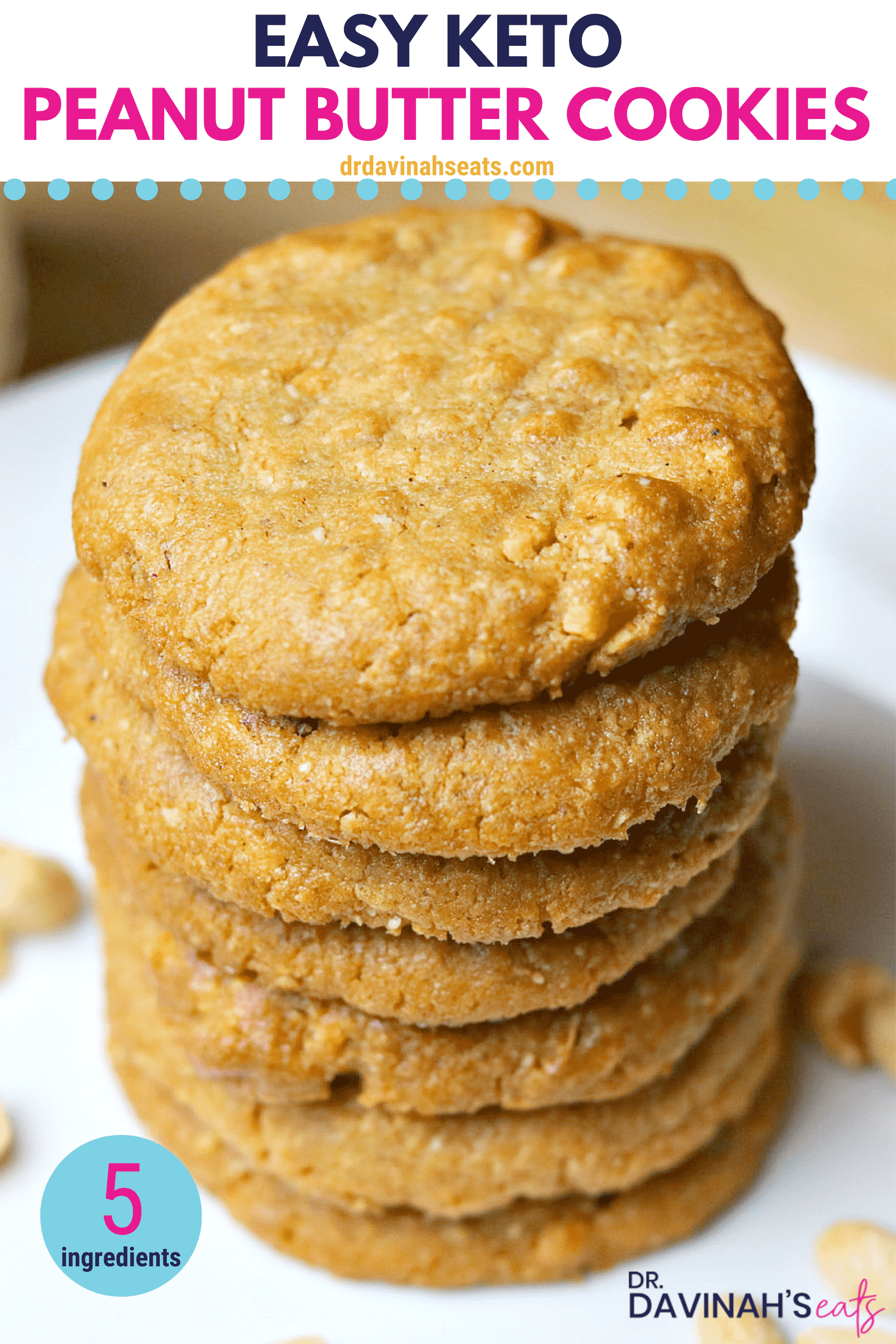 Every now and then I love to treat myself. One of my very favorite treats? Peanut butter cookies. With Girl Scout cookie season upon us, I find myself super tempted to indulge in a yummy peanut butter cookie or two.
As I'm sure you can imagine, most peanut butter cookies are loaded with sugar and flour, making them anything but keto-friendly. My delicious keto peanut butter cookies are grain-free and refined sugar-free, making them a great substitute!
Why share Peanut Butter Cookies?
Peanut butter is one of my favorite flavors. And peanut butter cookies are a delicious treat for me. So I wanted to create a keto peanut butter cookie to share with you that is grain-free, gluten-free, and keto and low-carb friendly.
My recipe is also very simple with only a few ingredients.
Ingredients in Keto Peanut Butter Cookies
My keto peanut butter cookies are big on peanut butter flavor and contain only a few ingredients. The most important ingredient, of course, is peanut butter.
But, you have to be careful with this one. Make sure you look for unsweetened peanut butter. A lot of peanut butter, even ones claiming to be "all-natural" contain added sugars.
Check the label for ingredients and added sugars before you purchase a jar. Another option is to look for a store that lets you grind your own peanut butter.
In addition to peanut butter, you will need:
That's it! Since most of these are what I'd consider some keto pantry must-haves, I bet you already have these on hand.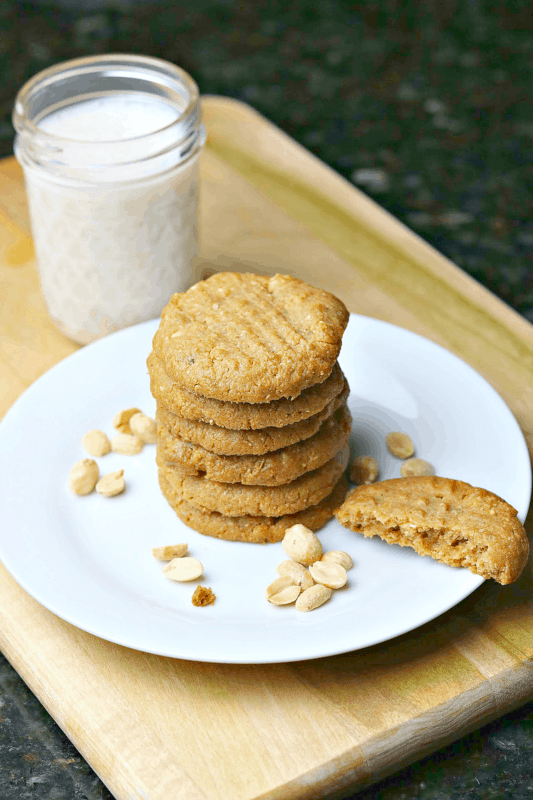 How to Make Easy Peanut Butter Cookies
Unlike some keto baking recipes that require a lot of steps, these peanut butter cookies are quick and easy to make.
To make these easy low carb cookies:
Preheat the oven to 350 degrees

Combine the softened butter, peanut butter, monk fruit sweetener, and egg in a medium mixing bowl. Mix them until well combined.
Once the wet ingredients are incorporated, sprinkle the almond flour on top of the mixture. You then use a rubber spatula to fold in the almond flour.
When the almond flour is mixed in, use your hands to form 12 balls and place them on a baking sheet lined with parchment paper. When the balls are arranged, use a fork to press down on the center and make a criss-cross pattern on top.
Finally, the cookies bake for about 12 to 15 minutes, depending on your oven. Remove them from the oven and let them cool before eating them.
Substitutions for Peanut Butter & is it ok for keto
If you or one of your family members have a peanut allergy, you can make a substitution for the peanut butter. You can use the same amount of almond, cashew, or any other nut butter as a substitute for peanut butter.
Peanut butter is keto-friendly. It has a large amount of protein and fat with limited net carbs. In a single serving, peanut butter has 2 grams of net carbs.
The caveat? I mentioned above, you should look for varieties that do not contain added sugars as this can increase the total carbs in the peanut butter.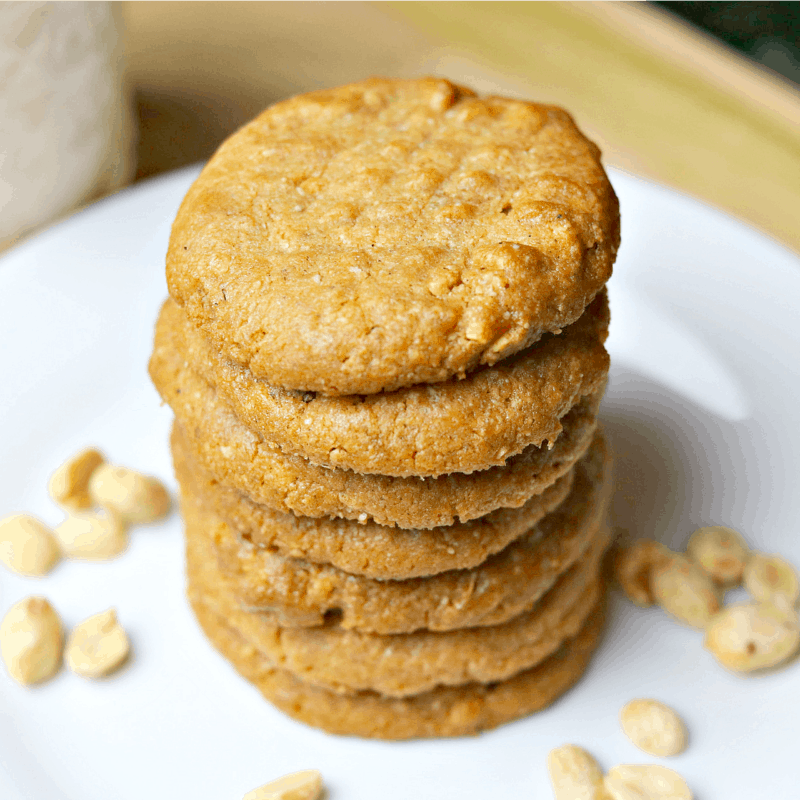 Making Peanut Butter Cookies with 3-ingredients
If you are in a pinch, say you are out of or don't have almond flour on hand, you can still make the peanut butter cookies with only 3 ingredients: peanut butter, sweetener, and an egg.
However, though this is possible, I would still recommend the full recipe. But, sometimes, you gotta do what you gotta do.
Low-carb Peanut Butter Cookies – Carbs & Calories
Low-carb peanut butter cookies are relatively low in calories and do not contain a large number of net carbs.
If you eat a single cookie, you will take in 147 calories and 2 grams of net carbs. So you can enjoy these as an occasional snack or dessert.
Other Peanut Butter Cookie Variations
If you want to add some variety to these keto peanut butter cookies, then you can try any of the following add-ins. I recommend adding two tablespoons to the peanut butter cookie dough and folding it in with a spatula.
Other Keto Peanut Butter Dessert Recipes
If you love peanut butter desserts, you are in luck. I have a few other suggestions for you that are keto-friendly and taste delicious. Some of my favorite keto peanut butter desserts include:
You might also use these cookies to make these Peanut Butter & Jelly Ice Cream Sandwiches!
Keto Peanut Butter Chocolate Ice Cream
This recipe for keto peanut butter chocolate ice cream lets you easily make keto ice cream at home. I use Frappaketo Peanut Butter & Cacao Cream ketogenic blend and just a few ingredients. I include tips to make this dairy-free. Churned in under 30 minutes.
Get this Recipe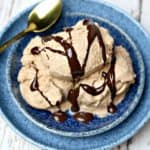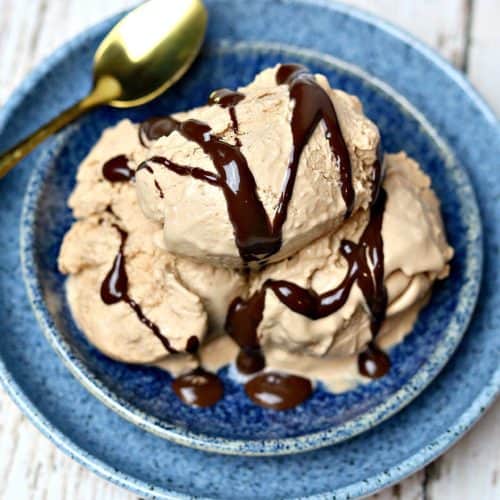 Tools to make awesome cookies
As much as we may not want to admit it, sometimes what makes us great bakers or cooks has as much to do with the quality of our tools as it does the quality of the recipes we follow.
When I make my keto peanut butter cookies, I use these tools to help ensure they come out perfect every time: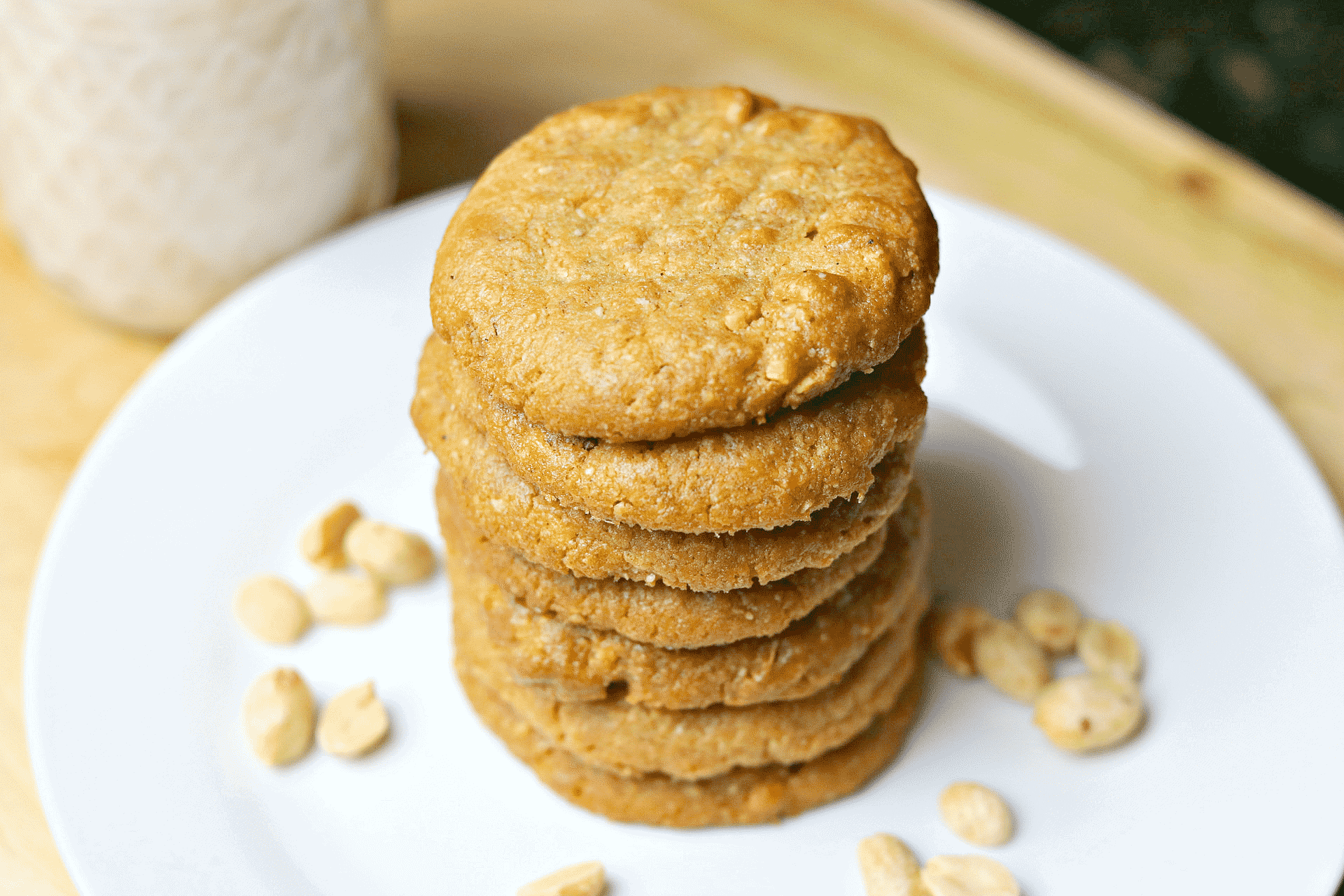 Easy Keto Peanut Butter Cookies
Easy keto peanut butter cookies satisfy any sweet tooth without killing your diet goals. Besides being keto-friendly, they are gluten-free, grain-free, and low carb.
Pin
Rate
Print
Use DRDAVINAHS at checkout to save on some equipment & ingredients!
Instructions
Preheat the oven to 350 degrees.

Add the peanut butter, softened butter, sweetener and egg to a mixing bowl. Mix together until incorporated.

Sprinkle the almond flour on top. Use a rubber spatula to fold it in.

Form 12 balls with the dough. Add them to a parchment-lined baking sheet.

Use a fork to press down on the balls and form the criss-cross pattern

Bake the cookies for 14-16 minutes. Allow them to cool before eating.
Nutrition Details
Calories:
142
kcal
|
Carbohydrates:
3
g
|
Protein:
5
g
|
Fat:
13
g
|
Saturated Fat:
4
g
|
Monounsaturated Fat:
1
g
|
Cholesterol:
28
mg
|
Sodium:
114
mg
|
Potassium:
111
mg
|
Fiber:
1
g
|
Sugar:
2
g
|
Vitamin A:
144
IU
|
Vitamin C:
1
mg
|
Calcium:
13
mg
|
Iron:
1
mg
The nutrition facts come from entering the recipe ingredients into Spoonacular API, a database of food ingredients. They may vary for any recipe based on the exact product used. The keto sweeteners I use have 0g net carbs & are not included because sugar alcohols do not impact most people. This is provided as a courtesy, but you can do your own calculations if you wish!
Share this Recipe
If you enjoy this recipe, share a link to it via email or Facebook, pin it, or leave a rating. Please don't copy/paste the instructions to other websites. Thanks for helping the website grow!