This post may contain affiliate links to products I use and highly recommend. You can read my full disclosure .
Searching for the best low carb cheesecakes recipes? Trying to find no sugar added cheesecakes that aren't boring? This is a collection of the top keto cheesecake recipes from my site and the web. I include traditional recipes like Strawberry Cheesecake, and a mix of cheesecake bites, bars, and fat bombs. There's even one with a serving size of one! I hope that you drool as much as I do over these! Let me know if you make any!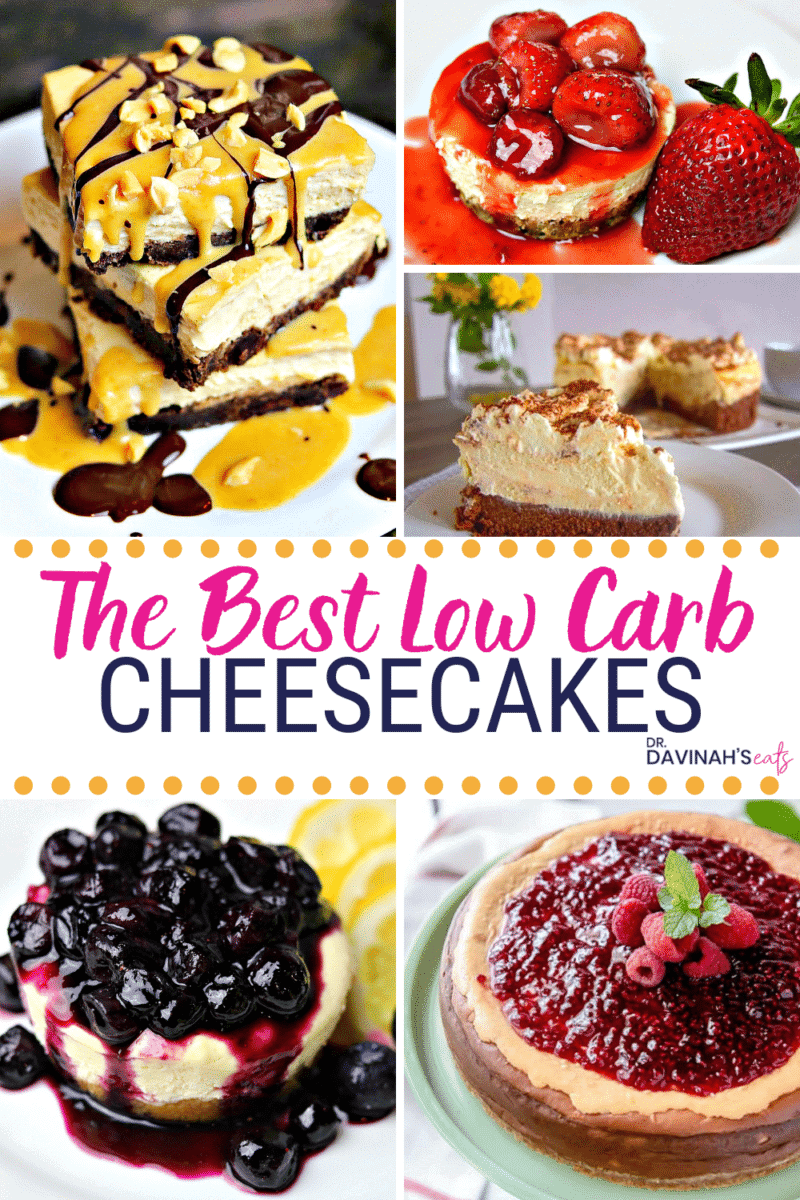 Why share these keto cheesecake recipes?
Few things in life are quite as good as a delicious, creamy cheesecake! It's probably one of the most classic and popular dessert options out there.
However, considering how much sugar typically comes in them, I'd understand if you thought you'd have to give this dessert up!
But, if you think that following a keto way of eating means that you can no longer enjoy one of your favorite desserts, you'd be wrong!
Not only can you enjoy delicious keto cheesecakes, I'm here to tell, and show you, that there are a number of tasty ways to indulge in this dessert without extra sugar and carbs!
What low carb cheesecake recipes will you find?
Tiramisu
Keto Snickers Bars
Blackberry Bars
5-Ingredient Cheesecake Fat Bombs
Low Carb Cheesecake with Raspberry Jam
Salted Caramel Cheesecake Mousse
Gluten-free Strawberry Cheesecake
Keto Chocolate Cheesecake for 1
No Bake Blueberry Cheesecake
Low Carb Crustless Cheesecake with Blueberries
No Bake Single Serving Keto Cheesecake
Keto Lemon Blueberry Cheesecake Bites
Chocolate Cheesecake Brownie Bars
How do you make a cheesecake without sugar?
Natural sugar replacements are on my list of pantry essentials. They include 0g net carbs and most of them measure just like sugar.
When I'm baking, I like using this granulated monk fruit erythritol blend. However, there are other options, some of which, I include in my keto sweeteners shop.
How do you make a keto cheesecake crust?
There are different ways to make a cheesecake crust. And, each of these recipes that I share below will have their own crusts.
But, a basic low carb cheesecake crust recipe will consist of:
crushed keto cookies or a grain-free flour
a sweetener
butter
Personally, I enjoy using store-bought keto cookies. They come pre-sweetened and have a variety of flavors. For example, I used Lemon Cookies to make a lemon cookie crust in this Keto Lemon Blueberry Cheesecake. I also used a ginger cookie to make this Keto Pumpkin Brandy Cheesecake.
However, if you don't have keto-friendly cookies on hand, then you might want to make a crust without them.
A simple grain-free cheesecake crust recipe is:
You should pre-bake your cheesecake crust in a preheated, 350-degree oven for about 5 minutes before adding the cheesecake filling.
Taking the time to pre-bake the crust will prevent it from getting too soggy.
10+ of the Best Low Carb Cheesecake Recipes