This post may contain affiliate links to products I use and highly recommend. You can read my full disclosure .
This Keto & Low-carb Cereal guide will give you the run-down for finding keto-friendly breakfast cereal options.
I'll help you identify if a cereal option is actually keto by reading the nutrition label.
I'll also give some options for cereal recipes to try and a few to buy. This post is perfect for someone who is looking for keto breakfast ideas, missing out on cereal, and a parent that is looking for kid-friendly cereals for their family that don't have added sugar.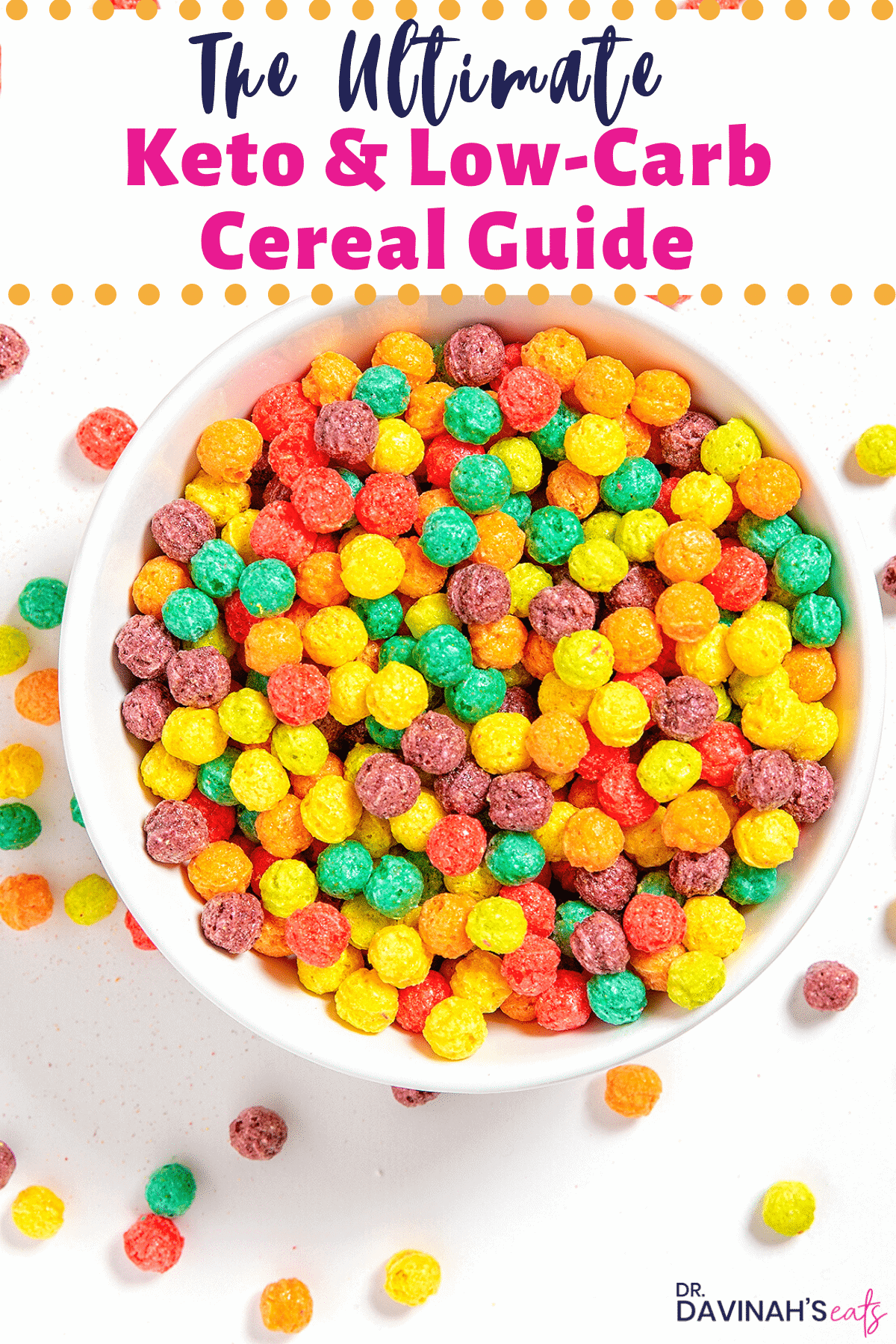 Unless you are participating in OMAD or intermittent fasting, breakfast is the first meal of the day. So, it makes sense that you'd want to kick your day off right.
When you're trying to stick to a keto lifestyle for eating, sometimes it's tough to know what exactly you can eat for breakfast and what you shouldn't. One good option for breakfast that's easy and also delicious is low-carb cereal. That's easy to say, but knowing what kinds of cereals are low in carbs is where the real challenge lies.
In this post, I'm going to look at some of the ingredients that will be in keto-friendly cereal you can add to your morning options. I'll also go over where you can get low carb breakfast cereal and some recipes for making your own.
Why Low-carb Cereal?
Let's just start at the beginning. I realize you may be just beginning this new lifestyle. Why would you need a low-carb cereal when you're eating a keto diet?
Well, a ketogenic diet requires that you eat foods that are low in carbohydrates and high in fats. By keeping carbs low, we're more likely to stay in something called ketosis.
Low-carb cereal won't have the heavy grain-base that many bowls of traditional cereal have. However, I will make a note here that there will be some grains most likely and therefore some carbs in many of the options found in stores.
But, they will have ingredients like nuts that are high in good fats, as well as some other items. I'll go over this in more detail below.
What Is a Low-carb Cereal?
You might be asking yourself "what's in a cereal that's low carb?".
When you look at the ingredients lists for low-carb breakfast cereals, you will likely see a lot of different kinds of fiber. For instance, there may be potato fiber, chicory fiber, or corn fiber in it. Many of these cereals will have plant proteins in them. Then you'll see flavor enhancers like cinnamon, sea salt, monk fruit, vanilla beans, or cocoa.
Other ingredients could include sunflower oil, chia seeds, pumpkin seeds, different kinds of nuts, and coconut.
What's the Problem with Most Cereals?
What you won't see in keto cereals are the traditional grains you see in mainstream cereals like wheat, rice, corn, and rye. You also won't see sugar added.
Most cereals, even some of the ones that claim to be low-carb, have a lot of carbs in them. Many of the big names in the cereal industry have versions of their products that are lower carb than their originals.
These, however, can still have between 20 and 35 grams of carbs sometimes. That being said, I recommend that you read the labels of any cereal you're going to buy for its low-carb claim.
The fact that they're calling it that could just mean it's low in comparison to other cereals the brand has on the shelf, or than those of its competitors. Keep in mind that you're looking for low carb cereal, not just lower relative to what other options there are.
As I mentioned in my keto candy post, I personally, try to find options that have 5g net carbs or less. If I choose an option with more net carbs, then I make sure to adjust my macros for the rest of the day to stick to 20-30g net carbs for the day.
Where Can You Buy Keto Cereal?
You can buy keto cereal in a number of places. Sometimes you won't find it in your big box stores or neighborhood grocery stores though.
If you aren't able to find it there, try looking at one of these stores that are more likely to carry these kinds of items:
Whole Foods Market
Sprouts
Trader Joe's
Vitamin Cottage
Safeway
Hannaford
Another option is to go online and look for low-carb cereals. Amazon is a great place to look. In fact, I've included a few of my personal favorites and some other highly rated products below.
Some low-carb cereals to buy online are: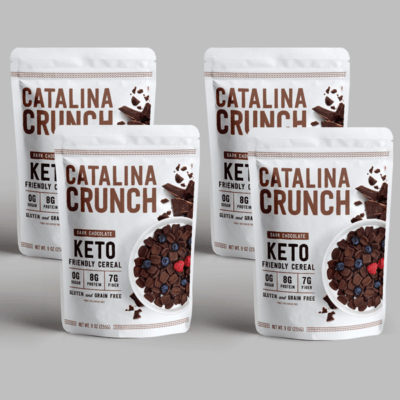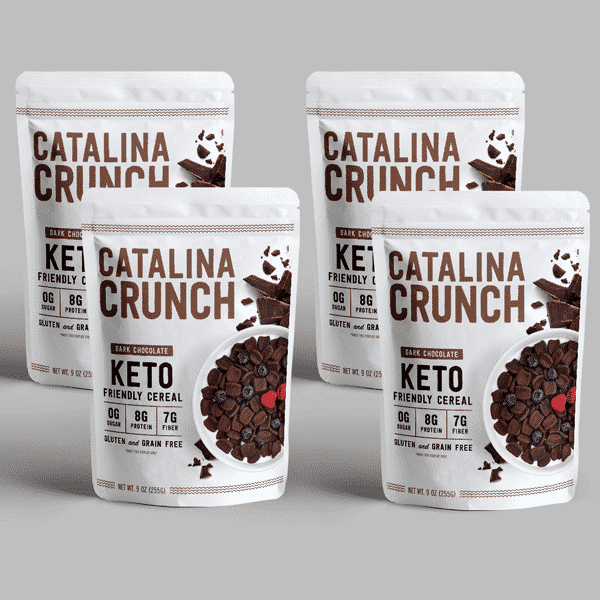 This brand also comes in other flavors like Cinnamon Toast, Honey Graham, and Maple Waffle!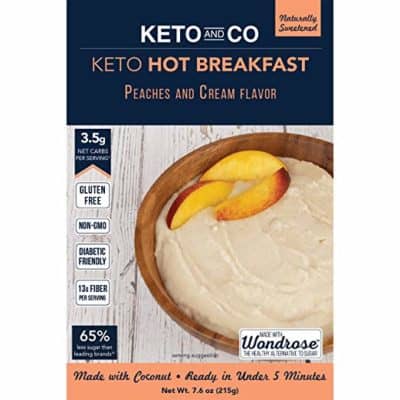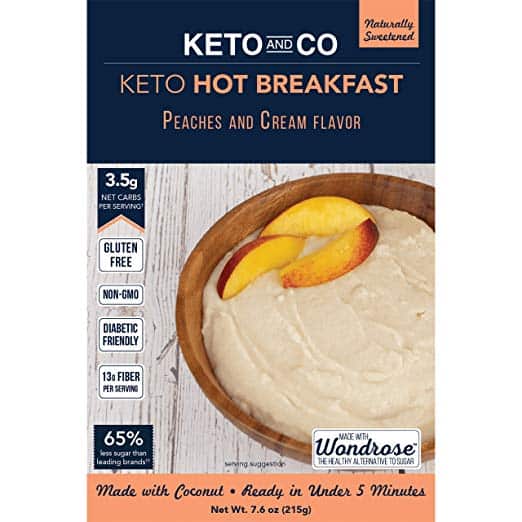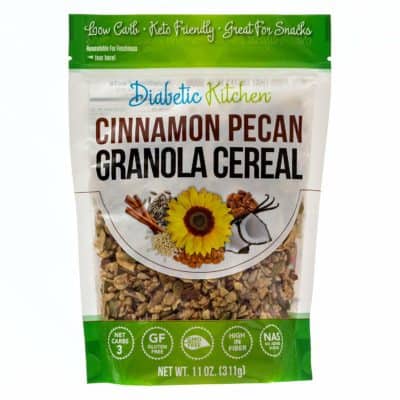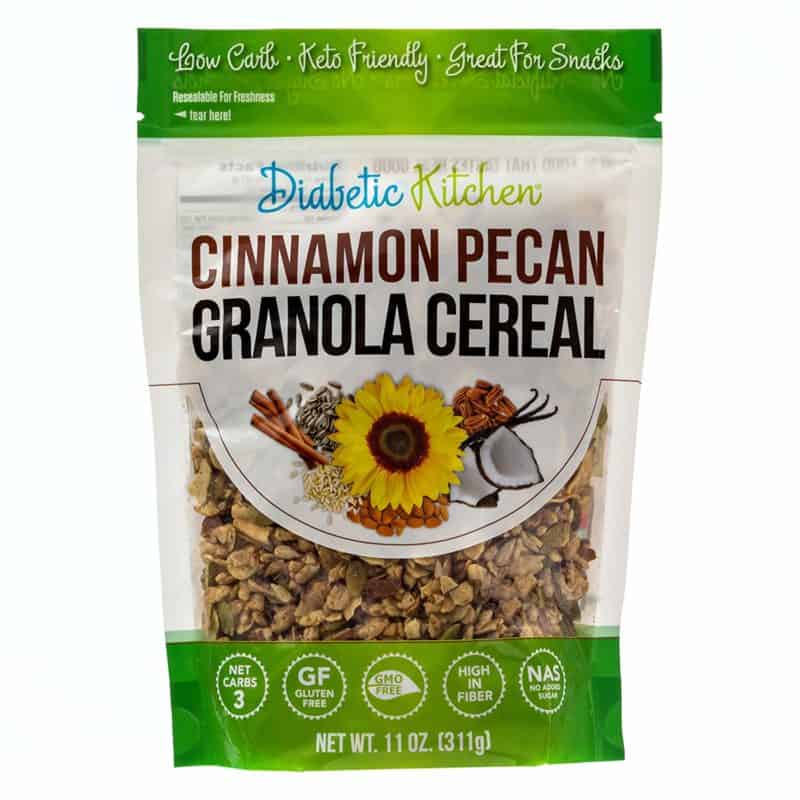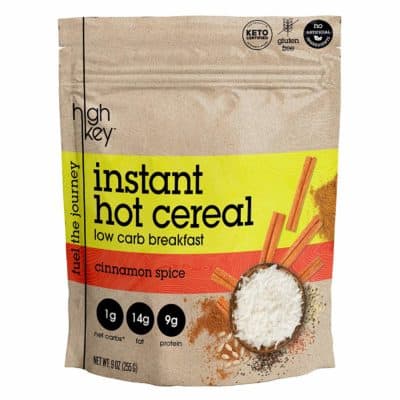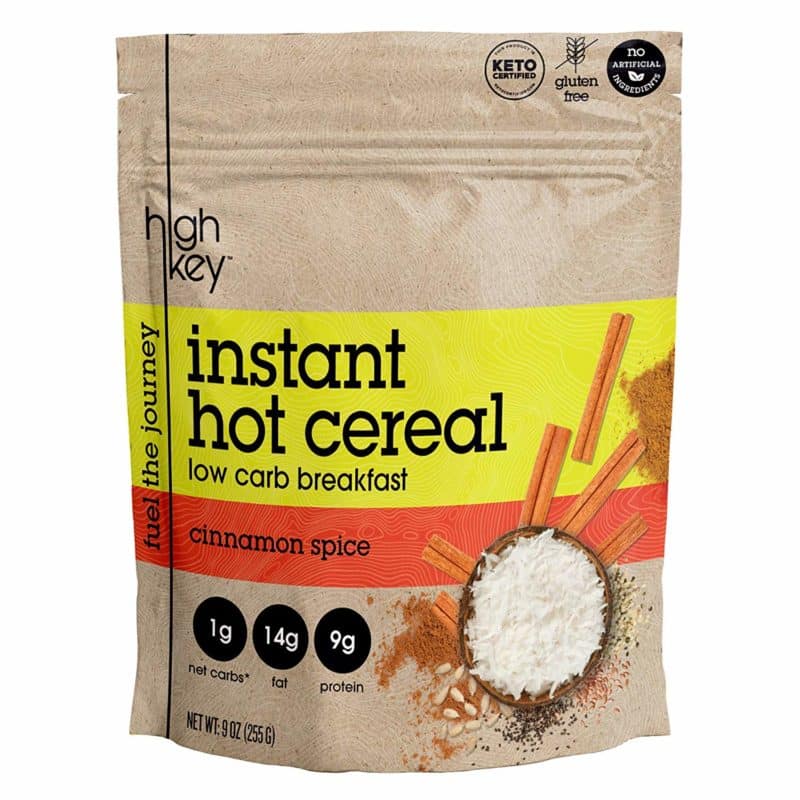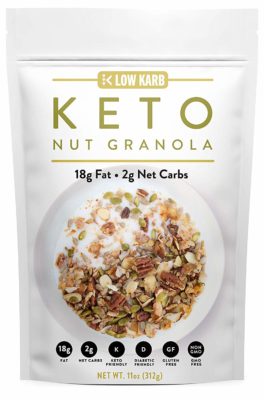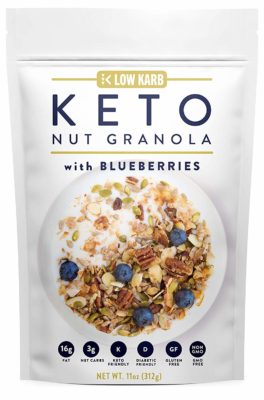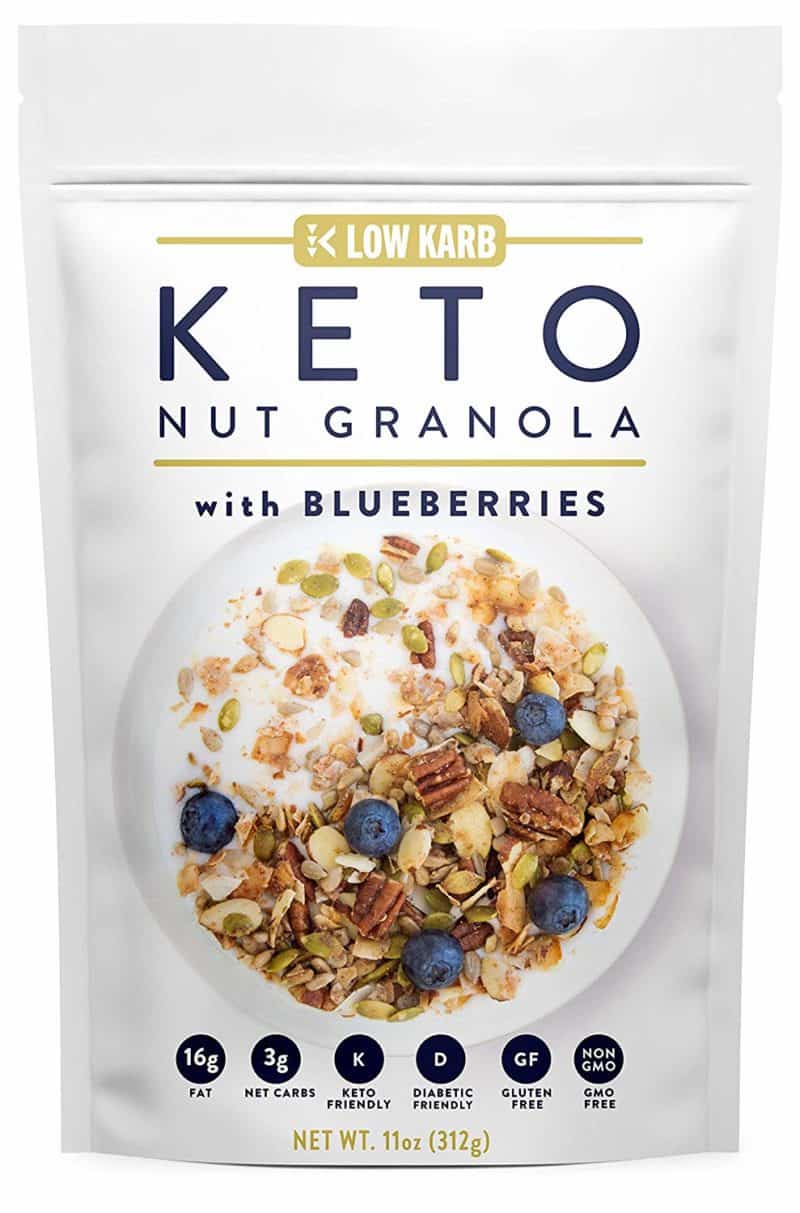 Can You Eat Porridge On a Low Carb Diet?
Typical porridge is loaded with grains so the answer would be no if that's what we're talking about. But, if you go with a keto or paleo-friendly recipe for porridge that doesn't have all those grains, then yes, you absolutely can eat porridge.
All you need is the right recipe and you can enjoy porridge while maintaining your ketogenic lifestyle. Coconut Flour Porridge is a great one to try. It's easy and quick to make, tastes great, and is completely grain-free.
Low-carb Breakfast Cereal Recipes You Can Make
Porridge is one thing, but what other cereals can you eat that will satisfy the cravings without the carbs and grains? There are some really good store-bought flavors that will hit the spot. But, you can certainly make your own too.
Here's a list of some low carb cereal keto recipes that are really tasty and easy to make:
Muesli and Granola
Just in case you aren't familiar with these two, I'm just going to touch on what they actually are. Both can be good options for keto-friendly low-carb cereal choices. They're also fairly easy to find at the store, and super easy to make yourself.
Muesli – This is a crunchy, sugar-free mixture of seeds, nuts, and dried fruits. All of the ingredients in it are whole foods, and then there may be some spices, coconut, or other ingredients that might sweeten the pot a little bit. You can mix up a large batch of it, so you have it around when you want it. Then just pour some unsweetened almond milk over it and you're golden. You should know that while traditional muesli includes options like rolled oats, some labeled as low-carb or keto-friendly will likely omit them completely to cut carbs and grains.
Granola – Granola has some of the same ingredients as muesli but is usually baked. Then it can be stirred to give it more of a cereal texture.
You Can Have Your Cereal Back
Now you know, you can have your cereal back and feel good about it. Just be careful about reading labels if you're getting store-bought low carb cereal. Your other option is to make it yourself. Either way, you can have a delicious keto breakfast that fits into your lifestyle.