This post may contain affiliate links to products I use and highly recommend. You can read my full disclosure .
Real Good Pizza Co.'s line of products includes keto-friendly options whenever you're having a busy week and it may seem nearly impossible to find something good to make for breakfast, lunch or even dinner. These products offer a wide range of flavors and selections to suit any person's needs. For me, being able to heat up a breakfast sandwich that's better for you while living a busy lifestyle makes Real Good Foods one of my favorite grab and go brands. Today, I'm reviewing their line of products and helping you to answer questions about whether these convenience products are actually good for those following a keto or low carb diet.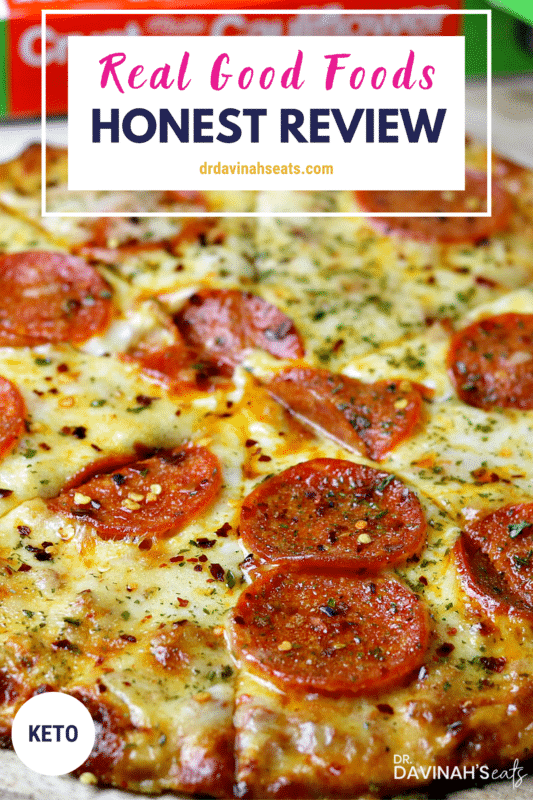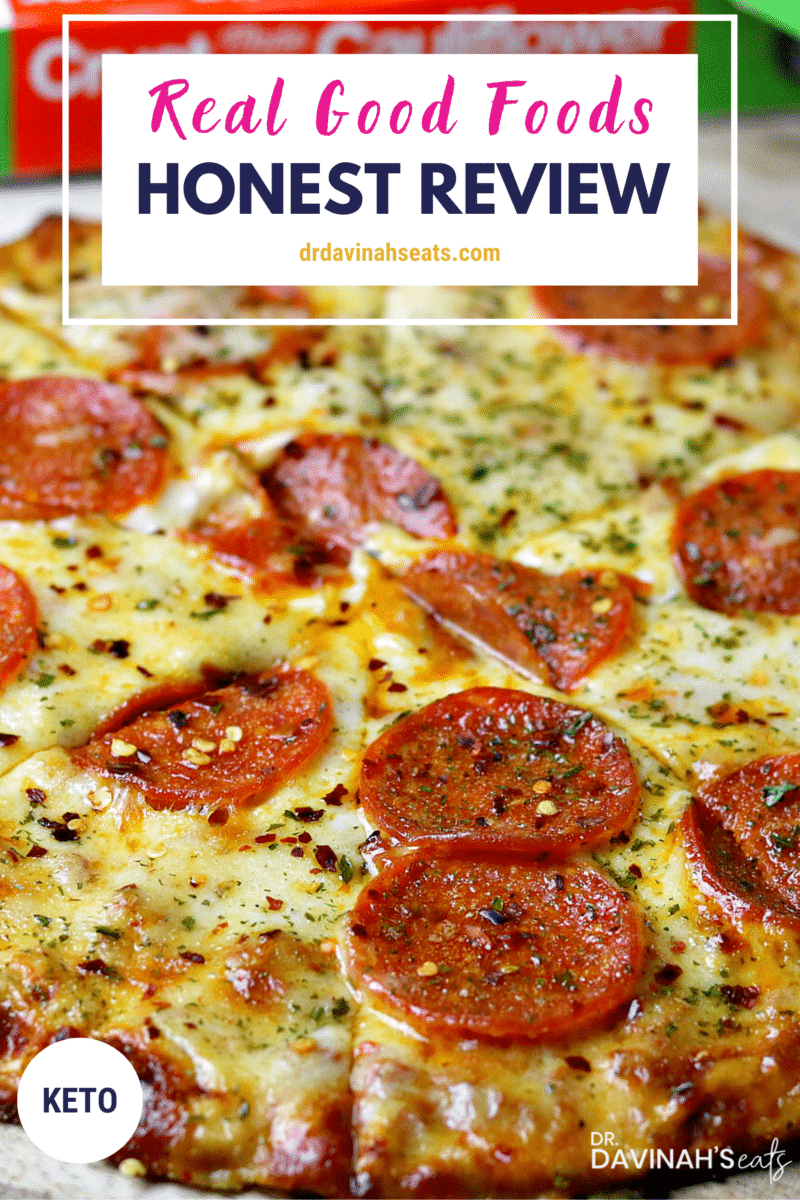 Why share a Real Good Pizza review post?
I shared this post over a year ago when Real Good Pizza had just two products. Now that they've updated their product line, I decided to update this post to include new information.
Here, you'll find some highlights about their chicken crust pizza, cauliflower crust pizza, pizza poppers, and breakfast sandwiches.
In my next update, I'll include my thoughts on their stuffed chicken breasts and enchiladas.
Where can you buy Real Good Foods products?
With over 10,000 retail stores and an online shop, you can easily buy Real Good Pizza at a store near you.
I use the store locator on Real Good Pizza's website to find the closest store. You can also buy their product online in bulk to stock up.
Are these keto-friendly?
I enjoy these products as part of my keto lifestyle for a few reasons.
All of these products are low in carbs and free of added sugar

For the crust, they use actual cauliflower or all natural chicken breast instead of processed flours or starches

You won't find any ingredients in any of their options that you can't pronounce, nor will you find preservatives
All of the options are high in protein and low in carbs
As I mentioned in my keto for dummies post, keto is about ketosis, a metabolic state. So, to determine whether something is truly keto for you, you should measure and track how your body reacts.
I will say though that the four facts that I listed above make this a keto-friendly option for me.
Chicken Crust Pizza
Quick Summary
With the flavorful options of plain cheese, pepperoni or supreme chicken crust pizza, Real Good Foods knows how to add options that suit everyone's taste buds. This low-carb, high protein treat offers you a chance to get 25 grams of protein per 5" personal pan pizza. These are perfect for busy weeknights or when you need a quick meal without the fuss.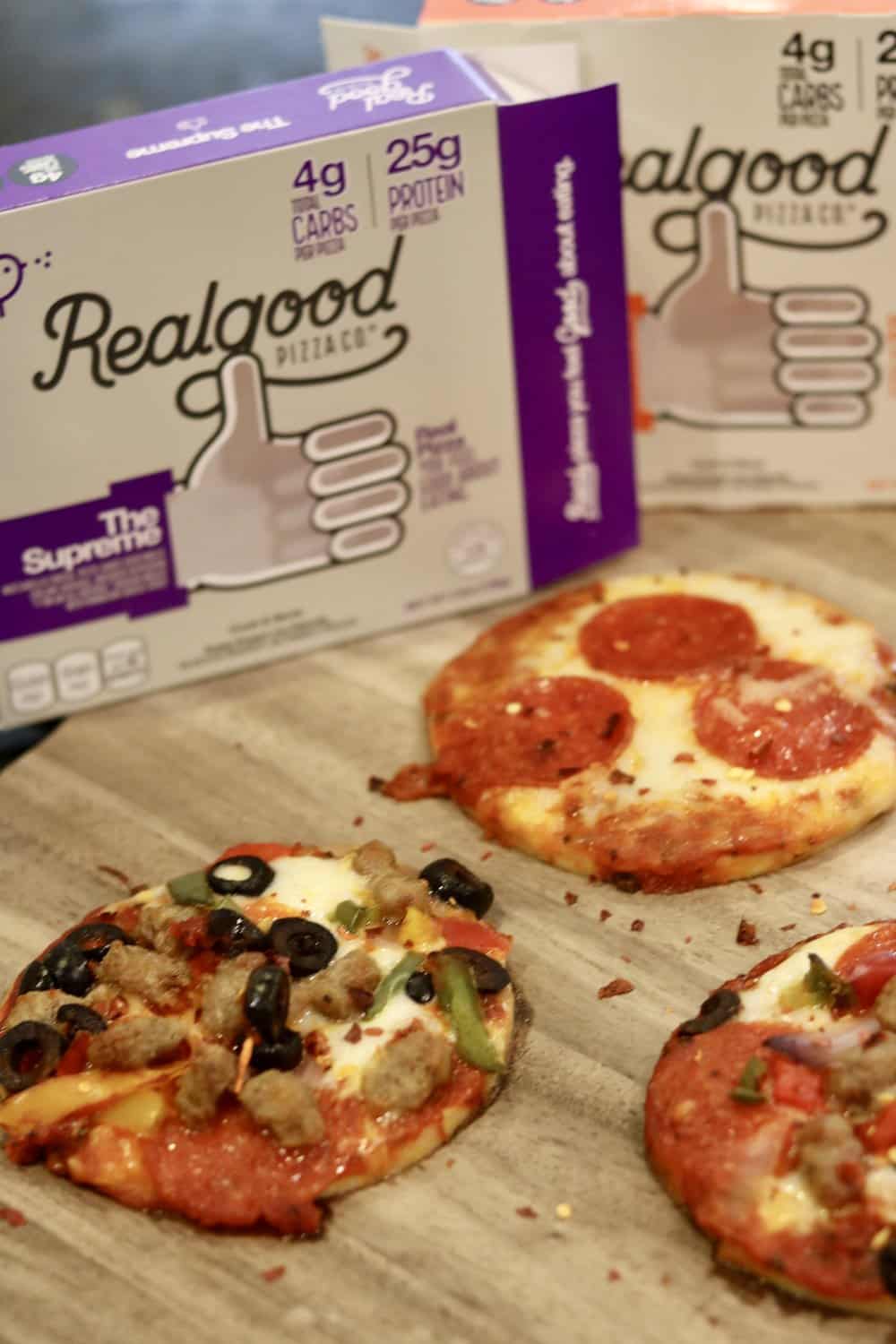 First Impressions
When I received my shipment of these pizzas, I'll admit I was a tad disappointed.
Looking at the size of these (5" personal pizzas), I thought, "oh, that's how they're able to keep these low carb." My feeling was that it was easy to be low carb when there was hardly a meal there!
In fact, I made 3 for me and my husband to try. Approximately halfway through my pizza, I realized that these were tiny, but super filling.
After reviewing the ingredients closely, I attribute this to their chicken and parmesan crust (sounds kind of weird. I know, but I promise it's delicious)!
In terms of the toppings and flavors, their name is a good indicator of what you might expect. Everything is real food. For example, they have top quality meats and veggies that hold up through freezing and cooking.
The pizzas are also really good. I only needed to add hot pepper seeds, which is quite shocking since most packaged products are really low on seasoning.
How Did I Make the Pizza
I cooked these pizzas for 25 minutes at 425 degrees and the sausages and pepperonis were juicy and the vegetables were tender.
There are directions for the microwave, but I haven't tried them.
When & How Do I Use These
Overall, I'll keep these stocked in the freezer for nights like tonight when we need an easy meal or want something that seems like a "cheat" but is without the guilt.
Each Supreme pizza is 240 calories, 14g F, 4g C, and 25g P; and each Pepperoni pizza is 250 calories, 15g F, 4g C, and 25g P.
Cauliflower Crust Pizza
Quick Summary
Cauliflower as a crust is a popular replacement for your regular breaded pizza options as it offers you a chance to dip your teeth into a tasty personal pan pizza without the added crabs.
With 7" and 10" pizza options, these personal pan pizzas come in 6 different options. Moreover, with 2 net grams of carbs and 19 grams of protein per serving, and a grain-free crust, your belly will be happy when you bite into one of these cauliflower crust pizzas for lunch or dinner.
First Impressions
I'll start this by saying that there were two releases of this product. The first one was a bit, "meh". It was a bit light on the seasoning and the crust needed to be burnt in order to become crispy.
Fortunately, the brand accepted the feedback from their customers and got us to what you see below. Their new version of their cauliflower crust pizza has a crispy crust and the toppings and seasonings are just as delicious as they are on the traditional chicken crust pizza.

Pizza Poppers
Quick Summary
There are four pizza popper options that are perfect for people who like spicy and not so spicy foods. All of the poppers have 22 grams of protein and 2 grams of carbs per serving. The awesome feature about these poppers is that you can make them in the air fryer. They're perfect if you want an appetizer when entertaining guests or a low carb option for things like pizza rolls.
First Impressions
I was super excited to try these when they first came out. The idea that I'd be able to swap one of my favorite childhood snacks was super appealing.
This was the first product that I didn't enjoy from Real Good Foods. Even though the idea of a low carb pizza roll sounds good. In my brain, I just can't get past the chicken crust on this one.
Also, unlike their original pizza, my niece (6 years old) wasn't a fan either. She's not a picky eater so if you have a picky eater in your house, just keep that in mind.
I'd recommend buying just one box to see if your kiddo and you like them before filling up your freezer.
Breakfast Sandwiches
Quick Summary
Being able to have a low carb, high protein breakfast on the go really makes the start of my day better. That's why I love the breakfast sandwiches from Real Good Pizza. Their sausage or bacon breakfast sandwich has a cauliflower cheesy bread instead of what is usually an English Muffin. They also have 16 grams of protein and 2 grams net carbs per serving.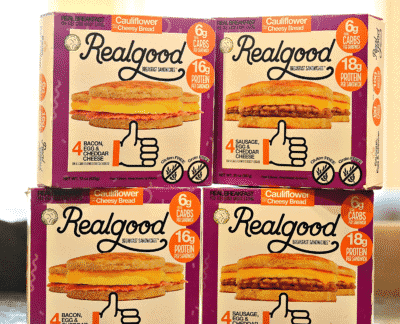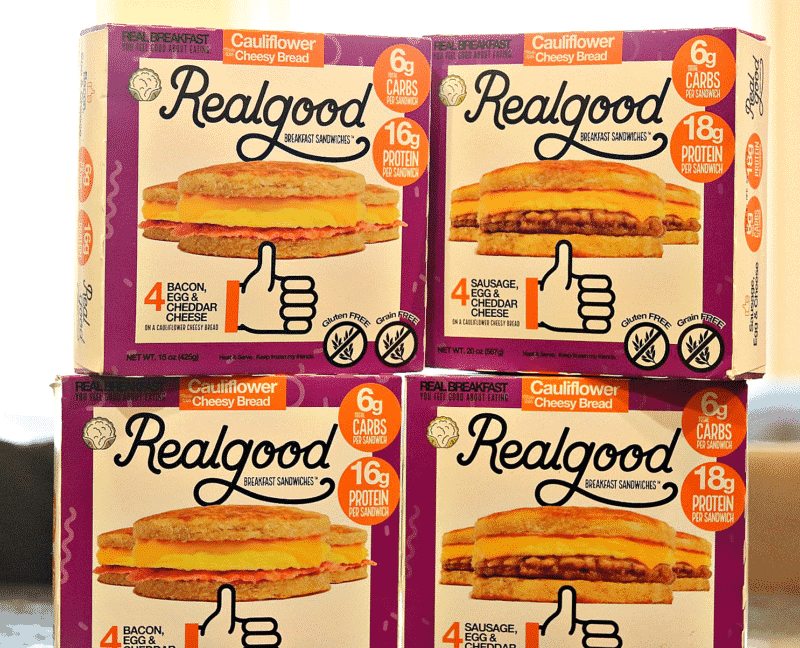 First Impressions
This was the first product that I actually made in the microwave. I followed the directions and separated the sandwich into parts to heat it evenly.
The sandwiches were cheesy and surprisingly good.
While I don't eat breakfast most days, these are a good option when you're on the go or just want breakfast. My favorite of the two options is bacon.