This post was sponsored by Torani – a family-owned flavor company. I only work with brands whose products and services I use and love! Thank you in advance for supporting the brands that keep Dr. Davinah's Eats running! #AGuiltFreeHoliday #Torani
A copycat Keto Dirty Chai Tea Latte drink recipe using Torani Sugar Free Syrups. Includes four variations: Chai, Dirty Chai, Iced Chai, & Chai Tea Cocktail.
This post may contain affiliate links to products I use and highly recommend. You can read my full disclosure .
This Easy Keto Dirty Chai Tea Latte recipe is one of my favorite winter & holiday drinks. It's a copycat to the Dirty Chai Latte drinks that you can pick up at national coffee chains, minus the sugar and carbs.
In this post, I share how to make copycat chai tea latte at home using Torani Sugar Free Syrup. I also share four sugar-free variations to this drink: chai tea latte, iced chai, dirty chai, and chai tea latte cocktail. This recipe is perfect for those who want to have a guilt-free holiday!
What is a Dirty Chai Latte Drink?
A Dirty Chai is a mixed drink that includes espresso or strong brewed coffee, chai tea concentrate, and milk. The chai tea has warm fragrant spices like cinnamon and nutmeg. And, when combined with the milk, it tastes almost like a fall and winter pie mixed into sweet milk.
Problems with Typical Chai Tea Latte recipes:
Chai Tea Concentrate is Packed with Sugar
When you pick up a Chai Latte at most coffee shops, it includes something called Chai Tea Concentrate. This concentrate is pre-sweetened with sugar and honey. It also has a whopping 44g carbs, including 42g of sugar when ordered with skim milk.
Since there's no way that I and most keto or low-carb folks are willing to drink that much sugar, I decided to make this Holiday drink guilt-free with Torani Sugar-free Sweetener. With Torani, I was able to make this drink with only 1g carbs.

What is Chai Tea Mix? And, who has time to make it?
Beyond the sweetener, most recipes to make chai lattes at home call for making your own chai tea mix. This includes gathering up:
Ground Ginger
Ground Cinnamon
Allspice
Ground Cloves
Ground Cardamom
Nutmeg
Black Pepper
After gathering those spices and grinding them, you add some of the mix into a cup filled with black tea, milk, and sweeteners.
While I certainly love the idea of making everything from scratch, there are quicker, sugar-free options.
In this recipe, I'm using pre-made Chai Tea bags. These have all of the spices above and can be carried easily when on the go or at work.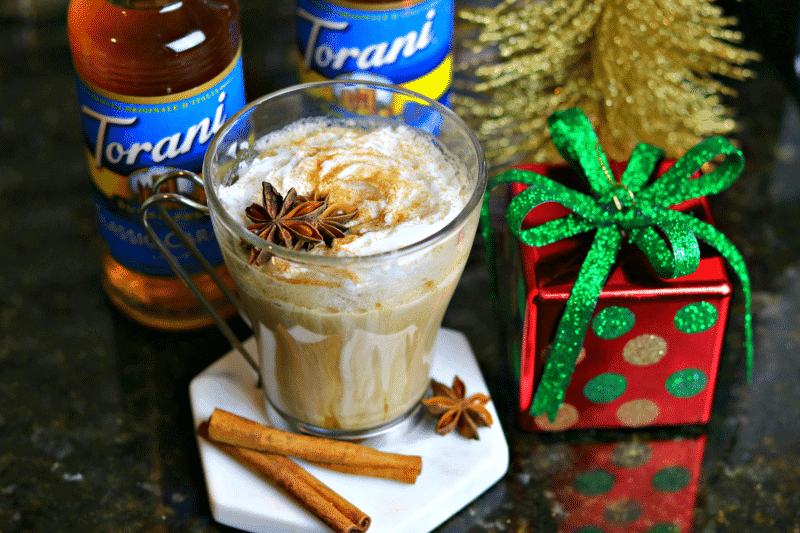 Ingredients in this Keto Dirty Chai Latte Recipe:
Similar to my Pumpkin Spice Latte & Bulletproof Matcha Latte recipes, you'll notice that this drink has just a few ingredients. Specifically, it includes:
Espresso
Espresso is dark roasted, concentrated coffee. It has a special brewing method that I won't go into here. And it typically served with steamed milk.
In this recipe, I'm using ground coffee that I picked up at the store that is labeled as an "espresso blend".
If you can't find "espresso roast" at your local store, you can simply substitute it with any dark roast coffee that you can find or prefer.
Vanilla Chai Tea
Chai Tea Lattes include black tea. I picked up Chai Tea flavored tea bags to use in this recipe.
These save time because they have all of the spices in chai tea mix and black tea in one ready-to-steep package.

Heavy Cream (or a Dairy-free Substitute)
You can use heavy cream, milk or dairy-free milk that you prefer in this recipe. To keep the carbs low in this drink, I recommend heavy cream or coconut cream.
Torani Sugar Free Syrup
To ensure that this drink is low-carb and guilt-free, I used Torani Syrups. You can find Torani at a Walmart near you in the coffee & tea aisle.
In this recipe, I'm using Torani Sugar Free Hazelnut Syrup. But, I've also had success making this drink with their Sugar Free Caramel.
How to Make a Keto Dirty Chai Tea Latte:
In this post, I'm making Chai Tea Lattes four ways. Most of these recipes contain similar steps. So, I'll use the space below to highlight some of the differences.
Keto Chai Latte
Every tea latte requires you to start by steeping your tea. After steeping, you can mix it with your sweetener, milk, and any other ingredients.
Hot Dirty Chai Latte
To make a regular Chai a dirty one, you'd simply add brewed coffee to the mixture.
Keto Iced Dirty Chai Latte
While you can certainly enjoy this drink hot, I prefer to let my coffee & tea mixture cool before mixing it up with some ice, milk, and sweetener.
Dirty Chai Cocktail
This mixture takes the iced version of the drink to the next level. You add one shot (1 oz or 2 tbsp) of whiskey or bourbon to the drink before serving.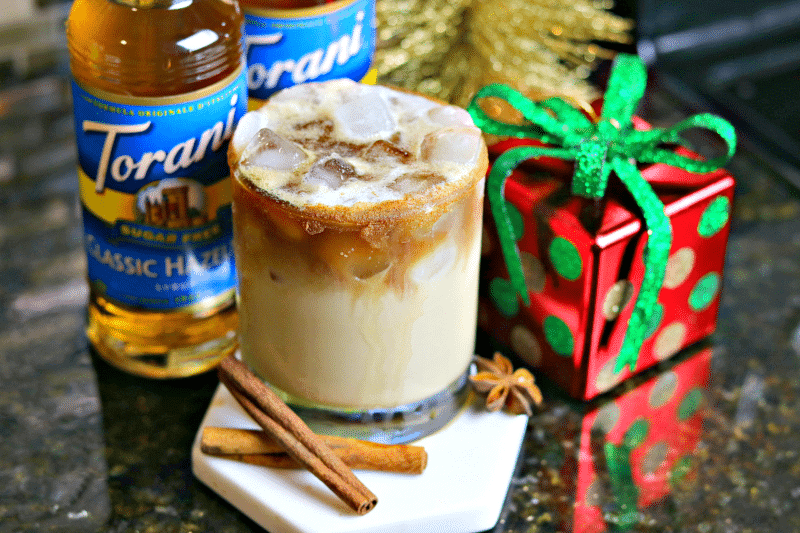 Other Keto Latte & Sugar Free Drink Recipes:
If you enjoy Chai Tea, then you'll also love my Pumpkin Spice Latte. Chai and Pumpkin Pie Spice have many of the same ingredients.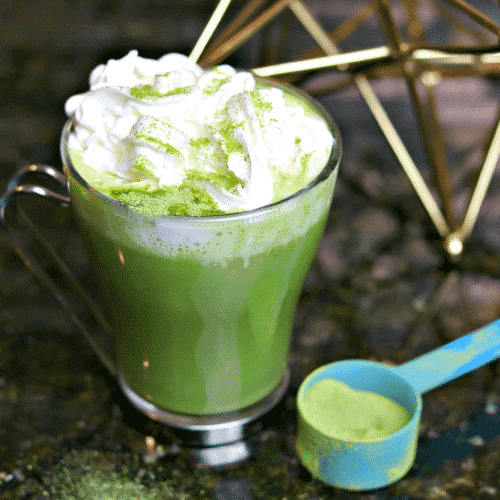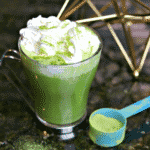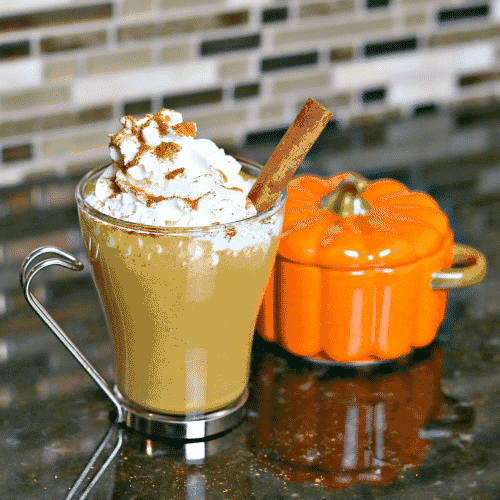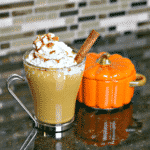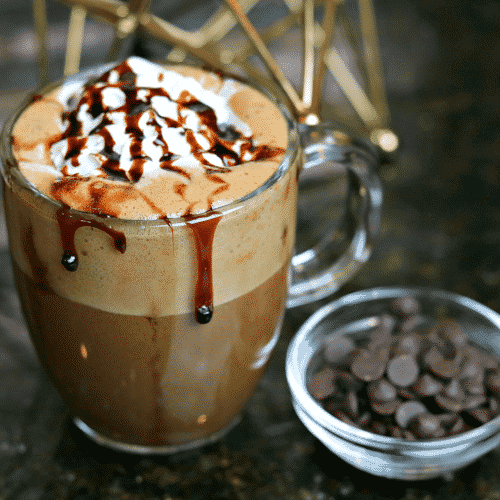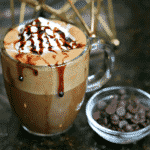 Other Guilt-free Holiday recipes:
If you're looking to cut carbs for the holiday season, then you'll love the recipes that I've gathered in my Low-Carb Thanksgiving and Keto Christmas posts. They include recipe ideas for your entire holiday meal (appetizers, main dishes, sides, drinks and desserts).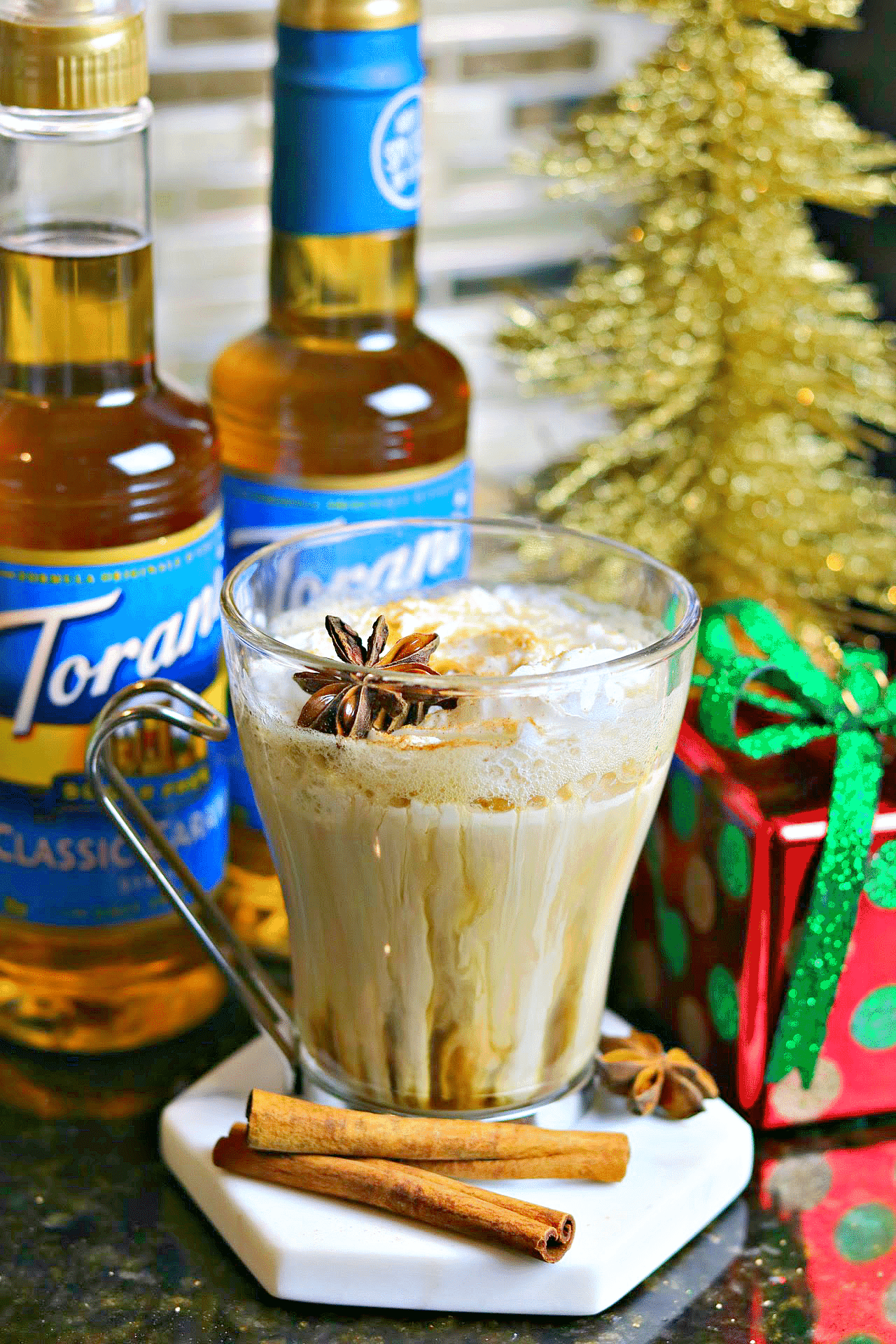 A copycat Keto Dirty Chai Tea Latte drink recipe using Torani Sugar Free Syrups. Includes four variations: Chai, Dirty Chai, Iced Chai, & Chai Tea Cocktail.
Want to share this recipe?
To spread the word about this recipe, please save it to Pinterest, share a link to it, or rate it if you loved it. Please do not copy & paste (or screenshot) my recipes to social media or other websites.
Ingredients
1/2

cup

Chai Black Tea

hot or cold

1/4

cup

Espresso

hot or cold, or dark roast coffee

2

tbsp

Heavy Cream

or Coconut Cream

2

tbsp

Bourbon

optional
Instructions
Add all of the ingredients to a cup and use a frother to blend for 30 seconds.

Top with Cinnamon, Star Anise, and/or Whipped Cream (Regular or Coconut Whipped Cream)
Recipe Nutrition Facts
Nutrition Facts
Keto Dirty Chai Tea Latte Recipe
Amount Per Serving
Calories 170
Calories from Fat 108
% Daily Value*
Fat 12g18%
Cholesterol 40mg13%
Sodium 11mg0%
Carbohydrates 1g0%
Protein 1g2%
* Percent Daily Values are based on a 2000 calorie diet.
Recipe Notes
Make this recipe for a Crowd!
This recipe includes one serving. You can adjust this recipe to make for a crowd by adjusting the serving size in the recipe card above. It will automatically adjust the ingredient amounts. 
Did you make this recipe?
Share your photos & mention @DrDavinahS! I love seeing them!
Nutritional Disclaimer
The nutritional information comes from Spoonacular API, a database of food ingredients. The nutritional information for any recipe will vary based on the exact product you use and the brand. I do not include erythritol or sugar alcohols in the final carb or net carb count as it does not have any impact on my blood glucose levels. Before starting keto or a low-carb eating plan, you should consult your doctor. I am sharing my personal experiences and none of the information included in my recipes or throughout the site should be taken as medical advice.