This post may contain affiliate links to products I use and highly recommend. You can read my full disclosure .
Get more than 40 Keto Christmas Dinner Recipes using this collection. You'll find Keto Christmas desserts, appetizers, main dishes and cocktail recipes. It's perfect for those who need inspiration for their healthy Christmas dinner menu. Plus, if you're not following keto, you can use this to provide options for your keto dinner guests.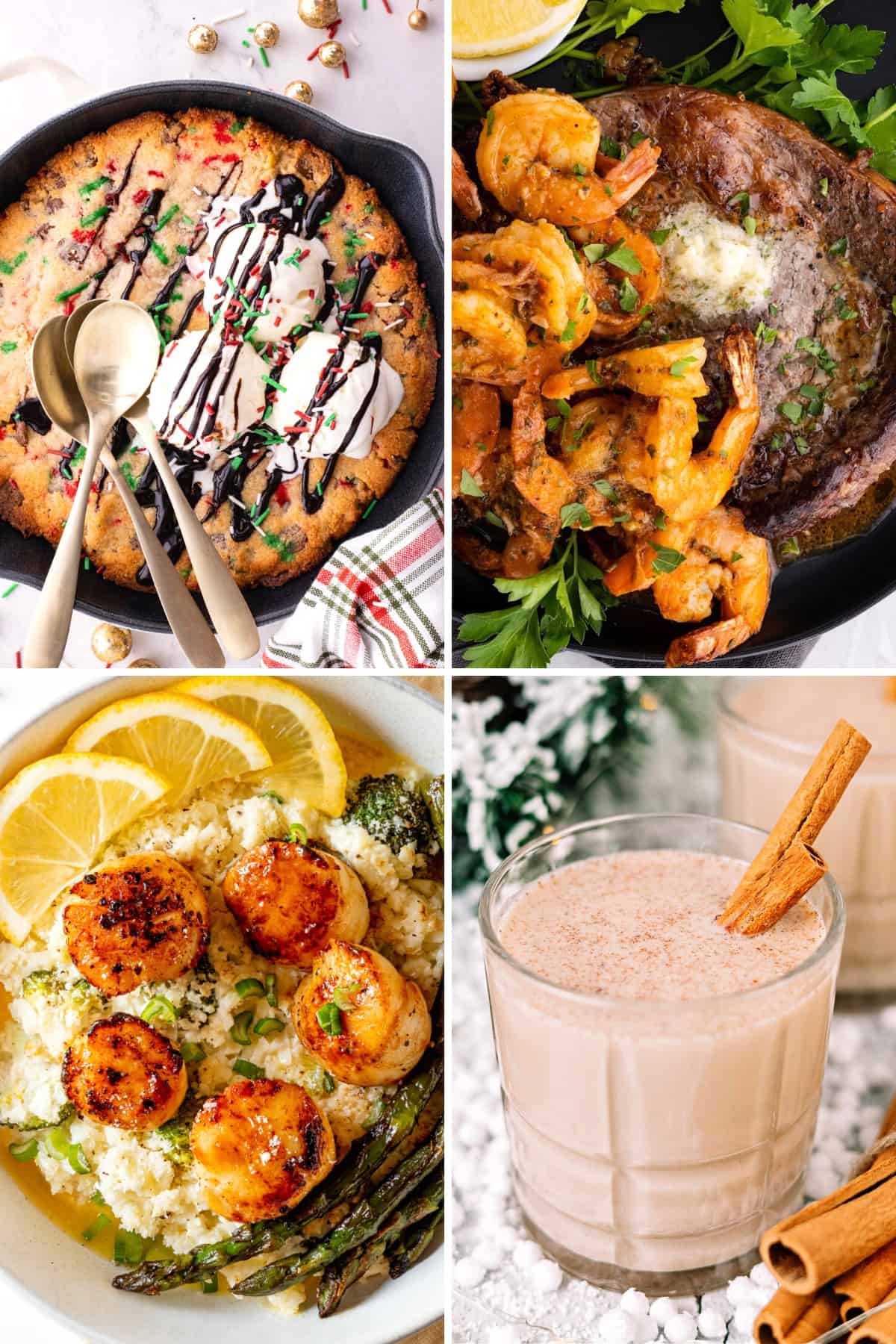 Why share a Keto Christmas Dinner recipes post?
Christmas is often celebrated multiple times with various friends and family members. By having a range of options, you're not stuck in a boring meal rotation.
Besides that, it can be hard to find a collection with everything from appetizers to keto Christmas desserts. So, you can pick and choose from across the five recipe categories to build and plan the Ultimate Keto Christmas Dinner menu.
Quick Tips for Hosting a Low Carb Christmas Dinner
Make sure each guest has at least 2-3 options so your planned menu has room for any food allergies or restrictions
Add some fresh veggies & fruit so that anyone might round out their plate
Offer containers to guests to take home leftovers: no need to eat leftover Keto Christmas cookies or treats for weeks. I mostly use this tip for Thanksgiving Dinner, but it's helpful for Christmas too
Keto Christmas Dinner Main Dish Ideas
Low Carb Christmas Dinner Appetizers
Are you looking for low-carb Christmas recipes for appetizers? Below are tried, tested, and approved dish ideas to kick off the party in style.
Keto Christmas Salad and Side Dishes
Are you looking for holiday-worthy salads and sides ideas without all the extra carbs? The following keto Christmas recipes are full of flavor.
Easy Keto Christmas Desserts
These easy keto Christmas recipes for dessert prove that you can make and actually enjoy sweet sugar-free desserts.
Low-Carb Christmas Drink Recipes
Christmas is a time for everyone to enjoy. Refresh your family with these low-carb Christmas recipes, from hot chocolate to apple cider margaritas.