My Keto Jambalaya Recipe with Cauliflower Rice offers a great, Keto-friendly way to enjoy traditional Jambalaya without the added carbs.
This post may contain affiliate links to products I use and highly recommend. You can read my full disclosure .
My Low Carb & Keto Jambalaya recipe with Cauliflower Rice offers a great, Keto-friendly way to enjoy traditional Jambalaya without the added carbs. If you thought trying the Keto diet meant giving up Jambalaya, give my recipe a try! In this post, I tell you what this dish is and how to make it. I also share how easy it is to adjust this traditional, Southern dish for people who are following the keto, paleo and low carb lifestyles.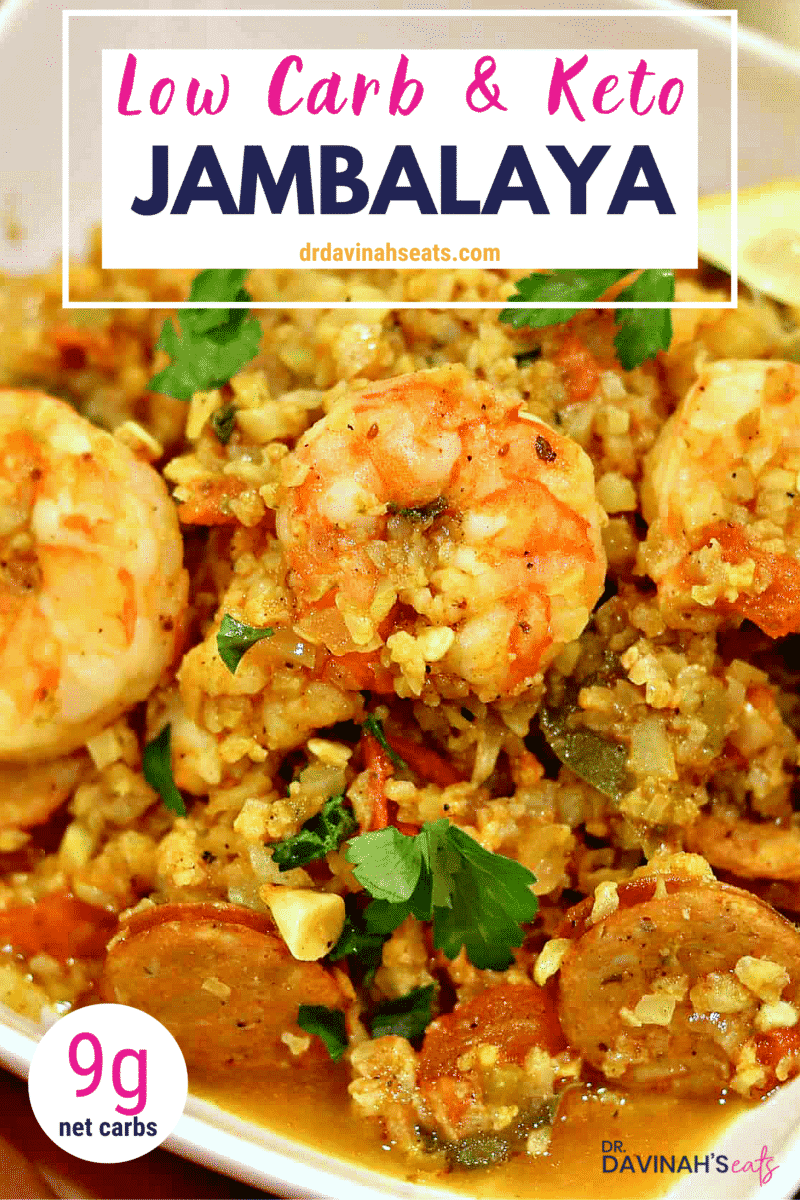 What is Jambalaya?
Jambalaya is a popular dish originating in New Orleans. Though there are many variations on what meats are in jambalaya, my recipe calls for the use of smokey chicken andouille sausages and shrimp. Other popular choices include chicken, crawfish, oysters, and duck.
Traditional jambalaya comes in two main forms: creole and cajun. Though they are similar, the two styles are slightly different.
Creole vs. Cajun Jambalaya
Creole jambalaya uses tomatoes as part of the recipe. You first cook the meat of choice, onions, peppers, and celery. Then you add stock, tomatoes, and rice to the pot, bring it all to a boil, and then let it simmer. The result is a red hued jambalaya because the tomatoes break down in the sauce.
Cajun jambalaya is similar, but it doesn't call for tomatoes. Instead, you cook the meat of choice first. Once it is brown, then you would add the onions, peppers, and celery. Once the vegetables are cooked, the stock and rice are added. The result is a slightly smokier, brown hued jambalaya.
My Keto version is closer to Creole Jambalaya
My keto jambalaya is similar to creole jambalaya because I add tomatoes into the mix. But, unlike traditional jambalaya, I make my jambalaya keto-friendly.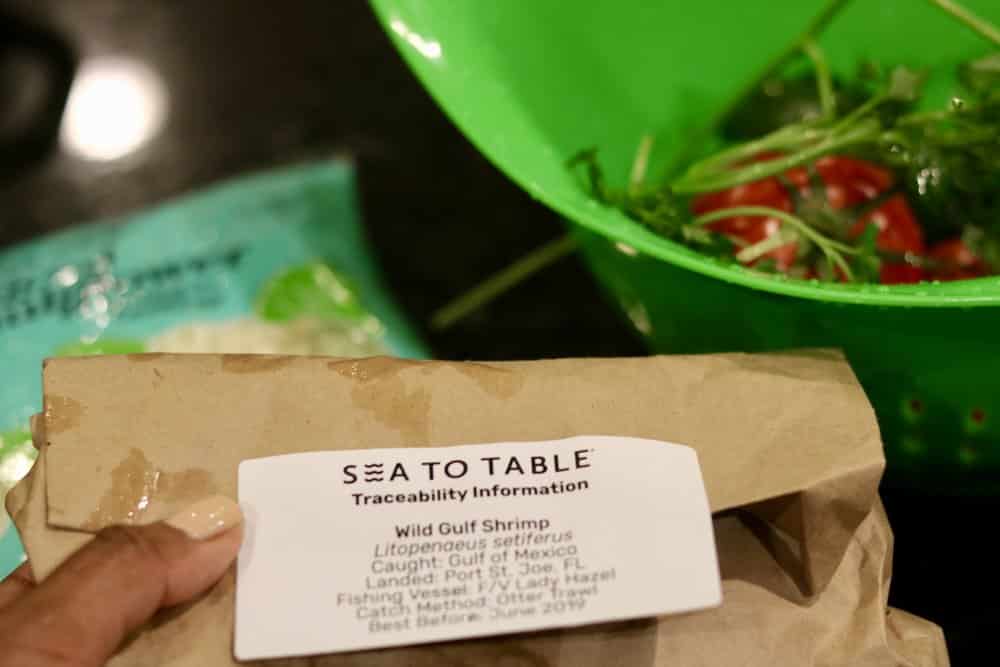 Problems Keto Jambalaya with Cauliflower Rice Solves
Traditional jambalaya is loaded with carbs. It needs rice as a filler that binds the meat and vegetables together. You can't dig into a bowl of spicy jambalaya with rice and stay in ketosis.
Until now.
Keto jambalaya with cauliflower solves the issue of adding rice. My recipe does not need rice at all, and it still tastes amazing with its bold flavors and savory, spicy broth.
How do you make Jambalaya keto-friendly?
Traditional jambalaya recipes rely heavily on rice. It is the base of the jambalaya. This not only adds extra calories, but so many extra carbs.
To fix this, my keto jambalaya uses cauliflower rice as an alternative to white or brown rice used in traditional recipes. Don't know how to make cauliflower rice? At most major grocery stores, you should be able to find prepared bags of cauliflower rice ready to go.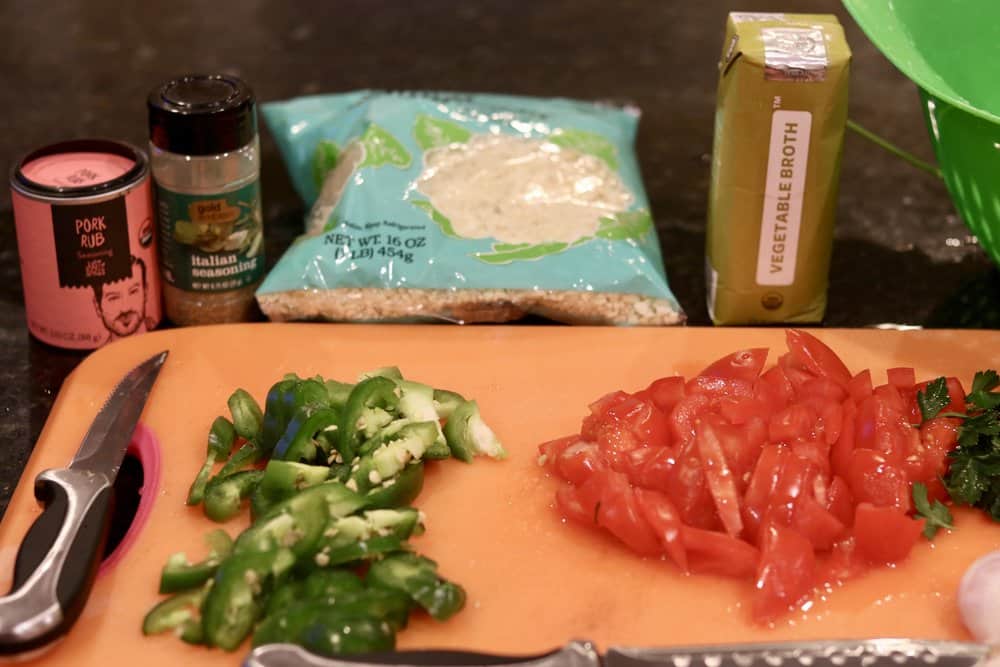 This recipe has MCT Oil. Why?
MCT oil is a combination of the two fatty acids extracted from palm and coconut oil. It's name stands for medium-chain triglycerides, but you may also see it sold as MCFAs or medium-chain fatty acids. MCT oil is an excellent energy source because the body does not require enzymes to absorb the oil.
If you are on the keto diet, I definitely recommend trying MCT oil. Some possible benefits of MTC oil according to Medical News Today include:
added energy

supports ketosis

helps with weight loss

Lower blood sugar
Another added benefit to cooking with MCT oil is that it is virtually odor and tasteless. You can add it to just about anything and not notice it is there, but you will still get the benefits of using the oil. In recipes that call for oil, I often use MCT oil as a substitute.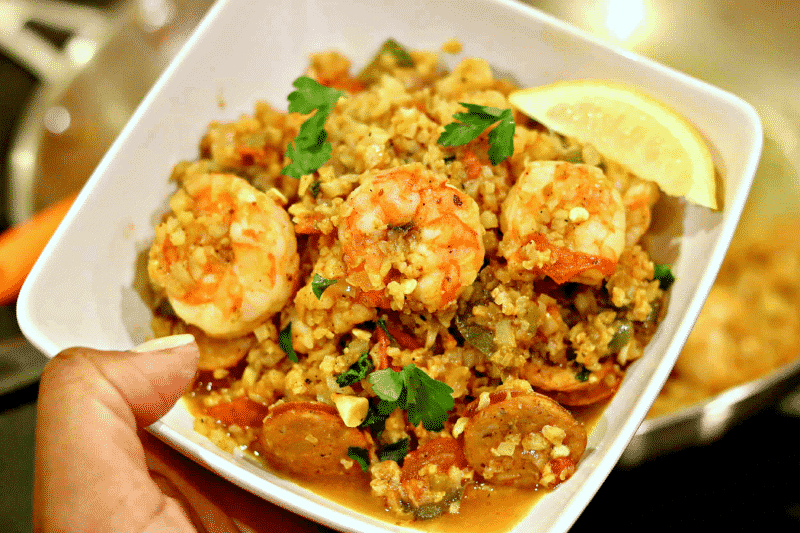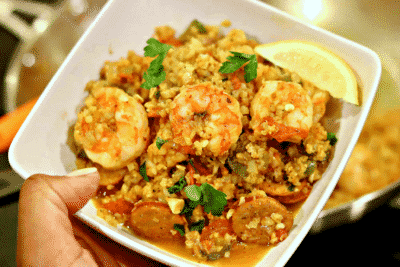 Don't have MCT Oil? Here's some substitutes:
If you don't have MCT Oil in your pantry, you can easily substitute equal amounts of:
Butter
Olive Oil
Ghee
Coconut Oil
Making Delicious Low Carb Jambalaya
Making my Keto Jambalaya is pretty easy. Unlike jambalayas that rely on rice to cook through, my jambalaya is done in a short amount of time. And you only need one skillet. I highly recommend the one I use, which you can get here at a discount by following the link and entering the code DRDAVINAHS at checkout.
To make my jambalaya, start by heating the MCT oil in a large skillet to medium-high heat. Once the oil is nice and hot, add the sausage and cook until browned. This usually takes about 4 minutes.
Once the sausage is browned, add the peppers, tomatoes, shallots, celery, and garlic to the skillet and cook until shallots are translucent. This should take about 3 minutes.
Next, add the vegetable stock and all spices. Give it a bit of a stir and then cook for about 5 minutes. As it cooks, the vegetables, stock, and spices will reduce some and make a thin sauce.
Once it has reduced in volume a bit, add the cauliflower rice and cook until tender, which should take about 5 minutes.
Finally, add the shrimp. The shrimp should take about 3 minutes to cook through. They will typically turn red and white and become less translucent. Once the shrimp are done, serve the jambalaya immediately.
You can top with fresh parsley and a squeeze of lemon if you want.
Other Keto Cauliflower Rice Recipes
If you are interested in other recipes that use cauliflower rice, check out some more of my recipes here:
These three dishes are part of more than 40 Low Carb & Keto Cauliflower Recipes that I enjoy.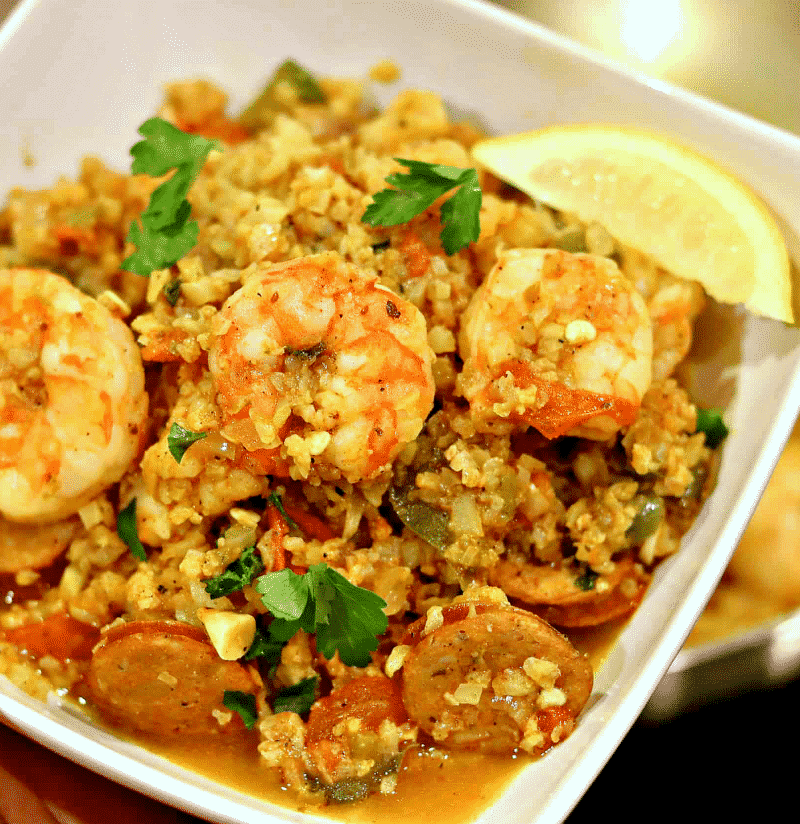 My Keto Jambalaya Recipe with Cauliflower Rice offers a great, Keto-friendly way to enjoy traditional Jambalaya without the added carbs.
Want to share this recipe?
To spread the word about this recipe, please save it to Pinterest, share a link to it, or rate it if you loved it. Please do not copy & paste (or screenshot) my recipes to social media or other websites.
Ingredients
2

tbsp

MCT oil

I get mine here*

2

Chicken andouille sausages

thinly sliced. I get mine from Trader Joes, but you could also get these fresh from the meat section at the market. Just remove the casings before slicing and cooking

2

jalapeños

thinly sliced (you could also use 1/2 of a green pepper, thinly sliced)

2

Tomatoes

Off-the-vine, diced

1

stalk

celery

thinly sliced

1

shallot

diced (You could also use a half of a yellow onion)

4

cloves

garlic

minced

1

cup

vegetable stock

4

tsp

Just Spices

Pork Rub (You can get it here here)

3

tsp

Old Bay seasoning

1

tsp

Garlic Powder

1/2

tsp

Italian Seasoning

16

oz

cauliflower rice

10

oz

Shrimp

3-4

Fresh parsley

optional
Instructions
Heat the MCT Oil in a large skillet to medium-high heat

Add the sausage to the pan and cook until they are browned (~4 minutes)

Add peppers, tomatoes, shallots, celery, and garlic to the sausage and cook until shallots are translucent (~3 minutes)

Add vegetable stock and all spices, then cook for about ~5 minutes. The vegetables, stock and spices will reduce a little and make a thin gravy/sauce

Add cauliflower rice and cook until tender (~5 minutes)

Add shrimp and cook for 3 minutes

Serve immediately. You can top with fresh parsley if you'd like.
Recipe Nutrition Facts
Nutrition Facts
Keto Jambalaya Recipe with Cauliflower Rice
Amount Per Serving
Calories 277
Calories from Fat 126
% Daily Value*
Fat 14g22%
Cholesterol 206mg69%
Sodium 1129mg47%
Potassium 724mg21%
Carbohydrates 13g4%
Protein 24g48%
Vitamin A 864IU17%
Vitamin C 77mg93%
Calcium 162mg16%
Iron 3mg17%
* Percent Daily Values are based on a 2000 calorie diet.
Did you make this recipe?
Share your photos & mention @DrDavinahS! I love seeing them!
Nutritional Disclaimer
The nutritional information comes from Spoonacular API, a database of food ingredients. The nutritional information for any recipe will vary based on the exact product you use and the brand. I do not include erythritol or sugar alcohols in the final carb or net carb count as it does not have any impact on my blood glucose levels. Before starting keto or a low-carb eating plan, you should consult your doctor. I am sharing my personal experiences and none of the information included in my recipes or throughout the site should be taken as medical advice.