This post may contain affiliate links to products I use and highly recommend. You can read my full disclosure .
This air fryer roasted whole chicken is tender, juicy, and so easy to cook. It only takes an hour to make, but it's restaurant quality.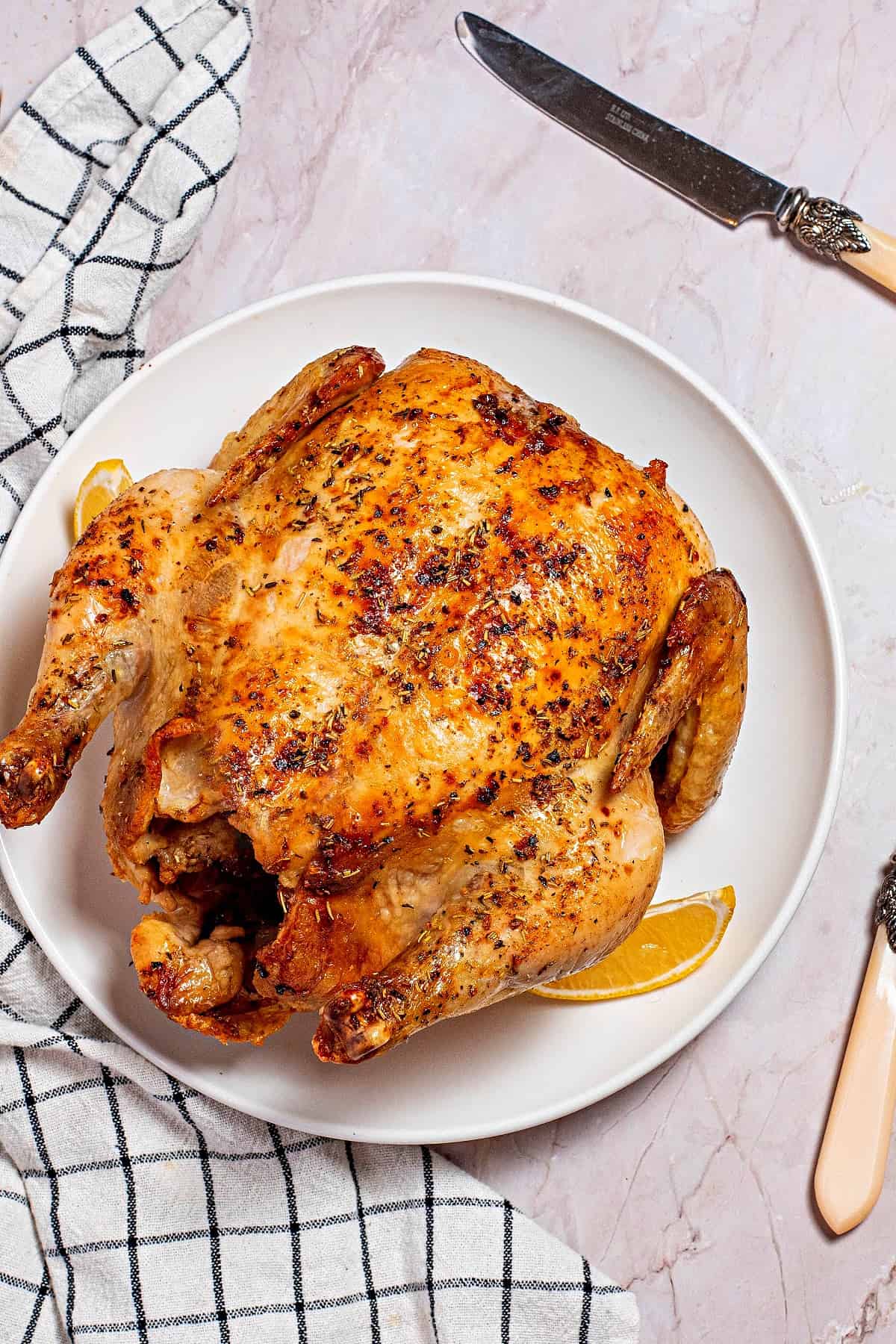 There aren't many foods that are as good as a well made roast chicken. And this air fryer roasted whole chicken might be the best roast chicken I've ever had.
This recipe has everything you could possibly want out of a roast chicken: the meat is moist and tender, the skin is crispy, and the flavors explode in your mouth.
But the best part is that it only uses 4 ingredients, requires barely any work, and only takes an hour to make. It's a perfect meal for any occasion.
I love to serve this air fryer roasted whole chicken as the star of a meal, but it's also a great way to cook up a chicken for other recipes, like sandwiches, tacos, and soups. Whatever you do with it, this is some of the best chicken you'll ever eat.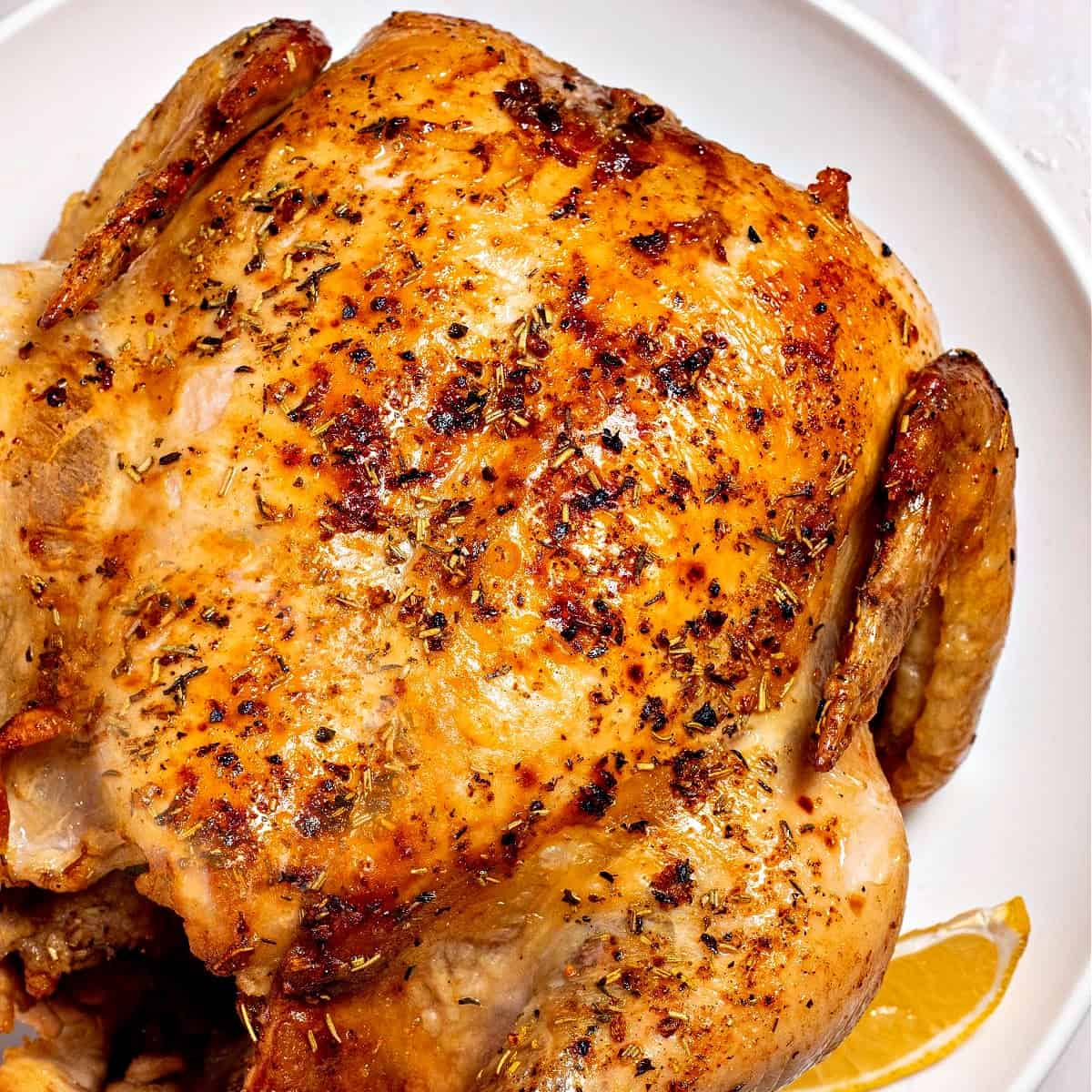 Why Make Air Fryer Roasted Whole Chicken?
This is one of my favorite recipes for a reason, and I'm guessing it will be one of your favorites, too. Here are some of the reasons why.
It only uses 4 ingredients. I know we're all tired of making elaborate grocery runs and tearing apart our spice cabinet just to make a meal, so don't worry: this recipe only has 4 ingredients. What could be more straightforward than that?
It's super cheap. Buying a whole chicken is a great way to save money, as it's almost always a better price than when you buy breasts or thighs separately. If you're looking to save money on protein, I definitely recommend buying whole chickens.
Super easy, and no planning. This recipe really couldn't be any easier. It only takes an hour, and you'll only spend a few minutes in that hour actually working! It also requires no planning. You don't need to make anything in advance, or let anything sit for a long time. If you have the ingredients, then you're good to go.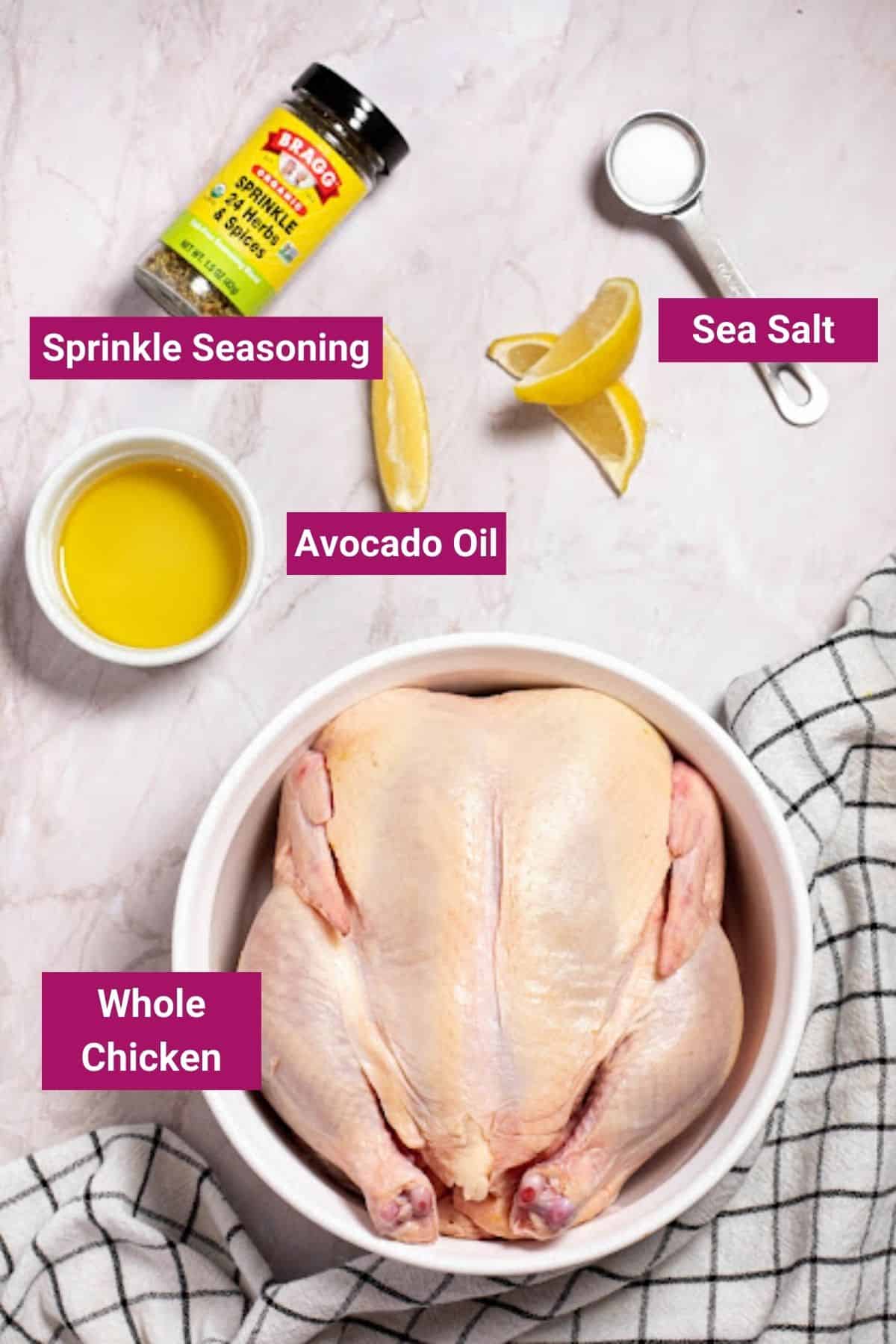 Ingredients Needed
Here are all the ingredients that you need to make this air fryer roasted whole chicken. Make sure to check out the recipe card at the bottom of the page to find the exact amounts for each ingredient.
Whole chicken – Make sure to purchase a chicken that will fit in your air fryer. I like to use young hens.
Sea salt
24 herb sprinkle seasoning – This spice mixture has 24 different herbs and seasonings, such as garlic powder, onion powder, and sage. It's my go-to for this recipe (and many others), but you can also use the spice blend of your preference. Just make sure it's salt-free, or adjust the salt in the recipe.
Avocado oil – If you don't have avocado oil, you can use other types of oil. Check out my list of the best oils for air frying.
How to Make Air Fryer Roasted Whole Chicken
Here's how to make this juicy and tender chicken. It's so easy!
Dry the chicken. Pat the chicken dry with a paper towel or a kitchen towel.
Season the chicken. Add the salt, 24 herb sprinkle seasoning, and oil to a bowl, then add the whole chicken. Rub the mixture over the chicken until it's evenly coated.
Cook one side. Place the chicken breast side down in the air fryer, then turn it on to 350F (there's no need to preheat). Cook the chicken for 10 minutes for every pound of bird.
Flip. Flip the bird over so the breast side is up.
Keep cooking. Air fry the chicken at 400F until the skin is brown and crispy, and the bird is cooked all the way through. This should take 10-15 minutes.
Rest. Remove the lid from the air fryer, and let the chicken rest for at least 5 minutes before serving.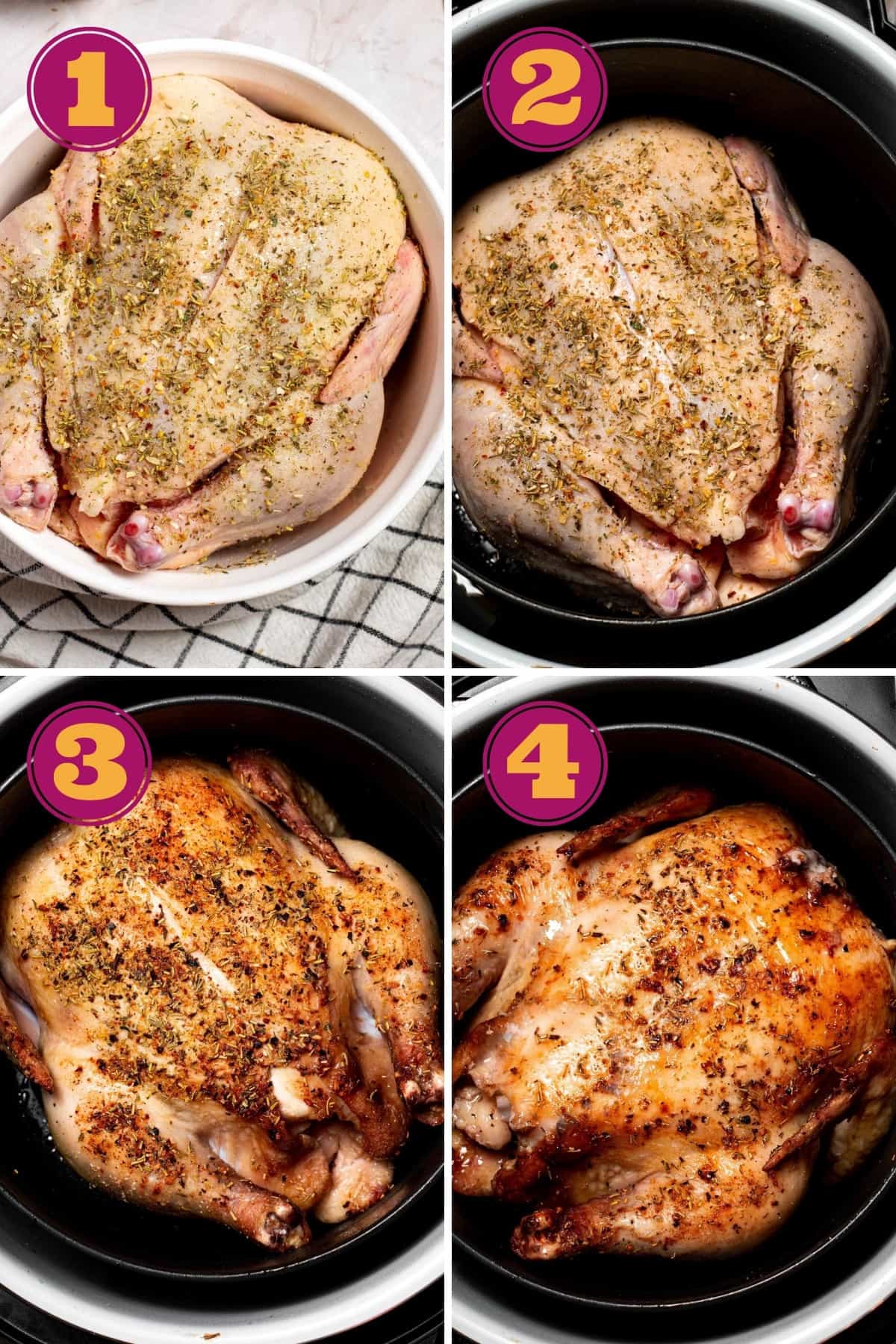 Tips and Variations
Here are a few tricks, tips, and variations to try when making this moist roast chicken recipe.
Make sure to remove the innards. Most whole chickens come with the innards inside the cavity. The innards will be detached from the chicken, and usually in a plastic bag. Make sure to remove them before cooking the chicken. You can cook the innards, feed them to your dog, or throw them away.
Season under the skin. For added flavor, and to help keep the chicken moist, I like to make sure that I season the chicken breasts in between the meat and the skin. The skin should peel back enough that you can get your hands underneath it to season the meat. Season the inside of the cavity, too.
Get creative with the seasonings. I think the 24 herb sprinkle seasoning is perfect for this air fryer roast chicken recipe, but feel free to get creative. You can use your own seasonings, or add to the mixture depending on what herbs and spices you prefer.
Let it rest. This recipe calls for you to let the chicken rest for 5 minutes before eating it. That's so the bird can reabsorb some of its juices, which is what makes it tender and juicy. If you cut the chicken immediately after cooking it, many of the juices will run out, and you'll be left with a dry and less flavorful piece of meat. Make sure to rest the chicken at least 5 minutes, but preferably 10-15 minutes.
Save the carcass. After I cook a whole chicken, I love to save the whole carcass. You can add it to a pot with a few vegetables and some water, and have a super easy chicken stock.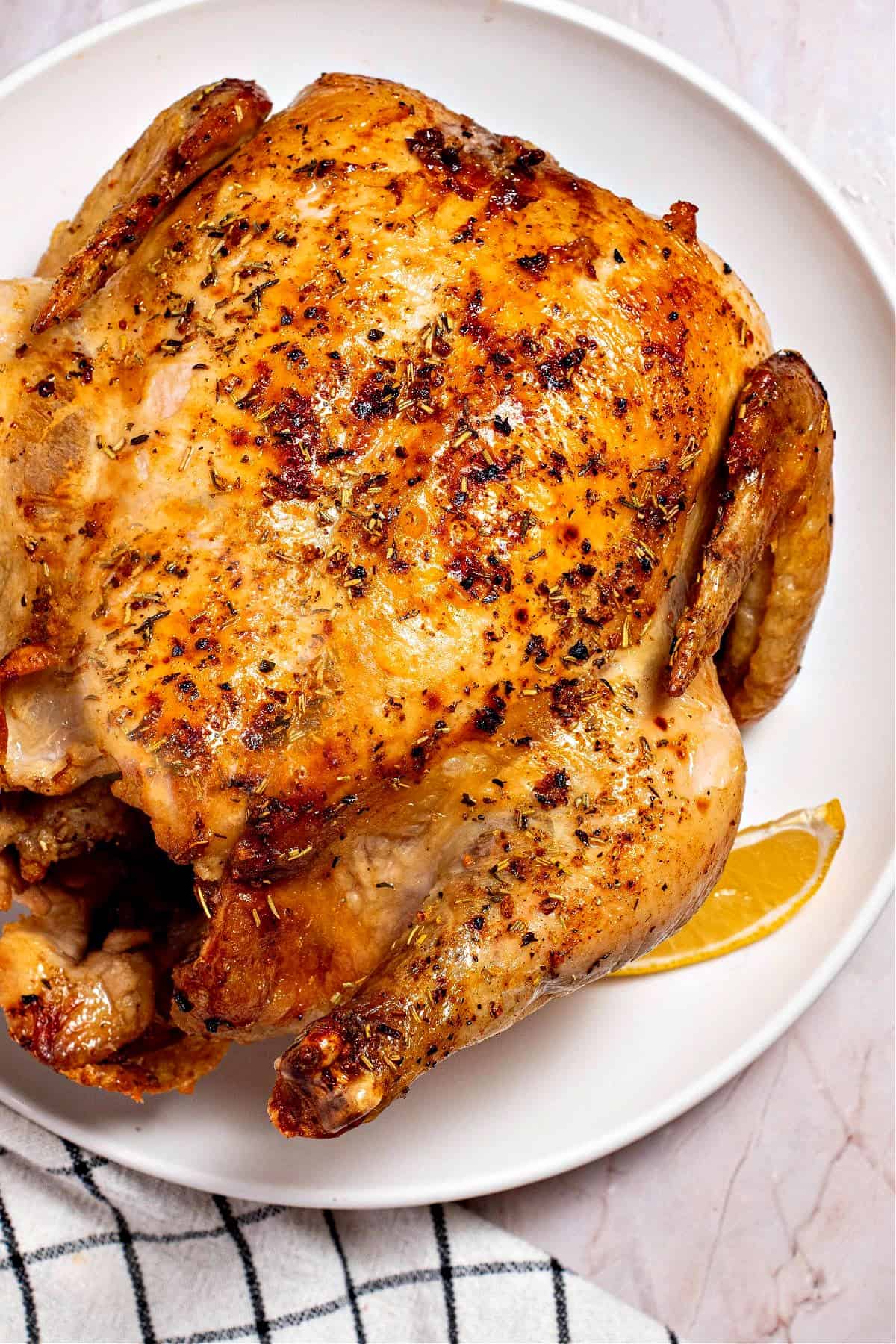 What to Serve with Air Fryer Roasted Whole Chicken
I love to serve this chicken as a main course along with some traditional sides. Here are a few of my favorite things to serve with crispy-skinned air fryer chicken.
How to Store and Reheat
You can keep leftover air fryer chicken in the fridge for 3 days, as long as you store it in an airtight container. Reheat in a 400F oven for 15 minutes.
Can I Freeze This Recipe?
Absolutely! Put the roast chicken in an airtight container, and keep it in the freezer for up to 3 months. Thaw overnight in the fridge before reheating.
More Air Fryer Roasted Chicken Recipes to Make
Here are a few other air fryer roast chicken recipes to try.
If you try this recipe, please stop back and leave it a star rating and/or a review in the comments. Stay connected & share photos of your creations with me & others on Instagram, Facebook, and Pinterest!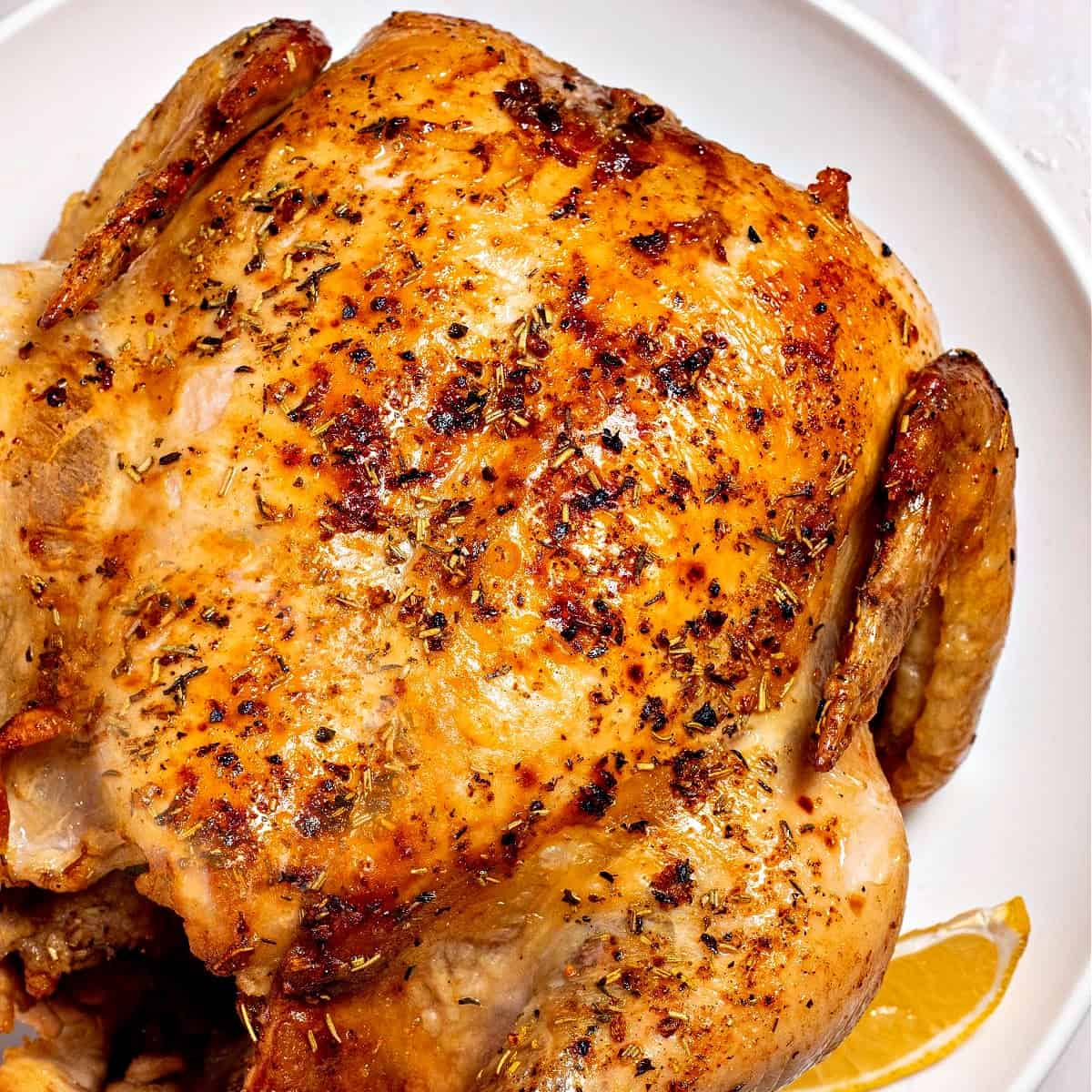 Air Fryer Roasted Whole Chicken
This air fryer roasted whole chicken recipe uses only 4 ingredients, and only takes an hour to make. It's juicy and tender with a crispy skin, and packed full of flavor.
Pin
Rate
Print
Use DRDAVINAHS at checkout to save on some equipment & ingredients!
Recommended Equipment
Instructions
Pat the chicken dry with a paper towel.

Add the sea salt, herb seasoning, and oil to a large bowl with the chicken. Then evenly coat the chicken with the seasoning and oil. I spread the rub on the inside cavity and underneath the breast skin.

Add the chicken to the air fryer cooking basket breast side down. Air crisp on 350F for about 10 min per pound (for a 4-pound chicken that's 40 minutes).

Use tongs to flip the bird. I clamp the tongs between the center and the back to not break the breast side skin.

Air fry at 400F for 10-15 more minutes to get the skin brown and crispy, and to cook the chicken through.

Let the chicken rest in the air fryer for another 5 minutes with the lid open.
Recipe Notes
Store leftovers in an airtight container in the fridge for 3 days, or in the freezer for 3 months. Reheat in a 400F oven for 15 minutes.
Nutrition Details
Calories:
284
kcal
|
Carbohydrates:
1
g
|
Protein:
20
g
|
Fat:
22
g
|
Saturated Fat:
5
g
|
Polyunsaturated Fat:
4
g
|
Monounsaturated Fat:
11
g
|
Trans Fat:
0.1
g
|
Cholesterol:
82
mg
|
Sodium:
658
mg
|
Potassium:
222
mg
|
Fiber:
1
g
|
Sugar:
0.1
g
|
Vitamin A:
174
IU
|
Vitamin C:
2
mg
|
Calcium:
32
mg
|
Iron:
1
mg
The nutrition facts come from entering the recipe ingredients into Spoonacular API, a database of food ingredients. They may vary for any recipe based on the exact product used. The keto sweeteners I use have 0g net carbs & are not included because sugar alcohols do not impact most people. This is provided as a courtesy, but you can do your own calculations if you wish!
Share this Recipe
If you enjoy this recipe, share a link to it via email or Facebook, pin it, or leave a rating. Please don't copy/paste the instructions to other websites. Thanks for helping the website grow!