This post may contain affiliate links to products I use and highly recommend. You can read my full disclosure .
This Keto Pork Chops recipe is the perfect one-pan, comfort food meal. In fact, it's one of the best pork chops recipes that I've had in a long time. In this dish, I sear Hatfield® Premium Reserve Pork® Frenched Bone-in Pork Chops in a cast-iron skillet. Then, I top these juicy chops a low-carb creamy pan sauce that includes fresh herbs, onions, mushrooms, and garlic. Besides being keto-friendly, this meal is high in flavor and done in about 20 minutes. If you're searching for simple pork chops recipes and love quick, homemade restaurant-quality meals, then you seriously need to make this dish happen!
Disclosure: This shop has been compensated by Collective Bias, Inc. and its advertiser. All opinions are mine alone. #TastyTenderEveryTime #SimplyHatfield #CollectiveBias

Why make Keto Pork Chops?
If you've checked out The Ultimate Keto Surf & Turf or my Seared Scallops & Cauliflower Risotto, then you know that I love quick, homemade restaurant-quality dishes!
For me, making restaurant-quality dishes at home saves money because going out for dinner can get super expensive. It also allows me to control the ingredients in my meals.
So, when I got the chance to create a recipe using The Hatfield® Premium Reserve Pork®, I knew it was a good fit because this line of meats promised to bring steakhouse-quality to the home-chef. It also happens to be perfect when making a delicious week-night dinner since they're easy to cook, regardless of how you prepare them.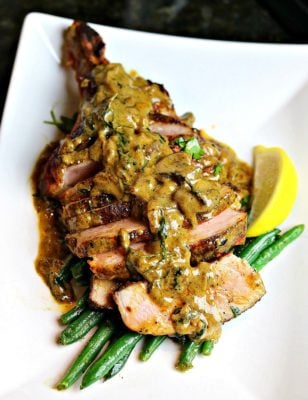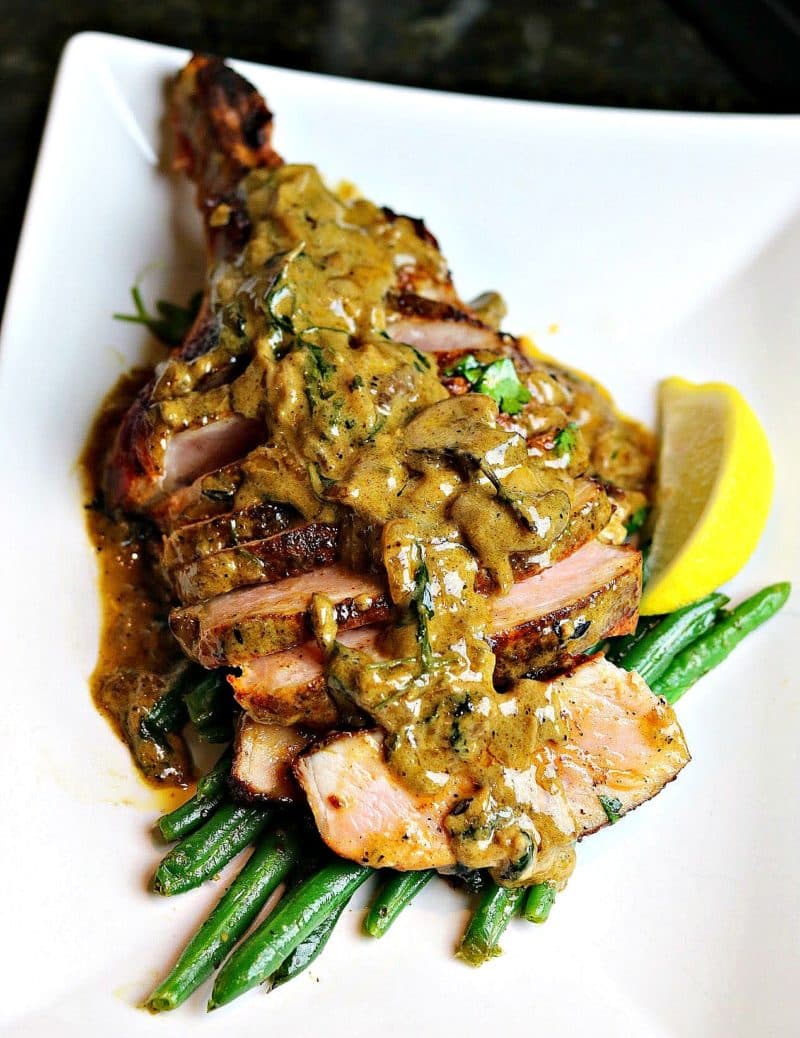 What's Hatfield® Premium Reserve Pork®?
Hatfield® Premium Reserve Pork® is a line of Hatfield® pork products that are:
Chef-Inspired: They're brined and include options like Uncured Bacon-Wrapped Pork Loin Medallions and Caprese-Styled Stuffed Pork Roast.
Highly Marbled: Some of the most tender cuts of meat have the highest levels of marbling. Marbled meat has thin layers of fat throughout the meat muscles. The fat is so thin that as the meat cooks, it actually melts and the meat almost bastes itself. The end result is a super tender, juicy meat.
Foolproof: Since these meats are marbled & brined, it's actually really hard to overcook them! As a home-chef, this is appealing because the last thing you want to do is make a mistake and have to serve tough, dry meat!
Overall, with Hatfield® Premium Reserve Pork®, you can be confident that every cut is Tasty. Tender. Every Time.™
Where can I get this meat?
I picked up this product in the meat section of ACME. However, you can learn more about the full line of products and where to buy them here.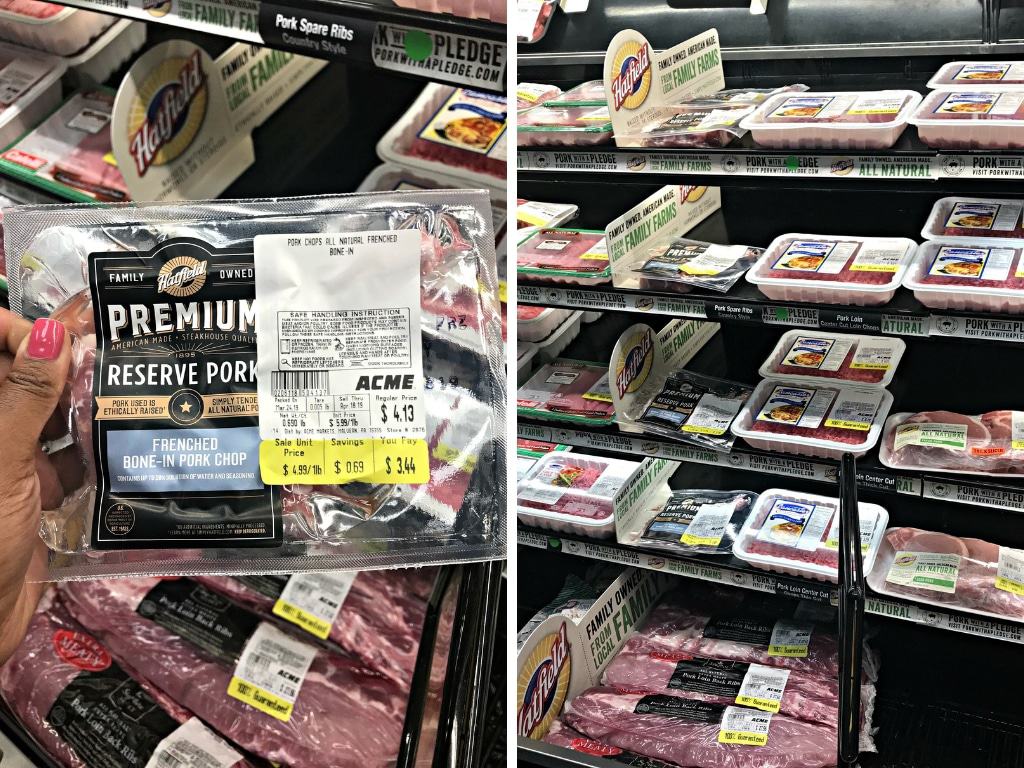 How do you make pork chops in a cast iron skillet?
Frying pork chops in a cast iron skillet is what makes this a quick meal. Fortunately, it's also super easy. In terms of tools, all it takes is a timer, butter, olive oil, seasoned pork chops, and a hot cast iron skillet. In terms of technique, you can follow the tips below.
Allow the meat to come to room temperature before cooking
I'll say this time and time again, do not cook meat straight from the fridge. It causes the meat to cook unevenly and impacts the final results of the dish. I find that allowing the meat to sit on the counter for about 30 minutes before cooking is best.
Use a pre-heated cast iron pan for the sear
Cast iron skillets are the perfect tool for getting a great sear on a wide range of proteins. One important step for cast iron pans is allowing them to pre-heat. I typically turn my pan on 3-5 minutes before cooking so that it's hot! If you're not sure if you pan is hot enough, then you simply add some butter. The butter should start sizzling as soon as it hits the pan.
Cook until the meat reaches 145 degrees
Your pork will be perfectly cooked if you take it out of your pan once it reaches 145 degrees. As it rests, it'll continue cooking and land between 150-155 degrees when you eat it. You can use a meat thermometer to check this.
Allow the meat to rest for 10 minutes
Before slicing into your pork chops, you must let it rest. Resting allows the meat and its juices to marinate. I let my meat rest for 10 minutes.
Quick Cooking Note: Each of my pork chops was about a quarter of a pound so two fit comfortably in my 12-in skillet. I'd recommend not cooking more than two pork chops at a time so that they have space to cook & get a good sear.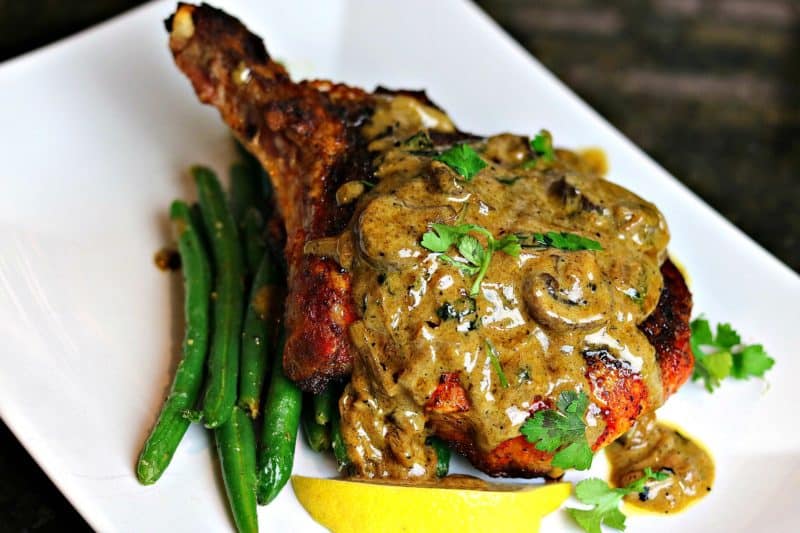 Boneless or Bone-in Pork Chops?
You can use boneless or bone-in pork chops for this dish. However, just know that boneless might cook a little faster. As mentioned in the tips above, be sure to take these out of the pan when they reach 145 degrees.
What to serve with these Keto Cast Iron Skillet Pork Chops?
This recipe includes a super creamy and velvety pan sauce. So, I enjoyed this dish with a simple green vegetable. In fact, I purchased green beans in a steam bag, microwaved them for 5 minutes and topped them with butter, salt, and pepper. This way, the vegetables were done when my meat was finished resting. Some other possible side dishes are:
If you're looking for a full list of keto-friendly vegetables or want to learn more about the carbs in different kinds of vegetables, then you can read more about that here.
You might also be interested in these other Cast Iron Skillet Recipes:
The Ultimate Surf and Turf (Steak and Shrimp) Recipe
The Ultimate Surf & Turf recipe, featuring juicy, rosemary-flavored filet mignon steaks and Keto Shrimp Scampi. I served this on top of Cauliflower Risotto for a complete restaurant-quality meal.
Get this Recipe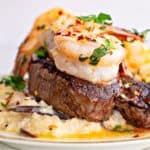 Pan Seared Shrimp Recipe (Cast Iron Shrimp)
Learn how to pan sear shrimp with this easy Pan Seared Shrimp recipe. Uses less than 5 ingredients and takes about 5 minutes. Pair with a salad or other side dish to make a quick meal.
Get this Recipe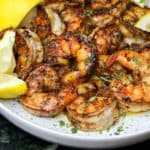 Seared Scallops & Cauliflower Rice Risotto
A quick, keto-friendly and grain-free recipe for seared scallops and parmesan cauliflower rice risotto.
Get this Recipe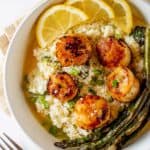 Pan Seared Scallops Recipe
A quick recipe for seared scallops that is done in minutes. This is the perfect protein for a quick keto and low carb meal.
Get this Recipe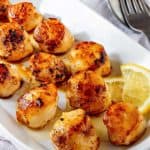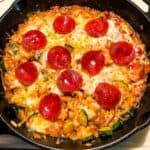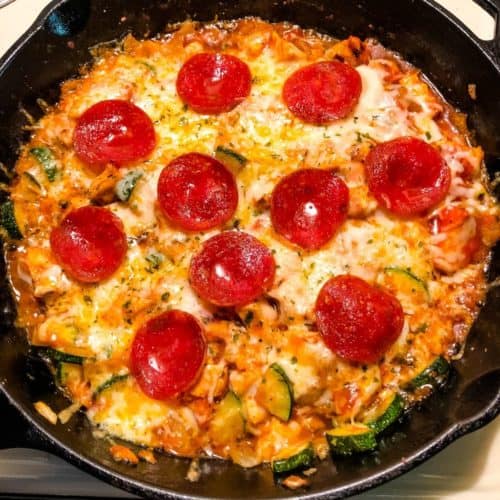 Easy Cast Iron Grilled Chicken with Cilantro Lime Sauce
An Easy Cast Iron Grilled Chicken Breast recipe with cilantro lime sauce that is perfectly cooked, juicy, and tender in about 15-minutes.
Get this Recipe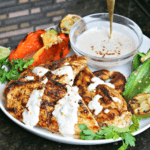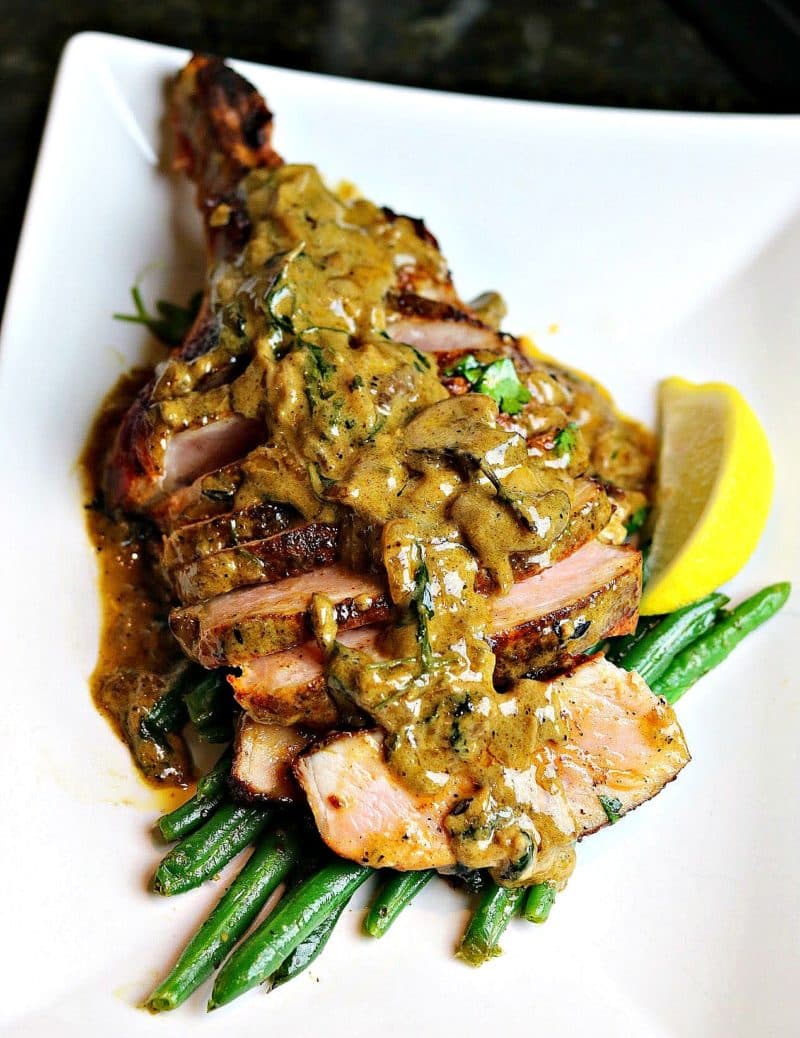 Keto Cast Iron Skillet Pork Chops Recipe w/ Creamy Herb & Mushroom Sauce
An easy, keto cast iron skillet pork chops recipe featuring Hatfield® Premium Reserve Pork® bone-in pork chops & a creamy mushroom & herb pan sauce.
Pin
Rate
Print
Use DRDAVINAHS at checkout to save on some equipment & ingredients!
Recommended Equipment
Instructions
For the Pork Chops:
Heat a 12in cast iron skillet to medium high heat

Combine the meat seasoning mix in a small bowl. Rub the spices on the top and bottom of the pork chops and on the sides.

Add the butter, olive oil, and thyme to the pan and allow it to come to a sizzle

Sear the pork chops for 4 minutes top and bottom. Use 1 additional minute to sear the fatty sides. Take the meat out of the pan and allow it to rest.
For the Pan Sauce:
Add the onions to the skillet and allow them to become translucent.

Add the mushrooms, heavy cream and broth. Turn the pan down to medium low once the cream and broth start to boil (you'll see some air bubbles in about 1 minute). Continue cooking the sauce on the lower temperature until it gets thicker.

Finish the sauce by adding salt, pepper, and fresh parsley.
Nutrition Details
Calories:
477
kcal
|
Carbohydrates:
4
g
|
Protein:
36
g
|
Fat:
34
g
|
Saturated Fat:
12
g
|
Cholesterol:
139
mg
|
Sodium:
954
mg
|
Potassium:
718
mg
|
Fiber:
1
g
|
Sugar:
1
g
|
Vitamin A:
875
IU
|
Vitamin C:
10.1
mg
|
Calcium:
52
mg
|
Iron:
1.7
mg
The nutrition facts come from entering the recipe ingredients into Spoonacular API, a database of food ingredients. They may vary for any recipe based on the exact product used. The keto sweeteners I use have 0g net carbs & are not included because sugar alcohols do not impact most people. This is provided as a courtesy, but you can do your own calculations if you wish!
Share this Recipe
If you enjoy this recipe, share a link to it via email or Facebook, pin it, or leave a rating. Please don't copy/paste the instructions to other websites. Thanks for helping the website grow!