This post may contain affiliate links to products I use and highly recommend. You can read my full disclosure .
Everyone wants dinner to be easy and it doesn't get any easier than these low-carb & keto sheet pan meals. Most of them take under an hour start to finish, making them perfect for busy nights or lazy days. In this post, I share tips for making sheet pan dinners and give plenty of options for low-carb vegetables that taste great when they are baked in the oven.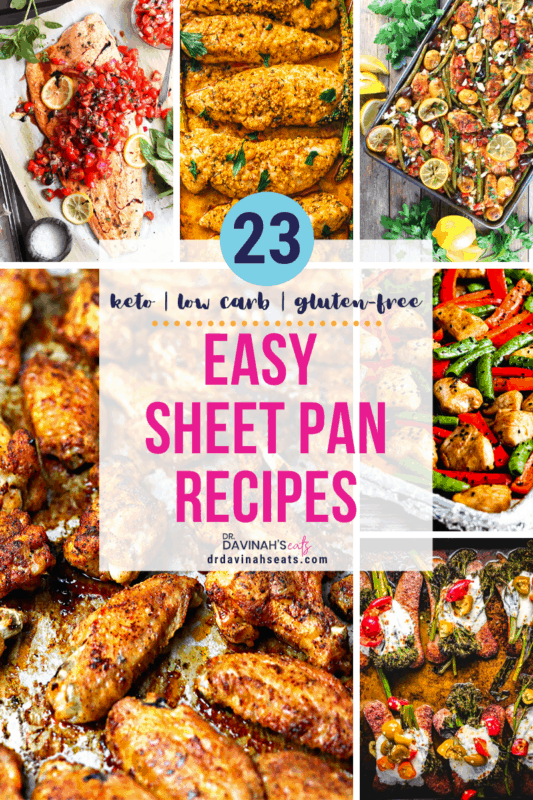 Top Tips for Making Sheet Pan Dinners
There are lots of tips and ideas for making meals on a sheet pan. But some of my favorites are listed below:
Line your baking sheet with foil or parchment paper to minimize the mess & clean up.
Use a thermometer to check your proteins for doneness: This ensures the perfect meal with all ingredients being done together. Even better is if you have a thermometer for the oven that you can insert while the food is cooking so you can constantly monitor the temperature.
Add food in stages: everything doesn't cook at the same rate. The longest cooking vegetables go on the tray first and then add in your proteins or lighter items. Everything still gets the same flavors and is custom to your tastes.
Low Carb Vegetables that Bake Well
Don't worry if a recipe shows a vegetable on your family's "no thank you" list. You can easily swap them out to your liking. Some ideas for low-carb vegetables that taste great when baked are bell peppers, broccoli, asparagus, mushrooms, zucchini, cauliflower, green beans, brussels sprouts, radishes, onions, eggplant, cabbage, and artichokes.
You should know though that these vegetables take different times to cook so you might need to add them in stages to ensure that they don't get overcooked or mushy.
Easy One Sheet Pan Meals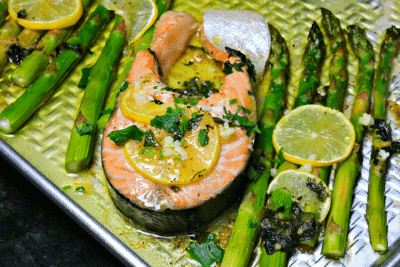 If you've never made salmon steaks, I highly recommend starting with this recipe. It's super easy, requiring simple spices, a few ingredients, and some butter.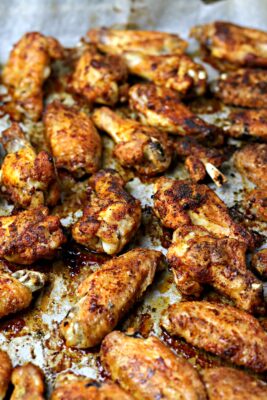 Baked chicken wings are a classic game-day staple. These will be the perfect complement to any side dish or dipping sauce you feel like whipping up.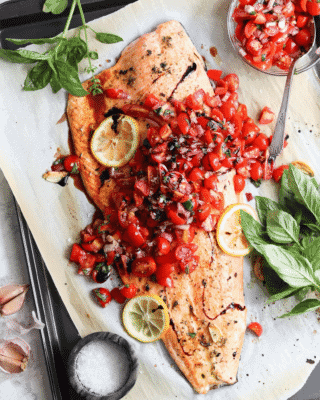 The whole salmon makes a pretty presentation – and also ensures that you can perfectly cook your fish without stressing about filets being similar in size before throwing them in the oven.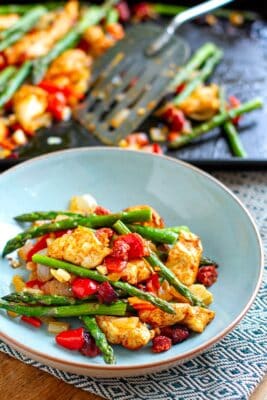 Using chorizo adds some wonderful flavor to chicken here. The vegetables stay bright and pretty and the seasoning makes the meats shine. This is perfect on its own and naturally low-carb; also great for adding to salads!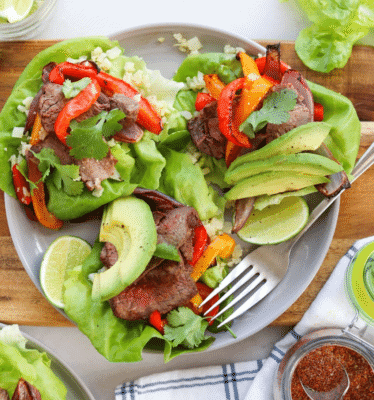 This is a great meal for busy weeknights. You can cut everything the night before and stash it in the fridge. I love the technique in this recipe of heating up your sheet pan under the broiler before adding the food. This helps you get a nice sear on the meat without having to use more than one pan.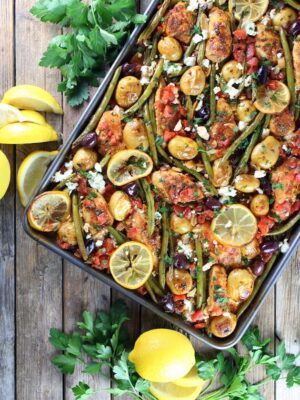 This Mediterranean-inspired dish will have your mouth watering. Nothing beats Feta cheese when you are looking for Greek-style meals. This one uses potatoes so it's low-carb, but you should substitute the potatoes for radishes or cauliflower (like I do in loaded keto potatoes) to make this keto-friendly.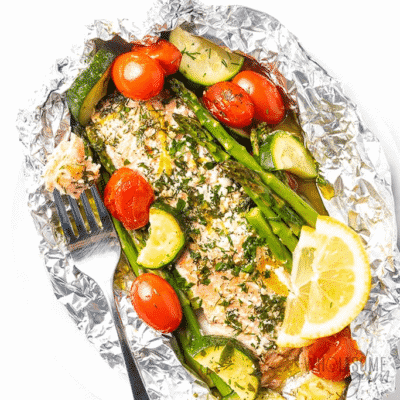 Meals in packets are like individual sheet pan meals. I like this option because it's instant portion control if you need it, and also makes for super easy cleanup. Fish is ideal for packet cooking methods because it keeps it from drying out.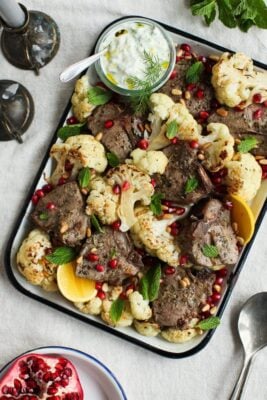 Lamb can be a tricky meat to cook at times. If you don't do it right you may feel it's too gamey or tough. But this sheet pan meal really teaches you how to make a simple meal that looks more complicated than it really is. You just may find you have a new dinner favorite.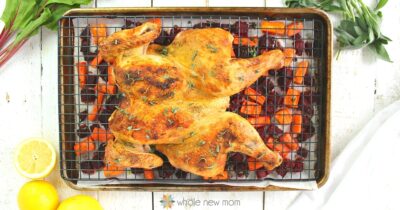 Sunday dinner means whole chicken – which can take quite a while! But if you learn how to spatchcock your bird (you can also air fry a whole chicken or make one in a pressure cooker), it cooks evenly and quickly. This recipe adds a layer of vegetables under the chicken to, well, kill two birds with one stone to get dinner on the table.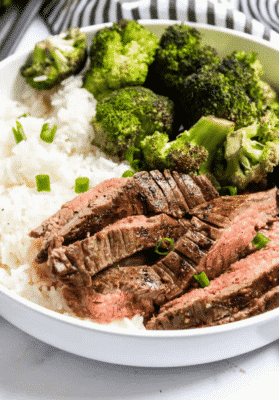 Broiling flank steak lets you control the doneness. A quick 15-minute marinade is all you need to impart lots of flavor.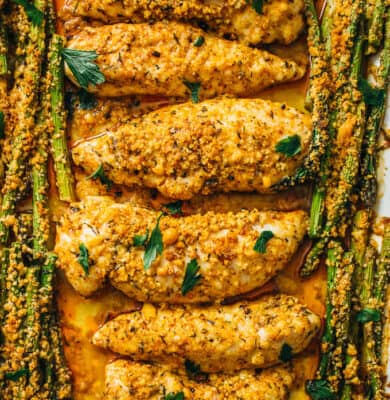 Grated Parmesan makes a perfectly crispy coating. You won't know they aren't breadcrumbs when you bite into this chicken. It's great to cover the veggies with the cheese as well, which makes it more kid-friendly.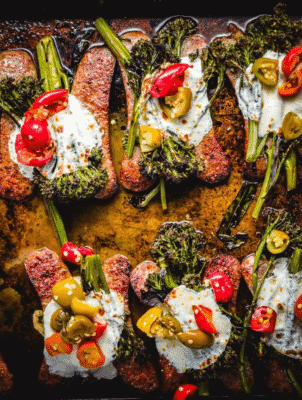 Broccolini is really fun. You get the flavor and health benefits of broccoli, but with tender stems that you won't mind eating. Melting some cheese over the top makes everything better, right? I love this recipe because it's a simple way to pack on flavor and make dinner with minimal ingredients.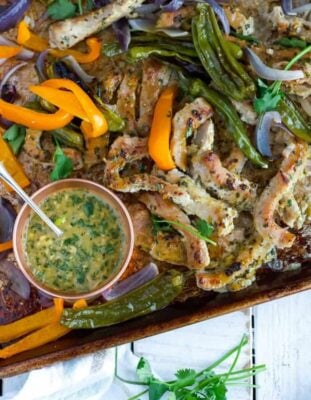 I don't often think to use pork in fajitas, but the marinade in this recipe makes them amazing. Pork takes on flavors really well, so it's really perfect here.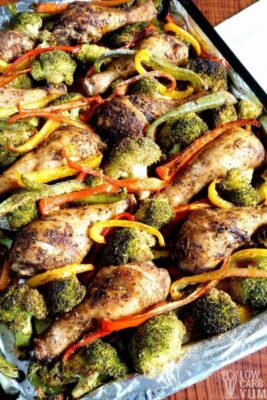 I love that this recipe moves away from boneless, skinless chicken breast. Not only does dark meat have more flavor, using bone-in pieces means they take longer to cook, which ensures your veggies and chicken will all be done at the same time. Nothing overcooked here!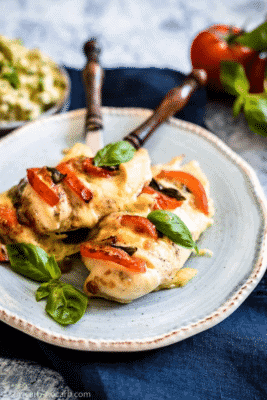 If you haven't made anything in "Hasselback style" yet, you are in for a treat. Sticking classic Caprese ingredients into sliced chicken breast keeps things juicy and amps the flavor profile. These make for a pretty dinner party presentation as well.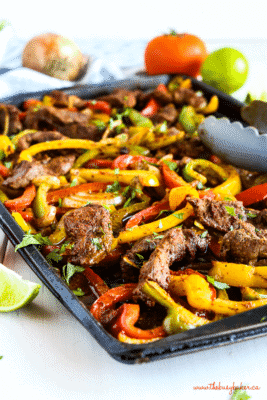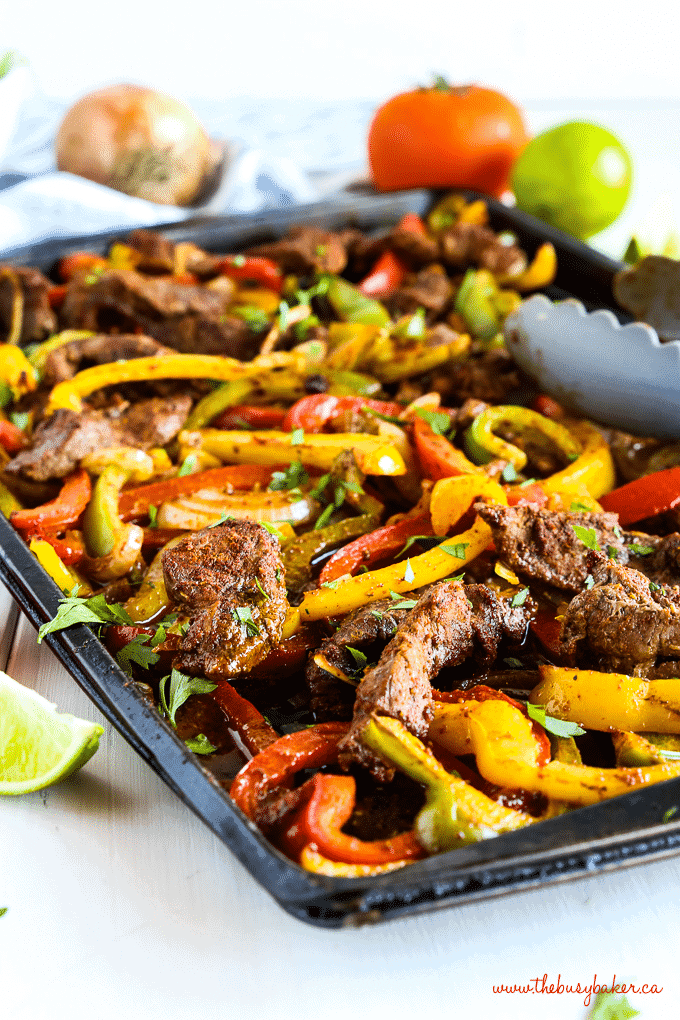 Fajitas are an easy stovetop meal, but you can really add depth to the veggies when they are roasted in the oven instead. I love how quick these oven fajitas are – and you can serve them over my cilantro cauliflower rice or use them in my cheese taco shells.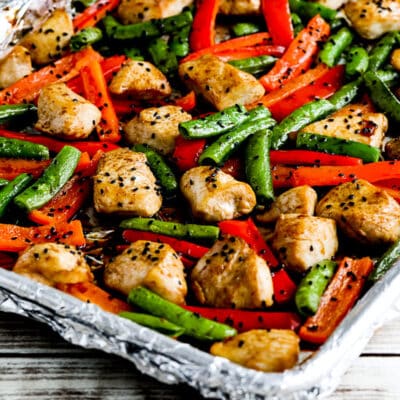 Stir fry itself isn't really an intense meal, but it does require some supervising and stirring if you are making it on the stove. It's even easier to throw it all on a pan and stick it in the oven, and forget about it until the timer dings.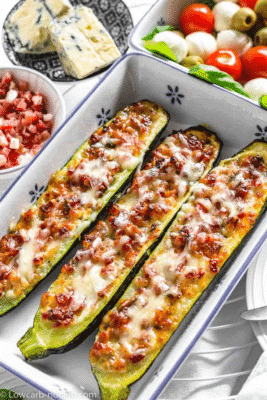 A zucchini boat is a great way to get your veggies in. Using an edible "dish" for your meal makes for easy portion control and serving as well.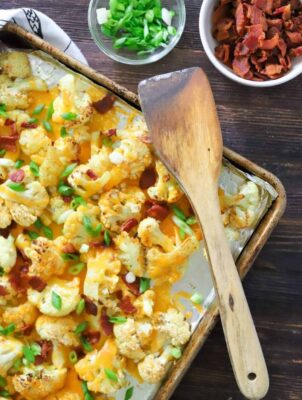 Everyone loves a loaded baked potato! Cut the carbs with cauliflower. Cauliflower makes a nice plain base for all your favorite toppings.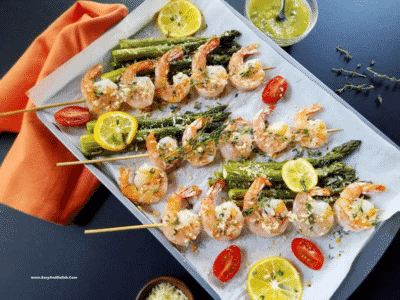 It's easy to make one-pan meals even when ingredients take different amounts of time to cook. Simply start with your longest cooking ingredient and add the rest as time counts down to dinner.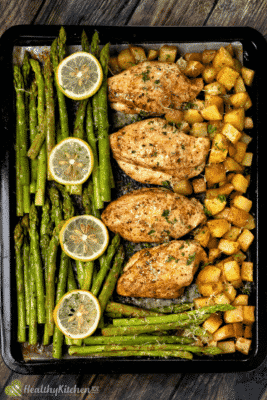 Five minutes to prep and 20 in the oven. That's all you need for this restaurant-quality meal. Everything cooks up perfectly so it really looks like you spent more time than you actually did. As with one of the recipes above, this one uses potatoes, making it low in carbs, but you should definitely substitute the potatoes for broccoli or cauliflower to keep this keto-friendly. When I roast my vegetables this way, it still takes 20 minutes, so you can swap them without having to worry about the cooking time.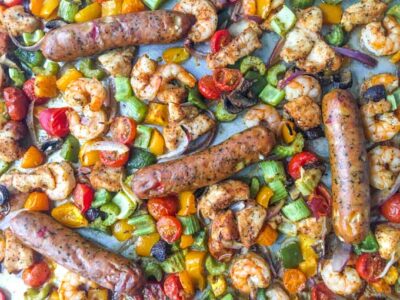 This meal is ALL the wonderful flavors of a traditional jambalaya but low carb and one pan! You won't believe the flavors here and certainly won't miss the carbs.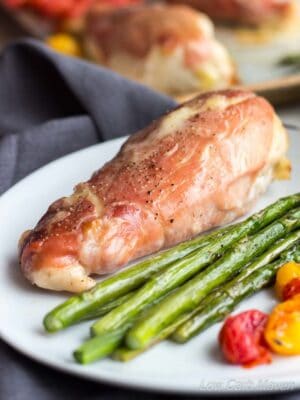 Not only is this recipe flavorful, the recipe even mentions making (wrapping) the chicken the night before when you have some time so that you can just pop it in the oven when it's time for dinner the next day! Makes this one-pan dinner even easier.