Want something healthy, delicious & simple to make? Need easy recipes that fit the keto, low-carb, and gluten-free lifestyles? Well, here are 50 easy 5 ingredient recipes and meals. I've sorted these into groups so that you can have low ingredient recipes for breakfasts, lunches, dinners, desserts, sauces, and snacks.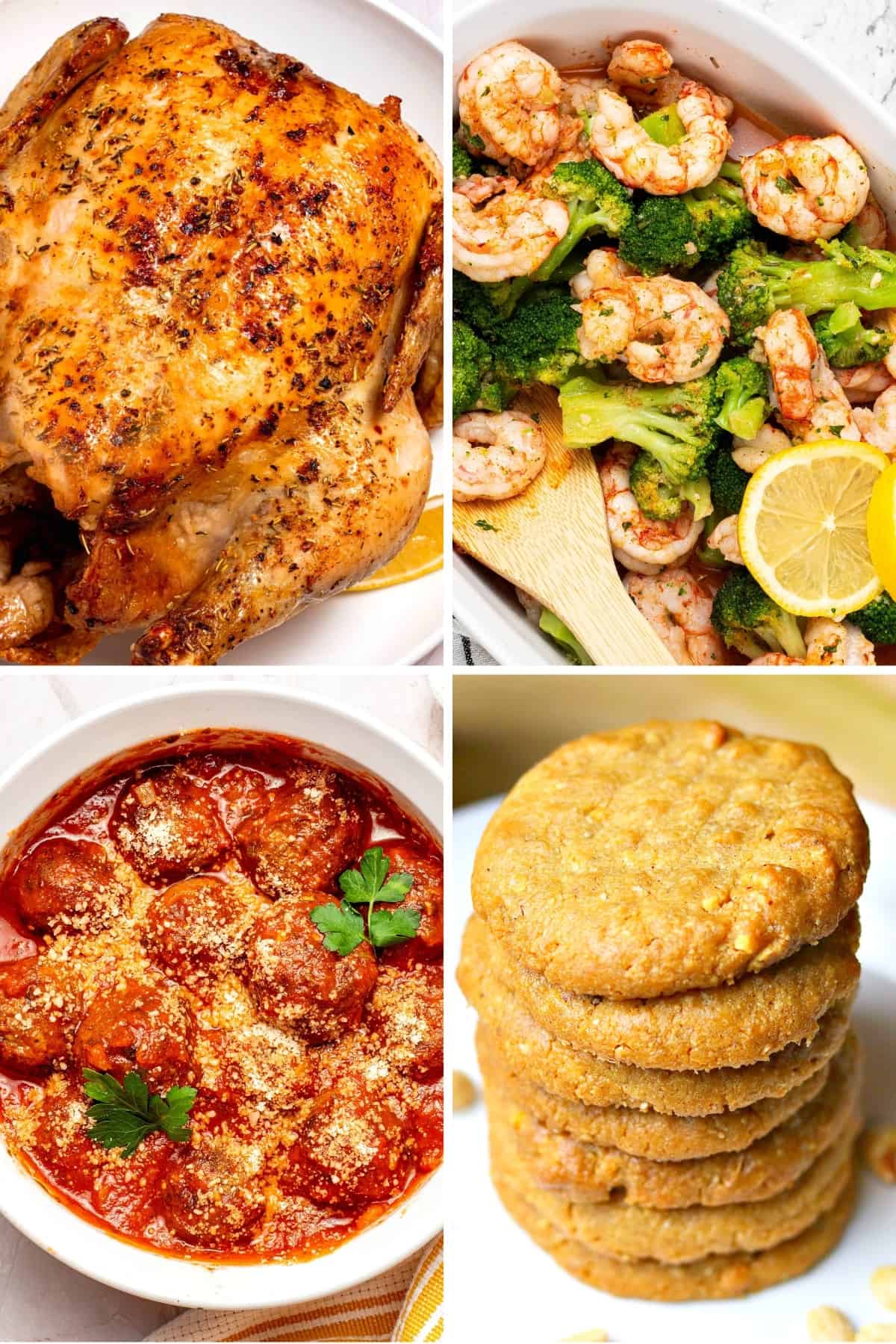 Do these have exactly 5 ingredients?
Most of these recipes have exactly 5 ingredients, but you'll notice that a few have 6-7 listed. That's because I decided that it was best to assume that most people have the following in their pantries:
Sea Salt or Regular Salt
Granular Keto Sweetener that is a 1:1 replacement for regular sugar like Swerve, Besti Monk Fruit Erythritol, or So Nourished Organic Granular
Beef & Pork Minimal Ingredient Meals
This is the ultimate dump & go meal. You simply add the roast to your Foodi or crock-pot cooking pot, throw in the spices and broth, then cook. I love having this with keto mushroom risotto, sauteed string beans, and keto creamed spinach.
Make BBQ baby back ribs in a slow cooker or pressure cooker. This one includes just 4 ingredients and pairs well with my cauliflower mac and cheese.
Did you know that you could use greek yogurt to marinate and tenderize meat? Well, this easy steak recipe uses yogurt with simple spices to keep this steak juicy. Depending on what I have on hand, I eat this with chimichurri sauce on top.
This Keto Coffee Barbecue Pork Belly is perfectly crispy on the outside while being tender and juicy on the inside. The coffee flavor, paired with the sweet and savory barbecue flavor is a match made in heaven. This would pair well with keto coleslaw.
With less than 10 minutes of prep time and the pressure cooker doing all the work, this easy Whole30 and Paleo recipe will become a weekly meal! If you're not on Whole30 and have a few more ingredients, an alternative is my keto pulled pork that is covered in a sugar-free BBQ sauce.
These easy keto creamy tomato pork chops are a delicious and quick dinner option. You only need 4 ingredients and 15 minutes. The sauce is perfect on zucchini noodles too!
Cabbage and Smoked Sausage is a delicious one-pot meal with just 4 ingredients and can be on the table in 30 minutes or less.
This Easy Keto Instant Pot Chile Verde is so simple to make with only a few ingredients. Even though it takes less than an hour in the pressure cooker, it still has a wonderful slow-cooked flavor.
5 Ingredient Chicken Recipes
These are generally the best cut of chicken for people on a budget. They're also quite fatty making them foolproof to cook. I love to spice these up to add flavor and make a budget-friendly meal.
This Easy Pressure Cooker Whole Chicken recipe requires just 5 ingredients and cooks in less than 40 minutes. Don't have a pressure cooker, just use the same spices, but make your whole chicken in an air fryer.
This recipe uses just four ingredients. It's also ready in about an hour.
Add your favorite dry rub to chicken thighs for this easy low ingredient keto recipe.
This Filipino chicken adobo recipe isn't your traditional style. It's made by boiling out the liquid in the marinade and browning the meat until it's caramelized.
With just five ingredients and five minutes of prep time, these baked Garlic Parmesan Chicken Tenders will be your new easy dinner. I love that it is largely a sheet pan meal.
Low Carb Stuffed Caprese Chicken Hasselback Recipe is a great gluten-free and grain-free dinner option to indulge in.
These low carb chicken stuffed poblanos are a breeze in the air fryer. With only 4 ingredients you have this delicious keto appetizer with less than 5g net carbs!
Super easy and flavorful chicken fajitas made quickly in the Air Fryer! You can eat these as part of a keto burrito bowl or as tacos with my cheese tacos shells.
This easy baked bacon wrapped chicken tenders recipe needs just 3 common ingredients – chicken, bacon, and cheese!
This mesquite chicken marinade is freezer friendly and packs a smokey punch that will brighten up any chicken meal! This marinade is perfect for grilling, baking, or sauteeing your chicken!
Seafood
This recipe uses minimal ingredients, but also cooks from frozen.
Don't miss out on the crispy skin by throwing it away. Learn how to make pan-seared salmon easily with this 5-ingredient recipe.
If you're looking for ways to cook halibut or are a keto pescatarian, then you'll love this Easy Pan-Seared Halibut recipe. It takes just a few minutes and a few spices to make.
A quick recipe for seared scallops that is done in minutes. It uses a hot pan, butter or ghee, and salt and pepper.
This shrimp takes just three ingredients and a hot pan. You can vary the spice mix to add variety to the dish and keep the ingredients simple.
This easy recipe for air fryer salmon takes less than 10 minutes to complete. While I make this in an air fryer, you can easily make this in a skillet.
This 5-ingredient Honey Garlic Butter Shrimp is dinner made easy in only 15 minutes. Plus, it's mess-free because it uses only one pan. This recipe uses regular honey (a sweetener great for gluten-free and Paleo). To keep this keto-friendly, just swap the honey for the honest syrup, just like I did in my keto version of Honey Sriracha Wings.
Get golden brown and flaky fish every time by cooking your tilapia in the air fryer. This one is super easy and can be paired with your favorite keto salad or other vegetables to make a meal.
Breakfast & Brunch
My new go-to way to hard boil eggs!
Start your day with this delicious berry smoothie recipe. It uses frozen fruit and collagen for a thick, breakfast treat!
If you thought that bacon couldn't get better, then you must try Air Fryer Bacon. For this recipe, I use the Ninja Foodi to crisp sugar-free bacon easily without the hassle, mess, or time of cooking it in a skillet, pan or oven.
These 3-Ingredient Bacon & Egg Breakfast Muffins are low-FODMAP, paleo, keto, Whole30 compliant, low-carb, gluten-free, grain-free, dairy-free, and sugar-free! You can use these as part of meal prep and enjoy them throughout the week.
Three ingredients and less than 20 minutes are all you need to make these fabulous Whole30 and Keto friendly Prosciutto Egg Cups! Best of all, you can choose between cooking your egg cups in the air fryer or the oven.
This classic Steak and Eggs at home is such a quick, easy, and hearty brunch meal or breakfast-for-dinner dish using New York strip steaks and sunny side up eggs.
Soups & Side Dishes
Add some spices to frozen broccoli and throw them in the air fryer.
Need a substitute for potatoes? Try radishes.
Garlic and parmesan make the perfect topping for these crispy Brussels sprouts. The air fryer gives them the oven-roasted crunch.
Simple, delicious, and keto-friendly, this Cilantro Lime Cauliflower Rice recipe makes a great low carb substitute for the rice that you typically get at many Mexican takeout spots. It pairs well with my slow cooker boneless pork roast and Indian Shrimp Curry.
If you love a good burrito bowl and want to make fajita veggies just like they do at Chiptole, then this recipe is for you. Feel free to use different colored peppers or stick to one type to keep the ingredients list short.
This is a delicious and easy side dish that is great for your everyday meals. While this recipe includes garlic and shallots, feel free to omit the shallots or swap them with thinly sliced onions.
Make the best broccoli cheddar soup in 20 minutes! You won't believe it's healthy, cheesy and has only 5 ingredients.
Easy 5-Ingredient Sauce & Dressings
A no sugar added recipe for salted caramel that features browned butter, keto brown sugar, pink sea salt, and heavy cream. I loved having this as a topping to my keto snickers cheesecake bars.
Making a homemade cool whip is super easy. This goes with low-carb strawberry shortcake, nut butter as a snack or easy dessert or as a topping with a bowl of fresh berries.
Make strawberry cheesecake or strawberry topped pancakes with this easy four-ingredient recipe. It tastes like the sweet sauce we're all used to without adding sugar!
If you've been looking for thick and creamy gravy without starch and flour as thickeners, then this recipe is for you. It uses simple spices and minimal ingredients and can be topped over pressure cooker turkey breast and mashed cauliflower.
This sweet blueberry sauce is keto-friendly and has no added sugar. It's perfect to serve over waffles, pancakes or cheesecake (like I did in lemon blueberry cheesecake bites)!
This recipe for quick Keto queso has 3 ingredients and takes 5 minutes to make. It's a delicious low carb cheese sauce that's got just 2g net carbs per serving. You can pair this with keto nachos.
Simple Wraps & Bread
The easiest low carb cauliflower pizza crust recipe requires just 3 ingredients! Learn how to make a cauliflower pizza crust that you can pick up, with crispy edges.
Low carb, gluten-free, keto, and Paleo Almond Butter Bread is a flourless bread that's ready for slicing in just 45 minutes from prep time!
Only 1 main ingredient needed to enjoy the best Keto Wraps you can have. Transform your wish of a Keto or Low Carb Flatbread to Vegan, Grain-free, Gluten-free option for your meals.
Easy 5 Ingredient Low Carb Keto Snack Recipes
With only 3 ingredients, these cheesy and crispy crackers are so easy to make. Plus, they have added vitamins and minerals because they include nutritional yeast!
Keto Ritz Crackers are super easy and yummy. Have them with some sliced cheese or a dab of flavored cream or cottage cheese.
Sometimes you want to be "good" and stick to your Keto plan, but you are also craving something a bit tempting. Well, these pizza rolls truly deliver fantastic flavors with every bite. These are a great snack version of my crustless pizza!
With just 3 simple ingredients, these crackers are easy to make and can stand up to just about any of your favorite dips!
Quick, easy sour lemon gummy snacks made with gut-friendly gelatin. With endless flavor variations, these sugar-free gummies are the perfect keto snack.
5 Ingredient Dessert Recipes
Easy keto peanut butter cookies satisfy any sweet tooth without killing your diet goals. Besides being keto-friendly, they are gluten-free, grain-free, and low carb.
Coconut Treat Squares (or coconut custard bars) are the perfect treat to curb those sweet cravings.
These Key Lime Pie Fat Bombs are a delicious vegan keto treat to satisfy your cravings for something sweet and tart!
5 Ingredient keto Thin Mint cookies. Easy low carb copycat Girl Scout thin mint cookie recipe you will want to make.
Make these easy Keto/Paleo/Vegan friendly, no-bake peanut butter pecan bars with 5 ingredients! Includes an optional chocolate drizzle that you can make yourself. But, you can also buy chocolate honest syrup instead.
These no-bake low carb Cheesecake Keto Fat Bombs are the perfect dessert to help you curb cravings! Plus, they are so easy to make and help you from getting hungry too!