If you're a foodie like me and used to eating comfort food, it might be a bit of an adjustment to just have a regular salad. So, I gathered up these flavor-packed low-carb keto salad recipes that I know you will enjoy.
Most of them layer bold flavors by adding well-seasoned meat, toppings, and low-carb versions of salad dressings. Others are salad versions of carb-filled favorites like tacos and burgers.
As you scroll through this list of keto salad recipes, I hope you find a few that intrigue you. If you try any of these, I'd love it if you'd leave me a comment and tell me all about it.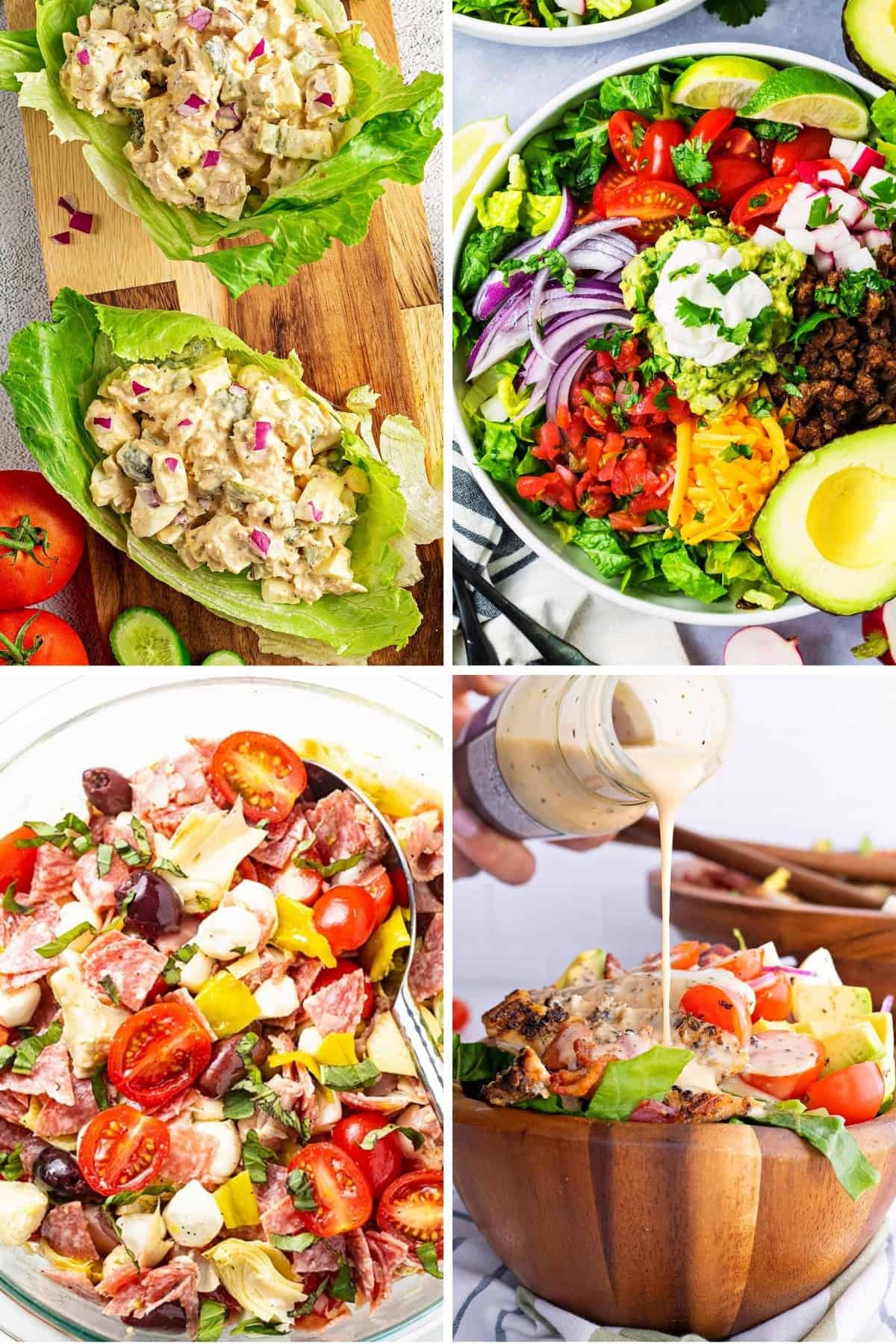 Low Carb & Keto Salads
When you're craving Mexican food, my Keto Taco Salad hits all the right notes. Crispy and refreshing, yet hearty, you won't even miss the shell. This recipe features my homemade taco seasoning but also includes guacamole and pico de gallo that I used in my keto nachos.
One of the best things about keto is bacon. My BLT Avocado Salad takes all the wonderful flavors of a bacon, lettuce, and tomato sandwich combined with the creamy comfort of avocado for a salad that is pure comfort! I topped this one with my ranch dressing and you can keep this mess-free by using my air fryer bacon.
Perfect for picnics, potlucks, or simply as a side dish for dinner, this Keto Coleslaw is tasty, refreshing, and serves up just the right amount of crunch. Personally, I enjoy this one with my keto BBQ pulled pork.
Layer on the flavors of my cast iron chicken, crispy air fryer bacon, and vegetables like avocado in this easy recipe. I personally love this keto salad with my blue cheese cream dressing.
If you've never tried broccoli and bacon together, this Keto Broccoli Salad with Bacon is just what you need in your life. The creamy dressing turns this meal salad into total comfort food.
Enjoy this cold salad for lunch in a lettuce wrap. Add a bit of extra protein with my hard boiled air fryer eggs.
This Big Mac Salad has all the flavor of the famous sandwich, but in a keto-friendly salad form that satisfies without blowing your diet. What could be better?
With the delightful flavors of bacon, tomato, and blue cheese dressing, this wedge salad is a great side dish – yet hearty enough to be a great summertime meal. It's so easy to prepare, you can happily fit this meal into your busy lifestyle!
One of my favorite things about a good salad is the wide variety of ingredients you can include. This turkey salad has only a few simple ingredients, but so much color and flavor, you'll swear it tastes like more! This one is a great recipe to use up your leftover turkey from Thanksgiving.
When tomatoes are in season, this salad is a must-make. The mint and balsamic vinegar bring the flavor of fresh tomatoes to life in all the best ways.
If you've never had an amazing cucumber salad, now is your chance. This one has cucumber slices combined with thin-sliced onions and a creamy, homemade dressing. I recommend enjoying this with any of these keto grilled food recipes.
This simple creamy chicken salad is full of complex flavor. Enjoy with your favorite raw vegetables and lettuce leaves. You might also add this to one of my keto bagels if you're craving a chicken salad sandwich.
Cobb salad is popular with keto and non-keto eaters alike. This versatile recipe calls for chicken or any other meat you enjoy, cheese, hard-boiled eggs, and a tasty variety of your favorite vegetables.
If you love steak for dinner, just wait until you try it in a salad. Slices of tender steak, mushrooms, avocados, and tomatoes combine for a hearty, delicious dinner salad that is perfect for weekday meals and special occasions alike!
This Italian antipasto salad is a great choice when you're looking for the strong flavor profile of pizza or pasta, but want to stick to your healthy keto lifestyle. Full of delicious ingredients like tomatoes, cheese, salami, and more, this salad really satisfies. If you love Italian food, this recipe is also featured in my keto Italian food recipes post.
Most of us love Chinese food, but it isn't known for being very keto-friendly. That's why you need this salad in your life. With chicken, rice vinegar, cilantro, and other tasty ingredients, you'll love every bite!
If you're looking for southern style keto potato salad without cauliflower this one is it! It has all the flavors of southern-style potato salad without the carbs
Chicken fajitas are so much fun. Strips of chicken with fajita vegetables make for a scrumptious meal – but the tortillas can be a real problem. Lay all those favorite ingredients out on a salad or even a cheese taco shell, though, and you have the warm weather meal of your dreams!
If you're looking for an extra-special keto-friendly dish to share with friends and family, you'll want to check out this tasty crab salad. You can enjoy this with low-carb toast (this one is my favorite low-carb bread), keto-friendly crackers, or some butter lettuce.
If you're in the mood for the ultimate summer salad, this one may just blow your mind. Fresh spinach leaves provide the perfect bed for crunchy pecans, chicken, strawberry slices, and tasty balsamic vinegar.
This is a great alternative to traditional chicken salad recipes. It starts with using homemade ranch seasoning to make ranch dressing. Then you just add cooked chicken, cheese and bacon.
If you love classic Amish broccoli and cauliflower salad, this version is a tasty (and different) delight. Using shrimp instead of bacon brings new refreshment to this satisfying meal. But, if you want to throw a little bacon in, too, I won't tell on you!
Although traditional ceviche is made without heat, this tasty salad involves lightly-grilled shrimp. I imagine that the extra step really brings out the shrimp flavor.
Wedge salads are easy, satisfying, and delicious – but when you add the flavor of buffalo chicken, you get a salad that is off the charts. Combined with blue cheese crumbles and an assortment of tasty vegetables, this salad will really surprise you!
Made with rotisserie chicken, bacon, and cheese, this chicken salad is simply amazing. So delicious, you'll want to share with your family but may be very tempted to eat it all yourself.
Cauliflower is wonderfully versatile (in fact, I have a post with 40 cauliflower recipes), making it the perfect choice to substitute for potatoes in this Creamy Cauliflower Salad. This tasty side dish offers you all the satisfaction of potato salad – without the carbs.
Sometimes you're just in the mood for a good pasta salad, and this Greek Zoodle Salad is the keto-friendly solution that you are looking for. Rich with Greek flavors like Kalamata Olives and Feta Cheese, it is the dinner salad you've been craving!
When you're in the mood for a cheeseburger but want to avoid bread, this Low Carb Cheeseburger Salad is a completely delicious alternative.
FAQs