This post may contain affiliate links to products I use and highly recommend. You can read my full disclosure .
Pizza is life for most people, but it's one of the most carb-loaded comfort foods. So, if you're on a low-carb diet, what do you do? These low carb pizza recipes are easy and delicious. Plus, for those who don't feel like cooking, I'm sharing some of the popular takeout options for low carb pizza from chains near you.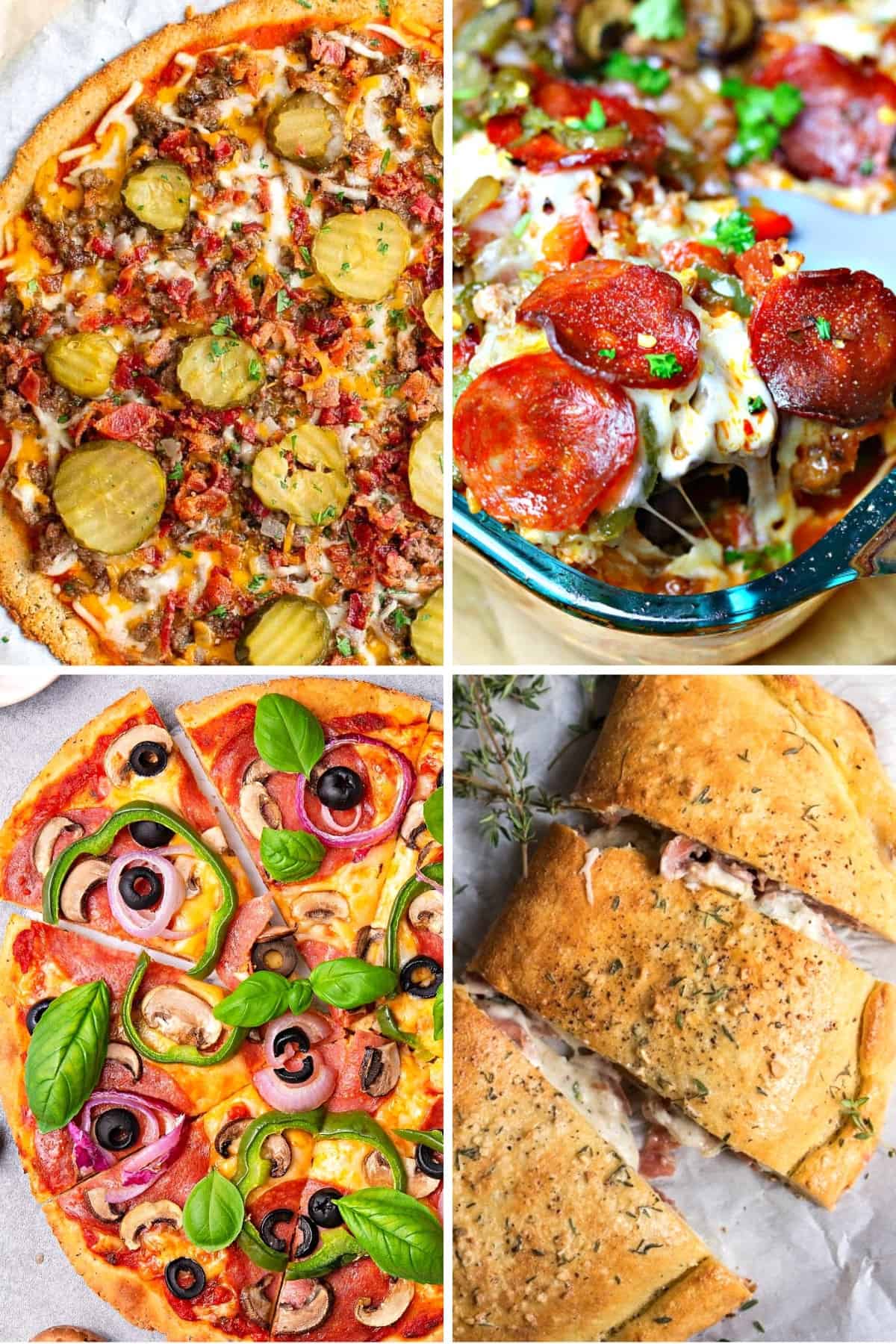 Why Share?
Pizza is delicious and if you have it multiple times per week, you might feel lost when you attempt to cut carbs. Since the extra carbs in a regular pizza are mainly from the crust and sauce, I'm sharing easy homemade low-carb alternatives.
Plus, you'll find some recommendations for takeout options from pizza chains near you.
More Low Carb Recipe Collections:
The Best Low Carb Pizza Recipes
If you have some leftover pulled pork or bbq chicken breasts, you can use it to make this delicious low carb pizza. You'll require a low-carb crust that you can pick up from the store, sugar-free BBQ sauce, and a few other topping ingredients.
Keto BBQ Pulled Pork Pizza
This easy keto pizza recipe puts my leftover pressure cooker pulled pork to good use! I used my favorite cauliflower pizza crust, but include 2 low carb pizza crust recipes too!
Get this Recipe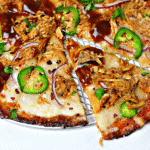 Do you love pizza and buffalo chicken wings like me? This recipe is worth trying. It uses cauliflower pizza crust or homemade fathead pizza dough, and the taste is amazing.
Keto Low Carb Buffalo Chicken Pizza Recipe
An easy low carb keto Buffalo Chicken Pizza recipe for those who want flavor minus the carbs. Made with cauliflower pizza crust or homemade fathead dough!
Get this Recipe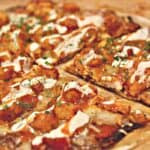 These 15-minutes pizza bagels are flavorful and make a great dish for the whole family. You can use my keto bagels recipe or another low-carb bagel that you prefer.
Pizza Bagels
A quick keto-friendly, low carb and grain-free recipe for pizza bagels that includes fathead dough bagels and tips for popular pizza ingredients.
Get this Recipe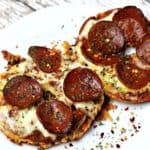 Get the pizza crust right, and the rest will fall into place. My fathead dough is a modification of the original recipe. It's tastier, unprocessed, and low-carb.
Fathead Pizza Dough
A recipe for fathead dough using almond flour, eggs, two kinds of cheese, and seasonings. Perfect for pizza, bagels, and Philly Cheesesteak pockets.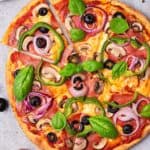 If making enjoyable low-carb crusts is such a big deal, skip that and do crustless pizza instead. This is the perfect family-friendly alternative to buying individual pizza bowls.
Keto Crustless Pizza Casserole Recipe
Low-Carb Keto Crustless Pizza Supreme Casserole gives you all the pizza flavors you know and love in an easy to make, low carb package. This delicious recipe feeds a crowd and is perfect for meal prep.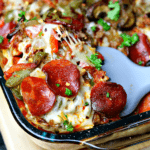 This juicy bacon cheeseburger is like a pizza and cheeseburger in one. It even has pickles as toppings!
Bacon Cheeseburger Pizza | Peace Love and Low Carb
This Keto Bacon Cheeseburger Pizza Recipe checks all the boxes. Pizza and a burger – sauce, a mix of cheeses, perfectly seasoned ground beef, crispy bacon, onions, garlic, tomatoes and even pickles.
Get this Recipe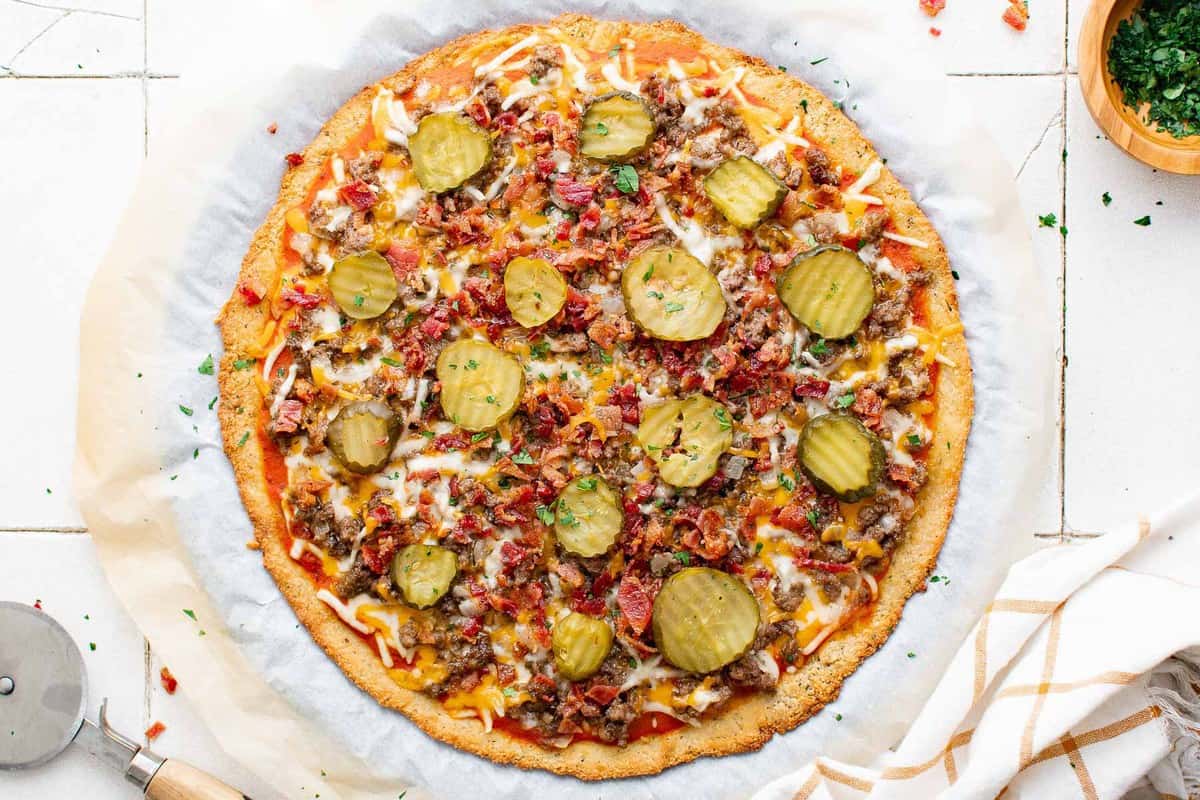 Here's how to make a cauliflower pizza crust at home. It requires only 3 ingredients and has 3g of net carbs.
Cauliflower Pizza Crust Recipe
The BEST keto cauliflower pizza crust recipe, with just 3 ingredients! Learn how to make cauliflower pizza crust that you can pick up, with CRISPY edges.
Get this Recipe
This recipe delivers an interesting switch from your regular red-sauce pizza. The taste is still amazing, and the dish is great for low–carb, keto, and gluten-free dieters.
Low-Carb Spinach and Feta Flatbread Pizza
This recipe for Low-Carb Spinach and Feta Flatbread Pizza makes a delicious change from pizza with red sauce. This pizza can be part of a low-carb, ketogenic, LC/HF, gluten-free, nut-free, Atkins, or Banting diet. Disclaimer:
Get this Recipe
Simple ingredients come together in this easy Florentine pizza recipe.
Low Carb Florentine Pizza
Low Carb pizza crust using fathead dough! This will hold all of your toppings and is so much easier than traditional pizza crust!
Get this Recipe
The main ingredients for this delicacy are fathead pizza crust, cream cheese, jalapeno, and bacon—a perfect dish for family pizza night.
Jalapeño Popper Pizza – Keto Recipe!
This jalapeño popper pizza recipe is a family favorite in our house. Jalapeño, crispy bacon, and cream cheese on top of keto pizza crust.
Get this Recipe
This pizza chicken is your fix whenever you need something simple that the whole family will enjoy. It's low-carb, mouth-watering, and easy to make at home.
Slow Cooker Pizza Chicken + VIDEO
Pizza chicken is an easy low-carb & keto friendly recipe that can be made in the slow cooker or Instant Pot. Serve this kid approved meal any day of the week. Updated 2020 This easy pizza chicken recipes pairs together some of my favorite ingredients. I keep sausage & pepperoni in my house at all t…
Get this Recipe
Spice up your family nights with this cauliflower pizza casserole. It requires only 6 ingredients and a skillet.
Cauliflower Pizza Casserole
This low carb cauliflower pizza casserole is a tasty recipe that the whole family will love! Easy to make in a skillet and so tasty!
Get this Recipe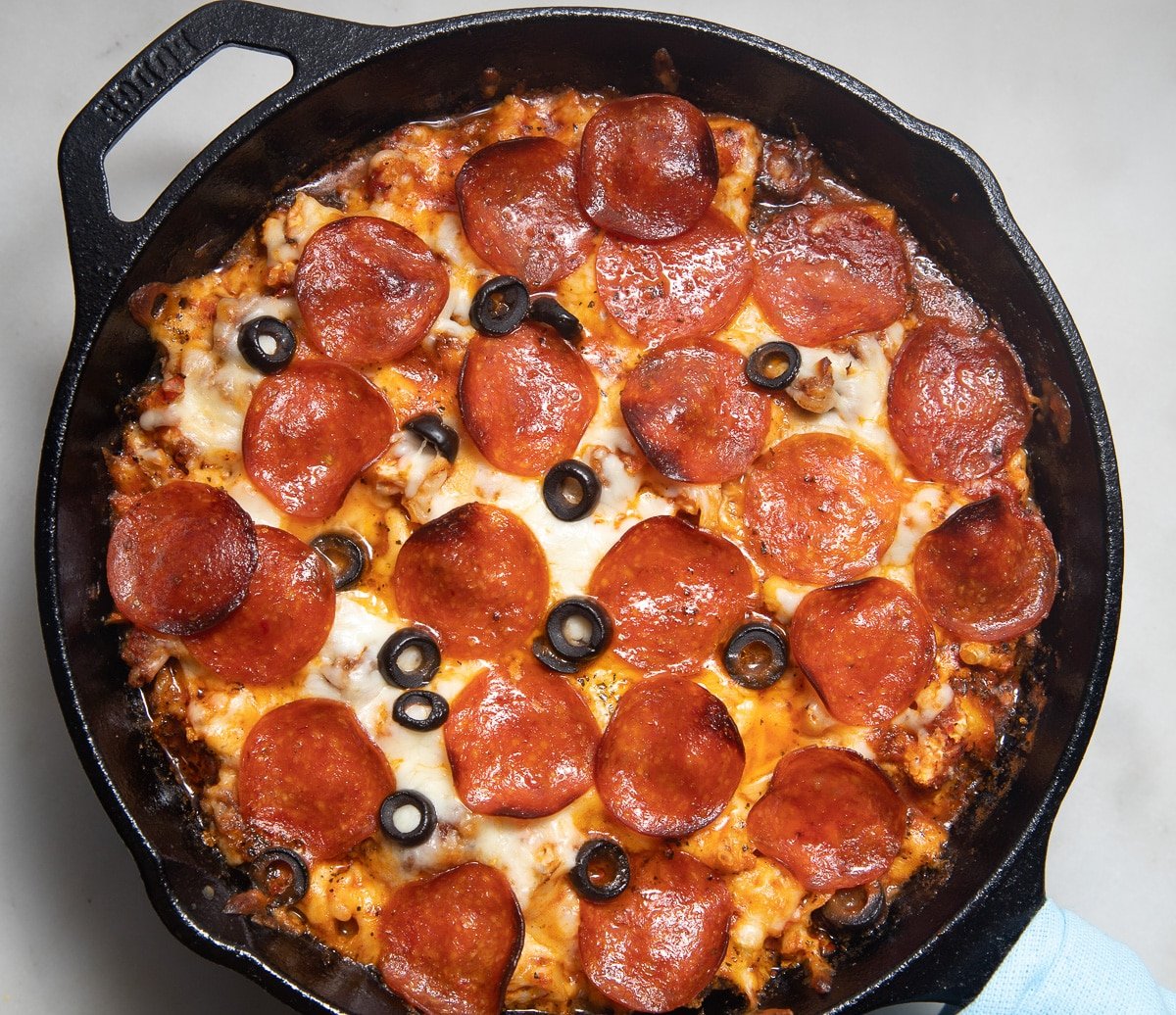 This is a hit whether you're on a special diet or not. You'll use fathead dough then add low-carb toppings.
Keto Low-Carb Fathead Three Cheese Pepperoni Pizza
Keto Low-Carb Fathead Three Cheese Pepperoni Pizza is the best quick and easy healthy recipe that uses almond flour, cream cheese, and mozzarella for the pizza base and crust. Load this practically carb-free pizza with your favorite toppings like marinara pizza sauce and pepperoni.
Get this Recipe
Try this recipe whenever you're in the mood for a bold taste. The dish is colorful, flavor-packed, and requires a handful of ingredients.
Keto Big Mac Pizza | Peace Love and Low Carb
This Keto Big Mac Pizza Recipe has all the flavors of a juicy burger, but in a delicious pizza. Ground beef, special sauce, shredded lettuce, cheese, pickles, onions, and a sprinkle of sesame seeds.
Get this Recipe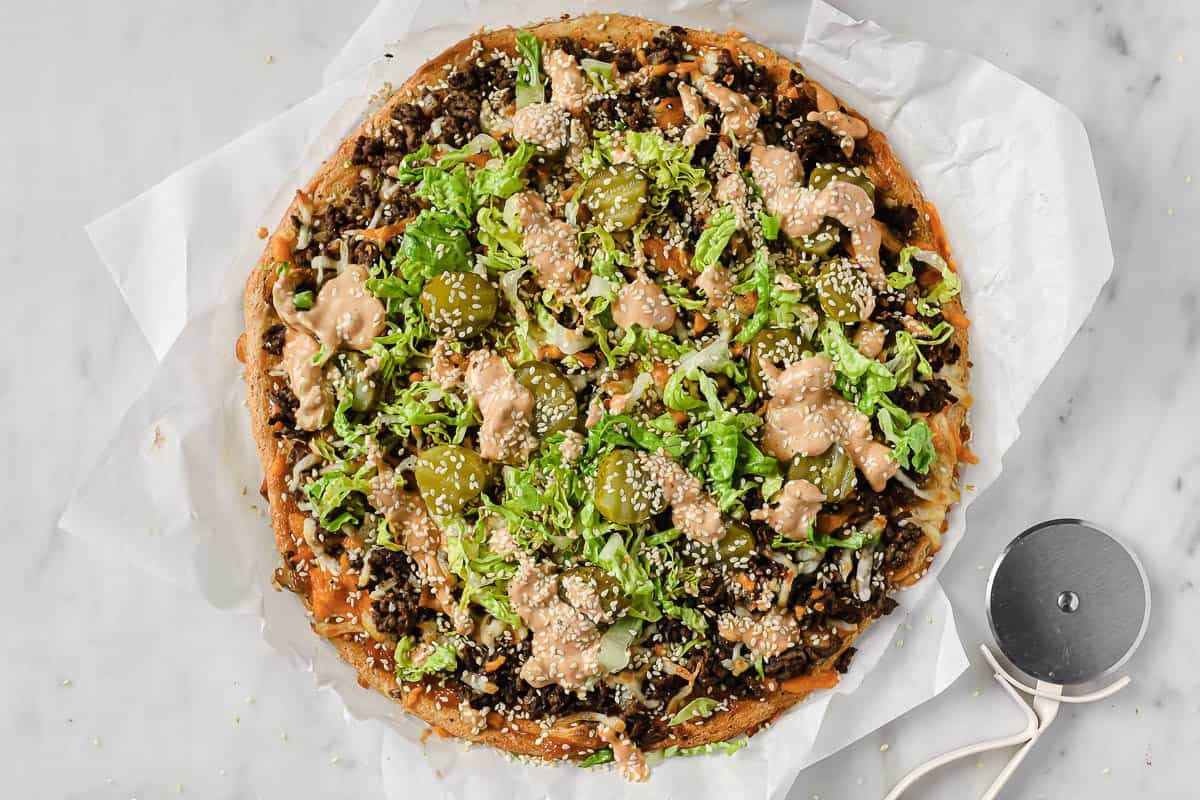 The goodness in one bite of this pizza will blow your tastebuds away. Yet, the recipe uses ordinary ingredients, and the dish comes together in only 30 minutes!
(30 Minute!) Dairy Free & Keto Calzone 🍕
Easy-peasy and absolutely scrumptious!
Get this Recipe
Takeout Pizza Options & FAQs
Which pizza is lowest in carbs?
The dough used to make pizza crusts adds the most carbs, so doughless options like bowls are the best.
Does Dominos have low carb pizza?
No, but they offer tips for lighter options.
What pizza chain has low carb crust?
California Pizza Kitchen has menu planners to help make better choices depending on calories, carbs, and other needs. You can also have pizza bowls from Marco's—Here, you'll get an all-meat crustless pizza or one with meat and mushrooms. Other pizza chains offer a cauliflower crust which is great for a low-carb diet.

Is thin crust pizza less carbs?
A thin crust has less dough, so fewer carbs than the regular one, but still higher than the options in the list above.
What pizza chain has cauliflower crust?
California Pizza Kitchen and Donato's are two pizza chains that have cauliflower crusts. Always check the nutrition information for any cauliflower pizza crust though since some are made with very little cauliflower.
How many carbs are in cauliflower pizza crust?
It depends on the choice. The homemade one included above has 3g net carbs. A store-bought option (from Califlour Foods) also contains 3g of net carbs. But, others have 27g or more of net carbs per serving because cauliflower is very low on the list of ingredients.