Pizza is life for most people, but it's one of the most carb-loaded comfort foods. So, if you're on a low-carb diet, what do you do? These low carb pizza recipes are easy and delicious. Plus, for those who don't feel like cooking, I'm sharing some of the popular takeout options for low carb pizza from chains near you.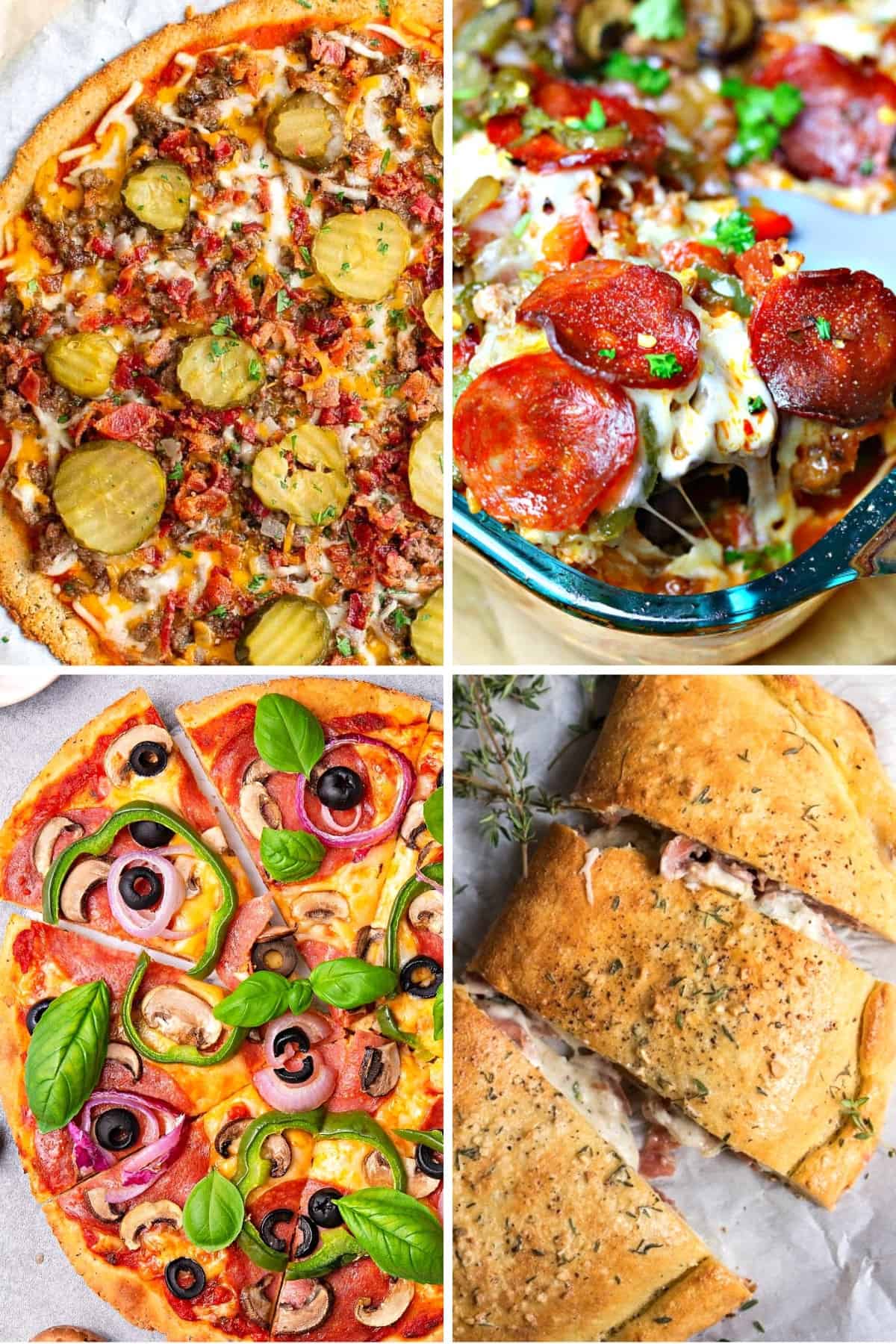 Why Share?
Pizza is delicious and if you have it multiple times per week, you might feel lost when you attempt to cut carbs. Since the extra carbs in a regular pizza are mainly from the crust and sauce, I'm sharing easy homemade low-carb alternatives.
Plus, you'll find some recommendations for takeout options from pizza chains near you.
More Low Carb Recipe Collections:
The Best Low Carb Pizza Recipes
If you have some leftover pulled pork or bbq chicken breasts, you can use it to make this delicious low carb pizza. You'll require a low-carb crust that you can pick up from the store, sugar-free BBQ sauce, and a few other topping ingredients.
Do you love pizza and buffalo chicken wings like me? This recipe is worth trying. It uses cauliflower pizza crust or homemade fathead pizza dough, and the taste is amazing.
These 15-minutes pizza bagels are flavorful and make a great dish for the whole family. You can use my keto bagels recipe or another low-carb bagel that you prefer.
Get the pizza crust right, and the rest will fall into place. My fathead dough is a modification of the original recipe. It's tastier, unprocessed, and low-carb.
If making enjoyable low-carb crusts is such a big deal, skip that and do crustless pizza instead. This is the perfect family-friendly alternative to buying individual pizza bowls.
This juicy bacon cheeseburger is like a pizza and cheeseburger in one. It even has pickles as toppings!
Here's how to make a cauliflower pizza crust at home. It requires only 3 ingredients and has 3g of net carbs.
This recipe delivers an interesting switch from your regular red-sauce pizza. The taste is still amazing, and the dish is great for low–carb, keto, and gluten-free dieters.
Simple ingredients come together in this easy Florentine pizza recipe.
The main ingredients for this delicacy are fathead pizza crust, cream cheese, jalapeno, and bacon—a perfect dish for family pizza night.
This pizza chicken is your fix whenever you need something simple that the whole family will enjoy. It's low-carb, mouth-watering, and easy to make at home.
Spice up your family nights with this cauliflower pizza casserole. It requires only 6 ingredients and a skillet.
This is a hit whether you're on a special diet or not. You'll use fathead dough then add low-carb toppings.
Try this recipe whenever you're in the mood for a bold taste. The dish is colorful, flavor-packed, and requires a handful of ingredients.
The goodness in one bite of this pizza will blow your tastebuds away. Yet, the recipe uses ordinary ingredients, and the dish comes together in only 30 minutes!
Takeout Pizza Options & FAQs