I've been wanting a Ninja® Foodi™ Pressure Cooker since they first released. The thought of being able to have an air fryer, pressure cooker, and slow cooker all-in-one, almost seemed too good to be true. This week, I got the opportunity to review the Ninja Foodi and create a Spring keto & low-carb recipe! So, I'm sharing this Pressure Cooker Keto Pulled Pork, but also reviewing this kitchen tool for those who might be wondering if it's a good fit.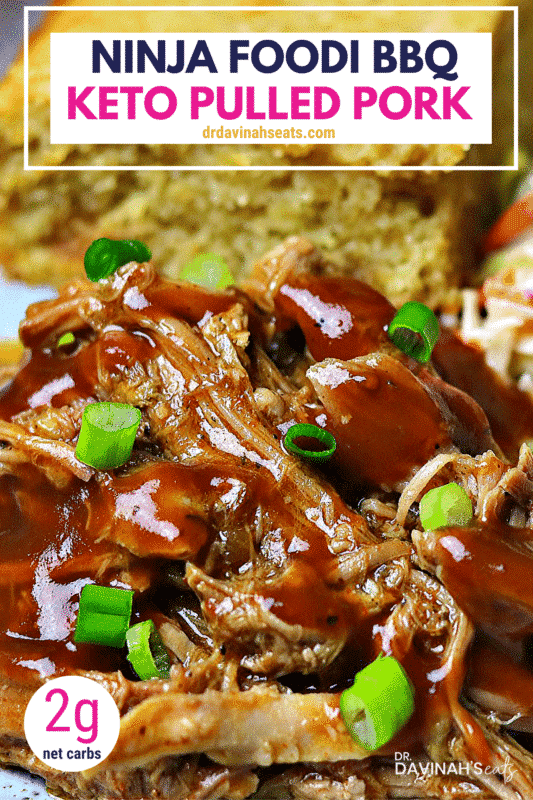 What's the Ninja Foodi Pressure Cooker?
A kitchen appliance with 8 functions
The Ninja Foodi is an all-in-one kind of appliance. It has two lids (one for pressure cooking and the other for air crisping). It has 8 different functions:
Pressure Cooking
Steaming
Slow Cooking
Searing & Sauting
Air Crisping/Frying
Baking/Roasting
Broiling
Dehydrating
This means you can pressure cook a roast, then use the same machine to steam your vegetables.
So, it allows you to ditch several small kitchen appliances
I love to cook so my house is filled with a ton of kitchen gadgets and small appliances. In fact, I have so many that I'm running out of room in my cabinets! All of them are necessary since they help me prepare a variety of meals. The Ninja Foodi found a way to combine several of those appliances in one.
Plus, it has TenderCrisp technology
For me, one of the reasons that I've wanted a pressure cooker is to have a juicy and tender result without having to spend hours waiting on a slow-cooker. However, pressure cookers and slow-cookers have been a bit limiting because neither of them crisps your food. In the past, that's meant taking my meats out of my slow cooker and finishing them in an oven or broiler.
As you've probably heard in their commercials, Ninja Foodi is a "Pressure Cooker that Crisps". It includes TenderCrisp technology that allows you to swap lids and crisp up the meat that you've already made tender and juicy!
How did I use it in this Keto Pressure Cooker Pulled Pork recipe?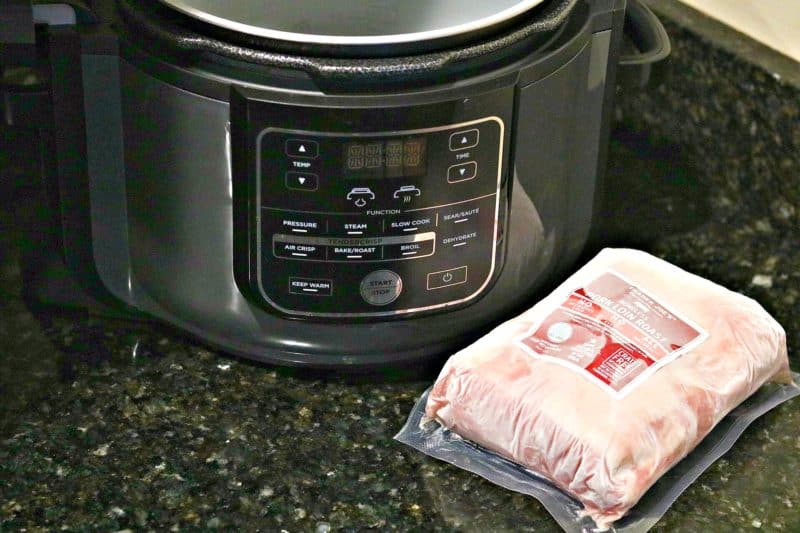 Cooked an ENTIRE roast from frozen!
Besides having a pressure cooker, one of the features that I was most excited about was the ability to cook foods straight from the freezer. I'm one of those people with a deep freezer that includes a lot of stuff that I'm going to cook…eventually.
I don't cook them because I tend to procrastinate and the whole thawing process just takes too long for the time that I have to cook dinner.
This recipe for Keto Pressure Cooker Pulled Pork starts with a 2.6lb frozen pork roast that I had in my freezer.
After removing it from its packaging, I placed the solid roast with some bone broth and spices into the Ninja Foodi and set the pressure cooker for 1.5 hours.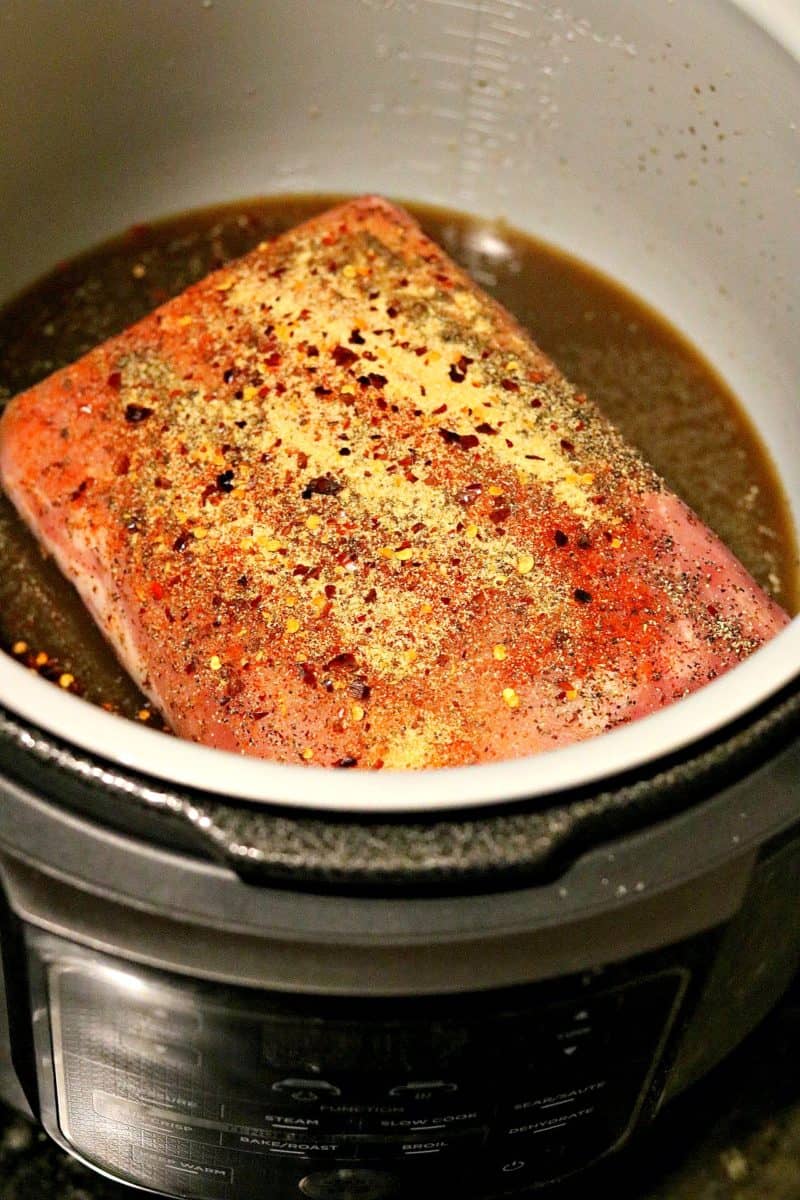 I'll admit I was a bit skeptical. So I walked away with my fingers crossed and just hoped for the best!
To my surprise, my roast was fall-apart delicious! And I was able to save myself 6.5 hours because that same roast would have taken 8 hours in my slow-cooker!
Used the saute/sear function to make the pulled pork BBQ sauce
In the past, I'd cook a roast them use some of the cooking liquids to make a sauce in another pan. Meaning that I'd have dishes from the slow cooker, but also the dishes from making the sauce.
My process this time was different. The Ninja Foodi's unique functions actually allowed me to keep this a one-pot meal. Here's what I did:
Removed the roast and shredded the meat with meat claws
Turned the Ninja Foodi on "Sear/Saute"
Added BBQ sauce once the original cooking liquid was near a slow boil
Allowed the sauce to reduce, or thicken by about half
Returned the shredded roast meat to the removable cooking pot
Served the meat with extra BBQ sauce and a vegetable

Use Keto Pulled Pork for Meal Prep
This recipe is one of my favorite keto meal prep recipes. You can pair this roast with different vegetables, like my sautéed green beans, air fryer green beans, keto cornbread and keto coleslaw. You could also pair it with other low carb side dish recipes for a few meals.
Alternatively, if you have leftover pulled pork, and are craving pizza, then you can use it to make Keto Pulled Pork Pizza! This recipe uses cauliflower or fathead dough as a pizza crust!
What are my thoughts on having the Ninja Foodi so far?
Pros:
Allows you to replace several small kitchen appliances all at once
Cuts down on cook times for things like roasts
Includes 45+ recipes and super clear guides to help you get started
Allows you to cook food frozen so no thawing required
Has a reversible rack, which allows you to cook different parts of your meal in the same pot (e.g., roast a meat in the bottom and steam vegetables on top)
Dishwasher safe cooking parts, which makes cleaning up easy
Con:
I'll be honest and say that I really love this machine. However, one con is that the Ninja Foodi is huge. For me, this is ok since it has so many functions. So, I ended up giving my XL air fryer and slow cooker to stick with this one.
Other Ninja Foodi recipes
Below, you will find some of my most popular recipes, but you should also check out my Ninja Foodi recipes collection for the full list of Foodi dishes.
I created a collection of 15 pressure cooker recipes that are keto-friendly and low-carb. They're perfect for a keto meal prep and include things like Pressure Cooker Roast with Gravy, Lemon Garlic Chicken, Pressure Cooker Whole Chicken, and Keto Korean Beef BBQ!
Air Fryer Recipes
Slow Cooker Recipes
Where can I get a Ninja Foodi Pressure Cooker?
These are available on Ninja's website, Amazon, and most big-box retailers, like Target.