These Low-carb Breakfast Ideas have a solution for any craving. You'll find keto breakfast recipes that transform some of the most carb-filled dishes like bagels, pancakes, and stuffed French Toast. I also include low-carb breakfast recipe ideas without eggs. While most of these require cooking, you can find no cook options in my guide about keto cereal.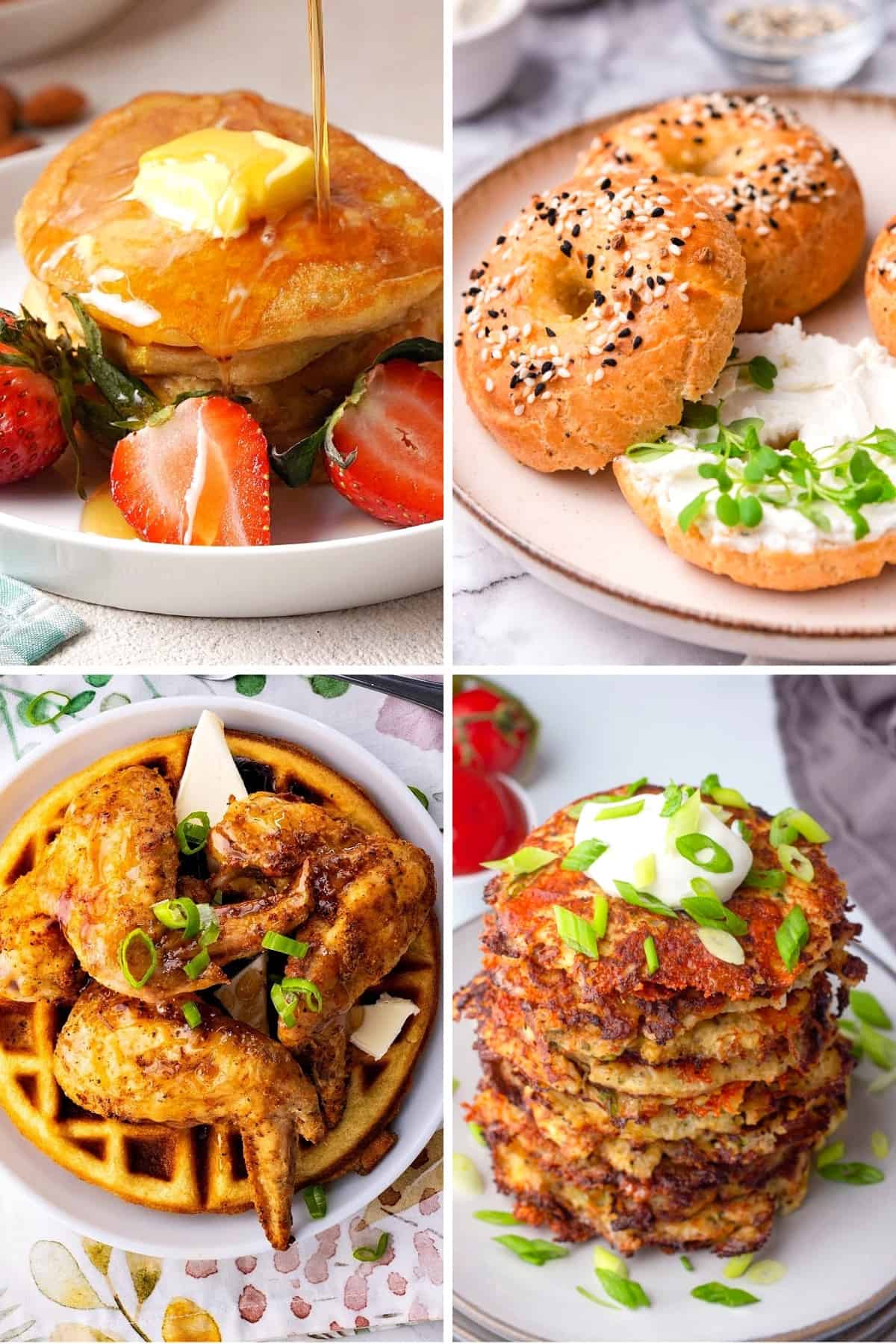 Low Carb Remakes of High Carb Breakfast Dishes
This was one of my first keto breakfast recipes where I remade a high-carb dish. These fluffy pancakes require just a few ingredients and one pan. My husband and I love having these on the weekends with sugar-free bacon & honest syrup. These are kid-approved. In fact, when my niece visits us, these are the only pancakes I make now because she enjoys them. Each serving has 5g net carbs.
This is a super simple, modified fathead dough recipe for low carb bagels. In fact, each bagel has 5g net carbs. I've used these when I'm craving a Nova Lox sandwich. I also had these when I was feeling a bit nostalgic and had a craving for pizza bagels! This recipe includes almond flour. But, if you're allergic to almond flour, it includes two options to make low carb bagels with coconut flour too!
This low-carb breakfast idea is one of my favorites. The almond flour waffles and crispy air fryer chicken wings balance sweet & savory.
Grab one of these muffins and serve it up with my cold brew latte. These are super easy to make and are great for meal prep.
These waffles are light and airy on the inside with a crispy outer layer. This is a great option if you prefer waffles over pancakes! Since these waffles were so large, I had a half of one per serving, which totaled 3g net carbs. If you have room in your daily calorie budget, these also work well with the chicken fingers that I made in Keto Chicken & Waffles.
These Low Carb Stuffed French Toast have all of the flavors without the carbs. As you would expect from traditional stuffed french toast, these are stuffed with a sweet cream cheese filling and coated with keto cinnamon sugar! I took this low carb breakfast recipe to the next level by adding in some berries! Each serving is 11g net carbs.
These Low Carb Blueberry Pancakes have fewer than 10 ingredients. They are also just 7g net carbs per serving. They are made primarily with almond flour.
The recipe contains a small amount of maple syrup, but if you're keto, then I'd recommend that you ditch the maple syrup and replace it with Honest Syrup. Another option would be to just use one tablespoon or two of this keto-friendly sweetener. Replacing the maple syrup will also reduce the carbs per serving!
Maple Pecan Cinnamon Rolls are my keto-friendly remake to Cinnabon. They're made with sweet fathead dough so they have just 5g net carbs per serving.
The roll's center has keto brown sugar, cinnamon, and pecan. I topped these with a maple cream cheese glaze, but you can have these without the glaze or some whipped cream.
One of the easiest ways to cut carbs in a quiche is to eliminate the crust. This recipe is super easy and prepared in 30 minutes in a pressure cooker.
After trying out a modified egg loaf in my Keto Cinnamon Sugar French Toast Sticks, I was inspired to create this dish. These low carb Strawberry Shortcake French Toast include layers of keto french toast sticks, a no sugar added strawberry compote and sugar-free whipped cream.
The recipes for the strawberry sauce and homemade keto whipped cream are included.
This keto-friendly coffee cake contains swirls of fresh blueberry and a vanilla almond flour cake. Each serving has 3g net carbs and it takes 40 minutes to make (15 minutes of hands-on time). Love that the recipe includes step-by-step photos. The close-up photo has me literally drooling and excited to make this!
If you've ever had an actual breakfast pizza or breakfast nachos, then you might want to try this option! It takes only 5 minutes of cook time and includes popular pizza ingredients. This low carb breakfast recipe is largely carb-free since the crust is actually made from a few eggs.
I love the flavor combination of maple and pecan. This recipe uses a low carb bread substitute to make this french toast casserole. Each serving as about 8g net carbs. You can use any keto bread in this recipe. My personal favorite is this brand (all of the flavors are awesome) that I used in Keto Stuffed French Toast.
These are basically low carb cheddar biscuits with bacon! They'd be perfect with sausage gravy or alone. They take about 35 minutes to make. Each biscuit has 2.5g net carbs.
Looking at the recipe comments, some tips to make this recipe even more delicious are adding jalapeno and brushing them with butter as soon as they're out the oven.
Thought that going low-carb means no oatmeal? Think again. This creative low-carb breakfast idea doesn't include any oats, but has all the flavor.
Breakfast Ideas for Low Carb Side Dishes
Need low carb ideas for breakfast side dishes? Check out these easy recipes.
Add this kid-friendly keto recipe to the menu. By using cauliflower rice, you get the texture of hash browns without potatoes.
Low Carb Breakfast Ideas Without Eggs
There are several low carb breakfast ideas without eggs included above. But, these recipes offer additional recipe and meal ideas.
This low carb breakfast idea without eggs tastes like dessert.