This post may contain affiliate links to products I use and highly recommend. You can read my full disclosure .
This collection of easy & healthy Low Carb Lunch Ideas includes delicious recipes that you can make at home or take to work. These low carb lunch recipes include options for soup, salads, reusing leftovers and more! Perfect for meal planning and budgeting cheap low carb meals.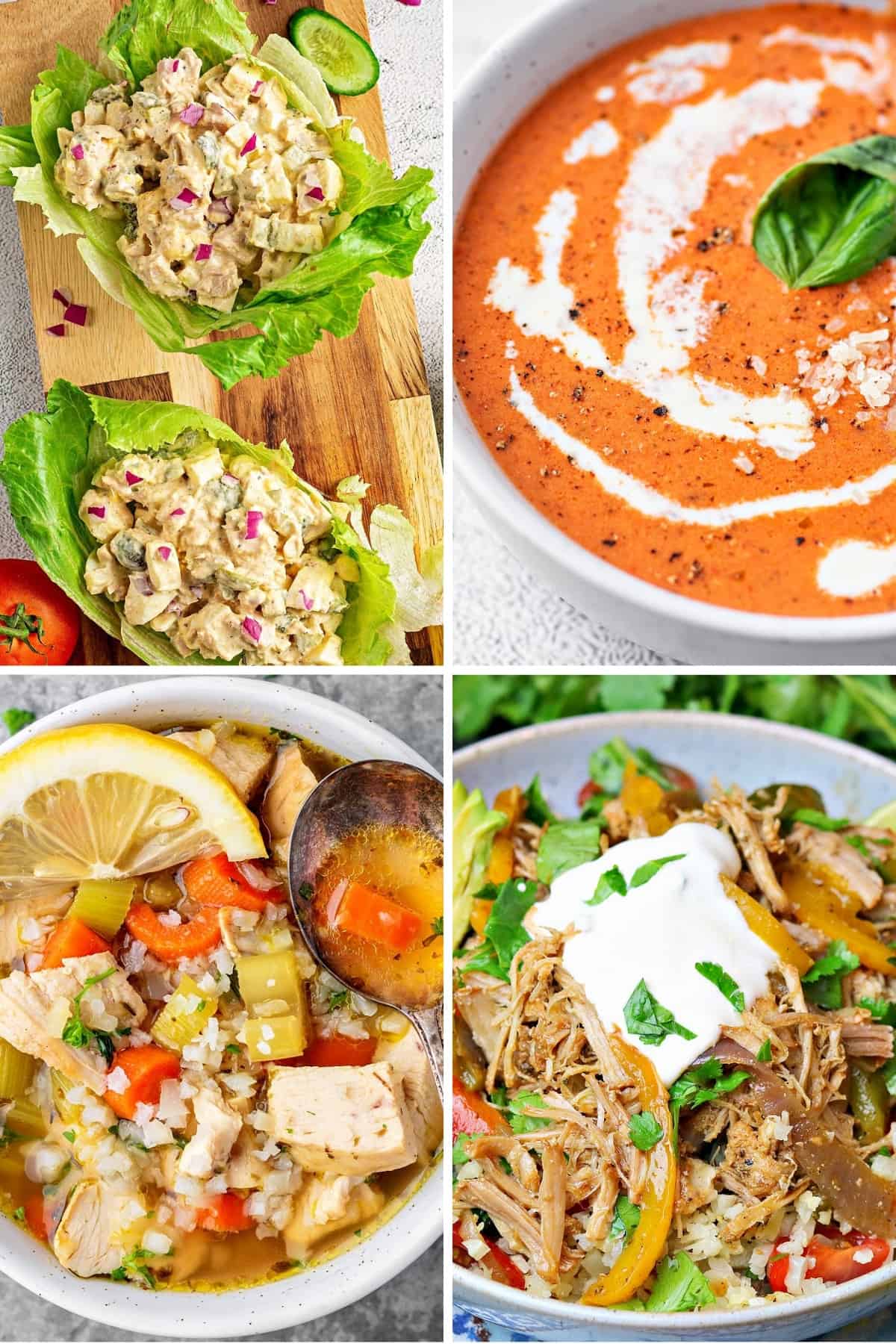 Why Share Low Carb Lunch Ideas
We all enjoy a hearty meal for lunch, and there are numerous amazing food ideas. However, if you're on a low-carb diet, your options are limited because you've got to worry about the extra carbs.
You can no longer enjoy meatballs without thinking about the breadcrumbs. Sad, right? But here's the good news; there are several delicious and low-carb dishes you can incorporate into your meal plan just as they are or with a few tweaks.
I compiled a list of interesting low carb lunch ideas from my kitchen and other amazing kitchens on the internet, just for you!
More Low Carb Meal Ideas:
Let's get into the various low-carb lunch recipes you can consider:
Low Carb Salads
These salads are some of the easiest and flavorful low carb lunch ideas. Most of them include a rainbow of vegetables and easy to make or buy dressings.
Soups for Low Carb Lunch
Have these creamy and delicious low carb soups for lunch. This list includes some of my most popular soup recipes like creamy keto tomato soup as well as options that use leftover meat like my leftover turkey soup.
Low Carb Lunch Bowls
Lunch bowls are an easy way to layer a lot of flavors. These bowls are easy to make andcan incorporate leftovers.
Wraps & Low Carb Sandwiches
When cutting carbs, bread is usually the first option that people skip. These creative wraps and low carb sandwiches prove that there are more options than that. They include vegetable wraps, but also some options for low carb bread alternatives.
Leftovers That Reheat Well
Leftovers make the perfect lunch. But, you have to choose the right dishes. These low carb lunch ideas from leftovers are a great start.
FAQs
How can I satisfy my hunger without carbs?
I personally find that adding more vegetables to dishes help them to be more filling without adding a lot of net carbs.
Takeaway
You no longer have to choose between your favorite dishes and low-carb diet goals because you can have both. Use these healthy low carb lunch ideas to jumpstart your creativity.