Chicken is a staple in most homes because it's budget-friendly and easy to make. But, many recipes have added breading and sugar-filled sauces. If you need low carb chicken recipes to include in your meal plans, this post is for you. I'm sharing the best recipes to help you enjoy chicken with fewer carbs. The dishes are easy to make and require basic ingredients.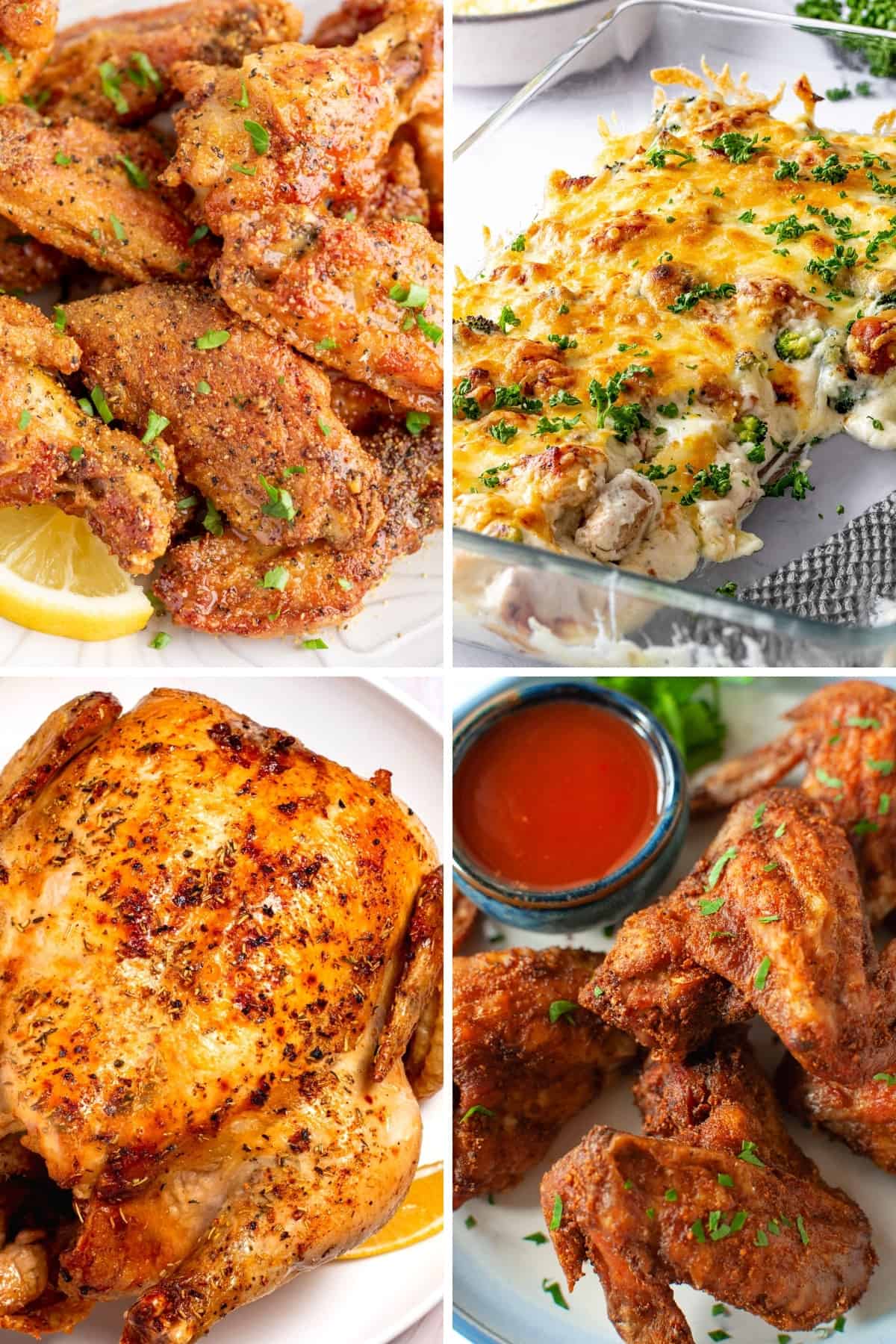 Why Share Low Carb Chicken Recipes?
Chicken dishes are the most popular in American homes, and there are hundreds of different chicken recipes out there. Even so, low-carb dieters still struggle to find interesting recipes. This is because most chicken dishes include high-carb breading and sauces. So, are there ways to cook chicken without the excess carbs? Yes!
This collection of low-carb chicken recipes offers some of the best options to add to your menu.
What You Should Know About These Recipes
The recipes included here have 15g or less of carbs per serving and are for a range of meals, including breakfast, lunch, dinner, and snacks. They also use various chicken parts like wings, thighs, and low carb chicken breast recipes.
Other Low Carb Chicken Recipe Collections:
Low Carb Chicken Wing Recipes
These are crispy and tasty, seasoned with my homemade BBQ dry rub. You can also use my keto BBQ sauce for extra goodness.
This recipe is perfect if you're an adventurous foodie. The lemon and pepper combo sauce makes this dish exceptionally tasty.
If you have an air fryer, you can roast your chicken wings in less than 30 minutes. You only need 4 ingredients, and the results are finger-licking good.
Make crispy and tasty chicken wings without the deep-frying menace. It's a quick fix that requires a handful of basic ingredients.
Save your takeout money and make more delicious and low-carb garlic parmesan wings at home. I use a simple DIY garlic parmesan sauce.
If you love bold Asian flavors like me, give this recipe a go. It's a balanced combination of hot, sweet, and garlicky. Too much goodness in one dish!
If you need a quick-fix appetizer or dinner protein, there you have it. Spicy and crispy chicken wings seasoned with a simple DIY chicken dry rub.
These juicy and spicy wings may become your favorite because their goodness is out of this world. The best part is that they are low-carb and use only 8 ingredients.
An air fryer enables you to cook frozen wings in less than 30 minutes. My homemade cajun seasoning makes this dish extra special.
Low Carb Chicken Casseroles
Do you need low-carb chicken recipes for casserole dishes? This one will blow your taste buds away. It'll be ready in 30 minutes, and a single serving has 4g net carbs. It includes my homemade keto alfredo sauce!
The prep time for this low-carb casserole dish is only 5 minutes. It requires 7 basic ingredients and the results are mouthwatering.
Low Carb Chicken Breakfast Recipes
What better way to start your morning than with juicy chicken sausages? This dish uses all-natural and simple ingredients.
These aren't your regular-day kind of waffles. They are special delicacies made from low-carb almond flour paired with crispy air-fried chicken.
Chicken Lunch Ideas
Use my DIY chicken dry rub to make yummy, tender, and crispy chicken tenders without breading. This dish is quick, easy, and uses a few ingredients.
This dish delivers the awesomeness of typical Indian chicken tikka masala without marination. It's saucy, spicy, and low-carb.
Whip up this easy and quick delicacy whenever you're having a lazy day but still want something good for lunch.
This stewed chicken is a perfect representation of Caribbean flavors. The meat is first marinated in a special dry rub, and the results are worth every bite.
Low Carb Salads with Chicken
This one fits the bill any day you need a meaty salad. It's rich, colorful, and full of flavor. It's easy to make and great for low-carb and keto dieters.
Recreate the classic American Caesar salad without the excess carbs. Cheese crisps replace croutons.
This salad is flavor-packed and low in carbs. It's a perfect chicken bites and DIY Greek salad combo.
Are you looking for summer salad ideas? Try this one. It bursts with flavor and is low in carbs.
These crispy chicken tenders and fresh veggies make the perfect salad any day. You can use homemade keto ranch dressing to keep the carbs low.
This Thai chicken salad mimics the original dish without the extra carbs. It's easy to make and uses a DIY peanut salad dressing.
Whole Chicken
An air fryer saves the day when roasting a whole chicken. There is no need for marination; just mix a few spices and rub it on to make delicious and crispy whole chicken.
Make juicy and crispy whole chicken in the air fryer for half the time it would take in an oven. You can marinate it for extra flavor.
Spice up your days with this tender and ridiculously juicy chicken dish. It's easy to make and uses a handful of ingredients.
Chicken Thighs
If you're looking for easy and quick low carb chicken recipes for thighs, here's a deal. This dish will be ready in less than 30 minutes.
This dish is a riot of flavors, yet it's easy to make and cooks in less than 30 minutes. My garlic herb butter is the magic ingredient here.
If you have an air fryer, here's a special treat for your tastebuds. It features my homemade Cajun spice mix, requires 3 ingredients, and cooks in less than 30 minutes.
The goodness in these chicken thighs will give life to your body and soul. Yet you only need 4 ingredients and an air fryer to get them done!
Make a decent chicken meal without breaking the bank and in less than 30 minutes. I use my DIY chicken dry rub.
This creamy chicken dish is your go-to treat whenever you're in the mood for a creamy main dish with a kick. It's easy-to-make and low-carb comfort food, worth every bite.
Try this one if you need bold-flavored chicken dishes you can easily make at home. It has a creamy, garlicky taste that makes every bite memorable.
Low Carb Chicken Breast Recipes
This dish delivers the same awesomeness as grilled BBQ chicken breasts and doesn't require you to turn on the grill. It comes together in about 20 minutes.
These chicken breasts are perfect for dinner or lunch salad. You'll require only 3 ingredients and less than 20 minutes to get them done.
Bring your chicken breast A-game to the table with this juicy air fryer dish. It uses a few ingredients and takes less than 15 minutes to cook.
Whip up these tender chicken breasts with only 6 basic ingredients in less than 15 minutes. They are easy to prep and cook.
The goodness in this one-pot dish is indescribable. It's quick, easy, and uses only 6 ingredients, including a homemade cream of mushroom soup.
Low carb chicken recipes can be this simple and instant. Make this delicious Mexican dish to serve your tastebuds and low-carb diet goals.
This dish perfectly balances the sweet and the savory. It's a flavor-packed one-pot dish that takes less than 30 minutes to cook.
Make this creamy and saucy dish with a few common ingredients and about 30 minutes. It's a replica of the Olive Garden creamy chicken scampi.
These chicken fries are all you need to brighten a dull afternoon. They are tender, crispy, and simply delicious. Also, 1g of carbs per serving is a big deal!
This recipe allows you to mention pizza and low-carb in one sentence. It's simple, but the flavor is unbeatable.
Are you looking for low-carb and easy chicken bite recipes? These chicken kabobs will blow your tastebuds away.
Low Carb Chicken Soup Recipes
This soup is rich and filling, yet a single serving only has 3g net carbs. It's great for meal prepping and uses basic ingredients.
Warm yourself up with a bowl of this heavenly chicken soup featuring spaghetti squash. It bursts with assorted flavors, and one cup of this delicacy has only 3g of net carbs.
Take Away
There are hundreds of different ways to make chicken, whether whole or in parts. As for low carb chicken recipes, you only need a little creativity to recreate existing recipes while avoiding the extra carbs.