This post may contain affiliate links to products I use and highly recommend. You can read my full disclosure .
Looking for Whole30 compliant, sugar-free bacon and other all-natural, nitrate-free meats? Well, Naked Bacon has a line of Whole30 approved & sugar-free meat products. In this post, I share some details about the brand, give you a discount and coupon code & provide a quick product review.
What is Naked Bacon?
As I mentioned in the intro, Naked Bacon has a line of Whole30 compliant, all-natural bacon and sausage links.
They call themselves "naked" because their meat is free of nitrates, phosphates, added sugar, and other weird stuff.
According to their website, their meat is produced in small batches using a recipe that is over 150 years old.
All of their products are gluten-free.
Want to try Naked Bacon & save?
When it comes to bacon that tastes better and is prepared better, you bet there's a premium. However, there's no reason to pay full price when you can find a discount code.
If you'd like to try Naked Bacon (or are already a fan), then you can use DRDAVINAHS to save on your order.
Does "Naked", Sugar-free Bacon actually taste good?
If you love bacon, you might be wondering why anyone would want sugar-free bacon.
You might also be thinking aren't the sugar & nitrates what give bacon a smokey flavor and make it actually taste good!
As a fellow bacon-lover, I can tell you that sugar and nitrates are not needed to have great-tasting bacon. In fact, after trying sugar-free bacon during Whole30, I've come to realize that I prefer no sugar added bacon over the stuff I ate before.
Where can you buy Sugar-free Bacon?
When I did my first round of Whole30 over a year ago, it was quite the challenge to find sugar-free bacon.
Now, there are a few options at places like Whole Foods and Trader Joes.
Besides those two markets, I've had success with ordering it online. One company that I've used is Naked Bacon & Company.
Naked Bacon ships their bacon and sausage links in bundles or individual packs.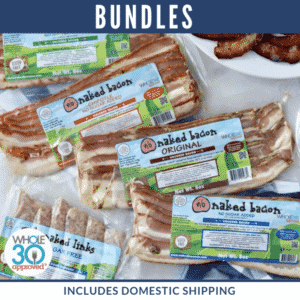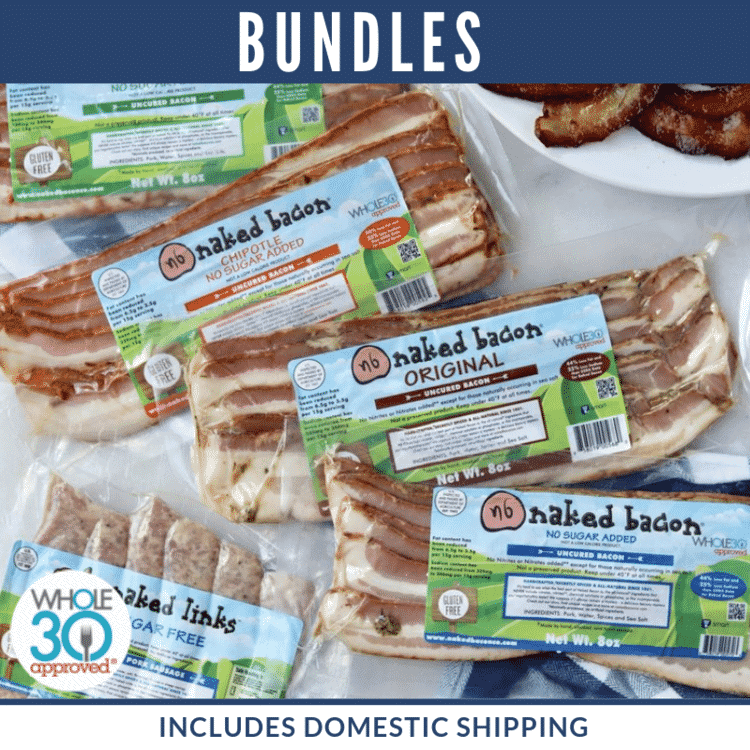 Do you have to eat Sugar-free Bacon on Whole30 or Keto?
If you are following Whole30, then you should only have sugar-free bacon. One of the program rules is to ditch sugar so it's best to find a Whole30-approved brand like this one.
In addition to not having sugar, Whole30 also requires that we eat real food.
One of the challenges with regular bacon is that even when their added sugar is minimal, they include nitrates and other chemicals that are not allowed.
If you are following a ketogenic way of eating, then you should definitely consider having no sugar added bacon. But unlike Whole30, which has a specific one way for the 30 days, there is more flexibility for keto and you can opt to make your own choice.
Keto Recipes that use Sugar-free Bacon
Since this is a recipe website, then you know I wouldn't be able to end a post without sharing some keto-friendly recipes. If you just want some crisped and evenly cooked bacon, then you can try my air fryer bacon recipe.
I also enjoy Naked Bacon's Jalapeno & Chiptole flavors on my BLT Avocado Salad. It is also a great topping for Easy Sauteed Asparagus.