This post may contain affiliate links to products I use and highly recommend. You can read my full disclosure .
This Ninja Foodi bacon recipe is the best and easiest way to make bacon. It's fuss-free bacon cooked to absolute perfection every time, in under 15 minutes! Learn how to make crispy air fryer bacon using this tutorial.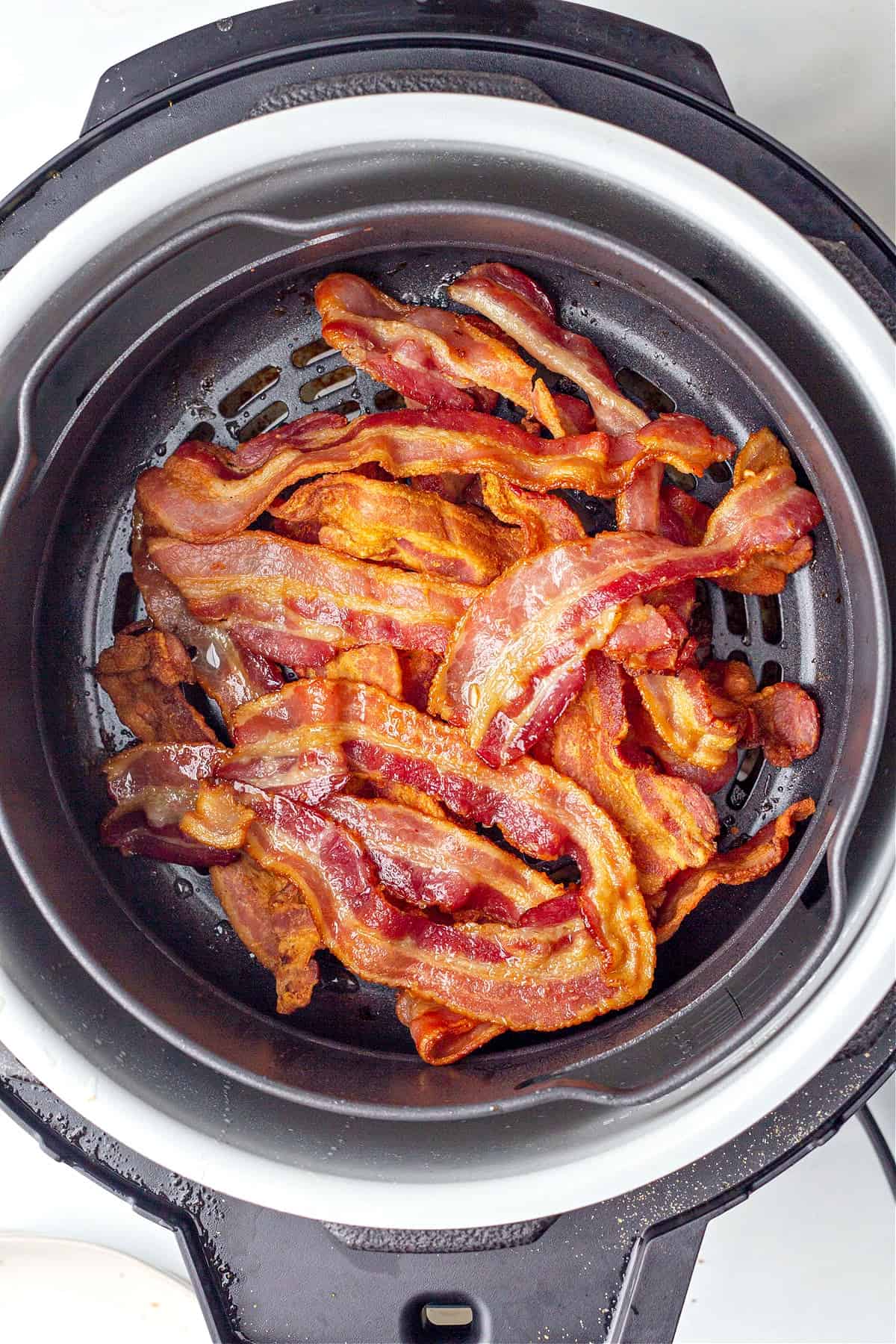 I probably don't need to sell you on bacon. It's almost everyone's favorite food. Salty, smoky, rich, sweet … what's not to love about bacon?
This crispy air fryer bacon is my favorite method for cooking this amazing meat. In fact, I don't ever cook bacon any other way! Whether I'm making strips of bacon to serve with eggs and potatoes for breakfast, or cooking some slices up for a BLT, I'm turning to my air fryer every time.
The secret to a good piece of bacon is the texture. It has to be perfectly crispy, but still a little bit chewy, and not burnt. And this air fryer bacon is exactly that. Plus, this recipe couldn't be quicker, easier, or tastier. You can pretty much do it in your sleep!
Why You'll Love This Easy Crispy Bacon
I'm pretty sure that if you try this air fryer bacon recipe then you'll be hooked. Here's why.
Quick and easy. This is literally one of the easiest recipes I know. You basically just add bacon and water to your air fryer and turn it on. It's really that simple! It's also super quick, as it only takes about 12 minutes to make.
Mess-free. I love bacon, but the one problem I have with it is that it's messy. When you make it on the stove top the grease splatters everywhere. Every time that I cook bacon in a skillet it looks like a grease bomb went off in my kitchen. But that's not the case with air fryer bacon. All of the mess is contained to your air fryer. Say goodbye to having a greasy counter after making bacon!
Perfect every time. Another problem with cooking bacon in a skillet is that it's hard to get a perfect cook. Bacon can burn really easily, so if you're not careful you'll end up with charred bacon. And pans have hot spots, so sometimes it's impossible to cook a piece of bacon all the way through without burning some parts of it. But with an air fryer, the bacon is cooked to crispy perfection every single time.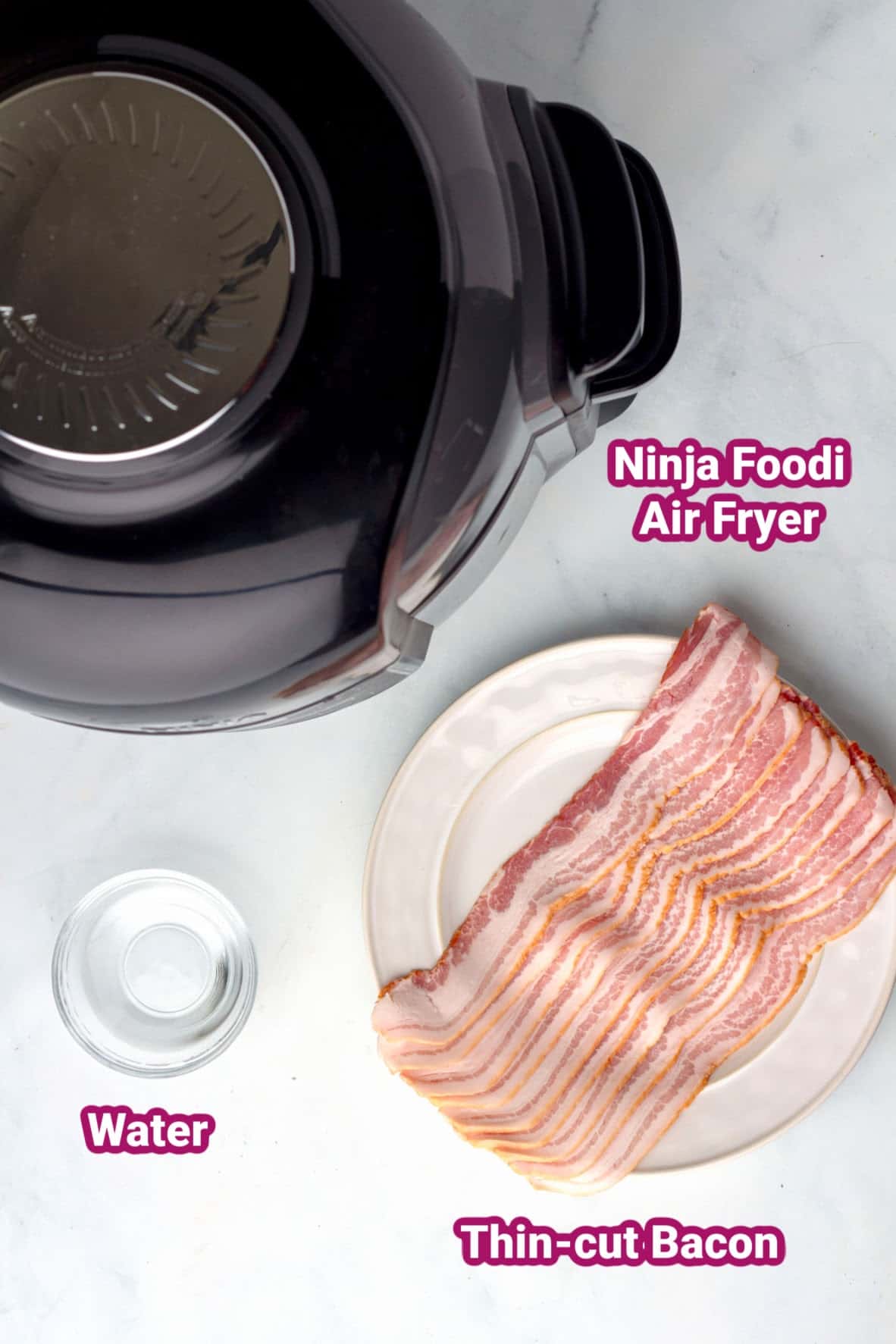 Ingredients Needed
Here are the ingredients you'll need to make the best bacon ever. There are only 2 of them! Check out the recipe card at the bottom of the page for the exact quantities of each ingredient.
Bacon – I like to use thin-cut, sugar-free bacon.
Water
How to Make Ninja Foodi Bacon
Here's how to make this perfect bacon in under 15 minutes.
Put in water. Put the water in the bottom of the air fryer's cooking pot.
Add the bacon. Lay strips of bacon in the air fryer basket, and place it in the cooking pot.
Cook. Air fry the bacon at 400F for 5-6 minutes.
Flip. Flip the pieces of bacon over.
Finish cooking. Cook the bacon for another 5-6 minutes, until it's at your desired crispiness. Then serve!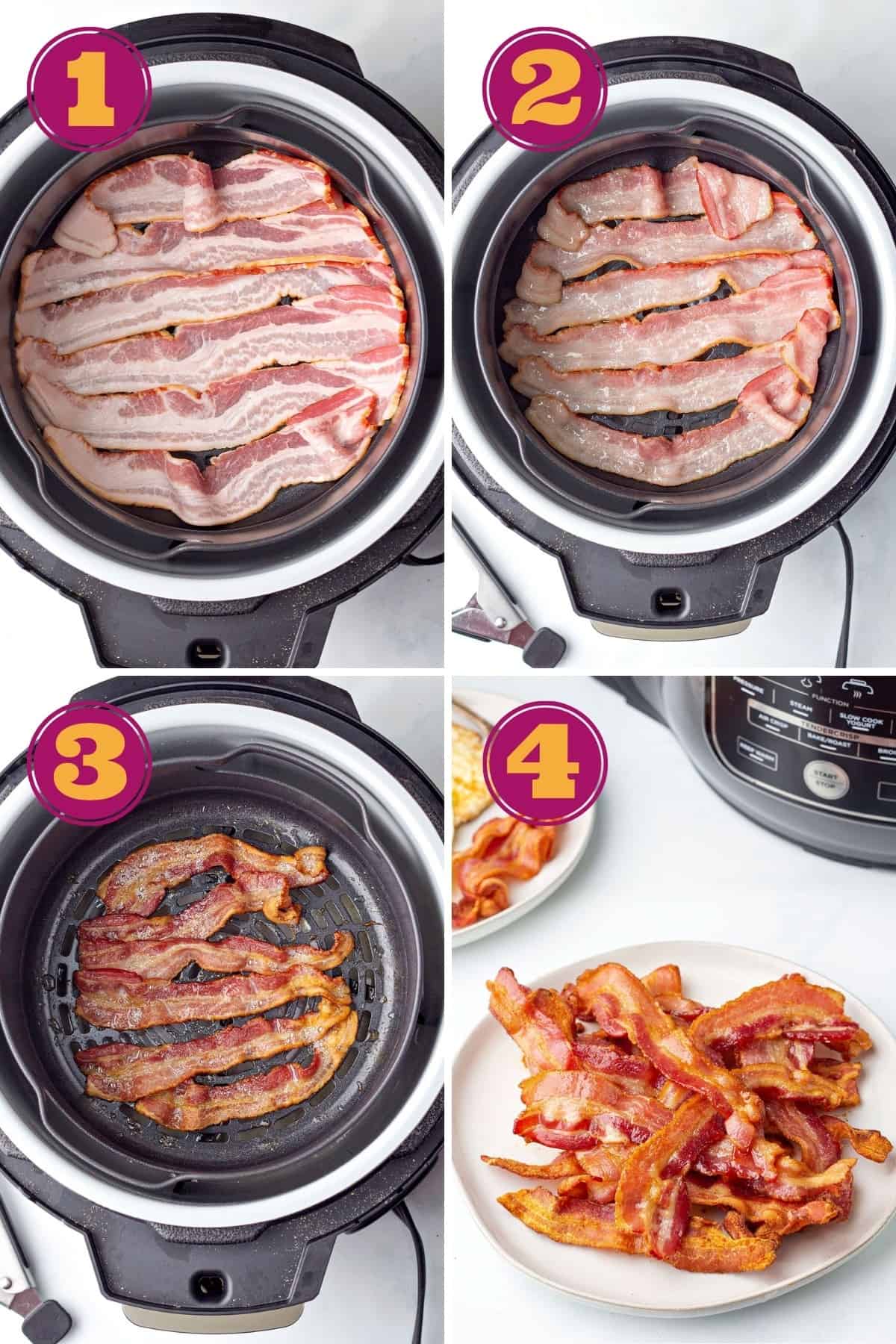 Tips and Tricks
This crispy bacon couldn't be easier to make. But I have a few tricks that you should try when making it.
Limit the smoke. Depending on the type of air fryer you have, your bacon might still smoke a little bit when you cook it. If that's the case, then set your air fryer up near your stove, and turn on your range fan. That will help you limit the smoke while you're making tasty bacon.
Don't overlap. I've found that most air fryer baskets can hold about 6-7 pieces of bacon. It's important to not put more bacon in your air fryer than it can handle. You don't want your bacon to overlap or else the pieces won't get crispy. If you have more bacon than fits in a single layer, then cook the bacon in batches.
Dry it with paper towels. After you take your bacon out of the air fryer, place it on top of a paper towel, and pat it down with another paper towel. This removes excess grease, which keeps the bacon from getting soggy after you cook it.
Keep it warm in the oven. Whether you're eating bacon plain or in a sandwich, it's best served warm. If you're not going to eat your bacon as soon as you cook it, the best way to keep it warm is in the oven. Turn your oven on to the lowest temperature (or the "warm" setting, if it has one), and keep your bacon in it until you're ready to eat.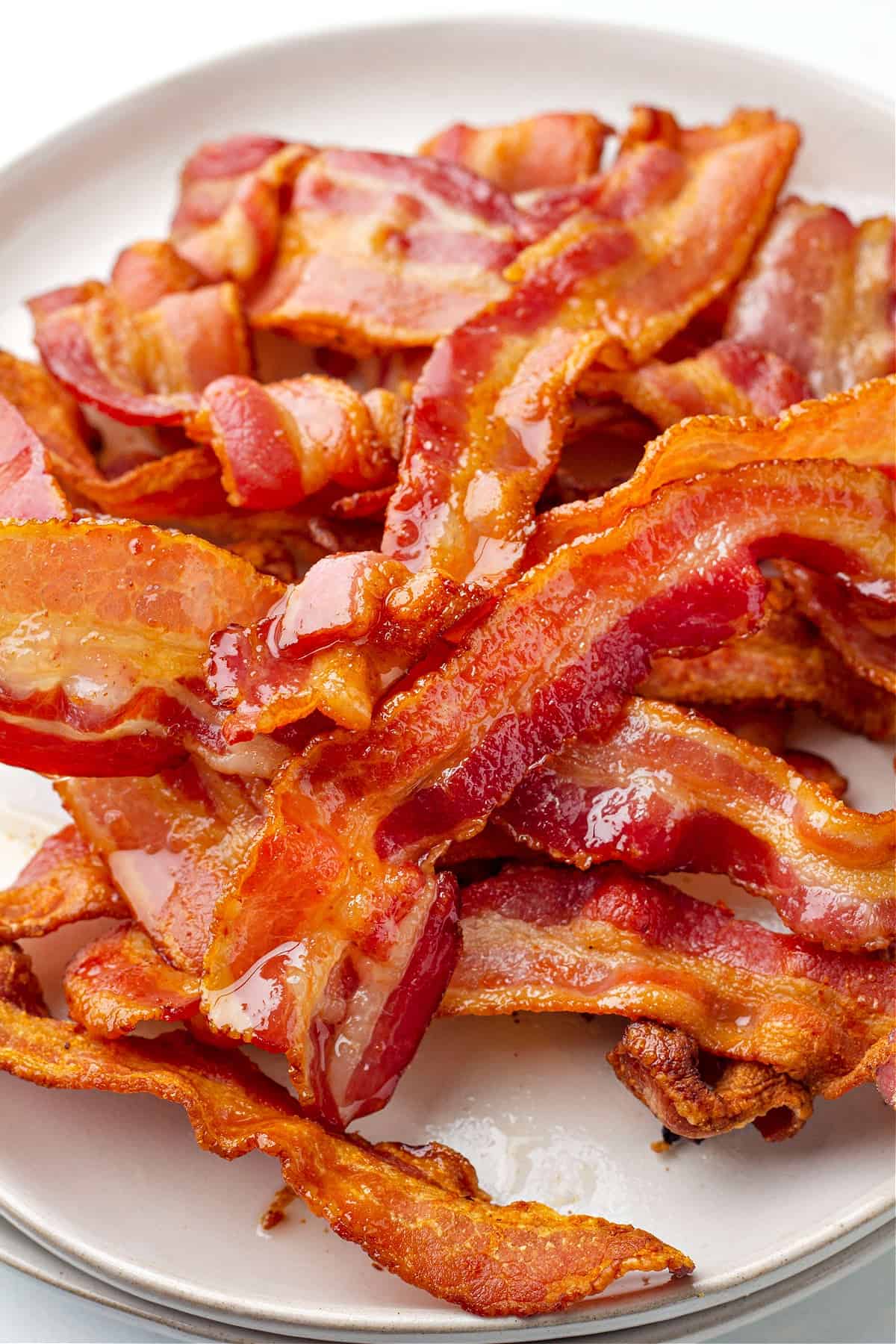 How to Serve It
I'll be honest: one of my favorite ways to enjoy this bacon is by eating it straight out of the air fryer! But you can also use this method anytime that a recipe calls for bacon. Here are a few of my favorite dishes for using crispy air fryer bacon:
And of course, crispy bacon is always perfect with your favorite breakfast, such as Healthy Stuffed French Toast with Cream Cheese and a glass of Keto Bulletproof Coffee.
How to Store and Reheat Leftover Bacon
Leftover bacon can be stored in an airtight container or bag in the fridge for up to 5 days. It's pretty delicious cold, but you can reheat it in a 375F air fryer for 5 minutes.
Can This Recipe Be Frozen?
You can definitely freeze cooked bacon, but it's not much more convenient than freezing uncooked bacon. So I would only freeze your leftovers if you know you won't eat them before they go bad. If that's the case, store leftover bacon in an airtight container or bag in the freezer for up to 4 months.
More Easy Air Fryer Recipes
I use my air fryer all the time. It's one of my favorite kitchen tools because you can so quickly and easily get amazing meals. Here are a few more air fryer recipes to try.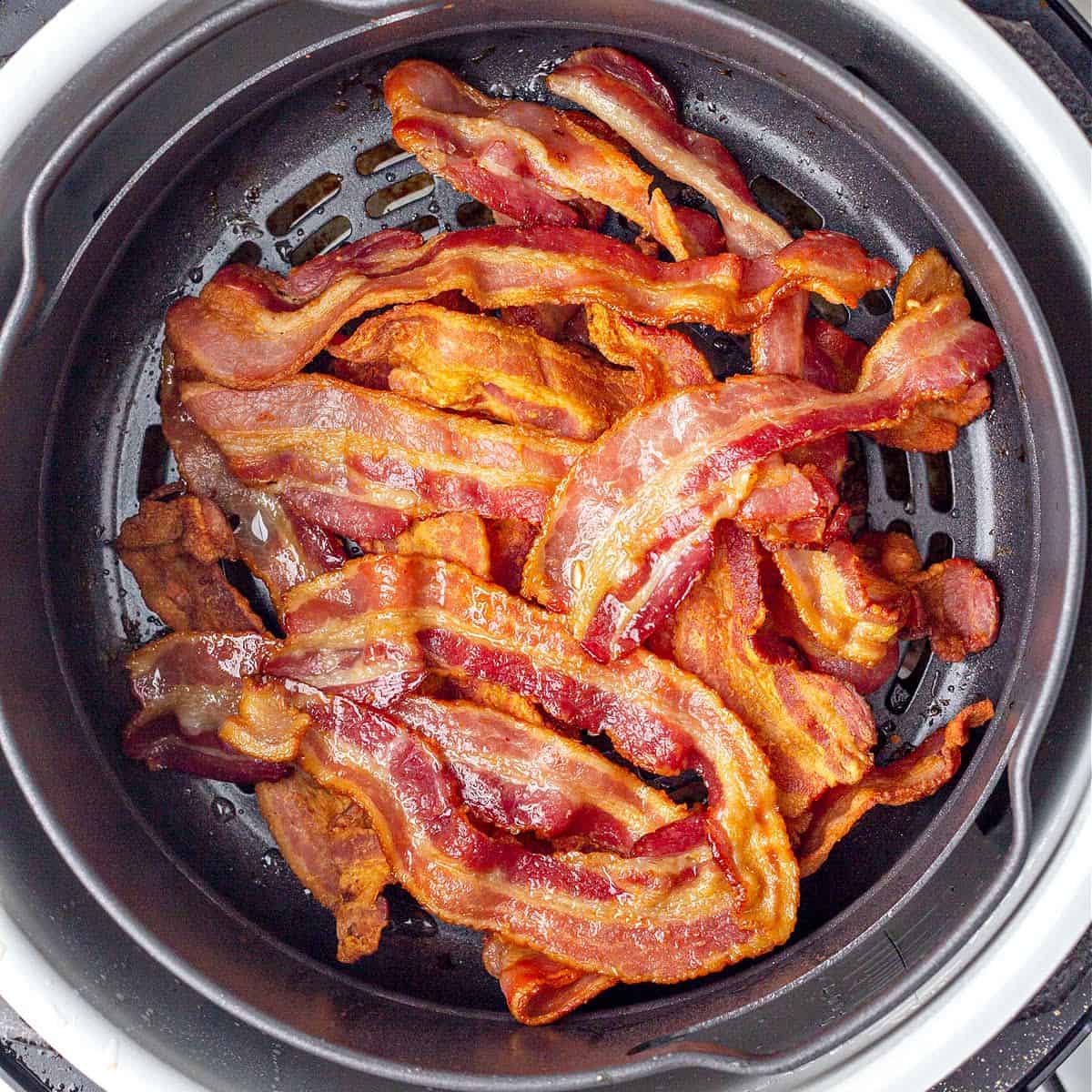 Crispy Ninja Foodi Bacon
This crispy air fryer bacon is cooked to perfection every time. It's so easy to make, and only takes 12 minutes!
Pin
Rate
Print
Use DRDAVINAHS at checkout to save on some equipment & ingredients!
Recommended Equipment
Instructions
Add the water to the bottom of the cooking pot.

Place the air fryer basket in the cooking pot. Add 6-7 slices of bacon.

Air fry the bacon at 400F for 10-12 minutes, flipping halfway through.
Recipe Notes
If using thick-cut bacon, add an extra 1-2 minutes of cook time.
Don't layer the bacon slices on top of each other. If you have more bacon than will fit in a single layer, cook in multiple batches.
Pat the bacon dry with a paper towel after cooking.
Keep the bacon warm in the oven on the lowest temperature or the "warm" setting.
Leftover bacon can be stored in an airtight container in the fridge for 5 days.
Reheat leftover bacon for 5 minutes in an air fryer set to 375F.
Nutrition Details
Calories:
60
kcal
|
Carbohydrates:
1
g
|
Protein:
4
g
|
Fat:
4
g
|
Saturated Fat:
2
g
|
Polyunsaturated Fat:
1
g
|
Monounsaturated Fat:
1
g
|
Trans Fat:
1
g
|
Cholesterol:
10
mg
|
Sodium:
461
mg
|
Potassium:
1
mg
|
Fiber:
1
g
|
Sugar:
1
g
The nutrition facts come from entering the recipe ingredients into Spoonacular API, a database of food ingredients. They may vary for any recipe based on the exact product used. The keto sweeteners I use have 0g net carbs & are not included because sugar alcohols do not impact most people. This is provided as a courtesy, but you can do your own calculations if you wish!
Share this Recipe
If you enjoy this recipe, share a link to it via email or Facebook, pin it, or leave a rating. Please don't copy/paste the instructions to other websites. Thanks for helping the website grow!