This post may contain affiliate links to products I use and highly recommend. You can read my full disclosure here.
Click below to share this!
An easy recipe for sauteed asparagus that can be adjusted to include lemon, parmesan, and bacon.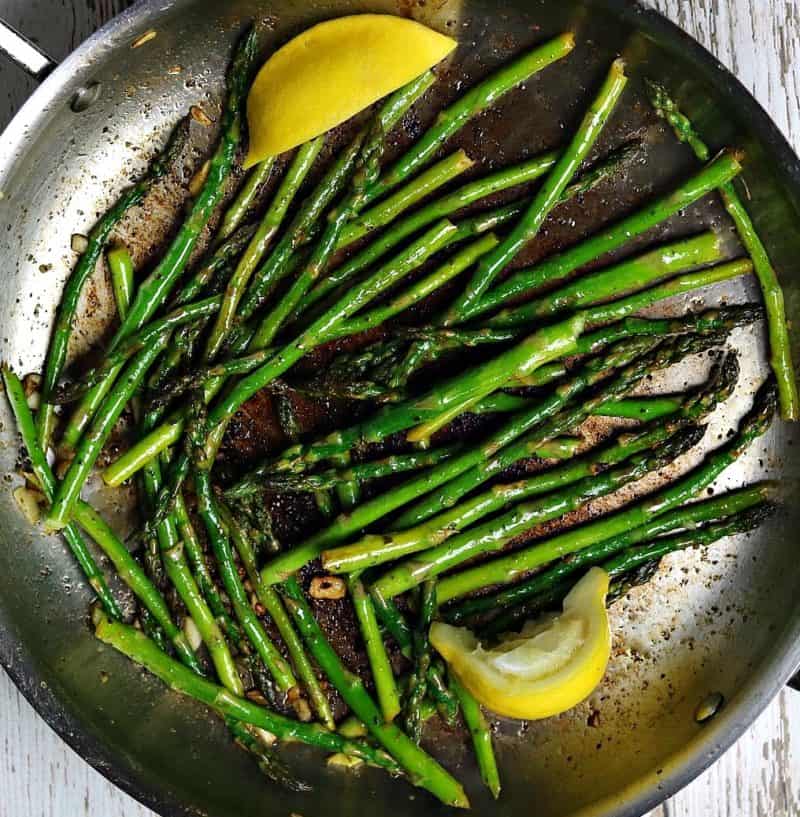 Asparagus is one of my favorite side dishes, but I stayed away from making them at home because I was afraid I'd mess up. Little did I know sauteed asparagus was one of the easiest recipes you could make.
This recipe for sauteed asparagus contains less than 5 ingredients. It also takes about 10 minutes to make (prep included).
How do you prepare asparagus for sauteeing?
Before you attempt to sautee or cook your asparagus, it's important to trim off the hard ends. The hard ends are not edible.
There are two ways to trim your asparagus. The first method is to trim the hard ends off with cooking shears.
The second method is to trim your asparagus with your hands. I prefer this method.
To trim your asparagus with your hands, you simply hold the top part of the asparagus with one hand and use the other hand to bend the hard end. The asparagus will snap naturally, leaving only the part that is edible.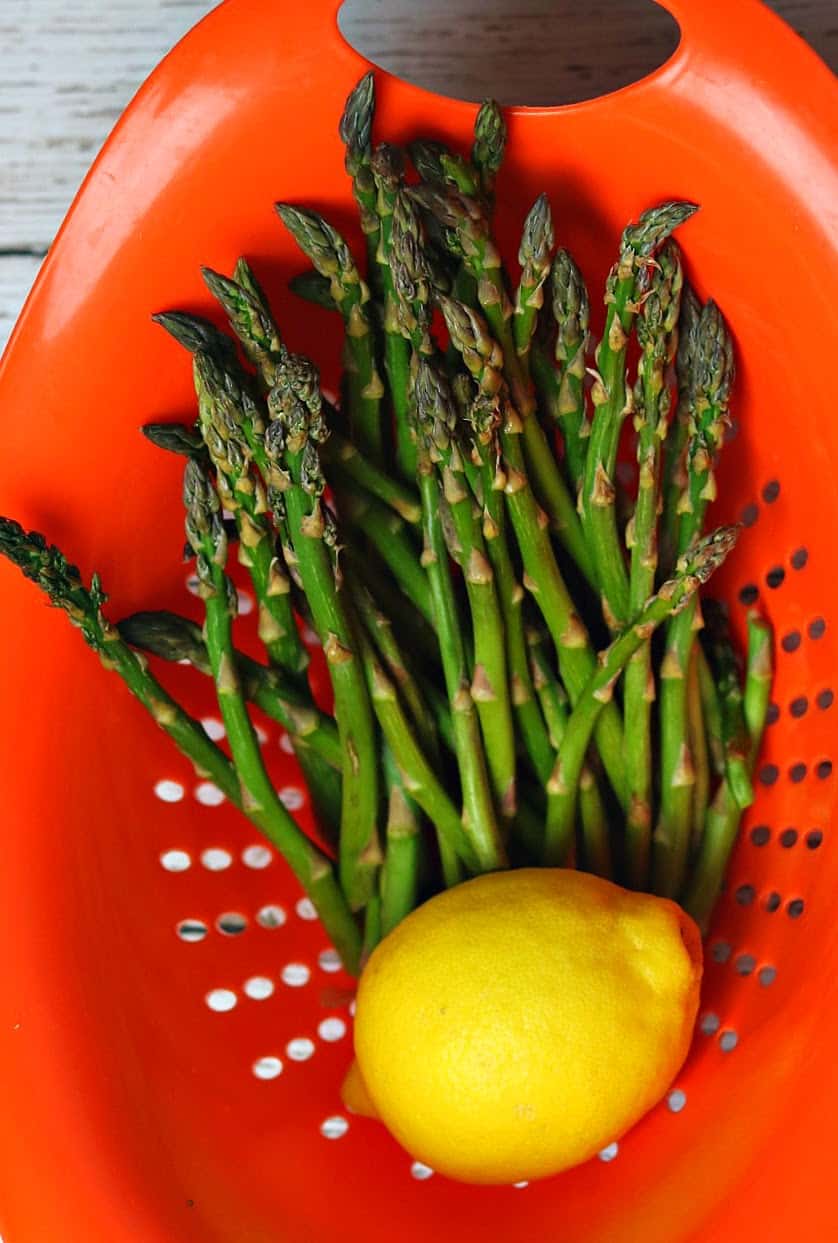 How do you sautee asparagus?
Sauteeing asparagus is no different than sauteeing other vegetables like onions. You simply heat butter or another cooking fat in a skillet and add your asparagus.
I use tongs to mix them occasionally and stop cooking them when they are bright green and tender. After sauteeing, I remove them from the heat and add salt and pepper to taste.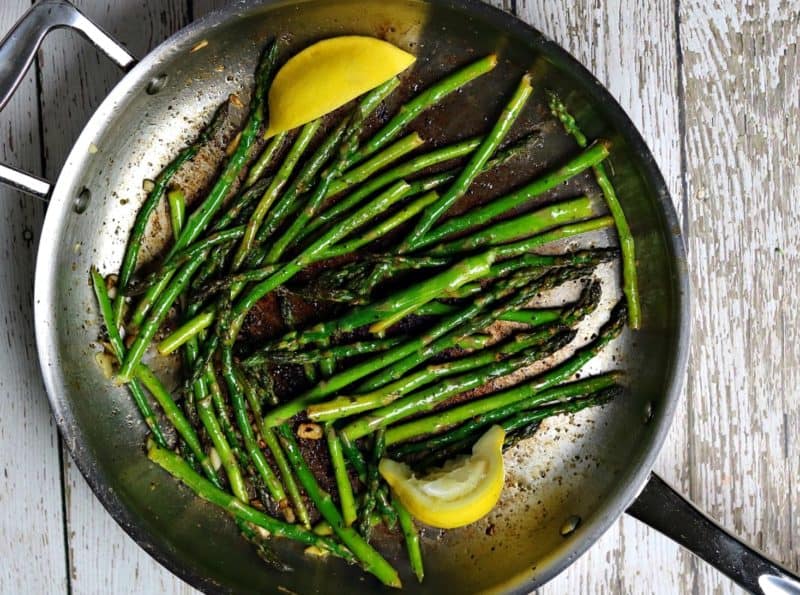 What are good add-ins to this recipe?
This sauteed asparagus recipe is meant to be super easy. In some ways, I'd describe it as a starter recipe of sorts.
If you want to add other things to the asparagus here are some variations and add-ins:
Add Bacon Fat & Bacon Crumbles
In place of sauteeing your asparagus in butter, you can cook them in bacon fat. Simply cook 3-4 slices of bacon in a pan then set the bacon aside.
Sautee the asparagus in the bacon fat and top the finished asparagus with the bacon crumbles.
Add Grated Parmesan
Another way to elevate this recipe is to finish the asparagus with grated parmesan. After sauteeing, you simply add 2-3 tbsp of grated parmesan and toss the cooked asparagus in the cheese.
Since parmesan is slightly salty, you should toss the asparagus in the cheese then decide if you need to add extra salt and pepper.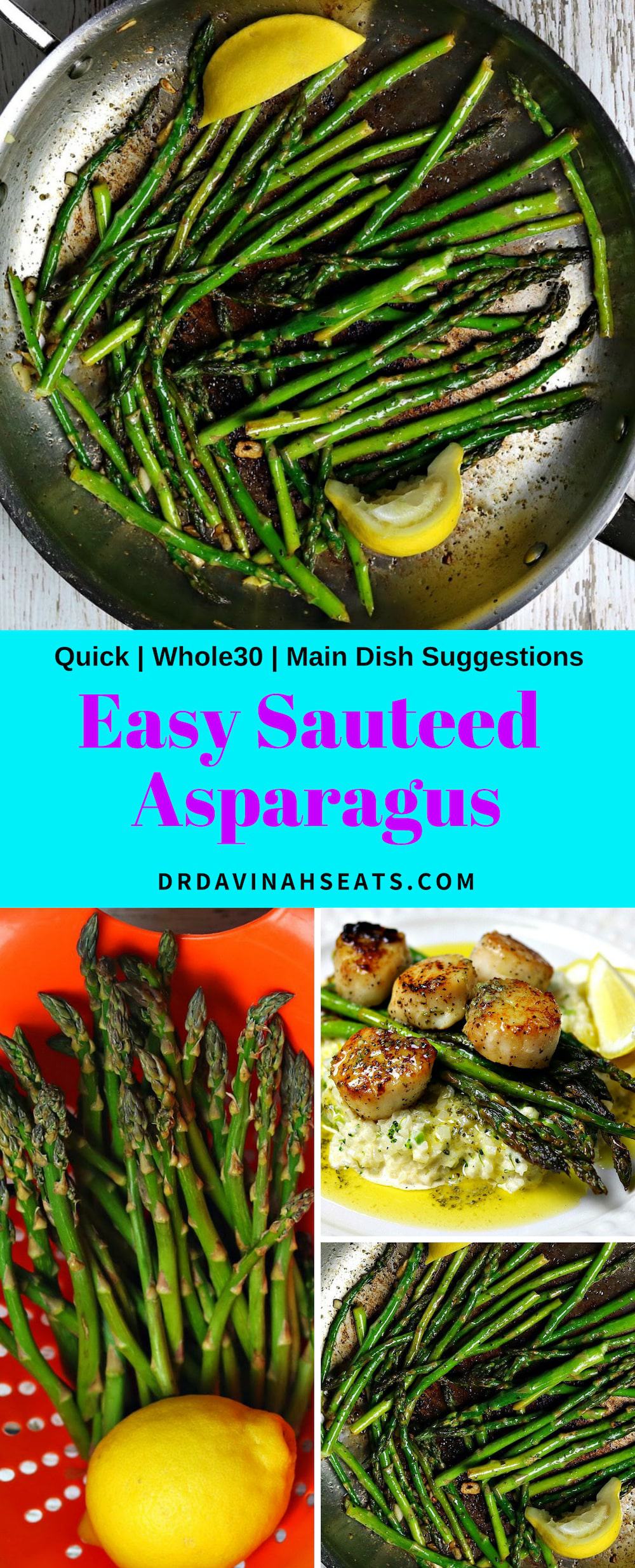 What are good main dishes to pair this with?
Every great side dish needs a main dish! Here are some drool-worthy options: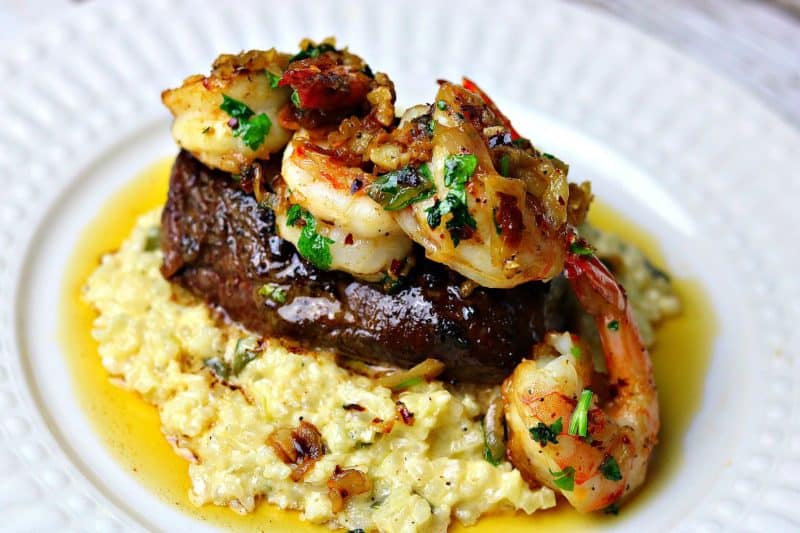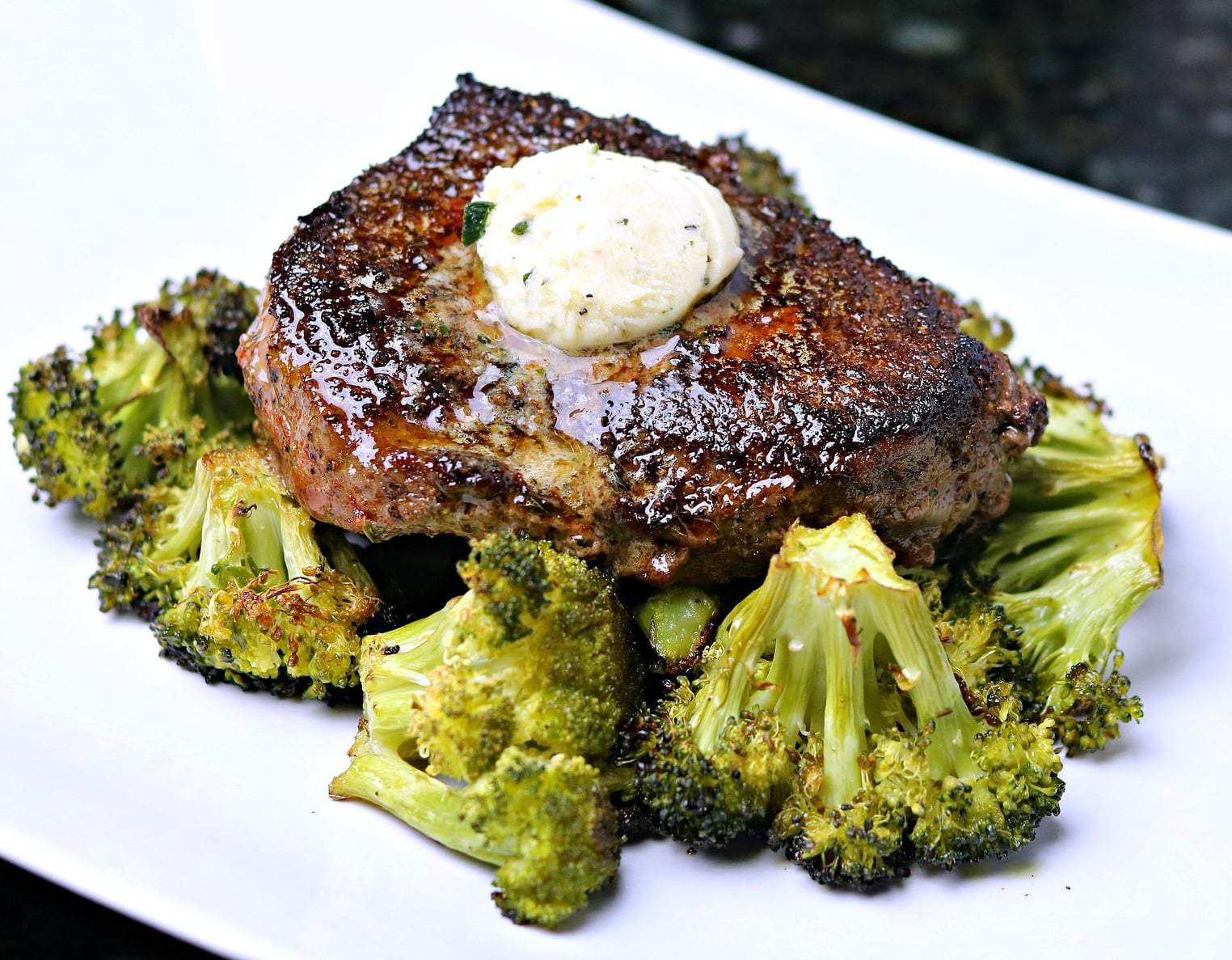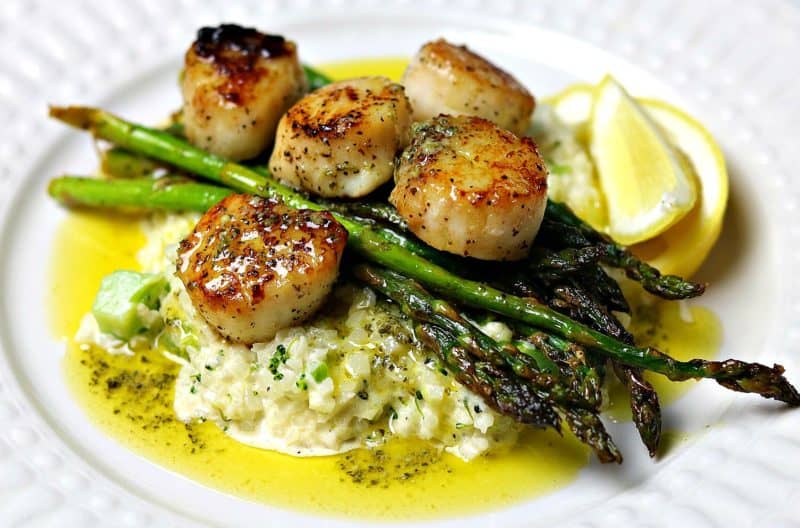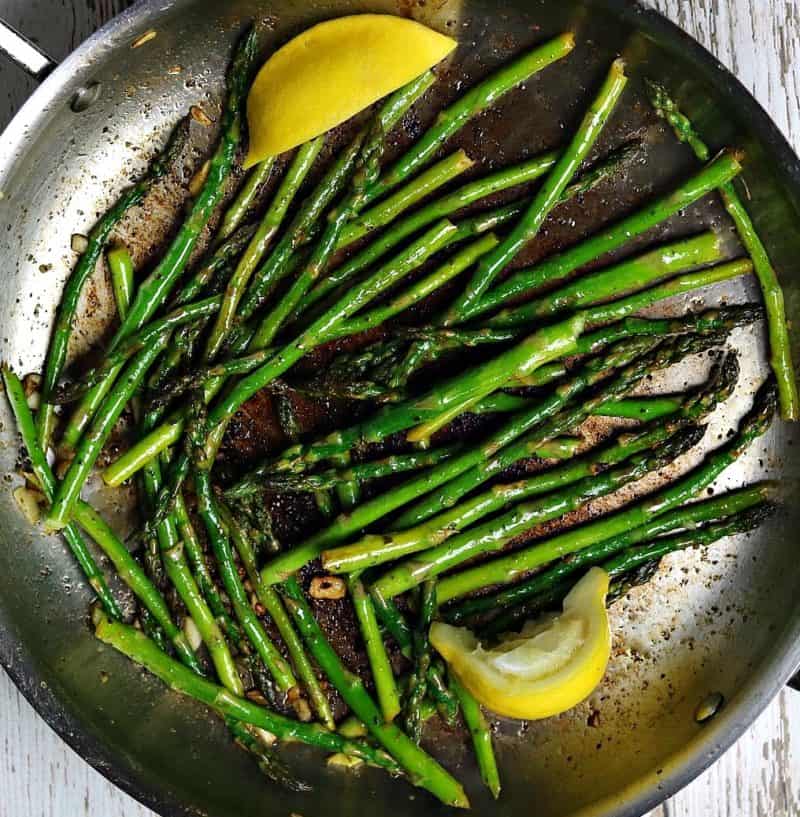 An easy recipe for sauteed asparagus that can be adjusted to include lemon, parmesan, and bacon.
Please do not copy & paste (or screenshot) the instructions & ingredients for my recipes to social media or other websites. If you want to spread the word about this recipe (I'm grateful if you do), please use the buttons above to share or share a photo of this dish with a link to this recipe instead. © 2019 Dr. Davinah's Eats
Ingredients
1

lb

Asparagus

trimmed

3

tbsp

Salted Butter

2

cloves

garlic

minced

1/2

Lemon

Salt & Pepper

to taste
Instructions
Heat the salted butter in a skillet

Add the garlic and asparagus. Sautee until the asparagus are bright green (~5 minutes). Remove from heat

Add a squeeze of lemon juice

Add salt and pepper to taste
Recipe Nutrition Facts
Nutrition Facts
Easy Sauteed Asparagus
Amount Per Serving
Calories 105
Calories from Fat 72
% Daily Value*
Fat 8g12%
Cholesterol 22mg7%
Sodium 78mg3%
Potassium 247mg7%
Carbohydrates 6g2%
Protein 2g4%
Vitamin A 1125IU23%
Vitamin C 13.9mg17%
Calcium 36mg4%
Iron 2.5mg14%
* Percent Daily Values are based on a 2000 calorie diet.
Did you make this recipe?
Use #DrDavinahS when posting your photo of this dish, and follow @DrDavinahS on Instagram